Dreaming Tree Crush - Drink of the Week
When Dave Matthews (yes THAT Dave Matthews) teamed up with veteran winemaker Steve Reeder, their goal was to create quality wines that were accessible to everyone. That's just what they did with Dreaming Tree Wines.  Dreaming Tree Wines are designed to be enjoyed, not hidden in a wine cellar. They are fun, inviting, approachable wines that are perfect to share with a dinner table full of friends or to relax with on your front porch. The kind of wine that we here at Busted Wallet gravitate towards on a nightly regular basis.
Known as a bit of a legend in the industry, Steve Reeder has called Sonoma home for over two decades. They say he's got an artist's soul and he lives, eats and breathes the vineyards where he made his reputation. From what we can tell Steve and Dave have forged an ideal relationship for making delicious wines.
Recently we were given the opportunity to uncork a bottle of Dreaming Tree's Crush North Coast 2009 and here's what we discovered: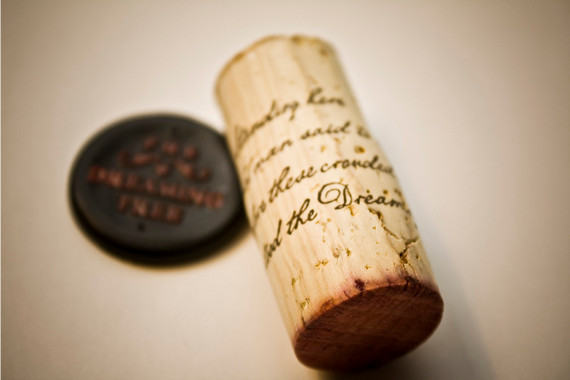 Fun fact: Each cork is printed with the lyric: "Standing here, the old man said to me, long before these crowded streets, here stood the Dreaming Tree"
Variety: Red wine blend; 67% Merlot, 33% Zinfandel
Vintage: 2009
Aging: 19 months in oak
Region: Geyserville, California
Nose: Smokey berry
Flavors: Blend of rich, oaky berries with a pop of raspberry
Body: Polished
Alcohol: 13.5%
This wine blends two of our favorite reds, Merlot & Zinfandel, to create a warm, relaxing experience. Drinking it makes us envision ourselves sitting around the fire with friends at our favorite cabin by the lake. Can we go now?! It's an exceptionally smooth wine with great body making it an ideal wine to share with others – something even our "non-wine-drinking" friends can appreciate and love.
Coming in at only $15 per bottle, it's one of the best wines we have tried at this price point. Just like his concerts, Dave has created a magical experience that is meant to be shared. And yes…we did listen to Dreaming Tree & Crush while reviewing this wine – a perfect pairing.
Pair it up with: Vietnamese Style Grilled Ribs & Jasmine Rice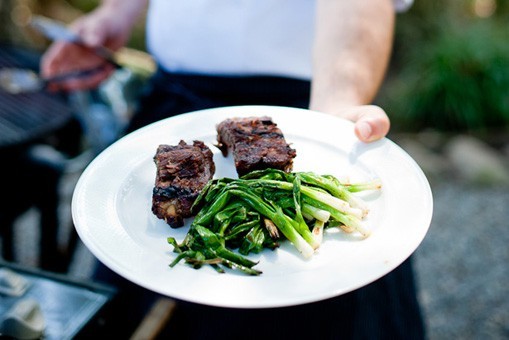 Ingredients: 2 lbs baby back pork ribs, 4 cups chicken stock, 1 cup soy sauce, 1 cup seasoned rice wine vinegar, 3 tablespoons minced garlic, 3 tablespoons minced ginger, 2 tablespoons hoisin sauce (Chinese dipping sauce), 2 tablespoons garlic chili paste, 1 tablespoon Chinese five-spice powder, Jasmine rice
Directions: Pre-heat your oven to 300°F.  Add chicken stock, soy sauce, rice wine vinegar, garlic and ginger into a sauce pan and bring to a boil. Cut ribs into two piece sections and place in one layer in an oven proof baking pan. Pour sauce over ribs and back in oven for 1 ½ hours or until meat peels from the bone. Remove ribs from pan and set aside. Pour sauce into a small pot. Cook over high heat and reduce liquid by half. Add hoisin sauce, garlic chili paste and Chinese five-spice powder. Season with salt if needed. Finish ribs on the grill regularly basting with the sauce and turning about every 7 minutes until cooked through and browned.
Buy Now: $15 or to learn more, go to: DreamingTreeWines.com