Hailing from the proud whiskey producing state of Kentucky, Big Rack Vodka was crafted with the use of America's finest grains as a tribute to outdoors men and women who know how to work hard and play harder! Big Rack may appear to be a redneck's dream vodka, but be assured it's a bit more classy than its initial appearance would lead you to believe. In fact Big Rack Vodka is distilled six times and filtered through charcoal before finally being bottled at 80 proof in a one-of-a-kind camouflage designed bottle wrap. The Big Rack Vodka motto: "Camouflage is a lifestyle." If that's at all true they better be prepared for the hunting community who will soon be knocking down their doors to get a taste!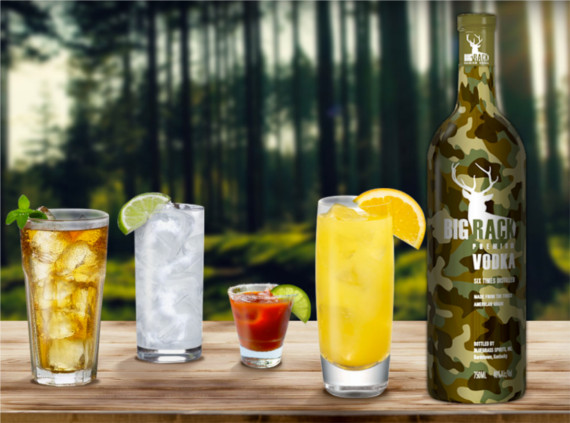 A few weeks ago our tasting panel sat down with couple bottles of Big Rack Vodka, open minds, loads of ice and a slew of mixers. After initial jokes and snickering over the brand's name subsided we got right down to business and in the end came away rather impressed with this unique vodka. Check out our full review and delicious mixed drink recipe below…  
– Big Rack Vodka Review –

Proof: 80 (40% ABV)
Age: Unaged
Nose: Neutral
Flavors: Neutral
Taste: B (Good)
Mix–ability: B+ (Very Good)
Buzz Factor: B (Good)
Price: $19.99 USD (750ml)
  Overall: We give Big Rack Vodka a B (Highly Recommended) Never judge a bottle book by its label cover. This is a lesson we've all learned as kids that still holds true today with literature as well as booze!  Big Rack may appear to be a little rough around the edges with its bold camo print, but it's actually a rather tame vodka overall that mixes well and best of all won't put a huge dent in your wallet. We don't urge vodka-philes to pick up this vodka for its straight sipping qualities which we hesitate to classify as smooth, but if you're looking for a clean, mellow vodka suitable for mixing up killer drinks at home as well as at the hunting cabin we found Big Rack to be an excellent choice.  
MIX IT UP WITH… "Six Pointer"
Ingredients: 1 oz. Big Rack Vodka, 1/2 oz. triple sec, 1/2 oz light rum, 1/2 oz. tequila, 1 oz sour mix and cola.   Directions: In a tall glass filled with ice pour all spirits and sour mix. Stir well, and then top off the glass with cola. Garnish with a mint leaf and enjoy!   Buy Now: $19.99 or go to: BigRackVodka.com