Is it snow season already? Well, it looks like its time to gear up and enjoy it while it lasts. Whether you've decided to hit the trails or the slopes, the right gear is essential, especially on those days when the wind is taking your breath away and the cold is a little more frigid than usual. It's not just about keeping warm though. The right pair of goggles is important to protect your eyes from the elements and, at the same time, give you the vision to perform your wintertime activities with peak performance. This winter, we've taken to the terrain of winter with the latest featured product from Dragon Alliance, the all new X2 snow goggle.
What's so great about the X2 you ask? One word… SWIFTLOCK. Feast your eyes on the video below.
Key Features:
Swiftlock Lens Change System
Armored Frame Ventilation
Injection Molded Polycarbonate Lens
Super Anti Fog Treated Dual Lens
Triple Layer Face Foam with Hypoallergenic Micro Fleece Lining
Large Fit
Dragon Alliance X2 Snow Goggle Review Breakdown
Design: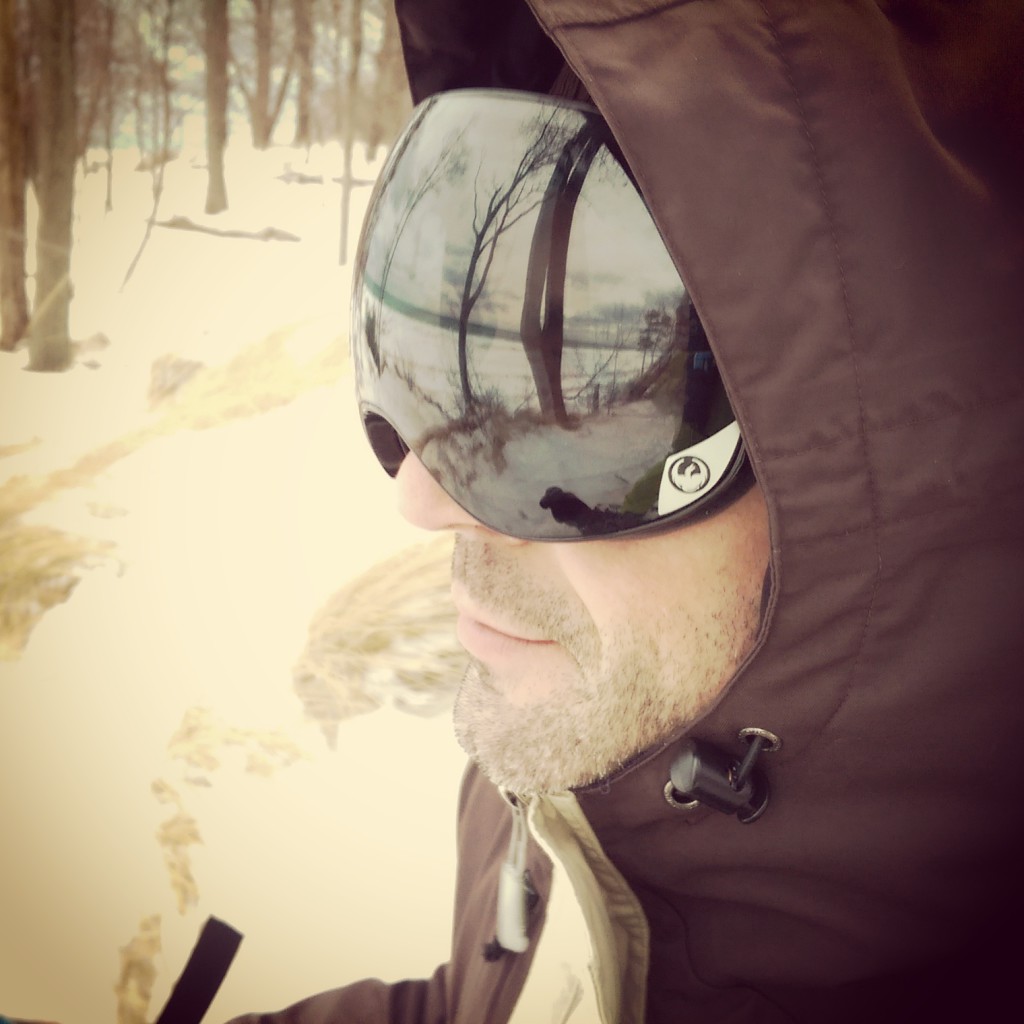 Dragon Alliance has built it's reputation by developing products with optimal functionality for top performing athletes. This could not be accomplished without innovative design, and the X2 snow goggle offers just that. By incorporating their patented Frameless Lens Technology, they've paved the road to one of the best features we've found on a goggle yet, and that's the new Swiftlock interchanging lens system. There's no denying that this is one of the most ground breaking improvements to goggle design we've ever encountered, and the headache of replacing lenses in changing conditions is now a thing of the past. In years gone by we recall having to think ahead of time to replace our goggle lenses according to the weather we think we may encounter before leaving the house. Changing those old-school lenses was a process of wrenching the lens out of hard plastic frames, and spending several frustrating minutes forcing the alternative lens into place. Well, those days are over with the Dragon Alliance X2 Swiftlock technology. What used to be a 10 to 15 minute process can now be done in less than 5 seconds, and while never removing the goggle from your head! Not only is this process time efficient, but through plenty of testing we've discovered the lenses stay locked-in and secured, so there's no anxiety about loosing lenses if we happen to take a spill.
The X2 also features an armored frame ventilation system and anti-fog treated dual lens. Obviously designed for hard use in harsh conditions, we didn't experience any fogging while skiing the slopes or snowshoeing the windy beaches of Lake Michigan. It is a real novelty to partake in these activities without having to monitor ventilation adjustments, which the X2 actually does not come equipped with. The only issue we found with this design choice was some minor fogging while doing some outdoor manual labor. This is a goggle designed for extreme sport, so a lack of wind resistance can hinder this goggle's ability to ventilate.
Aside from the Innovative lens technology, the X2 design is functional in just about every other respect. Whether wearing the X2 goggles with a helmet or over a cap, the strap has a thin implanted rubber liner and is easily adjusted, so keeping the goggle secure on the head is a non-issue. As a whole, all of the hardware is strong and durable, so we didn't feel like we had to enjoy winter with any degree of caution, and we like it that way.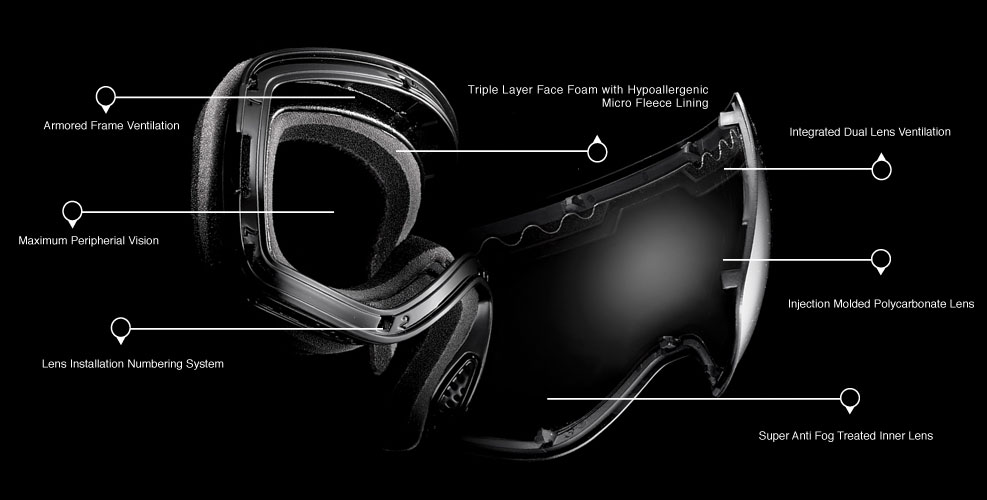 Aesthetically, the frameless design gives Dragon Alliance goggles a personality you won't find elsewhere. We've recieved a lot of feedback from our fellow outdoor enthusiasts, and it was almost always complimentary. These goggles are not only functional, but eye-catching as well.
Optics / Vision:
The Frameless Lense Technology doesn't only deliver optimal lens changing capabilities, but also provides maximum peripherals. This is a valued asset to anyone looking for their landing in the terrain park or just monitoring other skiers and boarders on the slopes. The X2 comes with three different lenses in the box, so right away we were able to adjust according to several conditions. If you plan to use the X2 goggle in weather conditions beyond the range of the supplied lenses, replacement lenses with assorted scales of light transmission and even transition technology are available for a price.
Comfort: 
We've already established that the X2 strap is highly adjustable and will fit with any kind of head gear. The strap is also highly flexible and the built in Triple Layer Face Foam is extremely pliable, so getting a comfortable and secure fit is no problem. We experienced absolutely no gaps while wearing the X2 with or without a helmet, and this goggle's ability to ventilate comfortably and keep the face warm all day was never compromised.
X2 Goggle on the Slopes:
Value:
The $219 – $269 retail cost of the Dragon Alliance X2 snow goggle may be a hard pill for some to swallow, but one must remind themselves that this is a piece of hardware engineered for extreme use and optimal functionality. We put this goggle through some hard use this winter, and we are of the opinion that it belongs in the highest class of what is available out there. Out of the box, the X2 comes with three lenses, a bag equipped with side storage for replacement lenses, and a protective case. Between the accessories provided, advanced functionality, great comfort, and the years of use it will provide, we can see the justification in purchasing this top of the line piece of snow gear.
Buy Now: $219 – $269 or, to learn more, go to: DragonAlliance.com
Dragon Alliance X2 Snow Goggle - Gear Review
No matter what you're into this winter, if you're the kind of person who likes to play hard, the Dragon Alliance X2 snow goggle is exactly what you're looking for. The new Swiftlock technology pushes versatile functionality to a whole new level, making adjustment to whatever conditions you may find yourself in a breeze. The ventilation system works remarkably well, and without having to keep track of whether vents are open or closed. Not only are these goggles ready for just about anything, they are highly adjustable, comfortable, and provide amazing visual capabilities. The sleek frameless design doesn't only add to the performance of the X2, but also gives the goggle a personality of its own when compared to the competition. So go out there, enjoy the snow, and be confident that you'll be ready for whatever Mother Nature throws at you.
The Good:
Outstanding peripherals with large assortment of replacement lenses available.
Swiftlock technology revolutionizes adaptation to conditions, and it only takes seconds!
Highly Adjustable and comfortable at the same time.
The Not so Good:
No ventilation adjustment. Can experience minor fogging without air movement.
Designed for hard use in the most extreme conditions, so price might be a little steep for the typical outdoor enthusiast.