This is a sponsored post written by me on behalf of Don Q rum. All opinions are 100% mine.
This is a sponsored post written by me on behalf of Don Q rum. All opinions are 100% mine.
Not familiar with Don Q? Well, that is a shame. You see, Destilería Serrallés (the purveyors of Don Q) is one of America's oldest family-owned businesses with a rum making tradition that started in 1865. Based in Ponce, Puerto Rico, Destilería Serrallés is the only rum company that uses aged rum in their entire line-up. You might be surprised to know that Don Q's flavored rums use only natural flavorings as well. Unlike some other brands, they don't use additives, artificial sugars or coloring. When you drink Don Q you're getting quality aged rum… nothing else.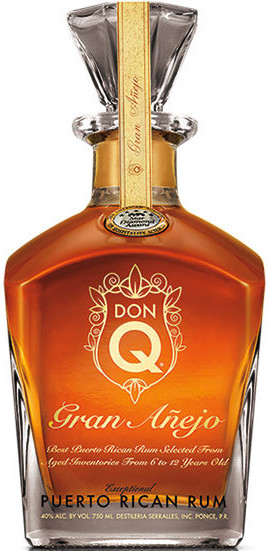 Now that you know a little about the history behind Don Q lets introduce you to Gran Añejo. This is Don Q's most expensive rum, and actually won Gold Medal at the 2017 Beverage Tasting Institute.
If you didn't already know… aging mellows a spirit. It also brings out new flavors and aromas. Don Q Gran Añejo is blended with rums aged between 9 and 12 years, creating a balance between sweet and dry that you wont get in other spirits.
Recently we had an opportunity to sit down and enjoy this rum over some cigars and and good company.
Gran Añejo proved to be a very mellow tasting experience. If you are a whiskey fan (like us) and don't think rum is your style, think again. Don Q Gran Añejo is actually more similar to a bourbon (in taste and profile) than you might expect. In fact we enjoyed sipping this rum neat or on the rocks. It is a little sweeter than bourbon, but the complexities of this aged rum are wonderful and compliment a nice cigar very well.
We enjoyed Gran Añejo so much while sipping neat we were curious how it would hold up when mixed in an old fashioned. Spoiler alert… It was great! Next time you're in the liquor store ask the manager for a bottle of Don Q Gran Añejo. Take it home, sip it, enjoy, and then mix this little toddy…
Don Q Gran Añejo Old Fashioned:
Ingredients: 2 oz Don Q Gran Añejo rum, 1 Sugar cube or 1/2 tsp Sugar, 3 dashes Angostura bitters, 1 Orange peel for garnish, 1 Maraschino cherry for garnish.
Method: Place the sugar cube or 1/2 tsp sugar in an old fashioned glass. Add 3 dashes of Angostura bitters. Muddle the mixture, then swirl to coat inside of glass. Add rum and stir. Add ice, stir again until well chilled. Garnish with orange peel and maraschino cherry
Already a fan of Don Q? Let us know how you like mixing this rum. Post your favorite recipes in the comments section below.
To find out more about Don Q and all their aged rum head over to their website: DonQ.com