We carry all of our gear out to the middle of nowhere. We pitch tents, build fires, maybe get a little fishing in…we also get a little hungry from time to time. When you're out in the wilderness, knowing that you have an array of cooking options is a real nicety. This summer we took the Coleman FyreCommander 3-IN-1 Propane Stove out on the trail and we cooked up all kinds of stuff!
Technical Features:
HyperFlame® burners use a stair-stepping design and added flame holes for faster, more even cooking
Boil water twice as fast as standard burners outdoors in a 3 m/sec. wind
Wind Block™ pan supports offer 360° wind protection and fit larger pans
Swaptop™ interchangeable cooktops for more meal options (2 grill grates included, griddles sold separately)
Instastart™ ignition for push-button, matchless lighting
PerfectFlow™ technology provides consistent performance, even in extreme conditions
DripTrap™ water pan catches grease for easy cleaning in the dishwasher
Sturdy telescoping legs let you adjust the height to cook comfortably anywhere you go
Convenient side tables and fabric shelf for easy use
24,000 total BTUs of cooking power
Fits a 12-in. and 10-in. pan at the same time
Spacious 200 sq. in. cooking area when using both grill grates
2 independently adjustable burners give you precise control for 2 temperature zones
Soft-touch handle and secure latch system for easy, comfortable carrying
Lasts up to 1 hour with both burners on high on one 16.4-oz. propane cylinder (sold separately)
Perfect for camping, hunting, tailgating and other outdoor occasions
3-year limited warranty
Coleman® FyreCommander™ 3-IN-1 Propane Stove Review Breakdown
Portability:
The Coleman FyreCommander 3-IN-1 Propane Stove is completely self-contained while stored, and in the shape of a small suitcase. It is equipped with a handle and is very light to carry. When it's time to get going, this stove will easily fit in the back of the old wagon with the rest of your gear while making the trip out to your destination.
Although this grill is fairly easy to carry, in the case you're backpacking to your site over a distance of a few miles or more, adding a small suitcase to an already heavy load may be more than you want to handle. This particular grill is probably best suited for car camping or tailgating.
Setup: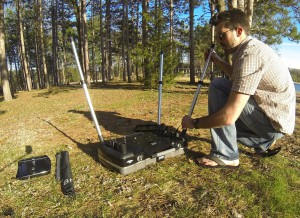 Setting up this stove is actually much easier than we initially expected. Because it's all self-contained while stored, all of the parts are accessible when it comes time to start cooking. the legs are telescoping and adjustable, and screw into place easily. The side tables also can pop into place rather quickly, or if you don't need them they can be stored underneath on the fabric shelf. Once upright, the propane adapter is secured magnetically on the underside of the stove and can be screwed into place quickly. We've clocked ourselves in at under 5 minutes setting up the Coleman FyreCommander 3-IN-1 Propane Stove without trying to rush things.
Design:
The Coleman FyreCommander 3-IN-1 Propane Stove may be a bit larger than some other portable stoves, but its size is made up for in versatility. Once assembled, the FyreCommander will easily cook up a family size feast, and it can serve multiple functions all at once. Whether you have to grill up a pile of kabobs, boil up some soup, or do both at the same time, it is possible to have a well-rounded meal prepared in a timely manner and ready to be eaten while it's all still hot. Because the legs are optional and adjustable, this stove can be used in just about any location at a comfortable level to the camp chef. Also, storage space for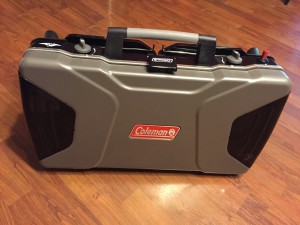 your cooking arrangements shouldn't be a problem with the option of two side shelves and the fabric shelf underneath. When the cooking is done, you have only to secure the lid, and the breakdown is as simple as the setup. Within minutes the FyreCommander can be stored and ready for the next meal.
Functionality:
The Coleman FyreCommander 3-IN-1 Propane Stove is equipped with an Instastart™ push-button ignition, so you don't need to fool around with those pesky matches and potentially lose some eyebrows. Once lit, you can dial in your heat with the two independently adjustable burners. The PerfectFlow™ pressure control technology produces a steady fuel stream and consistent burner performance, just in case the wind picks up or you start to catch some sprinkles.
On further note, the 2 grill plates are dishwasher safe. We tested them, and depending on the amount of grime you accumulate, you may want to do an initial scrubbing before putting them in the machine. Otherwise they came out clean and ready for future use.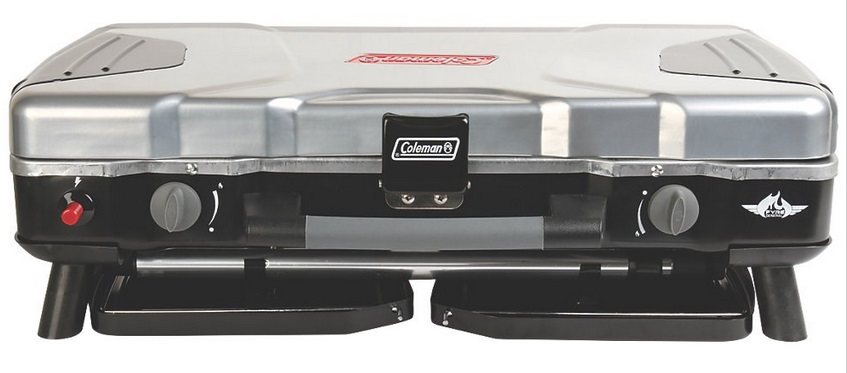 Value: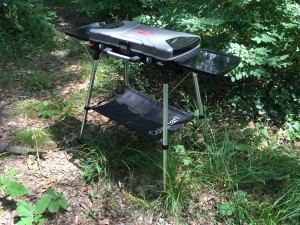 Priced at $249.99, the Coleman FyreCommander 3-IN-1 Propane Stove may seem expensive at first, but compare it to other upright standing propane stoves on the market and the price is quite agreeable. Considering the cooking space it has to offer and versatility in just about every respect, this stove is more than a bargain for any camper who wants to be prepared for anything when the hunger strikes in the great outdoors.
Buy Now: $249.99 or to learn more, go to: Coleman.com
Coleman FyreCommander 3-IN-1 Propane Stove
The Coleman® FyreCommander™ 3-IN-1 Propane Stove is versatile to a variety of cooking arrangements. Additionally it is portable, easily stowed, and can be set up or broken down in minutes, so getting back to being one with nature is quick and efficient after every meal.
The Good:
Versatile In Cooking Arrangements
Very Fast Setup and Breakdown
Highly Functional With Plenty of Shelf Space
The Not So Good
Not For Long Treks
Propane Stored Separately