I reviewed my first CamelBak pack all the way back in 2013. I was a fan back then, and I have continued to use their products regularly while enjoying the outdoors. For day trips, I've been looking for a new pack that fits comfortably, offers flexibility in terms of storing items, and allows me to easily access the gear I need when I need it.
The latest version of the CamelBak Fourteener 24 hydration pack is billed as a premium technical hydration solution for all hikers. It promises plenty of storage options, a revolutionary Air Support™ back panel, and a unique hip belt design. If you are looking for a pack to take with you on shorter or longer day hikes, read our review blow to see if this pack lived up to these promises.
Key Features:
Plenty of storage options on the outside of the pack, including a stretch overflow pocket, a soft-lined pocket, and a daisy chain.
Load bearing Dual Wing Belt with large hip belt storage pockets.
Trekking pole loop.
Air Support™ Back Panel designed to maximize airflow while keeping the pack close to your body.
CamelBak Fourteener 24- Review Breakdown
Design
The Camelbak Fourteener 24 comes with all the standard features that make a great day back, well, great. While looking at the front of the pack, you will see three sections to store gear: two zippered compartments to store small items, and an overflow pocket that can be used to stuff in another layer such as a rain jacket. The larger of the two zippered compartments towards the bottom of the pack is perfect for storing snacks, first aid, or any other items that you need quick access to. The smaller soft-lined pocket towards the top that is perfect for sunglasses or any other small item that you don't want to get scratched.
On one side of the pack, you will find an external mesh pocket to store a small item, such as a water bottle, while the other side lacks external pockets, but does have a daisy chain, giving you plenty of options to secure items to the outside of the pack. The bottom of the daisy chain has a loop, which can be used to store trekking poles. Both sides have a small piece of material that comes with a cinch cord attached and has plenty of room to attach additional carabiners to secure more items.
One of the more unique features on this pack is the Dual Wing Belt. Unlike the typical small pockets that you find on many hip belts, the belt on the CamelBak Fourteener 24 has two larger pockets. One side of the belt has a large mesh pocket with no zipper, while the other has a large zippered compartment. If you have ever tried to stuff your camera or cell phone into a hip-belt pocket and have struggled, you will greatly appreciate these larger pockets. You can easily fit your phone or camera in one pocket, and still have the other pocket available to store a couple of cliff bars and energy chews.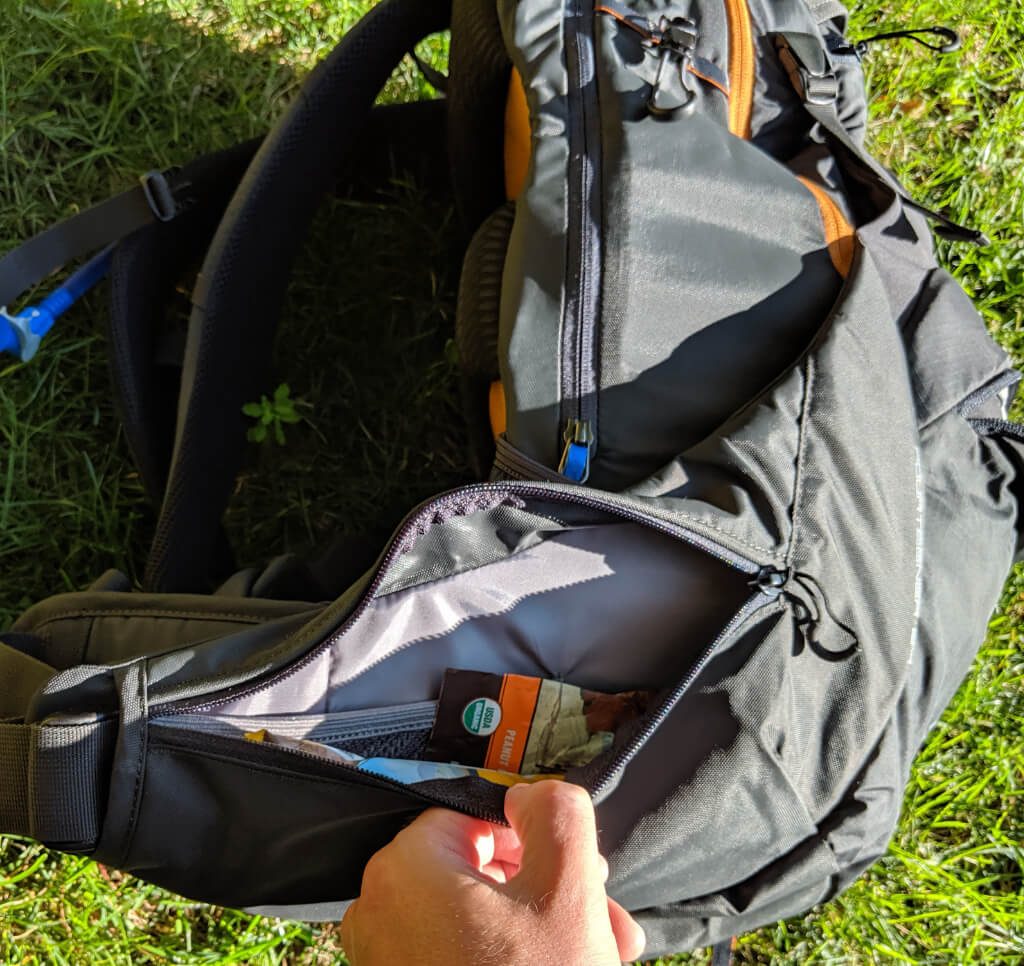 The back of the pack uses what CamelBak refers to as the "revolutionary Air Support™ back panel". You will notice that there are three larger sections with thick pads, separated by two air channels. I am always skeptical when companies hype up their pack ventilation. I am usually going on long day hikes, and when you couple that with hot, humid weather, my back gets soaked with sweat. Regardless of which pack I use, this always seems to happen, and it is true of the CamelBak Fourteener 24. Was my back slightly less sweaty than some of my other packs? Maybe. Was my shirt still wet when I took my pack off at the end? Yes.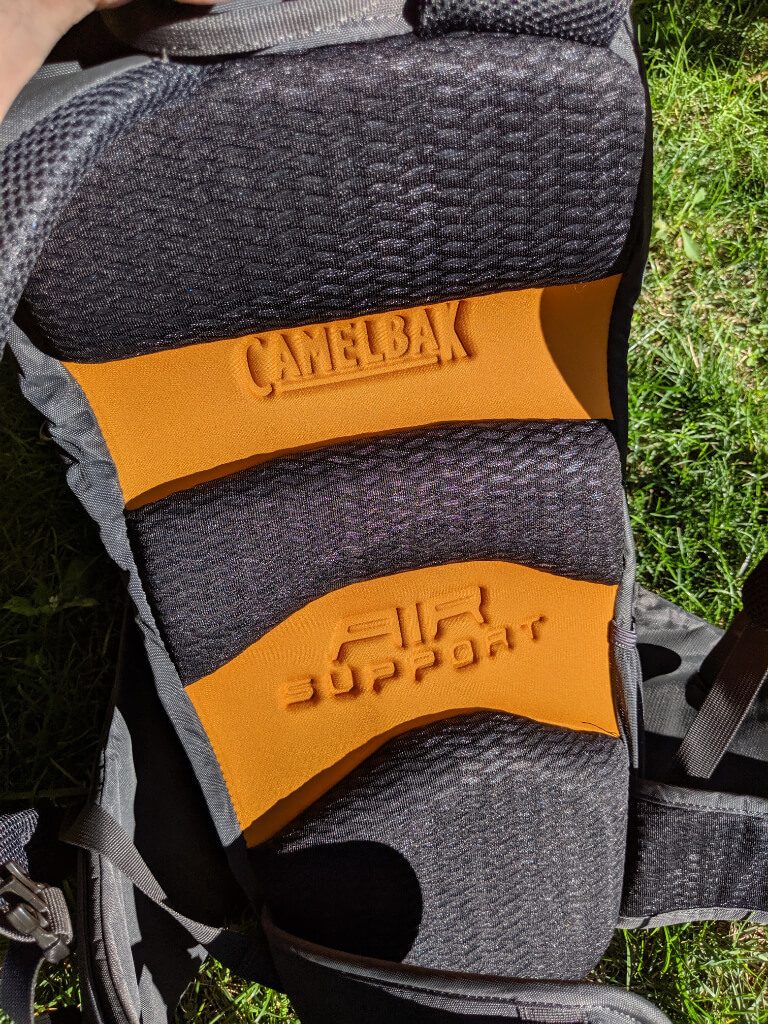 On the inside of the back, you have one larger compartment that has two smaller zippered pockets towards the top, and one compartment that is used for storing a water bladder. For a long day hike, the storage compartment was just right for what we needed.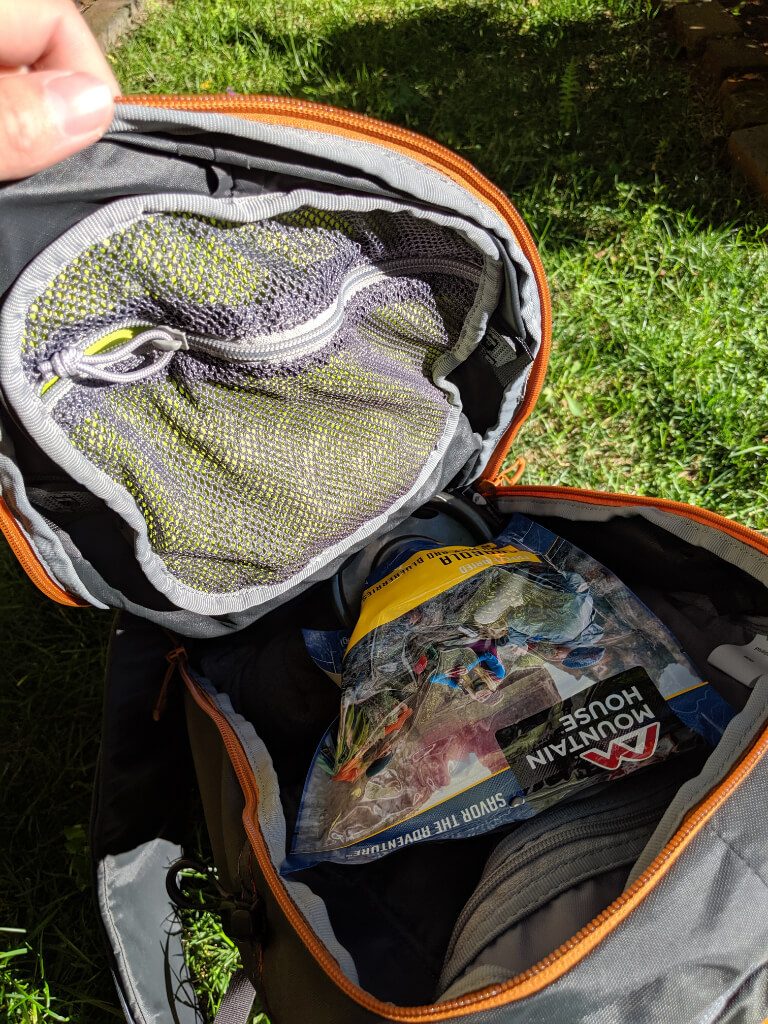 The pack comes with a 3L CRUX™ Water Reservoir, which promises "faster flow rate powers longer adventures". I've never thought drinking out of a water bladder was particularly tough, but this reservoir makes it feel effortless. It provides great water flow.
Comfort
The pack fit my back very well, and it felt great carrying a 20 lb. load. Despite the back sweat mentioned above (that I experience with every pack I own), the Air Support™ system has excellent padding and offers great support. Cinching all of the straps down and setting up the adjustable sternum strap to my preference made the pack feel very secure. After hiking for an hour both uphill and down, I didn't need to make any adjustments. At the end of the hike, my back did not have any sore spots.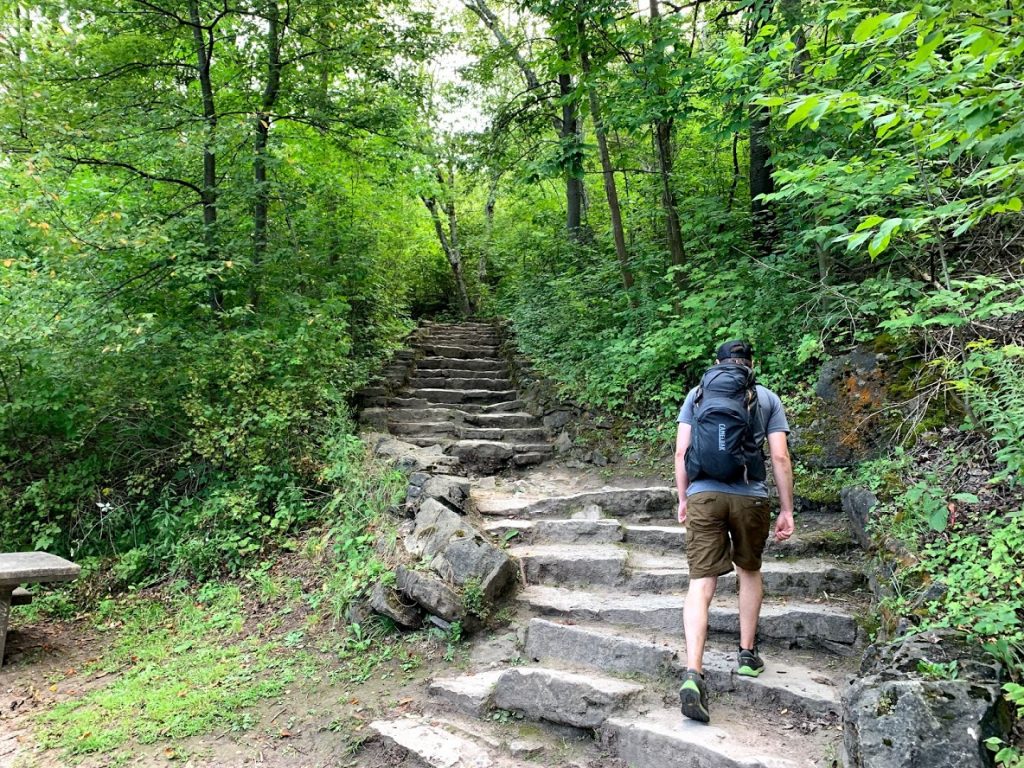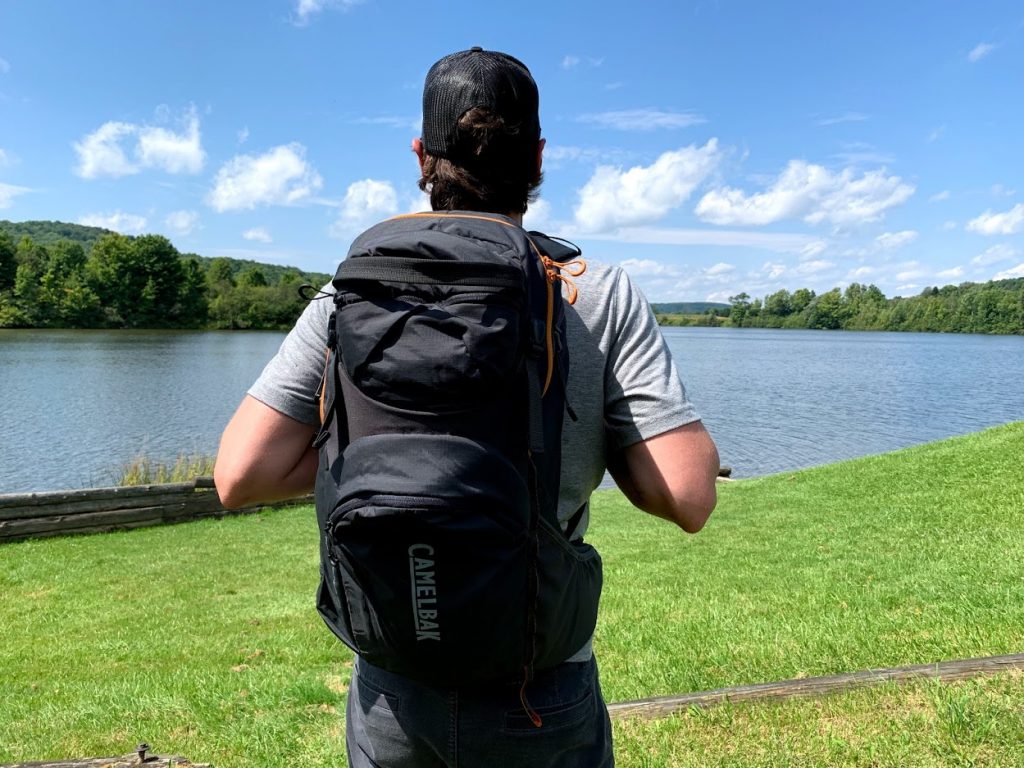 Storage
As I discussed in the design section above, this pack offers a wide variety of storage options. There is a small, soft-lined pocket towards the top of the pack that is perfect for storing any items that you do not want to get scratched. There is a medium sized zippered pocket that is perfect for storing items you will want when you take a break. The overflow pocket is perfect for storing an additional layer or a rain jacket. The hip belt pockets are huge and can easily fit your phone or small camera. There is a loop to secure trekking poles. There is a daisy chain that can be used with a carabiner or cinch cord to store more items.
The inside of the pack has plenty of room to store any other items that you do not want on the outside of your pack. You can easily fit a small stove inside, additional clothes, lunch, and a book.
The big thing to take away is that this pack has plenty of options for storage depending on your preferences. Between the internal and external storage, if you are going on a day hike with a reasonable amount of gear, you will have no problem finding somewhere to store them.
Value
The CamelBak Fourteener 24 has an MSRP of $150. This is on the more expensive side of a day pack, but if you value quality materials and plenty of storage options, this may be well worth the price.
Buy Now: $150 or to learn more, go to: CamelBak.com
CamelBak Fourteener 24 - Gear Review
If you are looking for a smaller pack to take with you on day hikes, the CamelBak Fourteener 24 is an excellent choice. It offers great back support and plenty of storage options for all of your essential items.
Pros
Tons of storage options for a day pack
Soft-lined pocket is great for storing fragile items
Large hip belt pockets provide plenty of room for snacks, camera or cell phone.
Cons
Heavy duty materials means a heavier weight.