Last summer, after not biking for over a year, I began training for a 30 mile bike ride to raise money for a local cancer research institution. In order to prepare for this ride, I made a routine of not driving my car on Sundays, and instead, biked where I needed to go.

At the time, I had (and still own) a small Osprey Raptor 6 hydration pack. This pack is a 6L pack, that could store some of the basic essentials that I needed for my trips such as water, my wallet, my phone, and a snack. However, because it was only a 6L pack, storing other items, such as a sweatshirt or rain jacket, was either not possible or made the pack feel cumbersome because I really had to stuff these items in.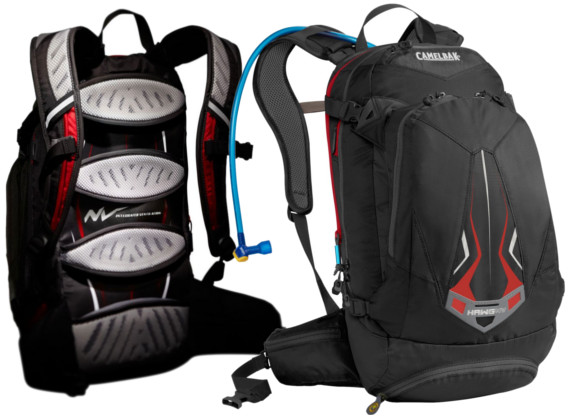 This year, I am doing the same fundraiser event, but instead of doing the 30 mile ride, I am doing the 44 mile ride. When I was offered a chance to review the CamelBak H.A.W.G. NV, a slightly larger hydration pack, I was anxious to see how biking with a slightly larger pack felt.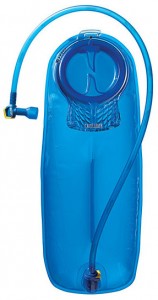 Key Features:
14L storage capactiy + 100 oz (3L) Antidote reservoir
Weight: 2.10 lbs
D-Fit Suspension and Slider Sternum Strap
Integrated rain cover
Center storage area that allows you to store a helmet or cinch in some rain gear for easy access.
New and improved NV Back Panel
Helmet hook
Media pocket
Dual bike tool organizer pockets
Four point compression
Dual waist belt pockets
– Camelbak H.A.W.G. NV Review –
Note: The Camelbak H.A.W.G. NV is categorized as a mountain biking pack. Because I am not an experienced mountain biker, I decided to not only to test this pack biking, but also took the pack on a few day hikes.
STORAGE: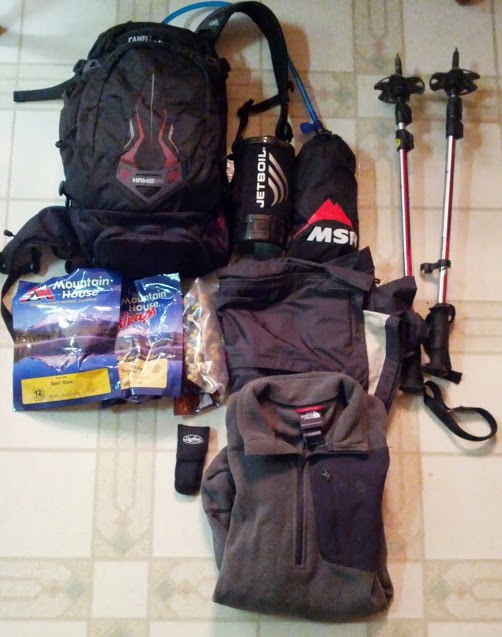 (10 out of 10) Personally, when I am biking, I try to take as little gear as possible, and aim to be minimal. This pack can easily fit the standard things you would probably consider bringing: a mini-tool, spare tubes, a small-pump, a tube patch kit,  keys, wallet, phone, bike lock, a snack, a small lunch, a sweatshirt, a rain jacket, etc.   To give you some idea of how much can fit inside this pack, I tried to think of all of the items I would want in my pack if I was going on a long day hike. I was able to fit inside: my phone, a utility knife, a headlamp, 2 dehydrated meals, a Jetboil, granola to snack on, my MSR Sweetwater filter, a rain jacket, and a fleece. Like I said, when I am biking, I try to be as minimal as possible, and I would probably never take all of this with me on a bike ride (especially the rides I typically do), but I just want to give you some idea of what this thing can store. If you are looking at this pack and thinking of using it to go on day hikes, it should be able to fit your essential items.   Note: I was able to secure my trekking poles to the outside of my pack by running them through the straps that cinch down the center storage area.  
Comfort: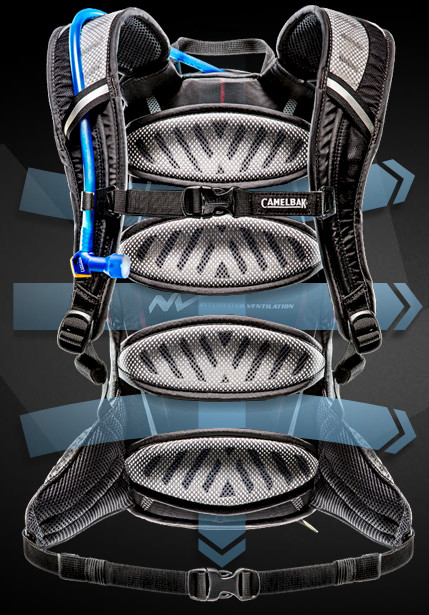 (8.5 out of 10) This pack is very comfortable. The straps were well padded, easy to adjust, and it wasn't difficult to get the pack to feel sturdy and secured to my back. The weight was distributed evenly, and at no point did my shoulders feel uncomfortable.   On the back of the pack, Camelbak uses a new feature which it calls the "revolutionary NV Back Panel". This back panel is said to offer "multi-directional ventilation" that is supposed to keep you cool. However, in my experiences with this pack, my back became very sweaty. Although this system offers great suspension, the ventilation was not what I was expecting. If I was really biking hard, or maybe after an hour or so hiking, my back felt really wet, while the rest of my shirt was relatively dry. Granted, I these activities were in 80 degree weather, but I was really hoping for more with this back panel.
PERFORMANCE: 
(10 out of 10) This pack is light, comfortable, and fits all of the gear I typically take biking (and even more). The zippers seem durable and are easy to open and close. The pack felt stable, secure, and comfortable while both biking and hiking.   Additionally, the water reservoir worked extremely well, and the reservoir storage area kept my water cool inside of my pack.
DESIGN: 
(9 out of 10)  We received the Pirate Black version of this pack to review, which is stylish and simple. The entire pack is black with the exception of red highlights which are used on the front of the pack, as well as on the zippers. Although some may like this contrast, I thought that it made the pack "pop" a little too much. The red version of this pack uses a darker red, which doesn't appear to be as dramatic of a difference when compared to the black/red combination.   The quality of the material is excellent. Camelbak notes that the fabric this pack is made out of is 70D Diamond Clarus & 420 Nylon with DWR + 1000 mm PU. 
ACCESSIBILITY: 
(8 out of 10) The one main issue I had was with the water reservoir hose. on the front of one of the shoulder straps, there is a small clip which you can use to fasten the reservoir hose so that it does not move and stays tightly against the pack.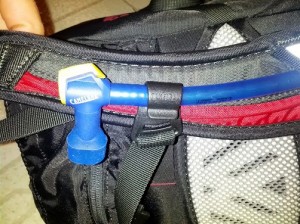 The position of this clip is not adjustable. The fact that this clip was located on a lower part of the strap, and the fact that I could not re-position it made it so that I needed to unfasten and refasten the hose every time I wanted to drink. This quickly become annoying, and I decided to just not fasten the hose and let it hang. I prefer some of the other mechanisms to secure reservoir hoses such as a small clip which you can re-position and clamp onto any strap, or even magnets (which are used on the Osprey Raptor 6). These clips allow you to position your hose so that it is our of the way, yet easy to grab when you need a drink.
VALUE: 
(10 out of 10) At $150, this pack is an excellent choice for those that are looking for a small, but roomy pack to store all of their items. CamelBak uses the motto, "Maximum volume. Maximum hydration" to describe this pack, and that is exactly what you will receive. I couldn't imagine taking much more with me on the bike rides I do. While hiking with this pack, it fit everything and more that I would expect a hydration pack to be able to carry.  
THE BOTTOM LINE

:
I am extremely happy with the CamelBak H.A.W.G. NV. I plan on using it not only for biking, but also on the many day hikes that I hope to enjoy this summer. This is now my go-to pack for day hikes, because the amount of storage that it offers is exactly what I was looking for.   For a closer look at the make sure to check out the embedded video below, in which Seth from CamelBak and Mark Weir help you to visualize the awesomeness that is the H.A.W.G. NV.      Buy Now $150 or go to: CamelBak.com