Over the last few years we have all seen the influx of grooming products engineered specifically for Men.  The developers of these products are all angling for a piece of the 6.1 billion dollar men's grooming market. With all of these products and advertisements it can be difficult to find the right product that suits your specific needs. In addition to vast amount of products, do you really know what you are actually putting on your face? We here at Busted Wallet were lucky to get our hands on a Men's Complete Grooming and Skincare Kit from our friends at Brickell.  Brickell is dedicated to delivering all natural and organic skincare products.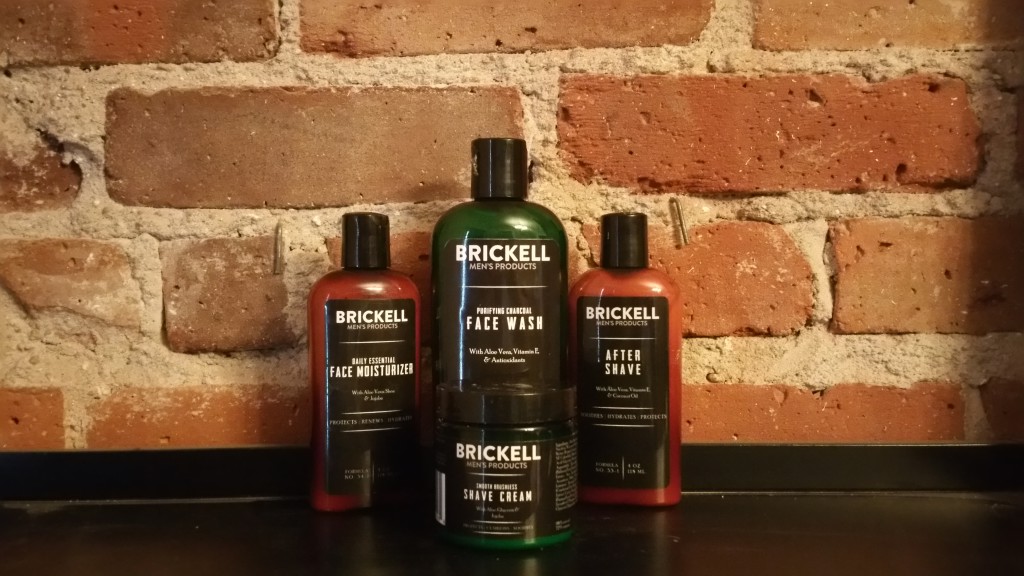 According to the folks at Brickell, their journey began in 2013 as co-founder Josh Meyer, was browsing popular men's skincare products and decided to research a few of the ingredients in one of the products he was about to buy. The first ingredient he Googled revealed studies showing it was known to shrink the testicles of mice and he thought to himself "there's no way I'm putting this on my body". After telling friend and future business partner, Matt Bolduc, about his research, he learned Matt had discovered the same thing. Luckily for consumers, their research and entrepreneurial spirit  led to the development of their own custom, natural formulas.
Having organic and natural products is great for publicity purposes, but the true test in men's grooming products is do they actually work? Does the shave cream provide a nice, smooth shave and eliminate razor burn? Does the aftershave help irritated skin and alleviate redness? We gathered the men at the Busted Wallet headquarters for a three week shaving experience to see if the Brickell grooming line was able to answer these questions and more.  Here's what we discovered…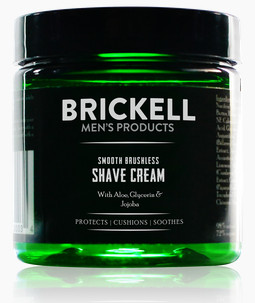 Starting off first with the all-important shave cream, Brickell provides a non-lathering shaving cream for men which is designed to soften your whiskers, while gently lifting them up, allowing for an ultra close shave.  Brickell says the advanced blend of natural ingredients will build protective cushion between your face and razor, which should allow for an irritation, nick and cut free shave.  The shave cream does not really apply to your face like a typical shaving cream but is more like a lotion.  The cream absorbs into your skin so it is not visible during the shave.  This will be confusing to some and may cause you to apply extra but rest assured the cream is there and working.  Overall, 3 of our panel memebers enjoyed the shave and got a good clean shave with few to no razor burn or nicks.  One member did struggle with the cream as he has dryer skin and struggled to get enough moisture.  While you can get the shave cream in unscented and scented, we went with the scented version which had a nice blend of peppermint, eucalyptus, & lemongrass which had a subtle and soft but refreshing scent to it.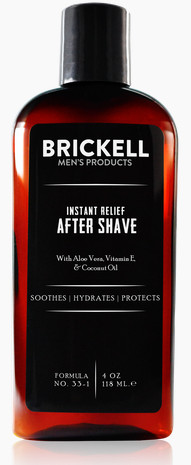 For a lot of men the shaving experience ends as soon they swipe off the last bit of shave cream and rinse out the razor, bypassing the use of After-Shave.  If you are one of these men, we beg you to spend the extra 30 seconds and apply some after-shave.  Aftershave helps nourish the skin after you just removed the dead cells and exposed a softer layer of skin. A simple splash will help cleanse, soothe and tighten the skin.  Brickell's Instant Relief Men's Aftershave is the perfect compliment after a nice shave.  Designed to be light and fast-absorbing the aftershave helps to calm, hydrate, and protect your face and neck, without clogging pores or irritating skin.  The aftershave also includes Aloe Vera which soothes and repairs the skin after your shave, helping to reduce irritation.  The aftershave was a big hit among all panel members.  One panel member who struggles with in-grown hairs after shaving and mostly avoids the clean shaven look due to the damage and irritation caused by a shaving, saw a dramatic reduction in irritation and in-grown hairs.  The aftershave felt great upon application and offered a soothing and refreshing feeling.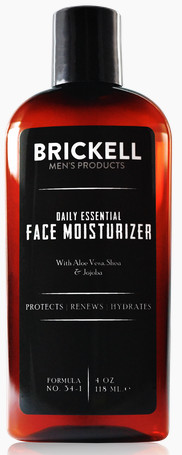 Another over-looked process in a man's grooming routine is the importance of face moisturizer.  Face moisturizer helps keep your skin refreshed and helps prevent cracks, dryness, and other blemishes that age your skin. Brickell's Face Moisturizer features all-natural products with the main ingredients being Aloe Vera, Shea Butter, and Jojoba. The moisturizer applied very nicely and melted easily in to the face and did not give that oily look that is a common result among a lot of moisturizers. Moisturizing is essential to keeping your skin looking healthy and Brickell included some anti-aging properties to get your skin looking fresh and rejuvenated.  Overall, the face moisturizer lasted a long time and we found that by applying in the morning we got a long lasting hydration that left our face feeling great throughout the day.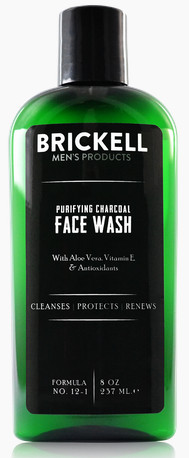 In regards to having healthy and young looking skin, we have saved the most important product and process for last.  Even Dermatologists agree that washing your face in the morning and before bed is extremely important.  In the morning it is important to apply a good face wash to prevent excessive oil production.  In the evening it is vital to wash your face because overnight the skin needs oxygen to repair itself. And sleeping with excess oil and residue deprives it of this vital nutrient and helps prevent skin dehydration.  Brickell has engineered a face wash that is refreshing, natural and filled with extracts and vitamins that moisturizes, while the charcoal is designed to deeply clean your pores while leaving your face brighter and cleaner.  We found this face wash to be a great addition to our morning and evening routine to help clear the skin of excess dirt and oil.  The feeling of starting the day or going to bed with clean skin can't be beat.  We really enjoyed the activated charcoal which really seemed to clean pores of dirt, oil, and other items out of the skin.
Buy Now: $103.00 or, to learn more, go to: BrickellMensProducts.com
Brickell Complete Grooming & Skincare Kit
Priced at $103.00, the Brickell Men's Complete Grooming & Skincare Kit will surely cause sticker shock for those guys used to buying only shave cream and stealing their girlfriend's lotion. What Brickell is providing is an all-natural product selection designed to keep your face looking and feeling great. Overall, our crew enjoyed the product offerings and noticed a difference in our skin quality and found ourselves embracing the products versus being ashamed of having a robust groming and shaving process. While the shave cream was the lowest rated product, a few members of our panel continued to use it as they enjoy the more lotion-like shave cream verus a heavy cream. The rest of the products proved to big hit among the panel and have become everyday favorites. Enjoy!