BluPrint Shoes offer a unique line of shoes for men and women looking for something simple yet different than your average shoe. When researching the company, the small line of men's shoes were different enough in design that my interest was peaked.  We received and tested the Encinitas Plimsoll in black for several weeks. Here at Busted Wallet, we pride ourselves on honest reviews for new and innovative products.
Key Features:
CLOUD IMPRINT – Proprietary footbed technology
NATURAL FIT LAST – Shaped just like your foot
M-LITE – Super lightweight feel and cushioning
Encinitas Plimsol Review Breakdown
Style:
I have to hand it to them, Bluprint does go against the grain in their design. I appreciate their courage in style but aesthetically, the shoe is not my taste. If you want a new take on the "skater" or "surfer" shoe, you will most likely be pleased! I, however, just could not find the right outfit or occasion to wear these shoes.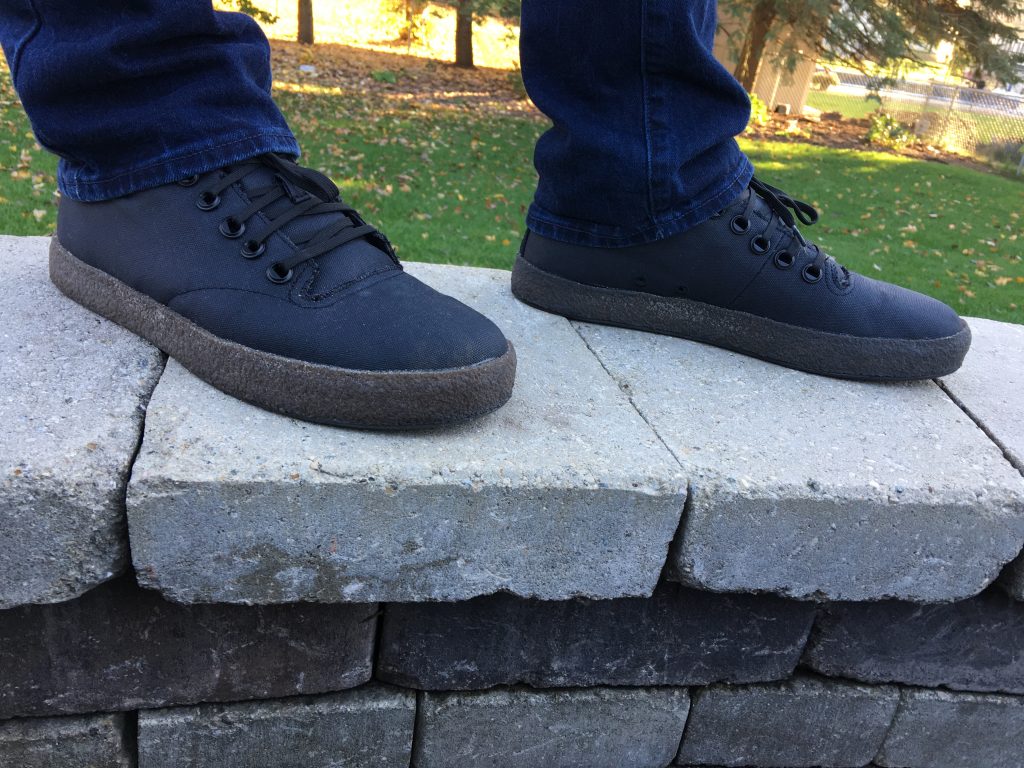 The toe is much rounder than what I gathered from the picture online and the sole is entirely flat. Remember this is just one man's opinion. I personally like new and creative takes on the "classic gentleman" style. I may have been happier with this shoe in white. The entirely black design of the shoe did not inspire me style-wise in any way.
Design:
The design is simple and minimal. The shoe is made of all  black quality canvas.
I was most interested in the insoles of these shoes when they first arrived. The insole is a foam blend that was said to be both comfortable and minimal. I did enjoy the feel of the foam when   wearing these shoes.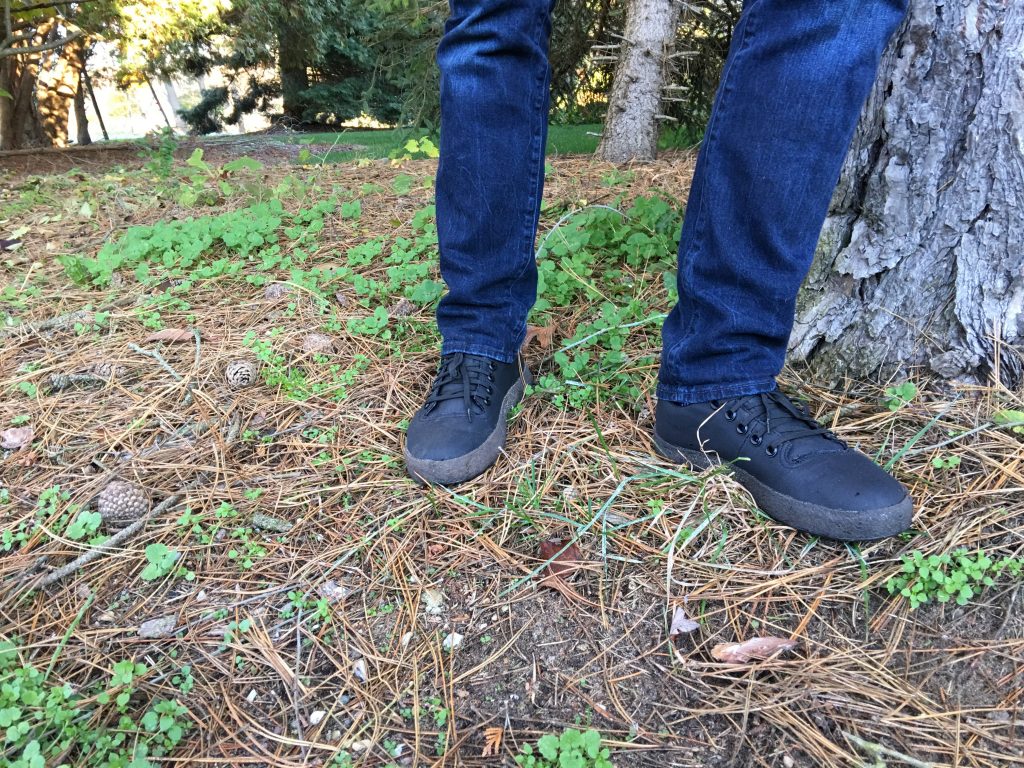 The shoe is cut quite low so having the appropriate sock is a must. I wore them with short socks that were cut below the top of the shoe and the shoes rubbed  my ankles all day. The problem was fixed when I wore taller running socks.
The laces are high quality and seem to be built to last. The company warns buyer that this shoe runs a half size smaller. It is important to pay attention to this because they are absolutely correct. The shoe is quite snug.
Comfort:
The Cloud Imprint designed insoles is a memory foam for your feet. The foam did form to my feet nicely the more often I wore them. The problem I had most with these shoes  is there is zero arch support. This is usually a major draw for those looking for a minimalist shoe design. If that is you, great! However, I require (and many of us do) a touch more support.
My feet were quite fatigued after wearing them all day. Maybe it's my feet…I am unsure. But there is no arch support and that simply does not work for my feet.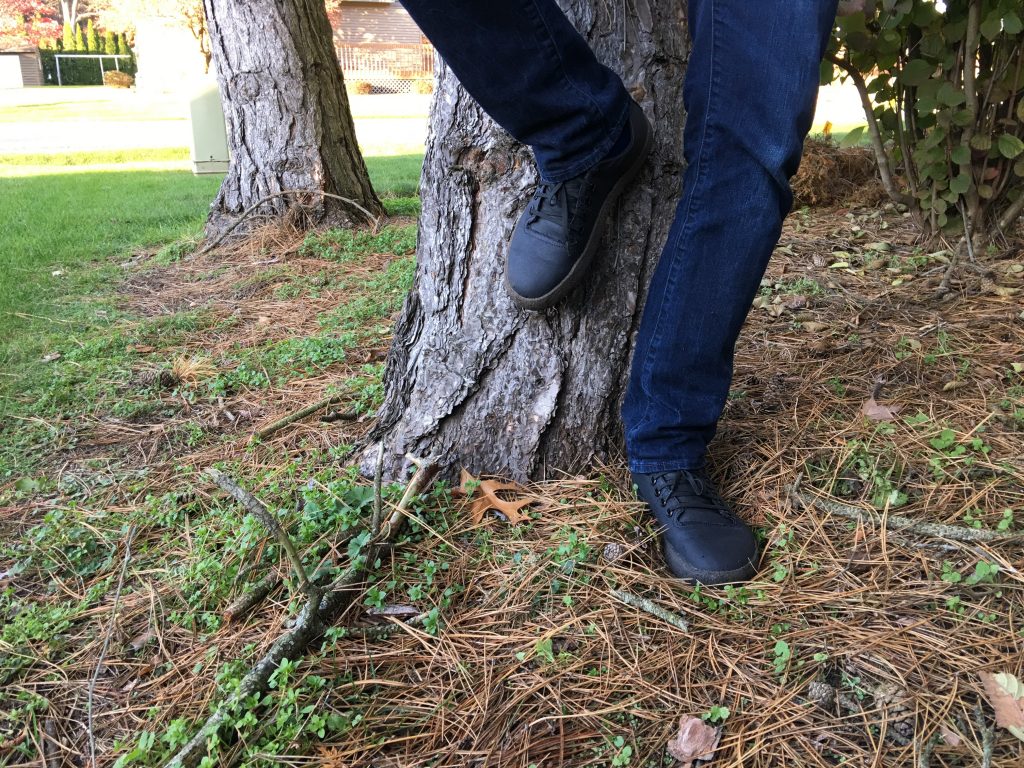 Value:
The Encinitas ring in at $99. This is not a bad price for a shoe. The website offers a 30 Day money back guarantee. If you like the casual look of these shoes and a minimal design, what do you have to lose with a money back guarantee? The company continues to interest me but unfortunately these samples did not quite reach the mark. Perhaps these shoes could inspire YOUR wardrobe!
Buy Now: $99 or visit BluPrintcomfort.com for more information.
Bluprint Shoes - Style Review
Bluprint offers unique shoe designs for men and women. The Encinitasn Plimsoll by Bluprint is a minimal, flat soled, casual shoe.
The Good
Foam insole
Minimal
Quality canvas exterior
The Not So Good
Flat, no arch support
Higher sock required
Difficult to style