A good headlamp should be utilized for more than just camping and once you have one you will wonder how you ever lived without it – in my opinion it is something that every household should have AT LEAST one of! In the case of today's review we're talking about the Black Diamond ReVolt. A fully rechargeable LED headlamp engineered by a company with stellar reputation within the outdoor industry. The Black Diamond brand is well known for their climbing and skiing gear, so it's no surprise they know a thing or two about making the most out of the day… and night! Recently I took Black Diamond ReVolt backpacking for a weekend excursion though the sandy dunes and dense forests of northwest Michigan.

Take a moment to play the embedded video below from Black Diamond to get an up-close look at everything this headlamp has to offer.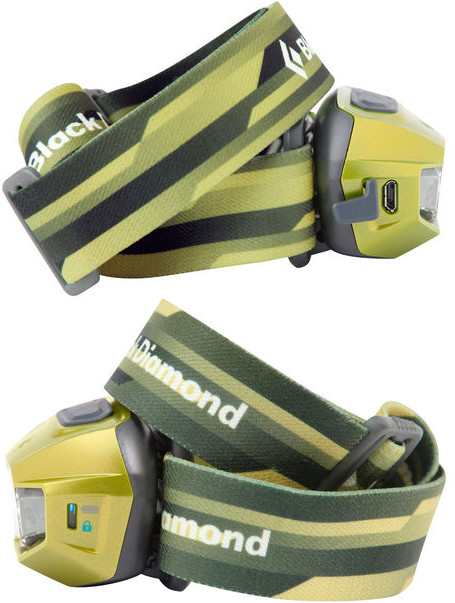 ReVolt Key Features:
110 Lumens
Rechargeable
4 light options, including a red LED option
Long lasting charge
Comes with 3 AAA Alkaline and 3 AAA NiMH batteries
Lightweight
Tech Specs:
Weight With Batteries :  97 g (3.4 oz)
Lumens :  110
LED Type :  1 TriplePower, 4 SinglePower (2 white, 2 red)
Batteries :  3 AAA alkaline or 3 AAA NiMH (both included)
Max Distances :  [Alkaline] 70 m (TriplePower LED); 9 m (SinglePower LEDs) [NiMH] 66 m (TriplePower LED); 8 m (SinglePower LEDs)
IPX Rating :  4
Max Burn Time :  [Alkaline] 70 hrs (High); 300 hrs (Low) [NiMH] 12 hrs (High); 190 hrs (Low)
– Black Diamond ReVolt Headlamp –
Design: 
(10 out of 10) The coolest things about this headlamp are that it's rechargeable, the 4 light settings and the adjustable angle. The last thing you want to deal with when camping is going to turn on your headlamp only to find the batteries are dead. The ReVolt can be charged through a USB port, using the included rechargeable batteries. I used the chargeable batteries for a weekend camping trip, mostly on the dimmed setting, and it lasted the entire weekend.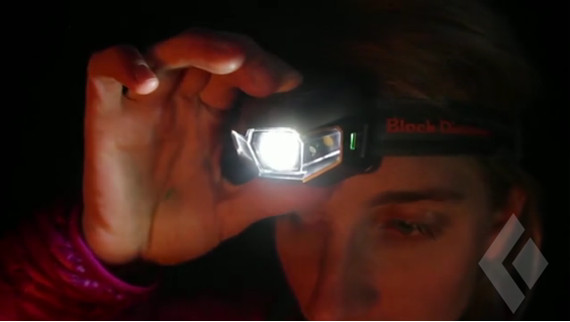 One of my biggest pet peeves about headlamps is that they usually have two setting… "on" and a "dance party" (i.e. strobe). Not this headlamp, the Black Diamond ReVolt has 4 settings, including regular "on," dim, red, and strobe. The dim was my favorite feature – it was about perfect for sitting around a campfire where a little extra light is needed because it provides a bit of illumination yet you don't end up blinding your friends when talking to them! You merely have to hold down the main button to adjust the level of brightness desired.   The other cool feature is the adjustable angle. I had a headlamp in the past that has this ability, but it did not lock in and often times it would loosen up and I had to find a tiny screwdriver to tighten it down again or it was just flop over. This adjusts and locks in, so no worries about it not holding up.  
Comfort: 
(9 out of 10) I'm docking the ReVolt one point because there is no padding on the part that sits up against your forehead, so it could be much more comfortable. However, that being said, it wasn't uncomfortable. The elastic strap is very soft and easily adjustable so that it is not too snug or too loose. I was easily able to synch down the strap to fit my head once I added a hat (the temp went from 70s during the day to 50s at night), and it stayed put both with and without a hat.  
Durability: 
(9 out of 10) The strap and plastic all seem to be high quality and very durable. Black Diamond is a great brand that has been around for decades, so if history is any indicator, this thing will last a long time! However, to get to the batteries you must pry open the light, and there is just a thin plastic membrane holding the two parts together. This does not look strong and or durable . . . I did not want to test that as I really like this headlamp and didn't want to break it!  
Value: 
(10 out of 10) It lists on the Black Diamond webpage at $59.95 and in my opinion it is worth every penny. With the variety of settings, adjustability, and money you will save on batteries, you can't go wrong!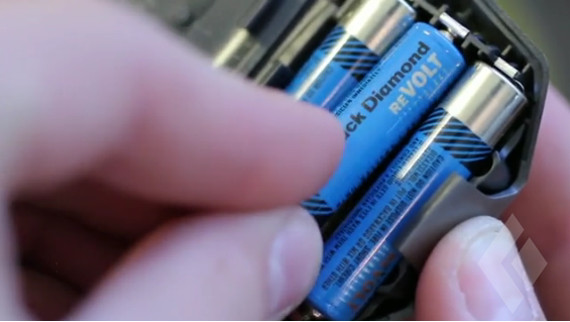 The Bottom Line

:
The Black Diamond ReVolt headlamp is awesome and made by a reliable company. Just the fact that it is rechargeable is enough to sell me on it . . . add in the extra little things, like a dimmer and the lock in adjustable angle, and I'd say it's darn near perfect! Do yourself a favor and buy one, charge it, and keep it on hand for the next trek, power loss . . . or the zombie apocalypse, in any case, it will come in handy!   Buy Now: $59.99 or go to: BlackDiamondEquipment.com