This article is brought to you by Bitdefender.
Created over two decades ago, even Bitdefender's creators couldn't have imagined that their software would be utilized by more than 500,000,000 globally – to put it into perspective that's 7% of the world's population… yeah, think about that! From corporations to small businesses to everyday users like you and me, Bitdefender is used to fight off cyber-threats without impacting your device's performance.
Recently the innovative team over at Bitdefender launched their newest product, Bitdefender Internet Security 2016. Their newest version promises to deliver the best in protection and performance with an easy to navigate user interface (finally!). Most importantly Bitdefender protects your PC from annoying adware and dangerous malware that infiltrates to steal data, intercept online payments, spy, or hold your information for ransom.
Key Features Include:
Bitdefender Photon: Designed to improve your computer's speed, Photon is really cool. There's nothing more annoying than a sluggish PC when you're trying to get something done or just play around on the internet. Photon technology is exclusive to Bitdefender and works really well for upping your computer's speed overall.
Cloud Integration: Running most of its processes directly from the cloud, this software puts very little strain on your PC. Throughout our sessions testing Bitdefender we didn't even realize it was running most of the time. And that's exactly how it should be.
Game, Movie, Work Modes: Detecting when it's play time, work time or time to watch a movie Bitdefender can temporarily eliminate popups, adjusts visual settings, and pause unnecessary background programs. This is great for users who have one laptop for both home and business.
Bitdefender Autopilot: This is actually one of our favorite features. Autopilot is exactly what you would think. Forget about pop-ups, say goodbye to alerts, and there's nothing to configure. Let it run and you're protected hassle-free.
Fast and Secure Payments: When you're at checkout in an online shop Bitdefender will auto-fill your information for you. We weren't sure if this would be one of the best features for us, but after using it a few times we're sold. It's super quick and makes checkout that much easier.
Quick Vulnerability Scanner: One click and Bitdefender will scan your PC for outdated software, security patches and unsafe system settings. We suggest running this weekly. It's nice piece of mind knowing your computer is up to date and safe. Best of all it's really quick too.
Consistently outperforming the competition (Kaspersky, Symantec and McAfee) in both protection and performance is what has made Bitdefender Antivirus a household name in recent years. Utilizing machine-learning algorithms, Bitdefender continually ranks #1 thanks to its ability to evolve faster than malware. Their algorithms actually reveal new and unknown threats in fractions of a second and with pinpoint accuracy. Genius!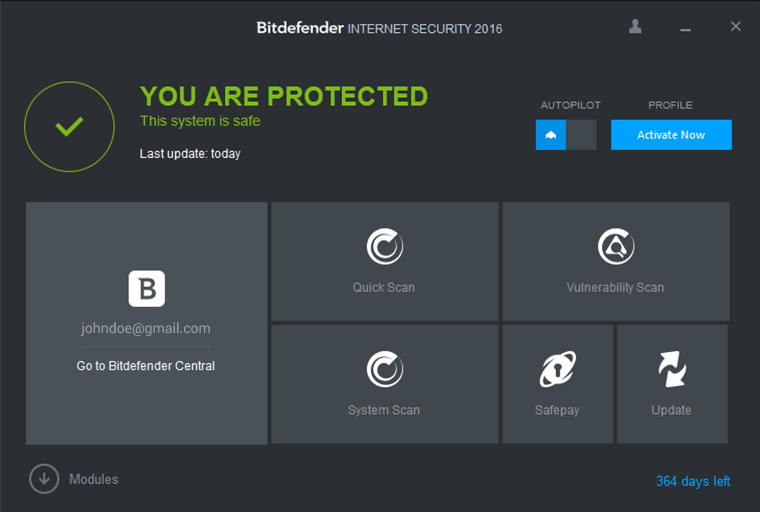 "Security Meets Artificial Intelligence" is Bitdefender's tagline. With a statement like that you might expect the software to be cumbersome and challenging to navigate. Thankfully the crew who designed this leading edge security system also put in the time to make sure it is easy to use and understand. An aspect not all antivirus companies can hang their hat on.
At Busted Wallet we take cyber security very seriously. To keep our site up and running, we must! To combat the trolls and devious characters that lurk in the shadows of the internet we also utilize Bitdefender, and as soon as we got the word they launched a new version for 2016 we jumped on board.
While researching the products we review at Busted Wallet we run into a lot or misleading links and harmful malware along the way. It is literally unavoidable. One of the things that Bitdefender does best is block all suspicious sites and links. By updating Bitdefender daily you know you are protected. Since Bitdefender runs primarily in the cloud we also noticed that our PCs aren't lagging on speed. Our editors commonly have 10+ windows open at once and running Bitdefender in the background hasn't been an issue for anyone.
Since we've had Bitdefender running in our office we've been able to cut back on downtime and save a lot of money by not having to send our machines in for repairs and rebuilds. We can't tell you enough how helpful this has been to our business. In our opinion Bitdefender is a great choice for all levels of users and is truly simple to use for inexperienced PC owners looking to keep their computer and files safe.
If you're looking to upgrade your PC's security software, you'd be hard pressed to find a more capable system. Do yourself a favor and check out Bitdefender Internet Security 2016 for yourself. For the small cost of $50 you can protect up to 3 PCs and everything you'd like to keep private.
Buy Now: $51.97 or to find out more, head over to: Bitdefender.com