If you are a skier or snowboarder you know the importance of a good pair of goggles while getting your shred on. When it comes to picking out the perfect goggle you have to think about a few things… comfort, optics, price point and style. All of these things are very personal and what is ideal for one person might not be for the next. That's why this season we've gone ahead and done the dirty work for you. We did all the research, the testing and the hours and hours and hours of shredding the gnar. And for what? To present you with the very best snow goggles 2017 has to offer.
Our list doesn't include every google on the planet, but what you will find is a wide range of styles, prices and features. If you're looking for a great pair of goggles this season let this list below be your guide. In order of highest priced to lowest we present you with the best snow goggles of 2017. Enjoy!

Designed for fog free shredding all day and into the night, the Abom features a battery powered lens that keep fog at bay no matter the conditions. Yep, you heard us right. Battery powered lens. The Abom quickly kills fog with the tap of a button.
Technology is a big part of skiing and it is awesome to see something truly new and innovative hit the goggle scene. While testing the Abom this season we loved the technology. While bundled up and wearing a face mask we often encounter goggle fogging. When that happens and you're wearing the Abom you don't need to take them off to wipe them down. Nope, just tap the side button and they are clear in about 30 seconds.
Beyond the awesome tech, the Abom is also comfy. It is a little heavy due to the battery, but nothing we didn't get used to after a few runs. The comfort is also on par with some of the best we tested. We never encountered any pain or pinching. While they were on the heavier side, they still preformed well.
As for optics we've seen better, but the Abom holds its own and delivers excellent clarity and field of view. If you're constantly battling fog in your goggles look no further. The Abom is here to save the day.
Comes with:
Goggle bag
Charger
Available in 18 lens / frame options
Buy Now: $249 – $269 or to learn more go to: Abom.com
T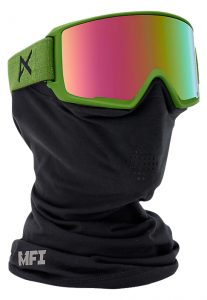 he anon. M3 sets itself apart from the rest of the crowd in a few ways we can appreciate. Manufactured by Burton, a company that is no stranger to snow sport, we have to throw out some props for their innovative Magna-Tech™ Quick Lens Change Technology. The lens on this goggle is held in place with a grouping of magnets around the frame only, so changing the lens out is insanely user friendly. The only drawback we've discovered here is that it's terribly difficult to remove the lens without bending the frames, so changing out lenses mid-mountain without removing the anon. M3 from our heads has been something of an issue for us. Otherwise, its a refreshingly fool-proof system.
Wait…that's not all! Utilizing the power of magnets even further, Burton has provided a breathable facemask that clicks right into place around the frame, and free of clasps. If it needs to be pulled down, all it takes is a simple pull, and resetting it is as simple as moving it right back into position. We have very little to complain about with this handy bonus item!
The anon. M3 lenses are polarized, over-the-glasses compatible, and fog resistant. The strap is coated with three strips of no-slip silicon too, so these goggles will stay where needed with confidence. We also have to give Burton a double thumbs up for the simply retro design concept that gives the anon. M3 the perfect blend of innovative functionality and oldschool aesthetics.
Comes with:
MFI Facemask
Spare Graybird Lens
Nylon Compression-molded Storage Case
Microfiber Goggle Bag
9 Frame Colors and 18 Lens Colors Available
Buy Now: $259.95 or to learn more go to burton.com

Stay hungry for the slopes this winter with the Zeal Voyager, a rimless designed goggle that's ready for just about anything. Built with a slightly smaller frame for most, it's almost certain to be compatible with whatever helmet you intend to wear. This choice of design also makes it a great option for the younger skier or boarder to grow into and use into adulthood.
Held in place with six clips, the lens changeability is easy to figure out, but a bit more laborious than a lot of the other goggles on our list. The clips are also quite apparent around the edges of the lens, lending a little something to the style element you won't see anywhere else. A friend of ours saw us wearing these out on the slopes, and described them as "Terminator Goggles", an assessment we can't really argue with.
The lenses provided include a permashield hardcoat, Zeal's hyperdensity technology, and a dual lens construction, making them virtually bomb-proof against the elements. Replacement lenses are also available with photo chromatic, polarized, molecular mirror, and prescription options.
Comes with:
Bonus Low-Light Lens
Goggle Bag
8 Frame Colors and 11 Lens Colors Available
Buy Now: $259.00 or to learn more go to zealoptics.com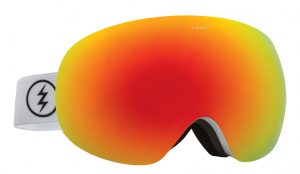 An oversized goggle that packs style and functionality into a striking package, The Electric E3 goggle brings everything you'll be needing to the big mountain. Electric's patent pending press seal technology is like no lens interface system we've ever encountered in another goggle. Magnet, lever, and gimmick free, the lens only needs to be pushed out from the frame with a bit of force to be changed out, and the replacement can be clicked in place within seconds. Although this system technically has no locking mechanism, the seal around the lens is secure and air tight, so you're not going to be loosing lenses after an epic bail. We've found the lenses to be superiorly scratch resistant, but the process of changing the lenses by hand will require the buffing out of smudges from time to time.
The oversized design is hard to miss in the Electric E3 goggle, and the peripherals that come with this goggle are unbeatable. The supplied lenses are produced using the finest raw materials and manufacturing techniques, offering 100% UVA / UVB protection, and anti-fog coatings on the interior. Combined with the anti-scratch hard coating on the exterior, we have no complaints about the visibility provided here.
Not only cool to look through but cool to look at, the Electric E3 goggle makes a great statement with regards to style. The oversized lens, taking up almost the entirety of the goggle surface from all sides, is mega-reflective and color saturated for a sleek "This Guy Means Business" look.
Comes with:
Bonus Low-Light Lens
Microfiber Goggle Bag
20 Frame Colors and 7 Lens Colors Available
Buy Now: $240.00 or to learn more go to electriccalifornia.com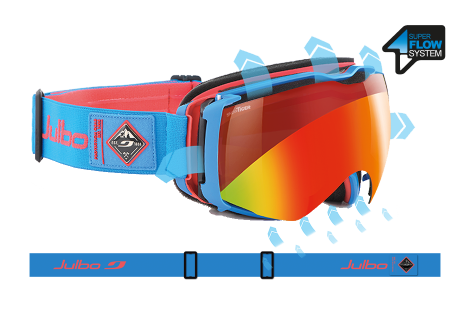 The AEROSACE by Julbo are some of the most unique goggles we've tested. First of all… have you ever heard of Julbo? If not, you're not alone. The French manufacture doesn't have a huge foothold here in the USA, yet, but after testing the AEROSPACE we think they will in the coming years.
The AEROSPACE looks and feels great on the slopes. The frame fits nicely with most helmets too. But what truly sets this goggle apart from the rest of the pack is its SuperFlow System which allows the lens to be edged forward in order to better manage the heat and fogging. This is something we've never seen before and actually works perfectly. By pulling the lens away from the frame you allow air to circulate freely. The concept looks cool and when in use it is really awesome. The tabs on the outside of either side of the goggle are easily manipulated with or without gloves on. If you didn't know about the technology you might not even realize it was there.
So now you know how cool the SuperFlow system is, but what about the optics? What about the comfort? Well, my friends, we're happy to report these goggles deliver on both. The optics are on par with some of the best we tested. The spherical lens delivers beautiful optics and great peripherals. If you're looking for a comfortable goggle we've found it. The dual soft foam hugs your face perfectly.
Comes with:
Goggle bag
Available in 4 lens options
Buy Now: $240 or to learn more go to: Julbo.com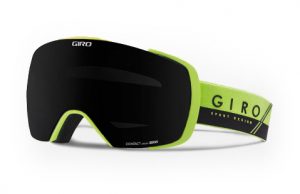 A company that's no stranger to efficient outdoor technologies, Giro has brought forth the Contact goggle with ease of use in mind. The innovative Snapshot Magnetic lens interchange system works in exactly the way that it sounds, and with the click of a single button on the top right corner (just like a point and shoot camera operates), the lens becomes unfastened for removal. The lens is fastened in to the all other edges by way of 6 magnetic points, so when re-applying a different lens, it clicks and locks into place all on its own.
The provided spherical lenses are manufactured as ZEISS, a company known for producing well crafted optics which makes for a partnership we consider a big-time plus. With a terrific field of view in their Expansion View Technology, Full UV protection, and anti-fog coating, visuals remain top notch throughout a day on the mountain. The strap is also equipped with a no-slip silicon providing good grip for the wearer.
The Giro Contact is visually nothing to get crazy over, and well suited for the individual more interested in functionality than in making a huge statement. However, for anyone interested in dialing it up a notch, this goggle is available with a giant range of color options from basic to boldly intense!
Comes with:
Bonus Low-Light Flash Lens
Goggle Bag
Soft Case
10 Frame Colors and 20 Lens Colors Available
Buy Now: $240.00 or to learn more go to giro.com

In the words from its makers, "A combination of space-age technology and popular science", the VonZipper Jetpack goggle brings comfort and functionality together in a myriad of ways. The triple density face foam is proficient for moisture wicking and allows this unit to be easily worn with or without a helmet. The frame is ergonomically designed for the best fit possible on just about any facial structure, and the oversized dual spherical polycarbonate lens combined with the rimless frame work cohesively for maximum peripheral vision.
The 4play lens change system is a nifty concept, allowing the wearer to change lenses by way of four locking points in the corners. We've had no issue removing the lenses with the VonZipper Jetpack still attached to our faces and while wearing gloves, but re-application has been hit-or-miss, and we've found ourselves removing these goggles anyway just to play things safe.
As for the matter of style, the VonZipper Jetpack is pretty darn righteous! Any logos here blend in seamlessly, so there's no detraction from the overall look. The rimless frame provides an appealing contemporary fashion, and the color scheme of the provided lenses add a nice splash of the days of old with a graduated rainbow burst from the center out.
Comes with:
Bonus Flat-Light Lens
Dual sleeve microfiber bag
Available in 15 varied frame and lens sets with assorted price points within $20 of our model
Buy Now: $220.00 or to learn more go to vonzipper.com

Here's a model that's changed very little with each generation…and for good reason! The Dragon Alliance X2S goggle continues to impress with a stylish design and one of the best lens changing systems out there. The Lumalens lens technology offers ultra high-definition optics across the entire spectrum of light conditions, so getting around on the mountain with ultimate clarity is no sweat! While providing superb visual quality, the Dragon Alliance X2S remains extremely opaque and loaded with color to the outside viewer, so these lenses look amazing while reflecting the white backdrop of winter.
The biggest reason to get excited for the Dragon Alliance X2S is the Swiftlock lens change technology. Changing out lenses throughout the day can be of real importance, and all it takes is the flip of the side latches on these bad boys. We've found this system to be one of the easiest in the market, as the capability of changing out lenses without the necessity of removing the goggles from our heads or taking off our gloves has been a real godsend at times. The Swiftlock lens change system also secures the lens tightly and securely, which gives us even greater confidence that the Dragon Alliance X2S will remain fog free and entirely reliable throughout our day!
Comes with:
Spare Low-Light Lens
Storage Case
Goggle Bag
17 Frame Colors and 15 Lens Colors Available
Buy Now: $219.99 or to learn more go to DragonAlliance.com

With one of the widest fields of view they've ever released, Chromapop technology, and their patented Porex™ filter, Smith has developed optics with the new I/O goggle that is as top quality as it gets! We've had some great experiences with Chromapop optics in the past, and it's no different in this case with some of the clearest and visually stimulating experiences amongst the grouping of goggles we've listed here. Add to that the Porex™ filter, designed to prevent optical distortion during changes in elevation, and 5X™ anti-fog inner lens, you'll be hard pressed to find another goggle with better visuals while cruising down the slopes in all the conditions you'll face on the mountain
Although the visuals are incredible with the Smith I/O, this is a brand that's always been slightly behind the curve in innovation when it comes to lens changing capabilities. It's a real process when compared to a lot of the other goggles we've looked at here, so be prepared to take a bit of a break when you need to make adjustments during the changing conditions of winter. Otherwise the Smith I/O is a pretty bomb proof option in terms of function and style. Theres a quick release on the strap for easy removal, a thick silicon bead that keeps the goggles in position, and stylistically these goggles aren't bad to look at, combining contemporary cool with a bit of an old school angular composition.
Comes with:
Bonus ChromaPop Storm Lens
Protective Goggle Bag
15 Frame Colors and 16 Lens Colors Available
Buy Now: $210.00 or to learn more go to smithoptics.com

The Salomon XT-ONE is one of the heavy hitters, not for any special bells and whistles, but for achievement in bringing the best optics possible without breaking the bank. The Advancedskin Activedry Foam is sectioned to allow proper air ventilation and a beyond reasonable fit to all facial shapes. The spherical lens is loaded with features including Tri-Tech coating that hardens the lens to improve its intrisinc qualities, 100% UV filtering, anti-scratch finish, anti-glare, and injected shock resistant Polycarbonate or Polyamide for sharp vision. With all this going on, we're hard pressed to find other goggles that can provide so much bang for your bucks with regards to quality standards.
Available in multiple sizes for the perfect fit, the Salomon XT-ONE is helmet and eyeglass compatible. The strap is Silicon coated and impressively wide to add more guarantees for that perfect fit as well.
We have to mention that even with the remarkably pliable frame, the lens change is old fashioned in design and quite a lot of work, so chances are you'll want to decide on the right lens for the day and stick to it. Otherwise, the Salomon XT-ONE provides an impressive field of vision, and it's really nice to look at…great for anyone interested in adding a little 1980's simplicity into the mix!
Comes with:
Goggle Bag
Available in 10 varied frame and lens sets with assorted price points within $20 of our model
Buy Now: $160.00 or to learn more go to Salomon.com
T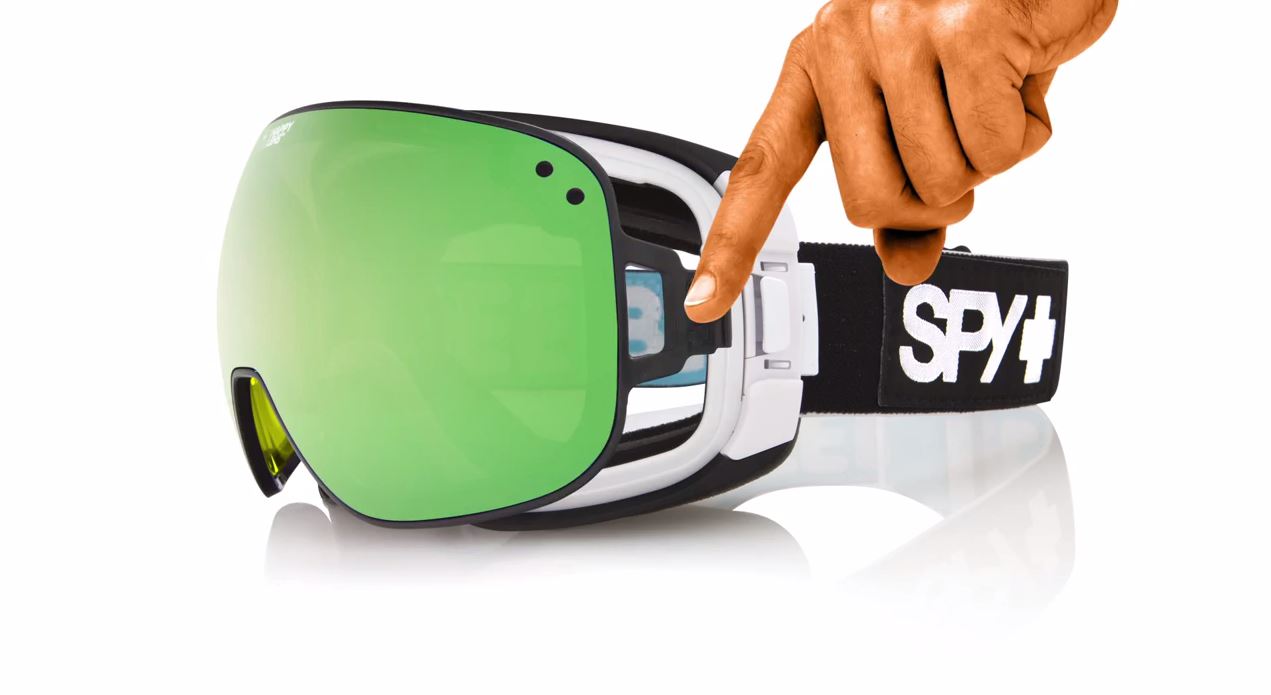 his goggle is all about changing lenses quick and smudge-free. The Bravo from SPY not only looks great on the slopes, but it is also very functional.
Throughout testing we enjoyed fog-free sessions on the slopes from sunup to sun down. For a mid-sized frame they actually offer a really wide field of view as well. Not only can you see everything, but the fit is fantastic too. The foam around the face is soft and feels comfy all day long.
When it comes to optics this goggle is one of our favs. Equipped with SPY Happy Lens, the Bravo delivers stunning clarity and protection from UV rays.
Where the Bravo truly shines is with the Steady Lock quick change lens technology. We've tested a lot of goggles over the years and this is one of the very best ways to change our your lenses on the run. Best of all no smudges!
Comes with:
Goggle bag / lens cloth
Extra lens (love that!)
Buy Now $220 or to learn more go to SpyOptic.com
E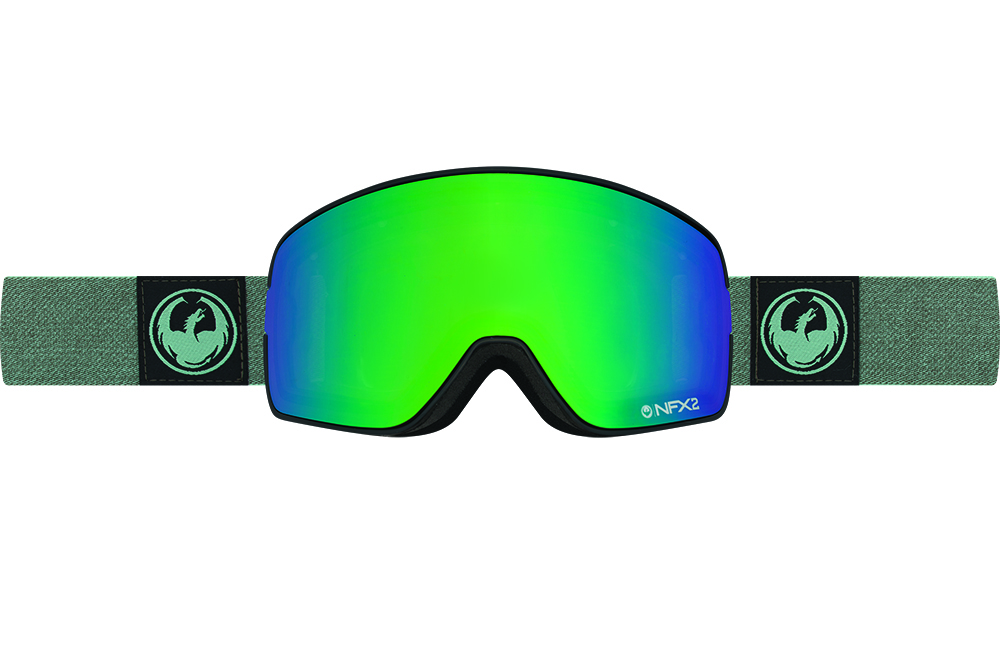 ngineered for boarders and skiers who want to shred all day long, the NFX2 by Dragon Alliance is a serious goggle for serious shredders. We've been testing this goggle for a few months and find ourselves grabbing for it during pow days, back country adventures and hitting up the groomers. They are wonderfully comfortable on the face and deliver some great peripherals without being and XXL frame.
Like many others you see on this list, Dragon choose to make this goggle with interchangeable lenses, and we love it. The Swiftlock Technology is sturdy and easy to use. Just keep an exrta lens (or two) on you and you're ready for any changing condition.
You may not think of Dragon Alliance as a go to brand for ski goggles, but THEY ARE! And the NFX2 is a shining example of why. If you're looking for a large frame with killer optics, quick changing lenses and some seriously handsome good looks this is a goggle worth checking out.
Comes With:
Hard case
Goggle bag
Bonus lens
27 lens / frame combo options
Buy Now: $179.99 or to lean more go to: DragonAlliance.com

Pegged as "the first universal fit goggle," the Bollé TSAR is a mid sized frame that is a good fit for anyone. Bollé's integrated B-Flex technology allows you to quickly and easily adjust the frame's nose and cheek areas to give an exact customized memory fit and ideal protection.
Throughout our testing sessions this goggle was a favorite among our lady testers and those who had smaller heads. The goggle fits everyone big or small headed, but seemed to look more proportional on smaller heads. The TSAR also fit very nicely with a variety of helmets.
The optics were great and after a couple spills on the piste the lenses proved to be truly scratch resistant! A feature we really liked was the flow-tech venting. While it didn't eliminate fogging while you weren't moving, it worked wonders while moving down the slops. The vents combined with the P80+ anti fog coating delivered a really nice riding experience with very little fogging.
Our takeaway… these googles look great, keep fogging at bay and deliver a truly nice fit for all head sizes. For the investment they are a great goggle and worth your time trying out at the pro shop.
Comes with:
Buy Now: $159.99 or to learn more go to: Bolle.com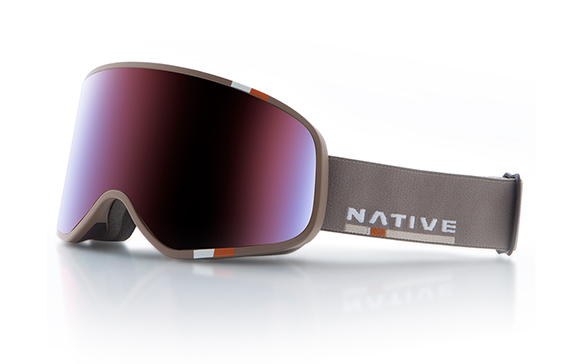 Designed with a subtle retro ascetic, the TENMILE is a goggle we were suprised to find. When researching we stumbled arcoss the fact that Native Eyewear actually has a line of goggles. Who knew? And the goggles they make, like their sunglasses, are very nice! If you like their sunglasses you'll love the TENMILE. These goggles are resonably priced and pack a punch.
First lets talk about comfort. These are really comfortable. In fact throughout testing I forgot I was wearing them a few times. And honestly that's how a goggle should feel… like it's not even there. Leaving you to concentrate on shredding and nothing else. The venting was noting to write home about, but did a pretty good job of keeping us fog-free.
Beyond the 80s styling and uber comfy feel, these goggles have some very nice optics as well. The over sized frame and lens allow maximum field of view without compromising protection or style.
Comes with:
Buy Now: $129 or to learn more go to: NativeEyewear.com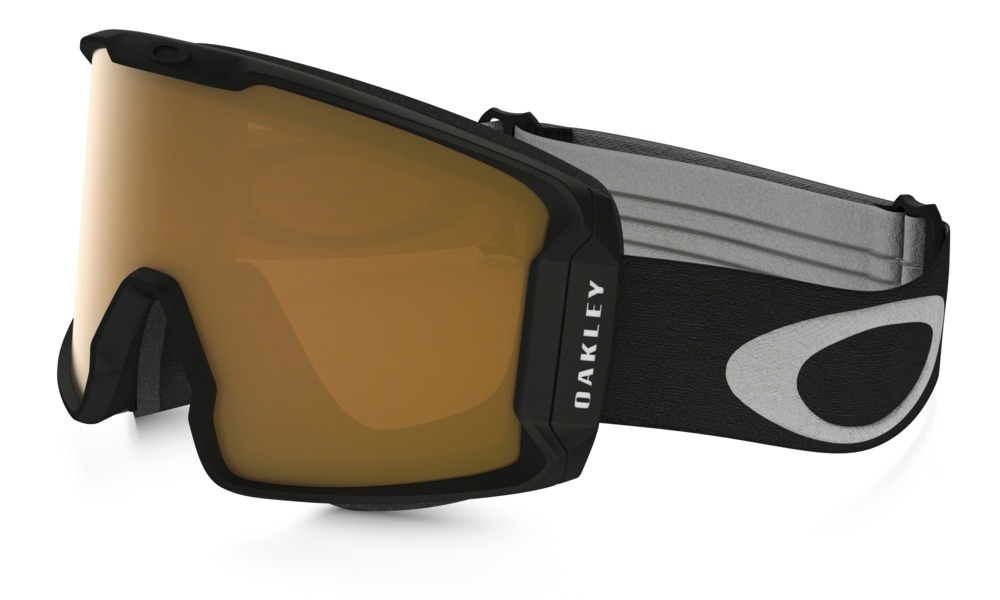 Oakley is a staple when it comes to optics on or off the slopes. It is no surprise they are a heavy hitter not only in the sunglasses category, but also with snow goggles. This season we tested the Line Miner from Oakley. This google is a no frills, back to basics ski goggle that gets the job down with out busting your wallet.
The new PRIZM Inferno lens is fantastic. Oakley has yet to let us down with their optics and the Line Miner is no exception. The field of view is great as well, absolutely no complaints here. As far as comfort goes, we've tested better, but they still remain nice for most of the day.
Did they fog up? Yes. From time to time we did encounter some fogging. It wasn't a real big deal, but was annoying when you had to wipe them down to see.
Overall, you're not going to find a more affordable goggle on our list. And for that price you get the Oakley name, some really great optics and a stylish goggle that fits most helmets.
Buy Now: $100 or to learn more go to: Oakley.com