With cooler temperatures approaching, some golf courses are putting away the gas carts to project the course, we decided it's time to show you the 4 best push carts for 2020. You are not ready to put away the clubs just yet. When COVID first hit, most of us were relegated to walking on the course and a huge rush on push carts ensued. During this time, some of us rediscovered our joy of walking on the golf course. In the summer, it can be hard to find a course to let you walk, especially on the weekends. Now that the weather is turning and golf courses are clearing out, it's a good time to invest in a push cart to keep you playing through the fall and winter months. We looked a few push carts that we really ended up enjoying and we've got the details below. Read on the full break down!
4 Golf Push Carts for Fall Golf Review Breakdown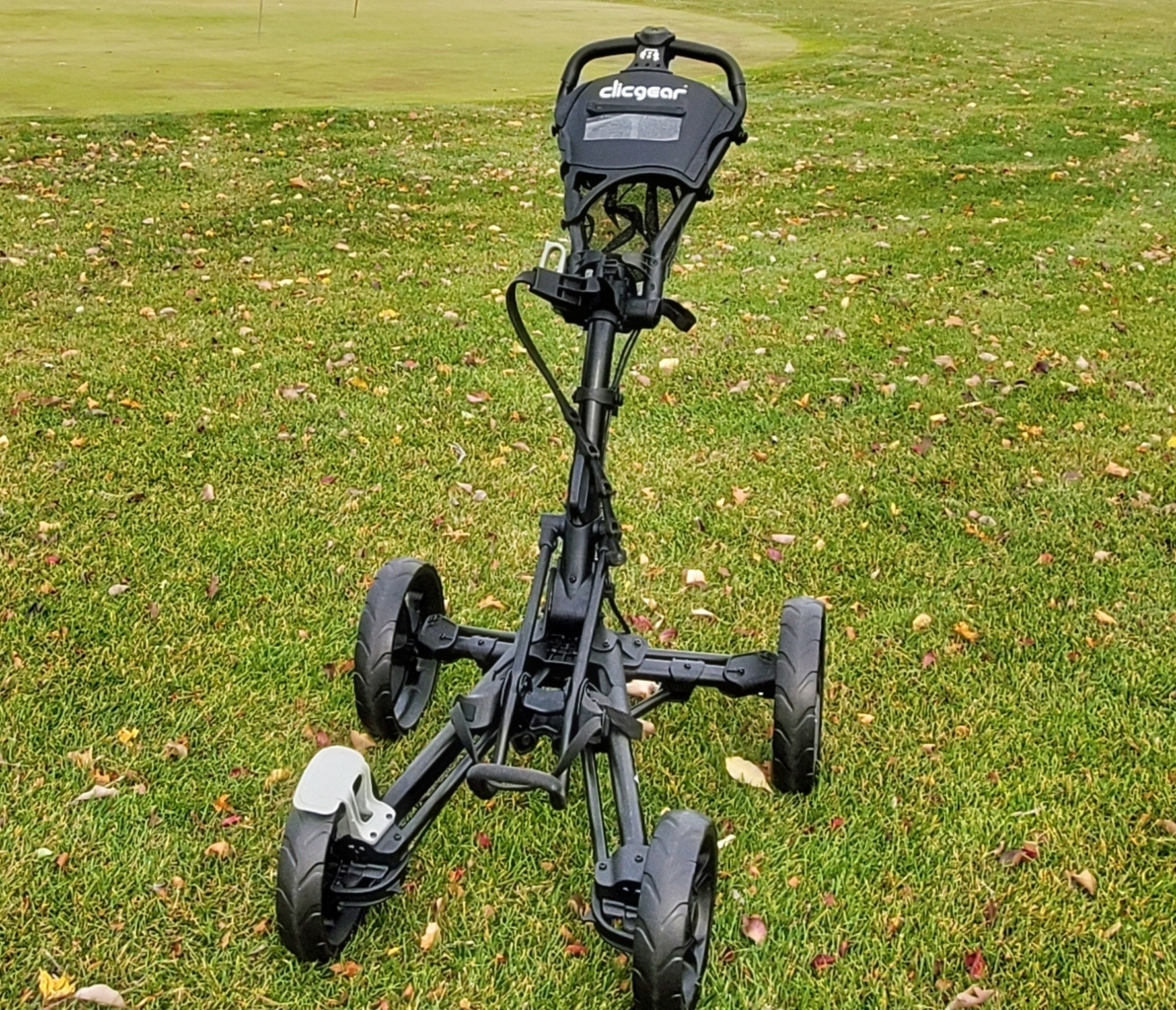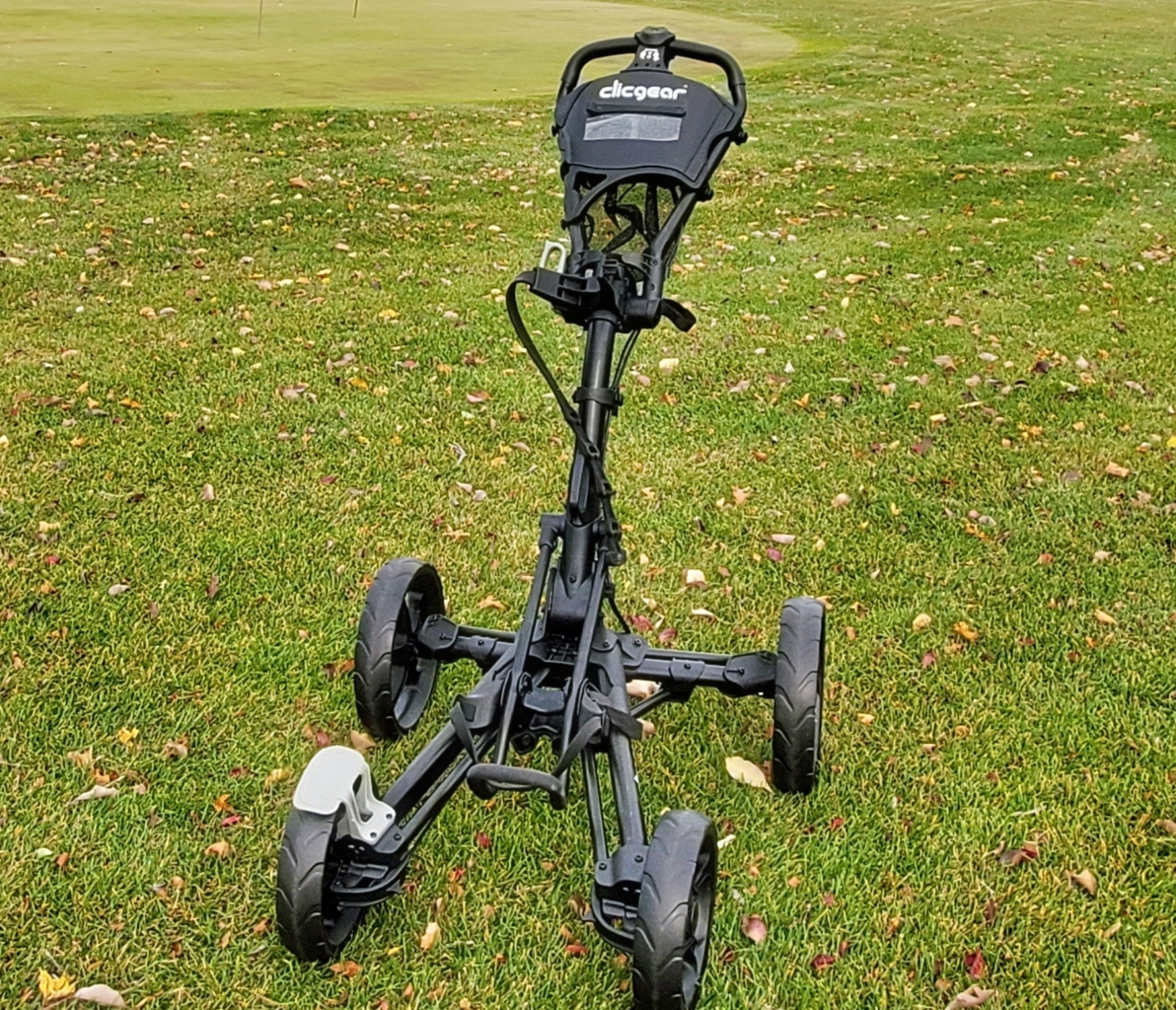 Key Features:
The Clicgear  8.0+ Golf Push Cart is an all-around impressive push cart. The 4 wheeled cart is extremely stable and durable. The cart is on the heavier side at 22 pounds but it pushes smooth and easy on the course. While the cart is on the higher end of push carts in terms of price, you get a host of features and upgradable options to make this cart really impressive. The cart features dual front breaks that operate with one lever. Folding and unfolding is as simple as it gets as it allows all four wheels to fold. This enables the cart to collapse from full size to a much smaller footprint in two steps.
The Step Guard fender over the right front wheel is a nice feature where you put your foot on it to prevent the cart from rolling when folding and unfolding. If you are going to pay for the 8.0+, we suggest tricking it out with the options such as cart seat, the cooler bag, and shoe brush. Finally, the cart does have a good storage holder and a net to hold most of your items. The console can fit a large cell phone which is always a plus. Overall, we really enjoyed the sturdiness and features on the Clickgear 8.0+.
Buy now for $299 or visit ClicGearUSA for more information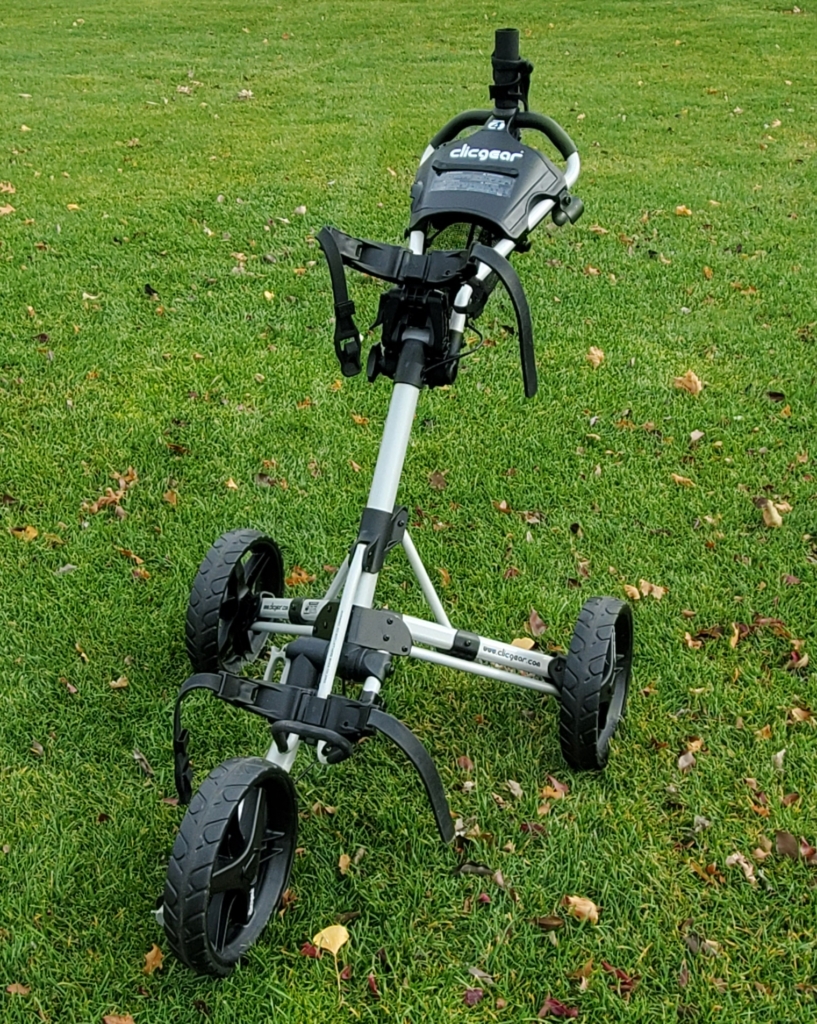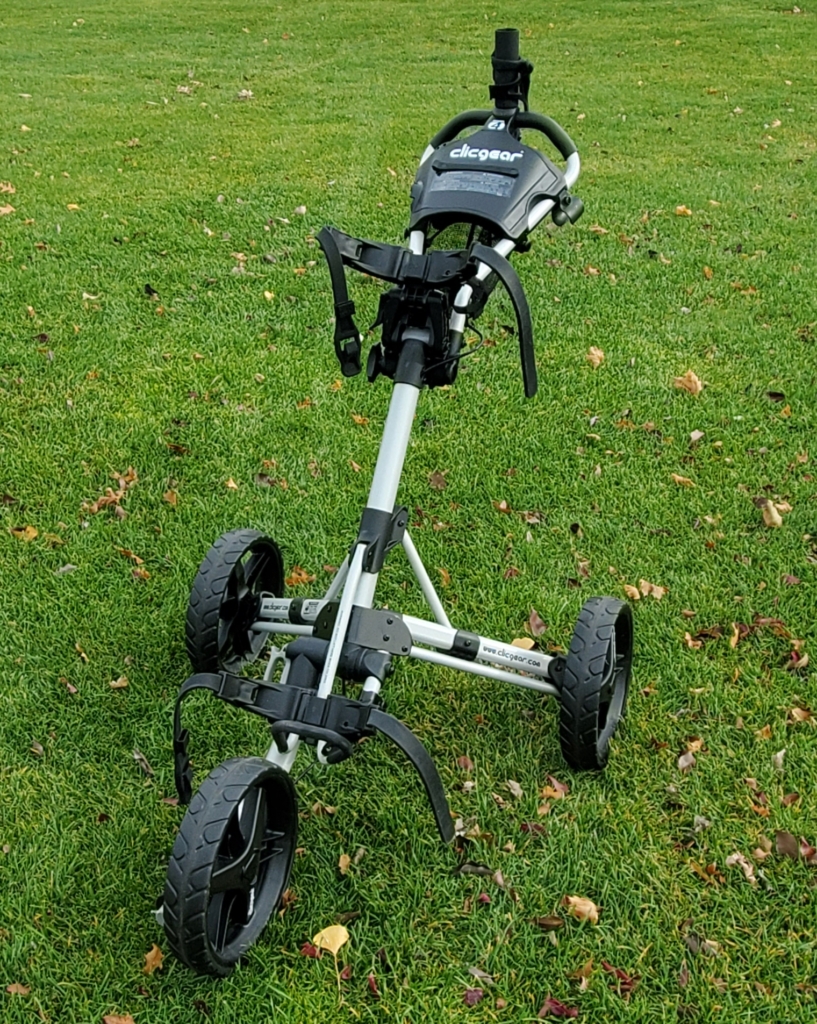 Key Features:
The Clicgear 4.0 has been redesigned to be one of the most compact push carts on the market. 2020 marks the 14th year the Clicgear push cart has been in production. The new Clicgear Model 4.0 Push Cart continues the evolution with improvements and updated colors. Clicgear's flagship 3-wheel cart has continuously been refined and upgraded through the years and 4.0 golf push cart has been engineered to be the world's smallest three wheel golf push cart when folded.
The Clicgear folds to an astounding 24″ X 15″ X 13″, small enough to fit into a locker, corner of any vehicle trunk, or can easily be hung in your garage to stay out of the way. For 2020, Clicgear included a new adjustable silicone bag strap system to secure your bag, adjustable upper saddle which adapts to fit any size of bag, new lower saddle support to prevent your bag from rubbing on the front wheel. While the weight is at 21 pounds, it feels lightweight while also being durable. The 4.0 featured good storage space and a smooth, compact, experience that is golfers will enjoy.
Buy now for $259 or visit ClicGearUSA.com for more information
Best Value and Maneuverability: Rovic RV1S Golf Push Cart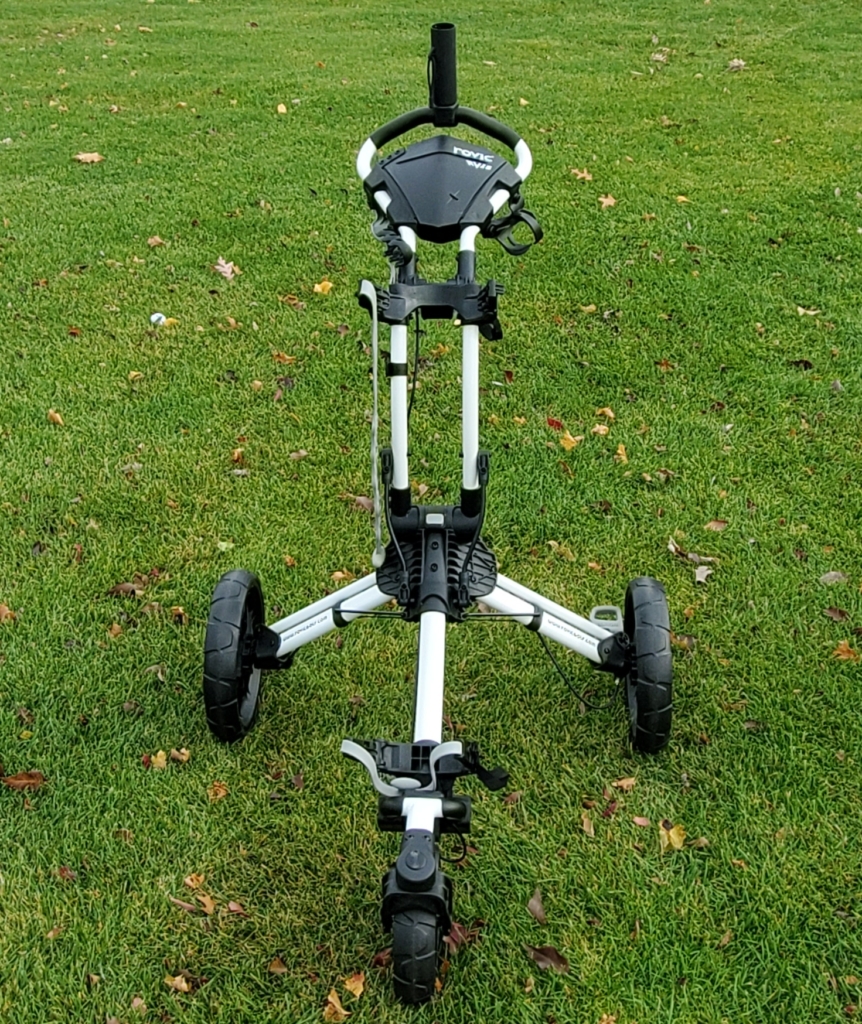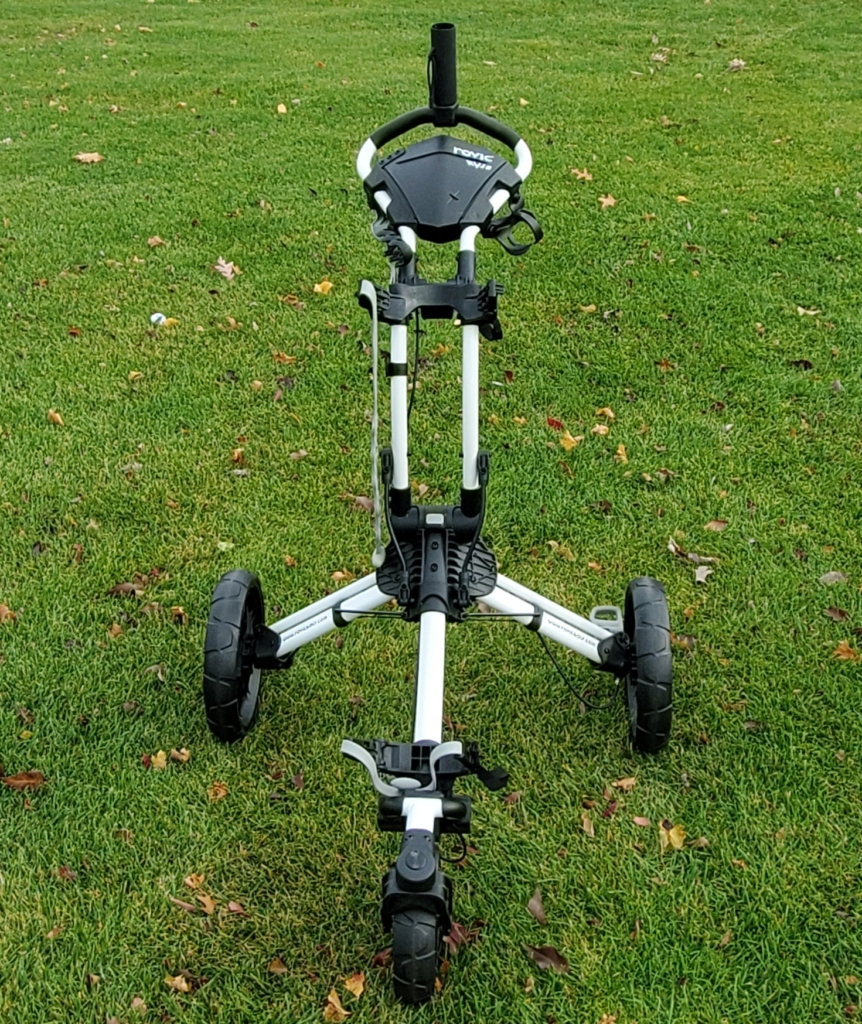 Key Features:
The Rovic RV1S Golf Push Cart was a very nice surprise and ended up being a go-to cart for us. The Rovic is very compact, similar to the Clicgear but doesn't fold down as easily. Where the Rovic really shines is with it's swivel front-feel which makes changing directions super easy. Given it's light weight and swiveling wheel, the cart is extremely easy to push around and maneuver around the course, making it a very effortless adventure.
The RV1S also features a very good lock in strap system and a wide base to accommodate most bags. The large wheels add a bit of stabilization to the cart and makes navigating tougher terrain fairly easy. We were a bit hesitant about having a swiveling front wheel but now with there is no need to lift the front tire when making turns, it is a game changer. It also has a lock for the front tire that's on the handle. We didn't use it much but nice to have when you need it. This unit also has a footbrake. The footbrake is very easy to use and we were impressed with it's simplicity and functionality. We'd like a bit more storage on the RV1S but overall there is a lot to like on this push cart.
Buy now for $219 or visit ClicGearUSA.com for more information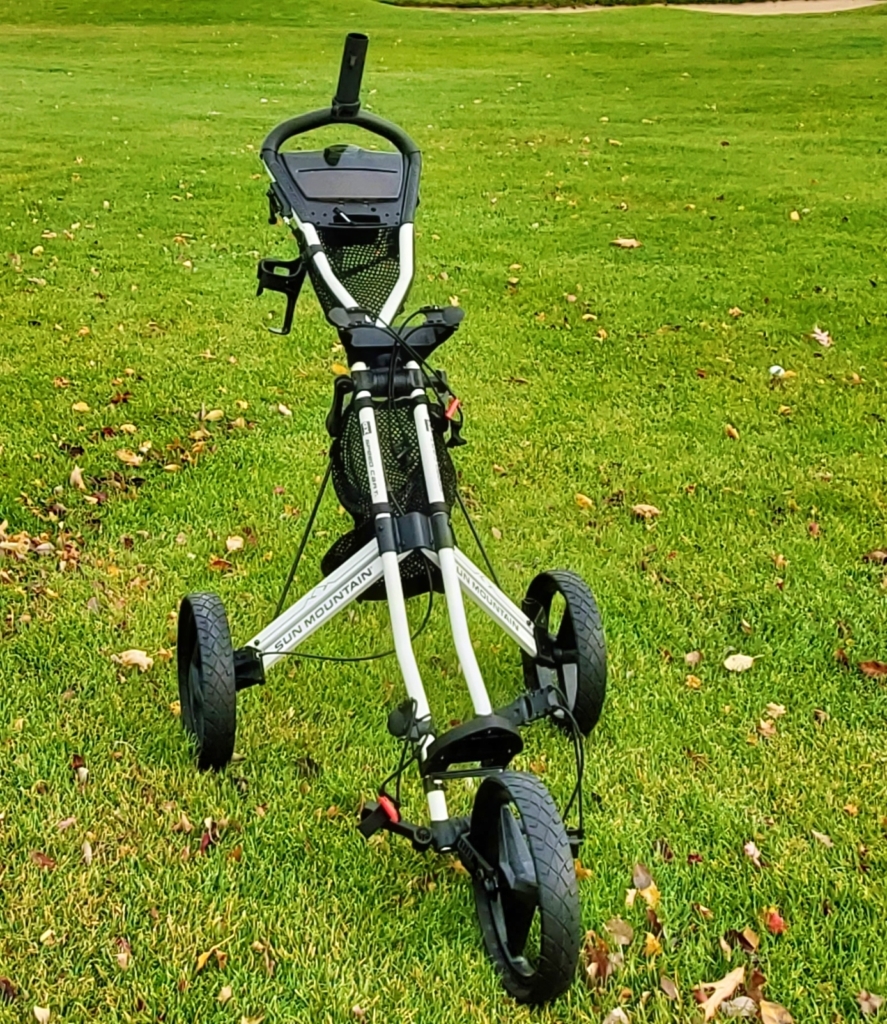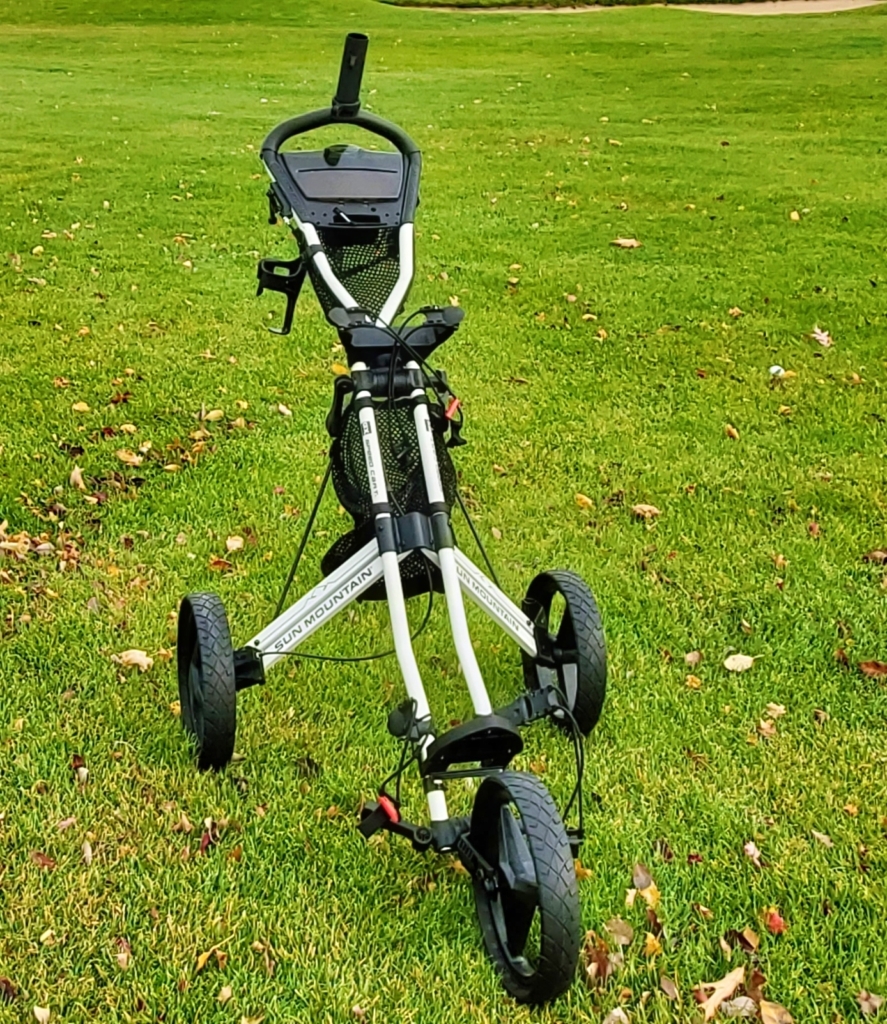 Key Features:
It may be odd to rate a push cart on it's comfort but with Sun Mountain has also designed their carts to be ergonomically efficient. For this model, the handle has been redesigned for to be even more ergonomically friendly and comfortable. The Speed GX also features a high level of versatility with the innovative tracking system that allows the golfer to to easily adjust the cart to suit their individual preferences. The cart also features an updated upper and lower bag brackets that now easily adapt to fit either hold cart or stand bags.
The Speed Cart GX also has a good combination of a lightweight and yet durable design. The cart is very functional, and the extra storage is a fantastic with the storage unit and two mesh baskets. If you are a heavy golfer you have a tendency to accumulate a lot of things throughout your rounds. The mesh is nice because you can easily see where everything is so you can quickly grab it. Overall, we really enjoyed the Sun Mountain Speed Cart Gx Golf Push Cart as it offers great functionality and features all at a comparatively reasonable price.
Buy now for $249 or visit SunMountain.com for more information
If you are in the market for a high quality push golf cart, we laid out some great options above. Each cart has different pros and cons and you need to find the best fit for you, your bag, and game but you can't go wrong with any of the ones we listed. Now is a great time to sneak in some good golf and get some exercise while swinging the sticks. Hit 'em straight!