If you've read our review on the Super 2R helmet by Bell, then you are aware of their innovative and multi-functional designs.  So of course we were very excited to test one of their more popular Powersport helmets, the Rogue.  Built Bell tough with an adjustable and removable muzzle, the Rogue is another great example of the ingenuity seen in Bell Helmets that help keep your head protected, while looking "Like a Boss".
Anything Bell is designed to fulfill a specific set of needs—without frosting. The Bell aesthetic is uniquely appealing in its purpose-built utility in the same way a race car or fighter jet is designed with every aspect of its function in mind. That they are beautiful in their ultimate aesthetic is secondary. In the end Bell is creating an essential performance tool. They build it so you can use it. The Rouge motorcycle helmet is no exception.
Over the past month we were lucky enough to test this bad boy ourselves. After hundreds of miles and plenty of hours with this brain bucket strapped on we're exited to share the results you. Here's what we discovered…

Key Features:
Adjustable Muzzle
Fidlock Magnetic Connection
Five-Year Warranty
Integrated Speaker Pockets
Lightweight Composite Shell
Removable/Washable Interior
Design & Functionality:

The bold design is what makes this Rogue helmet stand out from anything else on the market today.  The muzzle has a FidLock magnetic connection system so it can easily fasten for a strong hold.  To remove the muzzle, simply slide it in an upward direction, and viola, you have a traditional looking half helmet.  Like they say on their website: "The new Rogue has the look of a half helmet with the comfort of a 3/4."  We agree.  The amount of adjustability in the Rogue helmet is impressive.  Starting with the muzzle, you can adjust the tilt angle so it rests comfortably on your face.  There is a insulated lining called the "Breath box" (which is similar in to wearing a bandana), that is also removable if you want to keep the muzzle light and have more ventilation.  The strap release button is similar to a snowboard binding that you simply press down and pull the muzzle in or out for a more secure fit.  The ear pads are also removable, however I do like a snug fit so I felt more comfortable leaving them in.  They do have an integrated velcro speaker pocket incase you want to slip in a pair of bluetooth earbuds and enjoy some tunes as you ride.
Comfort:

Comfort is key, especially if you want to enjoy a nice long ride.  Fortunately, every helmet we've tried from Bell has superb comfort and the Rogue is no different.  The shell lining has a nice amount of padding that helps provide a secure fit.  Although the shell lacks any ventilation, the lower neck shroud has dual vents to keep air circulating properly.  The muzzle is the only feature that you'll have to adjust until you get the right fit, but once you do, it makes for a much more enjoyable ride.  So, say goodbye to those pesky bugs and road debris smacking you in the face while you're cruising the freeway and say hello to the Rogue muzzle.
Protection: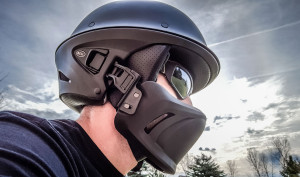 Although it is not a true "Full Face"  helmet since the muzzle is not attached as one piece to the shell, it does give you added protection from road debris.  If you fall on your face, we are not sure it would hold up like a full face helmet would, but with the integrated muzzle, it does promote a more protective ride from debris while you are still up on your wheels.  The Rogue is DOT certified so you can rest assured knowing that Bell has tested and verified that it will protect your noggin.
Value:
Coming in at $249.95, the Rogue is definitely not the most expensive helmet Bell has to offer.  But when compared to other worthy half helmets and 3/4 helmets out there it is somewhere in the middle for price.  However, with the amount of style and functionality the Rogue has to offer, we believe that it delivers great value.
Buy Now: $249.95 or to learn more, check out: Bellhelments.com
Bell Rogue Helmet - Gear Review
Built Bell tough with an adjustable and removable muzzle, the Rogue is another great example of the ingenuity seen in Bell Helmets that help keep your head protected, while looking "Like a Boss".
The Good
Adjustable Muzzle
Integrated Speaker Pockets
Removable/Washable Interior
The Not So Good
Takes some adjusting to get the muzzle to fit just right