Baker's Bourbon - Drink of the Week
Produced exclusively in the USA, from a grain mixture consisting of at least 51% corn – then aged in new, charred oak barrels, Bourbon Whiskey is one of the most versatile spirits you can drink. In fact, it's by far one of the most popular vices around the BW office. And with the popularity and sales of Bourbon shooting through the roof in recent years there's not a better time to jump on the bourbon train! That being said – recently we hooked up with the good folks at Beam Suntory to sit down for a tasting session with one of their finest small batch bourbons to-date; Baker's Bourbon.
Named after Baker Beam, grand nephew of the legendary Jim Beam, Baker's Bourbon is matured for seven years in new, charred American white oak barrels before being hand-bottled at a seriously potent 107 proof.
Embracing over six generations of distilling experience, Baker's Bourbon utilizes a special strain of jug yeast that has been in the Beam family for over 60 years now – unchanged. This time tested yeast is said to provide Baker's Bourbon with a silky smooth texture and consistent taste from batch to batch.
Named "World's Best American Whiskey," by Whisky Magazine, at the 2007 World Whiskies Awards – i'm not sure how we've waited this long to bring Baker's to our tasting table? But none the less, it's 2014 and the recipe hasn't changed one-bit. Baker's Bourbon is still handcrafted in limited quantities, aged for 7 years and distilled in Clermont, Kentucky.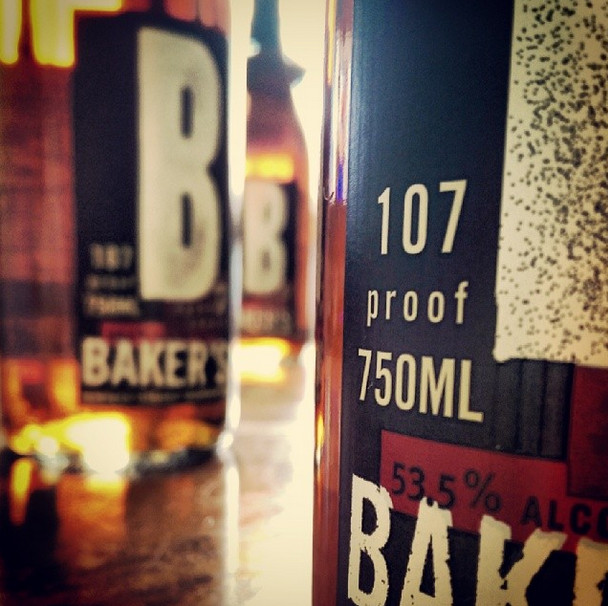 Speaking from years of experience… heritage and expert handcrafting typically equates to one hell of a fine drinking experience, but to be sure we recently sat down at our tasting table with a few bottles of Baker's to put this bourbon to the test. The results, well… let's just say they confirmed our suspensions rather quickly. You can take a look at our full breakdown below… cheers!
Baker's Bourbon Review Breakdown
Proof: 107 (53.5% ABV)
Age: 7 years
Appearance: Amber-brown
Nose: Vanilla, caramel, toffee, oak
Flavors: Sweet vanilla, wood, light smoke, caramel
Price: $53.00 USD (750ml.)
Scoring an impressive 9.1 out of 10 from our whiskey soaked tasting panel, Baker's is very drinkable bourbon that's well worth the price of admission in our opinion. While we won't berate anyone for drinking it mixed, this bourbon is built for sipping, plain and simple.
To truly appreciate it's full maturity and bold complexities we highly suggest sipping Baker's neat or with a touch of water. Sure, it'll make one hell of a whiskey & coke, but you'll be sorely missing on the full Baker's Bourbon experience.
Think 107 proof is too much to handle? You are mistaken sir. Throughout our tasting session with Baker's, we discovered that this bourbon is savory, sweet and at times bold, yes, but overall pleasantly mellow on the finish and aftertaste. If you're looking for true bourbon that's built on heritage and has some real age to it, we highly recommend trying out Baker's for yourself. Get it at the bar, liquor store or your friends house… we don't care, just do yourself a favor and get some!
MIX IT UP… "Classic Manhattan"
Ingredients: 3/4 oz. sweet vermouth, 2.5 oz. bourbon whiskey, 1 dash Angostura bitters, 1 maraschino cherry, 1 twist orange peel.
Directions: Combine the vermouth, bourbon whiskey, and bitters with 2 – 3 ice cubes in a mixing glass. Stir gently, don't bruise the spirits and cloud the drink. Place the cherry in a chilled cocktail glass and strain the whiskey mixture over the cherry. Rub the cut edge of the orange peel over the rim of the glass and twist it over the drink to release the oils but don't drop it in.