Drink of the Week - Blanton's Original Single Barrel Bourbon
Revered as the first Single Barrel Bourbon Whiskey ever commercially sold, Blanton's Single Barrel Kentucky Straight Bourbon Whiskey dates back almost 30 years – to 1984. Before which it was NFS (not for sale) and exclusively reserved for ambassadors, dignitaries, VIPs and the Master Distiller himself – Col. Albert B. Blanton. You see, Blanton's Original Single Barrel Bourbon has been secretly in existence since the 1930's when Colonel Blanton discovered that 1 of his 144 warehouses utilized to mature bourbon was more special than the rest. From here Colonel Blanton would ask his employees to pull a couple of barrels from the "Center Cut" (the very middle) of the warehouse from time-to-time so he could individually hand pick the best to be bottled one at a time.
Referred to as "Warehouse H" by the folks at Blanton's, it was constructed hastily after prohibition as a way to start immediately aging bourbon. Instead of using traditional brick and mortar, Mr. Blanton and crew decided it would be best to encase the 4-story wood-framed behemoth in tin. As the only tin clad aging warehouse on-site it was special from the start, but years later it was discovered that the building conducted extreme summer heat and cool nights extremely well and in-turn gave the bourbon that resided within Warehouse H an exceptional profile. KNOWLEDGE ALERT – Oak barrels expand and contract as temperatures rise and fall. The more extreme the temps rise and fall the more flavor and characteristics are imparted in to the bourbon.
Today Warehouse H also uses steam heat to continuously and consistently age bourbon during the cold winter months, which allows the bourbon optimal aging.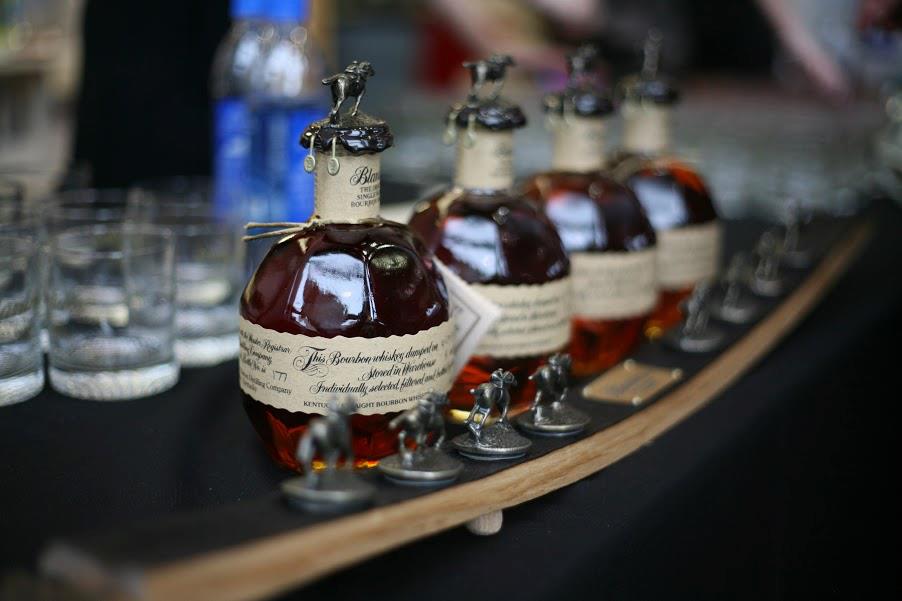 While aging is certainly important to the Blanton's Single Barrel formula, we should also point out that this Kentucky Straight Bourbon Whiskey is derived from a Corn – Rye – Malted Barley recipe utilizing a sour mash. After distillation Blanton's is matured in charred white oak barrels and chill filtered, before being bottled at 93 proof in a truly unique spherical glass vessel with hand written labels indicating everything from the date the whiskey was dumped – to the barrel number, warehouse, rick number and proof. To top it all off (literally!) the stopper is outfitted with cork and a metal horse and jockey with melted wax to seal the bourbon and keep it fresh.
Fun Fact: Blanton's has designed eight different stoppers for their bourbons, featuring a horse and jockey in different strides and poses. Each stopper is marked with a single letter that spells B-L-A-N-T-O-N-S when the set has been completed.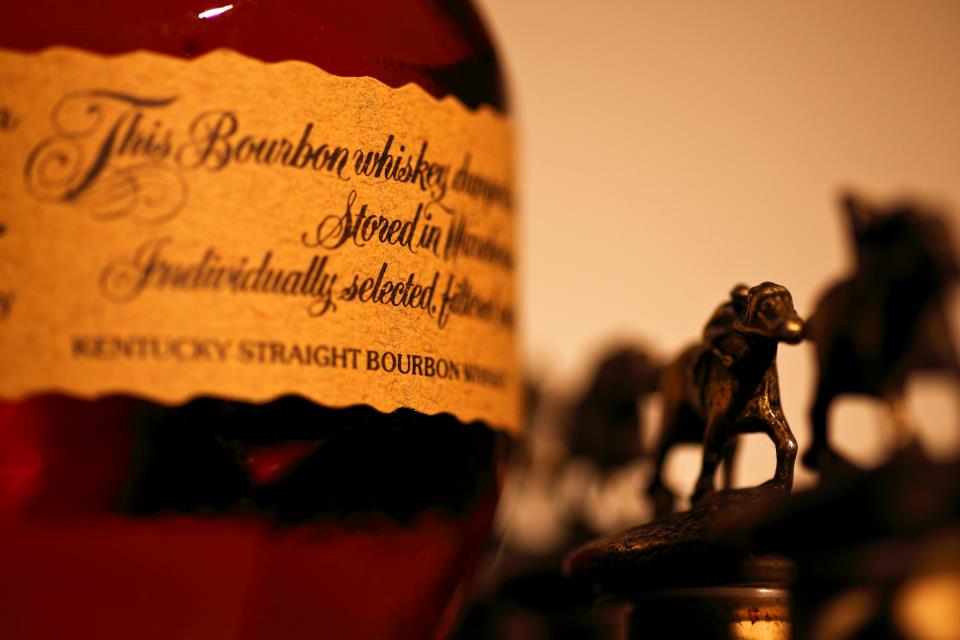 The finest bourbon in the world comes from a single barrel. It is never blended with whiskey from any other barrel. It's a costly, painstaking way to produce bourbon. For a bourbon's peak maturity varies from barrel to barrel and only a master distiller can determine the exact moment whiskey has extracted enough flavor from the wood. He vigilantly monitors each barrel until aged to perfection. -Buffalo Trace Distillery
Recent Accolades: Double Gold Medal at the 2013 San Francisco World Spirits Competition, Chairman's Trophy Winner at the 2013 Ultimate Spirits Challenge, Extraordinary/Ultimate Recommendation at the 2013 Ultimate Spirits Challenge and Gold Medal "Best Bourbon" 2013 from The Fifty Best.
– Blanton's Original Single Barrel Bourbon Review –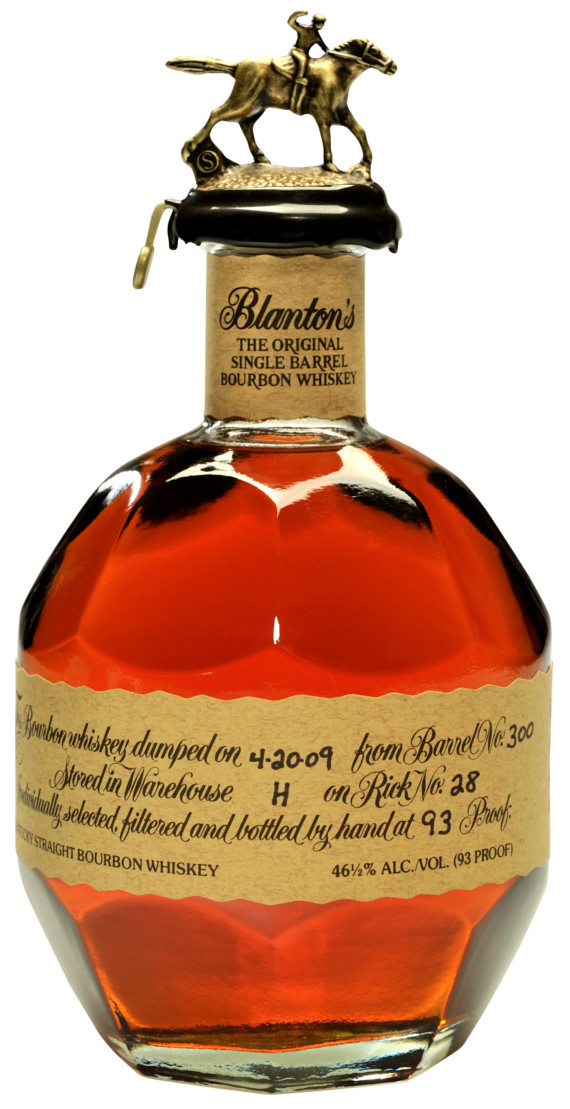 Proof: 93 (46.5% ABV)
Age: Unknown – White Oak Barrels
Nose: Citrus, Toffee and Vanilla
Flavors: Caramel, Oak, Vanilla, Citrus, Honey
Price: $46.99 USD (750ml.)
The Bottom Line: Scoring an 8.8 out of 10, Blanton's Single Barrel is a truly complex bourbon that is well balanced and powerful. Our tasting panel enjoyed Blanton's best as the distiller intended it – sipped neat. In this fashion you can truly appreciate its subtle nuances and elegant finish. Expect distinct flavors of rye, vanilla and oak and subtle hints of citrus and honey. At 93 proof Blanton's starts out with a bite, but mellows nicely as you begin to swallow. Whether you're looking for the ultimate  gift or to feed your bourbon addiction… Blanton's Single Barrel is home run!
MIX IT UP WITH… "Gettin' Lucky in Kentucky"
Ingredients:  1 oz Blanton's Single Barrel, 1 oz Southern Comfort, 1/2 oz dry vermouth, 1 oz mandarin juice, 1 oz pineapple juice, 1/4 oz lime juice, 1 oz peach puree.
Directions: Blend briefly in a wine goblet filled with crushed ice, and serve with a straw.