Distilled on the island of Barbados – the birthplace of rum, Shellback Spiced Rum is a traditional Caribbean spiced rum named for the moniker bestowed upon experienced sailors who have achieved the landmark triumph of crossing the equator. These scallywags adventurous men were known as "Shellbacks." In ancient times crossing the equator identified sailors who had gone further than any other. Not unlike other popular rums (Capt. Morgan, Sailor Jerry etc…) Shellback Rum has an unmistakable nautical theme starting with it's name and doesn't end there. Pictured on the label you'll find Neptune, God of the seas, as well as a compass on the underside of the bottle. Understanding what sells rum these days, we have to give it up to the marketing and branding team who put this package together. It is wildly eye catching!

Matured for a minimum of 12 months, Shellback Spiced Rum is aged in once-used American bourbon barrels to add color and character. Once blended, Shellback Spiced is flavored with all natural spices from around the world with no added sugar.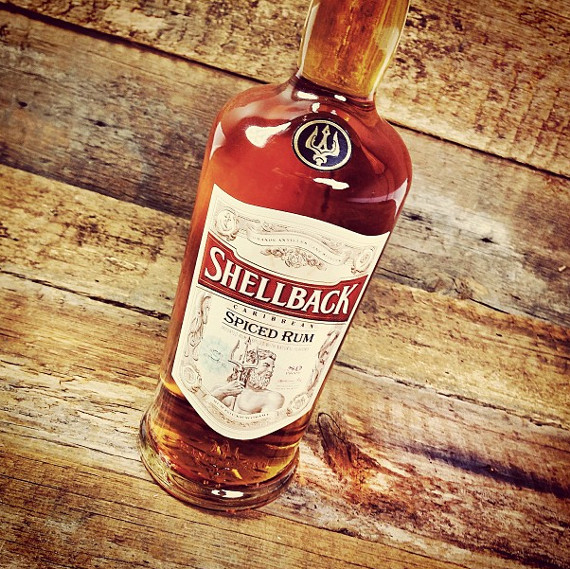 Photo Credit: @ShellbackRum on Instagram   Shellback Spiced Rum includes all natural spices from the following geographical regions: Cinnamon Bark Oil (Sri Lanka and Ceylon); Ginger Oil (China and Africa); Clove Oil (Madagascar and India); Nutmeg (Indonesia); Cassia (Vietnam and China); Vanilla (Madagascar) and Allspice (Caribbean).   Though maybe not to the extremes that the Bourbon Whiskey and Craft Beer markets have exploded in recent years, the rum industry has also enjoyed some serious growth and new products like Shellback are the answer to higher demand.   
In a category that has grown for 10+ consecutive years, particularly in the premium rum segment, Shellback Rum is poised to establish a defined position within the premium category, in partnership with WIRD's extensive expertise and library of flavors, Shellback Rum delivers the fresh flavors and smooth, clean taste that today's modern consumer is looking for without the burn or harsh finish. Shellback Rum has a distinct profile that we feel is unmatched in the current premium rum space and we are thrilled to be a part of the potential of such an exciting category.-Gerard Thoukis, Senior Director of Marketing, at Shellback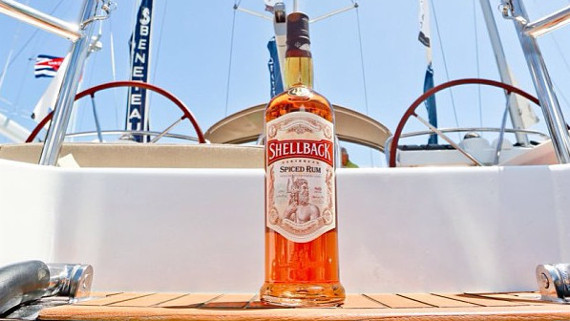 Personally, rum (spiced or not) is a fun category to review for me. Rum is like candy to me, and I have a sweet tooth for it! So when the folks at Shellback asked us to take a peek at their new offerings we were happy to get the tasting crew together and put this spiced rum through the paces. So now, without further adieu, here's what we discovered about Shellback Spiced Rum…
– Shellback Spiced Rum Review –

Proof: 80 (40% ABV)
Age: 1 year minimum in American bourbon barrels
Nose: Vanilla, spice and a touch of honey
Flavors: Caramel, honey, vanilla and spice
Taste: B (Good)
Mix–ability: A- (Awesome)
Buzz Factor: B (Good)
Price: $12.99 USD (750ml.)
  Overall: We give Shellback Spiced Rum a B (Highly Recommended) This rum is incredibly smooth from start to finish and exceedingly well balanced. We were most surprised with its sweet and mellow complexities that make it a great candidate for shooters straight-up as well as for mixing cocktails. Based on its shelf price our expectations were set a little low, sure the bottle and marketing is great, but the proof is always in the pudding, and Shellback Spiced didn't let us down.   
MIX IT UP WITH… "Neptune Sour" 
Ingredients: 2 oz. Shellback Spiced Rum, 1 oz. Falernum, 1 oz. Lemon Sour, 1 Egg White, Grated Nutmeg for Garnish.   Directions: Combine liquids and egg in cocktail shaker with ice. Shake to chill and froth egg. Strain into large rocks glass over fresh ice. Garnish with grated nutmeg.   Buy Now: $12.99 ($USD) or go to: ShellbackRum.com     Follow BustedWallet on: Facebook & Twitter