Handcrafted in small batches utilizing natural sugarcane from the Dominican Republic as well as other trade secrets, Kirk and Sweeney Rum is a 12-year-old traditional Caribbean rum from 35 Maple Street. Purveyors of other fine spirits such as Masterson's Rye Whiskey and Uncle Val's Botanical Gin, 35 Maple Street resides in Sanoma, California where they hold the title of "spirits division" for The Other Guys (TOG), a cutting edge wine company with almost 110 years of libation crafting experience.

Before Kirk and Sweeney was launched as rum in late 2012 it was known both nautically and historically as a wooden schooner heralded for smuggling rum from the Caribbean to the Northeast during the early years of Prohibition. In-fact in 1924, the Kirk and Sweeney was seized off the coast of New York with a massive amount of rum aboard. The schooner was subsequently re- named "Chase" and pressed into duty as a Coast Guard trainer, serving until the late 1940's when it was retired and salvaged.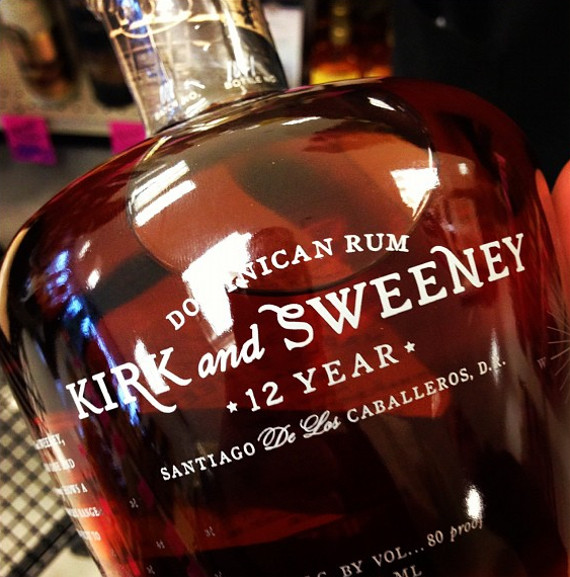 Photo Credit: TOG Wine on Facebook Production: Kirk and Sweeney Rum is made in the Dominican Republic and aged for 12 years in American oak barrels. Its unique packaging – featuring a raised cork in an elegant low-set bottle – was inspired by short, round 18th-century bottles, which typically contained rum.   Fun Fact: At the beginning of Prohibition, boats could legally stow rum as long as they were three nautical miles off the U.S. coast. In popular smuggling destinations, one could typical see several boats anchored on what became known as the "Rum Line."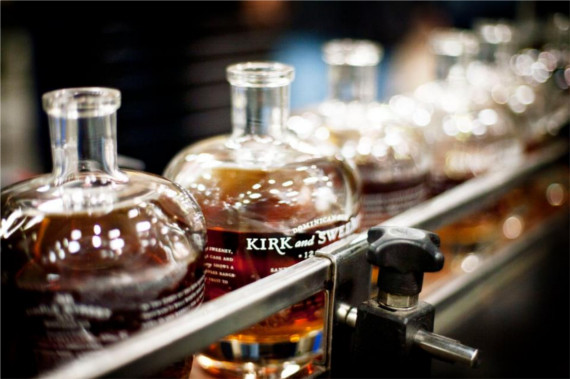 Photo Credit: 35 Maple Street on Facebook   Nautical Packaging: The Kirk And Sweeney Bottle is very unique and eye catching. It's squat, rather bulbous and surprisingly hefty, not necessarily the most ergonomic design we've seen, but when it comes to the "Wow Factor" it truly delivers. A great conversation piece.  
Playing off the concept of global navigation, we silkscreened an antique nautical map of the main rum smuggling route around the circumference of the bottle, the neck features custom hand-numbering. Along with the ornate logo, the photo of the ship and a safety seal that is printed to look like nautical brass, the overall design serves as a reminder of the risk so many were willing to take for a good taste of rum during the 1920's. -August Sebastiani, TOG President. 
  Coming in as our #1 summertime drink, rum is a favorite around our tasting table this time of year. When the opportunity to taste and review Kirk and Sweeney Rum was presented to us we jumped at the chance – mouths agape! After an hour long session of sniffing, tasting, and mixing we're pleased now to share the results with you. Cheers.  
– Kirk And Sweeney Review –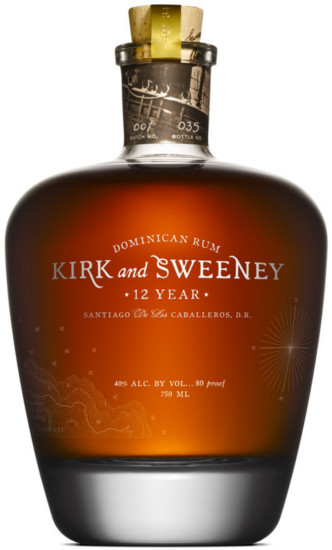 Proof: 80 (40% ABV)
Age: 12 years – American oak barrels
Nose: Honey, oak, vanilla
Flavors: Vanilla, honey, caramel, toffee and oak
Taste: B+ (Very Good)
Mix–ability: B (Good)
Buzz Factor: B (Good)
Price: $34.98 USD (750ml.)
  Overall: We give Kirk and Sweeney Rum a B+ (Highly Recommended) This 12 year rum is more than just good looks… in fact, much more! Kirk and Sweeney is a deliciously sweet Caribbean rum that sips smooth and mixes with cola (among other mixers) dangerously well. We found it to be an excellent rum for sipping on the rocks due to its tame 80 proof bite (or lack there of), sweet complexities and lingering vanilla finish. Die hard rum fanatics listen up! We fell in with love Kirk and Sweeney… so will you. Its an honest to goodness generously aged rum that's perfect for summer day-drinking that slides into the night. Give Kirk and Sweeney a whirl next time you're looking for something new in the rum section at the liquor mart. It will not let you down.   
Mix It Up… "Dominican Sunset" 
Ingredients: 2½ oz. Kirk & Sweeney 12 year Anejo Rum1½ oz orange juice1½ oz pineapple juice1 oz sweet and sour mix   Directions: Shake and strain this drink into an ice-filled hurricane glass. Float K & S Rum and garnish with a pineapple, orange, or cherry pinwheel.   Buy Now: $34.98 ($USD) or go to: 35maplestreet.com   Follow BustedWallet on: Facebook & Twitter