We'll start here: a more stable kayak simply doesn't exist in this category. Having paddled many sit-in kayaks, canoes and guide boats a smooth, trustworthy ride is something that should be appreciated, especially in a sit-on Kayak like the Ascend D10 Sit On Top model. For under $400 this kayak is a steal if you are looking for the basic features on a slick looking boat that's as sturdy as a 3rd Kardashian.
Recently I took the Ascend D10 Sit On Top to the Adirondacks to shoot some photos and see how she performed. The Ascend series has a variety of kayaks, many cut out for specific needs. The D10 is a catch-all that features the necessities and more with features like waterproof storage, 6 drain holes, adjustable plus and drink holders. This kayak is built for utility. I could see this being perfect for a recreational kayaker to an occasional fisherman to a photographer. You really can't go wrong with it's performance.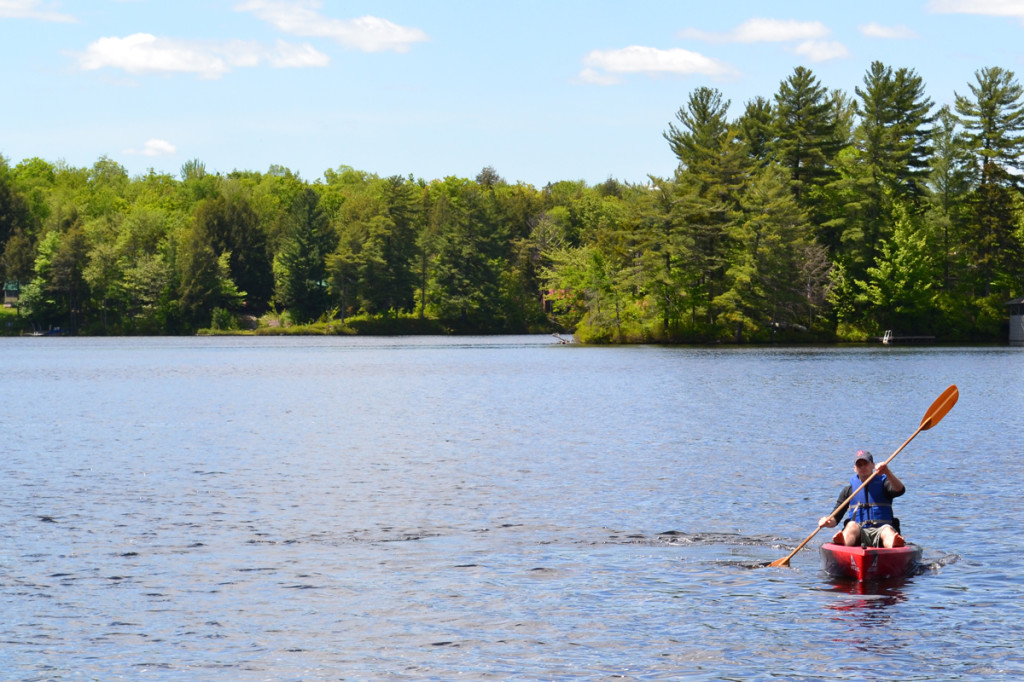 Key Features:
High performance kayak without the high price
Custom-crafted tunnel hull design – ultra stable
Advanced hydrodynamics – balances stability, maneuverability, and speed
Deluxe, padded and adjustable seat
Personal dry storage deck plate system
D-ring bow anchors for customizable storage
Large stern well for multipurpose storage
Adjustable foot braces
Recessed molded paddle holders
Multiple drain holes and drain plug
Two scupper plugs
Specs:
Length: 10 ft
Width: 34 inches
Kayak Weight: 65 lbs
Maximum weight capacity: 325 lbs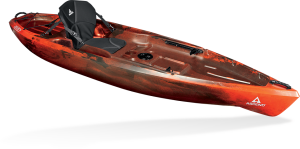 Ascend D10 Sit On Top Kayak Review Breakdown:
Function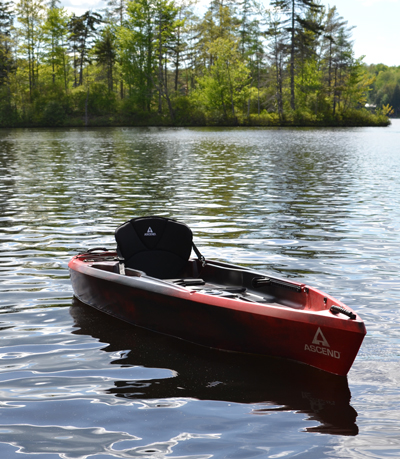 One thing that I was fearful of when taking out the Ascend D10 Sit-On was the 6 drainage holes. Seeing that I wasn't going to encounter that rough of water, I thought that the holes were a bit excessive. I was wrong. The drainage holes (under the calf, the rear end & the back storage) did an amazing job keeping the water out of the boat and away from your body. Unlike sit-in kayaks, the extra height allows that dirty boat water from ever accruing in the kayak. The drainage is a godsend as it simply glides out of the boat before becoming body backwash. If that's your thing however, the boat does come with two scupper plugs so you can keep it in.
While I already mentioned the stability, it needs to be stated again. Tipping this kayak would take a near catastrophic event. I took my camera out around the lake and took shots, not worrying about the lake itself, rather the occasional drippings form the paddles. When I had my 76 lb lab on board (see below) he jumped off as in a dock jumping competition and I didn't even spill my beer.
Comfort
Two features really made the Ascend an enjoyable ride. The built in, adjustable foot braces and the fully adjustable seat with back support. The foot braces allow you to really get a good body grip when paddling and adjustment is simple, even from inside the boat. The seat smartly has supports at the top of the material puling forward to give the kayaker some well needed support. I ended up tightening this a bit to feel some extra tension when paddling. Between the foot and back braces I successfully recreated the in-kayak experience in becoming one with the 'yak.
Not being totally used to the sit-upon kayak, I used 7' custom made paddles that seemed a tad too short which made my back feel far more tired than it should as I had to bend lower than normal. If buying this kayak (or any sit upon) I'd recommend the largest possible paddle. Seeing that I had incorrect equipment, I won't factor comfort into the review grade (even though I liked the seat & braces).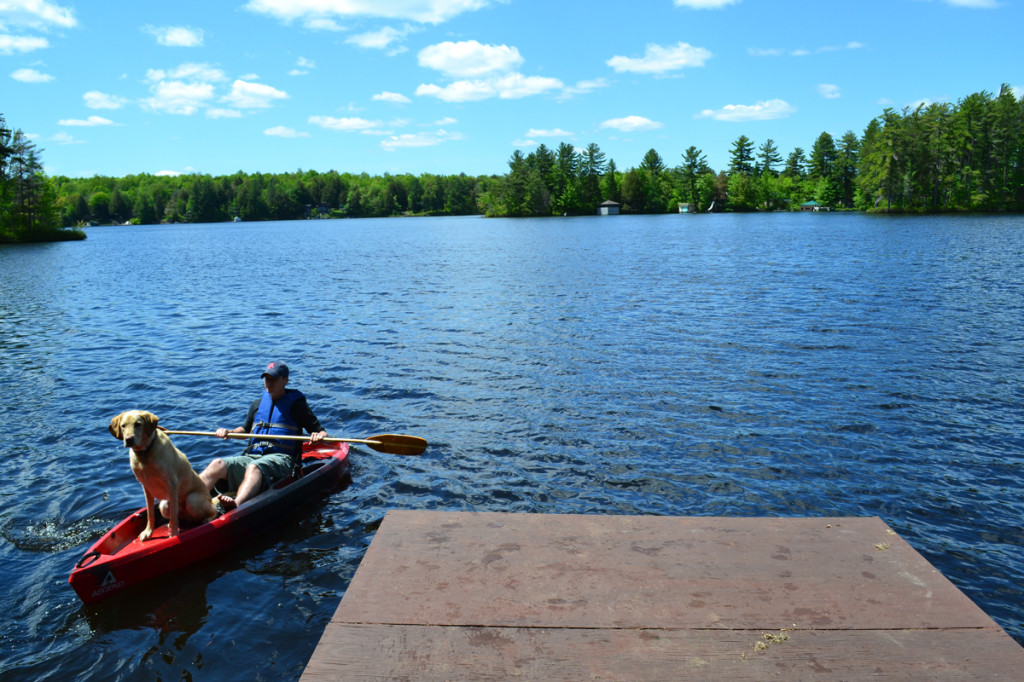 Size & Storage
If you are a legit die-hart fisherman, you won't find what you are looking for in this boat. If you are a recreational fisherman that typically holds a pole in one hand and a cold brew in another, this would work just fine. The boat is equipped with a very convenient water-proof center storage container as well as two very sturdy handles on the front and back of the kayak. Each side of the boat feature deep storage options (that would actually work thanks to the stability) as well as frontal storage with D-rings and back D-rings with tie-downs.
The front is wide open and very spacious. I was able to load up a 74 pound Labrador with no issues other than his magnetism to the sea life. This sit-on kayak would be unbelievably ideal for those with semi-smaller, more land-lubber canines that are up for a good trip. A beagle could literally fall asleep soundly at the bow thanks to the size and soundness of this kayak.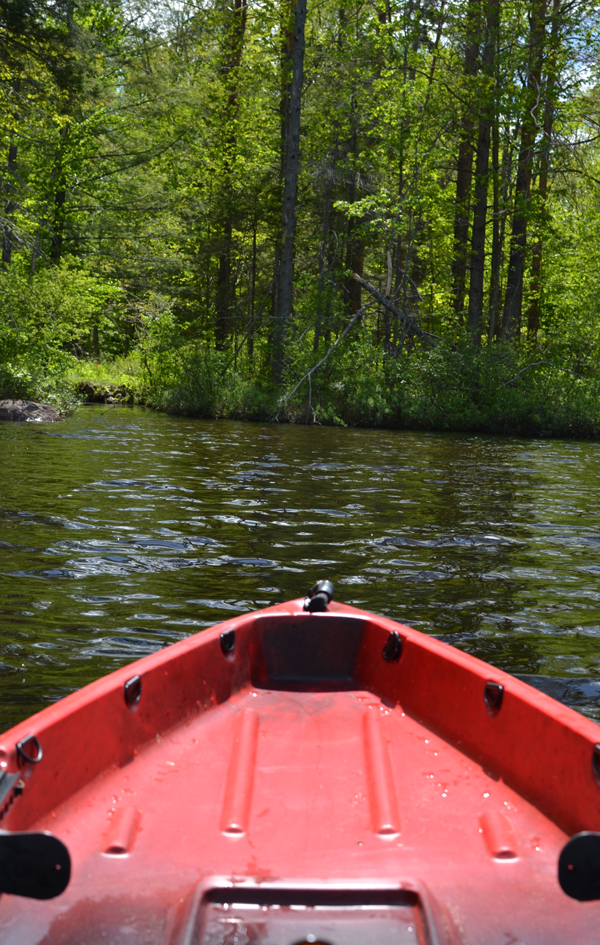 Speed & Maneuverability
I was pleasantly surprised with how this boat maneuvers. While you won't be Usain Boat out on the water in the D10, it does move pretty fast and you can turn quite quick. For how stable this boat is, I don't think you could get much faster. This kayak also tracks well as you'd expect with something so sound.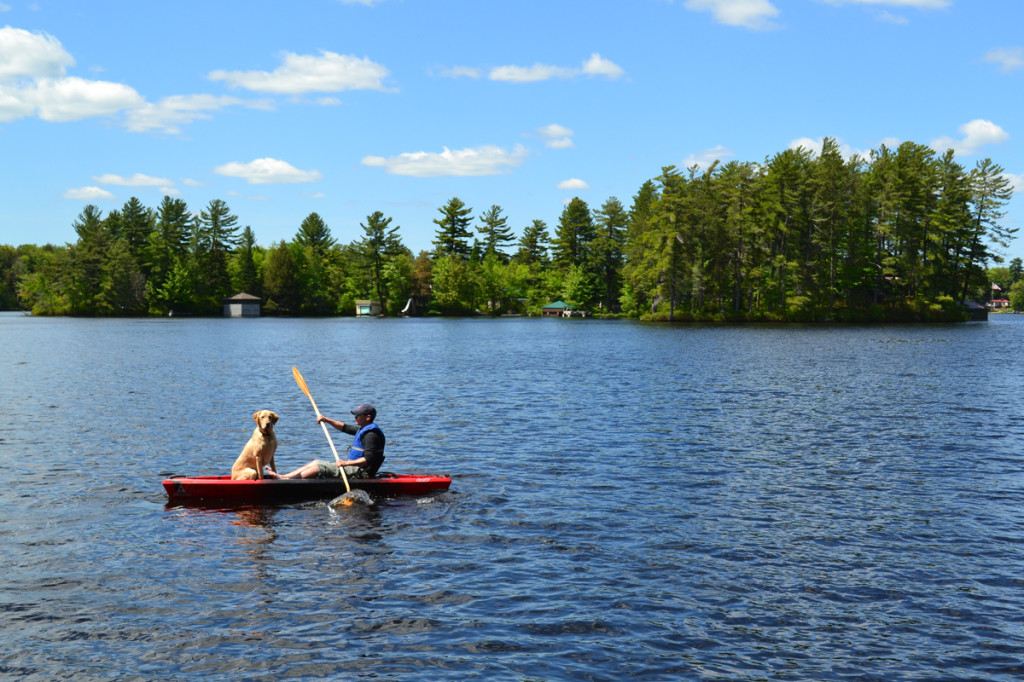 Value
For the price, you're getting a sturdy well built boat that's great for the lake, slow rivers and even a little fishing. Add in all that cargo space I mentioned and the fact that it's pretty damn handsome…. well, you've got yourself and excellent value in our opinion!
UPDATE: Bass Pro Shops stop making the D10 Kayak at the end of 2014. They are now offering a newer model – the "D10T" which is currently $449.99. The buy now link below has been adjusted to direct you to this newer model, which is very similar to the kayak reviewed in this article.
Ascend D10 Sit On Top Kayak: Gear Review
This kayak is everything you'd want for under $400. Tipping it would take a Titanic-ian effort. It moves, yet it doesn't shake. It's comfortable as Chairy from The Playhouse. You really can't go wrong with this - it's an all-around solid boat that you can trust.
The Good:
Very Stable
Nice Cargo Space
Surprisingly Comfortable Ride