Steph Curry, the best living shooter on the planet rocks the Micro G Anatomix Spawn basketball shoes from Under Armor. That should be the end of the review right there. Though I am a casual basketballer (with a 3 point % 25 points under Steph's) I've never felt a sneaker quite like this. I was skeptical as to what Under Armor could do with sneakers but was shocked with the innovation of these sneakers. The best way to describe these sneakers is like putting the Venom Symboite onto your feet: they become you.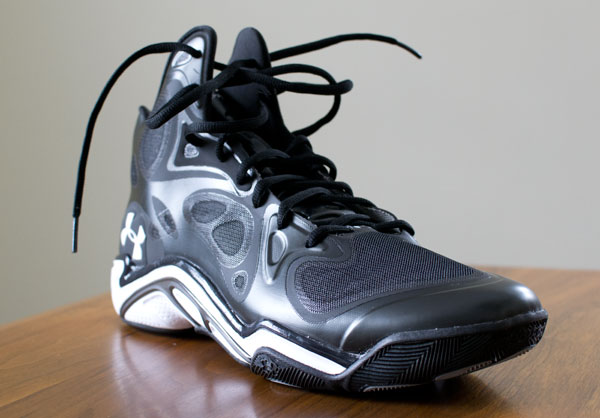 Under Armor Micro G Anatomix Features:
Interwoven flexgear
Forefoot, eyestays and heel reinforcements
Exposed areas for breatheability
Micro G midsole
Micro G sockliner
Rubber herringbone traction pods
Under Armor Micro G Anatomix Review Breakdown
Fit:
Putting on the Micro G Atomix Spawn feels like putting on a ski boot. It isn't easy, but when on it molds to you. Once you get these sneakers on you honestly don't feel them. They give your feet a bear hug that doesn't stop, yet doesn't hurt or annoy. The tightness of the fit gives you exponential responsiveness on the court. The soles are equally exceptional. The combination of the sole's grip plus the tight fit turns the shoe into a performance enhancer on the court.
Grip:
The high-top version that we tested give solid ankle support thanks to more than adequate height on the upper of the shoes. However, if you are looking for cushioning, these sneakers probably aren't for you. The Under Armor  Micro G Atomix Spawn is made for performance, not for style.
Comfort: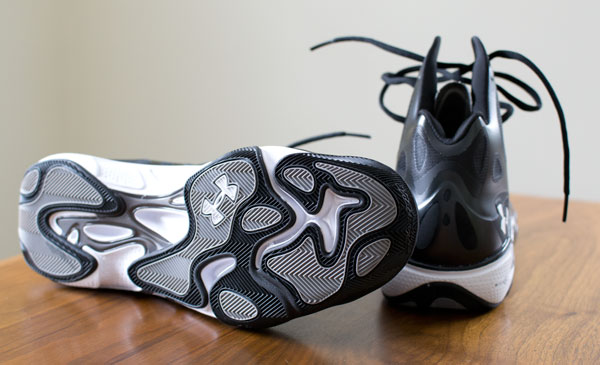 One gripe that I did have is the elastic that helped to secure the tongue in place. There is elastic running from the arch to the tongue, and from the tongue to the outside of the sole. Playing hard in these (with by Bruce Bowen defense) gave me large blisters in my arch. I'm planning on cutting the elastic out as it was that painful.
Style:
When it comes to style, I have none. I'm not flashy or fashionable, so I liked the subdued options that Under Armor offers. If your all about swag, there are plenty of options (including an orange/camo blend). The "flexgear" portions of the shoe are a bit rigid, but once you have the shoe on, you don't notice it in the slightest.
Conclusion:
Overall these shoes are phenomenal. They form fit your foot for an experience that you've never felt. And it transcends to the floor. You've never had better traction, grip and overall feel than you'll have with the Micro G Atomix Spawn kicks. The only set-back for us was the inner elastic, otherwise, it is the perfect shoe.
UA Micro G Anatomix Spawn: Fitness Review