When you find a good pair of training shoes, it's hard not to wear them down till the soles start falling apart.  Well, at least for me it is.  My last pair of Cross Training shoes were Under Armour (Micro G®) and trust me when I say I put them through some extreme training.  They were my go to shoe for plyometric training, boxing, racket ball, weight training… until now.  The UA SpeedForm® Phenom has some great features that make this shoe worthy of intense training.
Key Features:
Innovative UA SpeedForm® technology
ArmourVent™ mesh upper
Internal TPU heel counter for greater stability
Smooth, ultrasonic welded seaming
Molded 4D Foam® footbed
Full-length Micro G® foam
Strategically cored midsole
Agressive traction
Weight: 9.1 oz.
UA SpeedForm® Phenom Review Breakdown
Design & Performance:
One look at this shoe and you can tell it was built for performance. Under Armour has delivered some amazing performance gear through the years and the UA SpeedForm® Phenom is another example of what proper design can do to improve your performance.  Like my previous pairs of Under Armour shoes, the Phenom is also built with full-length Micro G® foam to help with cushioned landings while also delivering enough support for explosive takeoffs.  This is key in any performance shoe since most of your movements are explosive.  This has helped me tremendously in my jump training.  Since I waited a little too long to grab a new pair of cross trainers, near the end of the shoe's life I noticed some knee pain after a workout.  After a week training with the Phenom the pain went away and I was able to focus on pushing my workouts even farther.

Along with jump training you also need better support for lateral movements.  The cored midsole on these shoes extend higher onto the foot for more lateral stability.  So that extreme wave design along the edge of the Phenom is there for a reason (not just for looks).  Couple that with the Internal TPU heel counter and high ankle support and you have enough stability for extreme movements.  Plus with the shoe only weighing 9.1 oz. I felt as if there was nothing weighing me down.
Comfort: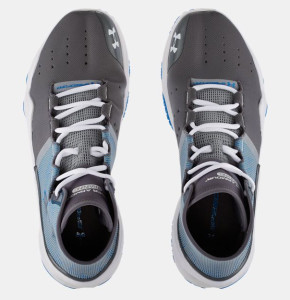 The design is definitely there and so is the comfort.  Although I would prefer a little wider toe box for more comfort since I typically wear wide toe shoes.  However, since these shoes act like compression gear they are meant to have a snug fit especially for a variety of movements.  After my warm up everything felt as it should.
Under Armour has integrated their UA SpeedForm® technology into the Phenom.  What is SpeedForm® technology? It's sole purpose is to help you forget you are even wearing a shoe.  The light, flexible, and form-fitting material with the ultra-light, responsive Micro G® Midsole and molded heel cup helps to create an "extension" of your own foot so your movements feel as natural as possible.
I felt as if I was wearing very supportive socks at times since these shoes have a smooth, ultrasonic welded seaming that felt very comfortable all through my workout.  With any training shoe you'll need good ventilation, the ArmourVent™ mesh upper delivers a great level of breathability and is made of a light, stretchy, durable, and fast-drying fabric.  Obviously your feet are still going to sweat a good amount, however with the ArmourVent™ you'll still have a good level of comfort with it's airflow from the ventilated mesh.
Traction:
Traction is key for aggressive movements, and according to Under Armour "the Phenom outsole was designed to stabilize & propel you in any direction".  The first time I put them on my feet it felt like I was wearing duct tape.  My explosive movements were on point with no slippage due to these shoes.  This is due to the molded 4D Foam® footbed.  It's purpose is to conform to your foot's exact shape, eliminating slippage.  I can say from experience that the level of traction is excellent and is sure to help improve your performance.
Value:
The UA SpeedForm® Phenom will cost you $109.99 which is not that bad for a training shoe.  Under Armour offers more affordable options that will work just as good, however I believe the extra features in this shoe will help you go the extra mile.  So if you're in the market for a new training shoe I highly recommend checking out the UA SpeedForm® Phenom.
Buy Now: $109.99 or to learn more, check out: UnderArmour.com
UA SpeedForm Phenom - Fitness Review
If you're looking for a training shoe that'll not only keep up with you, but also improve your performance... look no further.
The Good
Design meets performance
Next to skin comfort
Excellent traction
The Not So Good
Toe box could be a little wider (for dudes like me)