Running and fitness have evolved from a necessity to a choice. From the days of running from over-grown cats with dagger-like teeth, to calculating how far you have to run in order to have that extra slice of pizza, we have changed the reasons revolving around exercise. As technology makes our lives both easier and more complicated, it's a thing of beauty when technology finds its way into our everyday life and makes the tedious tasks quick and as painless as possible. The geniuses over at Under Armour have poured their ideas, specs, and tech into the Speedform Fortis Vent Running Shoe.
Combining the flexible toe bridge with the rugged support of a trail climbing heal, they have dreamed up a shoe that both hugs and lightens. Encased in a airy mesh that whisks away moisture, leading to a far more enjoyable run, not to mention the lack of horrid smells that all-to-often accompany running shoes, the Speedform Fortis Vent is moving composite of Under Armour successes.
Key Features:
Innovative UA SpeedForm® technology delivers zero distraction while running
Seamless heel cup with silicone grip for a locked-in, anatomical fit
Smooth, ultrasonic welded seaming with Bemis tape for next-to-skin support & comfort
ArmourVent™ mesh upper delivers true breathability in a light, stretchy, durable, fast-drying jacquard knit fabric
Adjustable lock down heel strap improves fit
Embedded sockliner within cavity of midsole for added cushioning, moisture wicking & seamless comfort
Dual-layer midsole combines Charged Cushioning on top of Micro G® foam for the ultimate blend of cushioned support & explosive responsiveness
Added cushioning in the heel & strategic flex grooves in the forefoot work with your natural stride
Solid rubber outsole covers high impact zones for greater durability with less weight
Offset: 9.1 mm
Weight: 8.5 oz.
Under Armour Speedform Fortis Vent Breakdown
Construction:
As the pavement, rubber track of the treadmill, or the rich dirt flies by with each step you'll thank the designers at Under Armour for the tools they've embedded in this shoe. From the seamless sockliner to the adjustable lock-down heel strap the Speedform covers your foot like a glove. Protecting you from the elements, and cushioning you from the pounding you'll find the Micro G® foam of the dual-layer midsole provide an added little treat for your feet.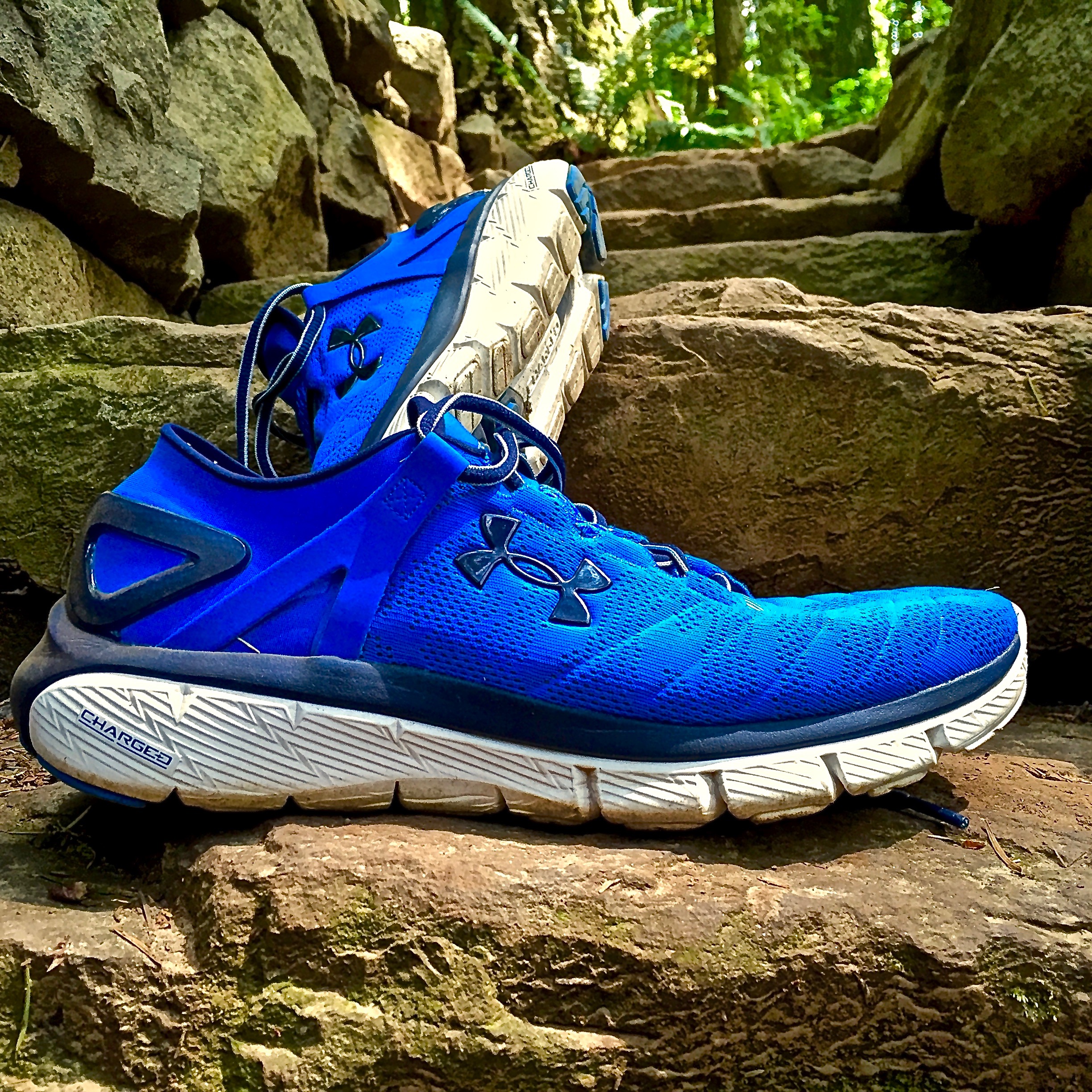 Support: 
The two things that began to shine through as the miles piled up were the ArmourVent™ that fit around the foot without constricting or hindering movement, and the silicone grip of the heel cup. While the snug fit of the ankle cup was a little tight at first, the continuous movement slowly but surely eased up and began to form more of a primary support. The combination of comfort and structured support from the breathable mesh and heel grip created a fit that showcased the best of both worlds.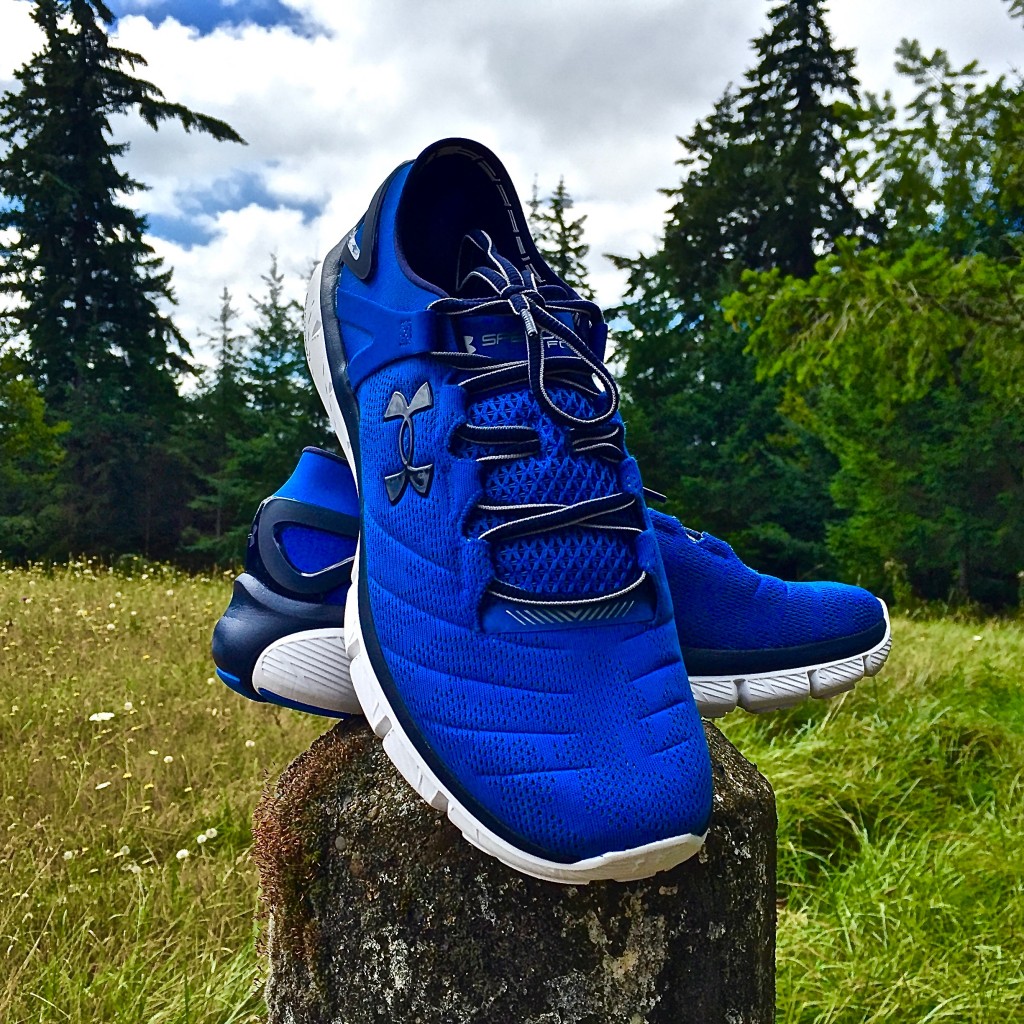 Fit:
Under Armour's SpeedForm® technology offers runner the chance to lace up and hit the road without a worry of form or function. The fit of adjustable lock down heel strap and the ultrasonic welded seaming with Bemis tape truly delivers a running experience where you can stop worrying about the next step and focus on the path ahead.
Performance:
From casual and novice runners to the daily road warrior and trail climber, the light-weight Speedform Fortis Vent enables you to push yourself a little further, surpass your goals, and let the miles seem like steps. Boasting a feather-light 8.5 oz total weight, the Speedform feels like it's more a thick sock than a complete running shoe. The solid rubber outsole adds to the equation for less weight, while cushioning the high-impact zones for greater comfort.
Style:
The sleek, minimal design represents a modern, no-nonsense approach to style. The variety of colors showcases more of a "let's get down to business" rather than being worn to make a statement. These shoes were designed to get out on the trails and help you achieve your goals and then set new ones. Under Armour did not dream up the Speedform to go with an outfit or impress your fashionista friends. While they may have elements of forward-thinking style, these are workhorses.

Value:
Hovering around $99.99, the Speedform Fortis Vent represents a quality running shoe that will keep up with you without breaking your bank. These shoes will endure trails, pavement, and consistent pounding on the treadmill. Spending $100 for shoes that you'll use for more than just a night out is a bargain in the fitness realm. While they won't run for you, they'll make your job a whole lot easier.
Buy Now: $99 or to learn more, head over to: UnderArmour.com
UA Speedform Fortis Vent - Fitness Review
Light and supportive, the tightness in the ankle area will work out as you break in the shoes, but over all creates an easy, airy running experience.
The Not So Good:
A Touch Tight In the Ankle