Here along the sandy shores of Lake Michigan, you can most likely count on some boating activity.  And when you're on a boat, you need to come prepared with footwear and attire.  The most popular go to brand of shoe for all your boat adventures is Sperry.  They look good and help keep you safe on those slippery decks.  Taking the brand from boat shoes and expanding it to a full line of clothing allowed Sperry to reach a larger market.  Endorsed by the Official Preppy Handbook in the 1980's-1990's, the Sperry brand has maintained that classic preppy style with subtle changes to evolve with the times.  We were given the opportunity to try out some of their women's summer collection items.  They didn't let us down!
Oversized Raw Edge Button Down Shirt
Key Features:
Oversized striped collared shirt
Cap sleeve
Relaxed fit
Pocket on the left breast
A great layering shirt or cover-up for the pool days or hours spent on the boat. This shirt has that "boyfriend" look with a touch of feminine features. Lightweight material makes it suitable for those warmer days and the oversized relaxed fit means it is comfortable beyond measure.  The intentionally frayed edges on the sleeves is a fun look this summer.  You can leave some lower buttons undone and tie up the front for more a retro style.
Buy Now: $60
Burgee Crew Neck Sweatshirt
Key Features: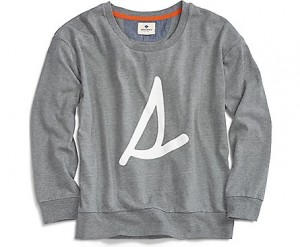 38% Cotton, 50% Polyester, 12% Rayon
Crew neck sweatshirt with burgee 'S' large on the front
After spending a day in the hot sun, the later hours can leave you chilled. This sweatshirt will cozy you up on those summer nights. The length is just long enough to lay comfortably without being too bulgy or too short. The large 'S' on the front is a fun design and the crew neck style never felt tight around the neck.  Soft and fuzzy on the inside, you could take this sweatshirt right into the Fall season.
Buy Now: $58
Key Features: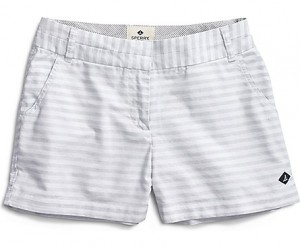 100% Cotton
Button front short
Side and back pockets
1″ waist band
A relaxed fit with a nice 1 inch wide waist band, these shorts are comfortable, casual and stylish, and they can be mix and matched with your summer wardrobe.  The hook button closure is a no fuss easy on easy off.  The zipper is small but durable and stays in place.  They are a little baggy through the back but will still get the compliments.
Buy Now: $60
Firefish Stripe Mesh Boat Shoe
Key Features: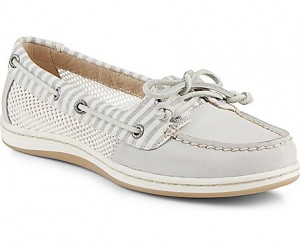 Firefish is the feminine update to our classic Angelfish style
Non-Marking Rubber Outsole
EVA molded midsole provides support and comfort
Leather and Textile Upper
Adjustable 360° lacing system ensures a secure fit
Business in the front party in the back! With a leather and textile toe on the front and mesh on the sides, this shoe will take your summer wardrobe up a notch. The EVA molded midsole is an added benefit and the 360º lacing system allows for a snug fit. These shoes need a little breaking in though and adjusting of the laces.  The rubber bottoms give that no slip grip that Sperry's are known for making them ideal for all your boating adventures.
Buy Now: $90
A collection made for summer days and summer nights.  Sperry will keep you comfortable and stylish for all of your events.  If none of these suit your fancy, check out their website for all the latest items.
To learn more go to: Sperry.com
Sperry Women's Summer '16 Collection
Let's face it. The entire Sperry line is great for on and off the boat. Don't let the water life have all the fun. Take their preppy style downtown and out with friends.
Oversized Raw Edge Button Down Shirt
9.7
Burgee Crew Neck Sweatshirt
9.2
Firefish Stripe Mesh Boat Shoe
9.6