When we heard that the Ignite Running Shoe, heavily endorsed by The Fastest Man Alive Usain Bolt, promised an advanced material to help you become faster, we were intrigued. Was this fastness promised to everyone, even those of us who might be really really bad at running (possibly speaking about the author)? Long ago I gave up any attempt distance running (a mile is the new long distance for me), but sometimes I do sprinting intervals instead. Figuring The World's Fastest Sprinter is a good enough shoe role model for me, I sought out to determine if the shoes would make any speed difference for me.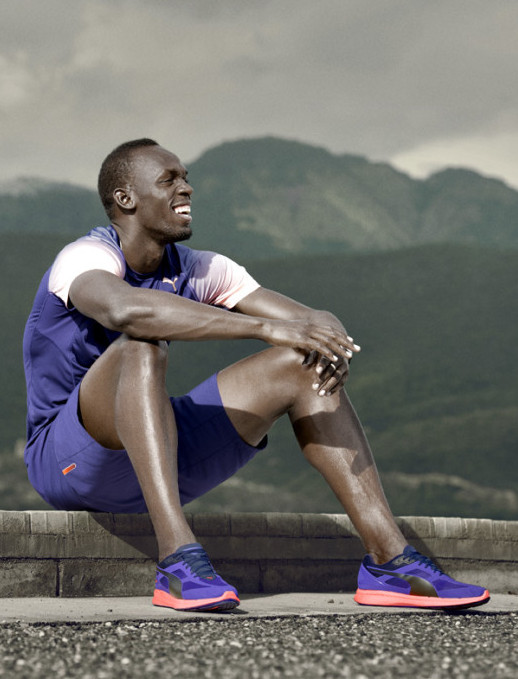 I have, size wise, very typical 7 1/2ish feet. That's why I was so surprised to find there was so much extra space on the 'top' of my foot, close to my toes. The front to back length fit, however, was perfect, so the extra air above my feet wasn't too unbearable. The sockliner that hugs the arch is one of my favorite features about the shoe, as any walk/run longer than 20 minutes has typically resulted in blistered heels, right above the sock line, for me. Not so with the Ignite, as I have yet to see any blisters within a month's worth of use of varying length of times of wear.
Key Features / Specs:
Flexible AirMesh upper with seamless overlays
Moulded EVA sockliner hugs the arch
IGNITE Foam midsole for high-rebound cushioning (disperses impact forces for optimal responsiveness and energy; hence, makes you faster)
ForEverFoam at heel for optimal durability
Transition Line mimics the natural gait pattern
EverTrack for durability in high-wear areas
Weight: 8 ounces (size 7)
Women's Ignite Review Breakdown
Design:
Style wise the Ignite comes in four different colors. For me, when it comes to running or workout shoes, I always go as fluorescent I can, and chose the fluorescent peach style. I became minimally annoyed with the semantics of the color description, which is officially 'fluorescent peach, deep blue, and navy.' While the laces are clearly navy, most people would refer to the color of the rest of the shoe as PURPLE, not deep blue. Of course, this is not a 'What color is this dress shoe?' situation, but nevertheless aggravating to color sticklers. I was really excited about wearing them as a regular/non workout shoe, as its sleek design pairs nicely with regular street clothes. The laces were another plus, slimmer and thicker than typical running shoes, with a fluorescent peach aglet reading IGNITE and containing the PUMA logo.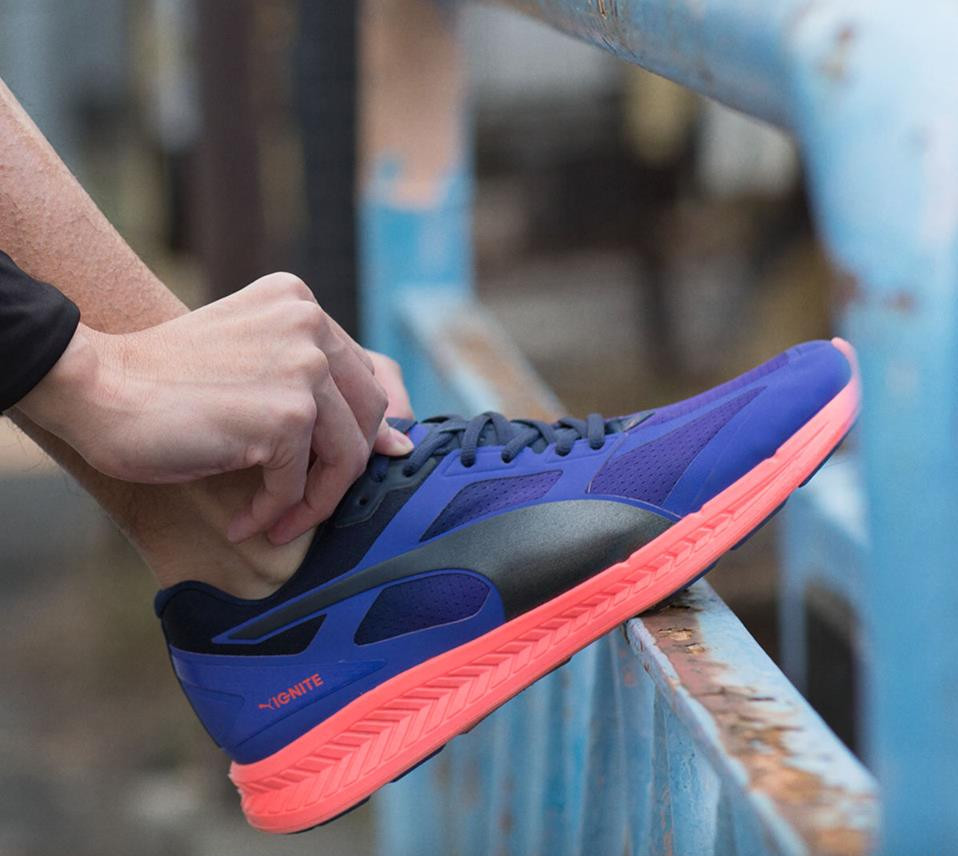 Comfort: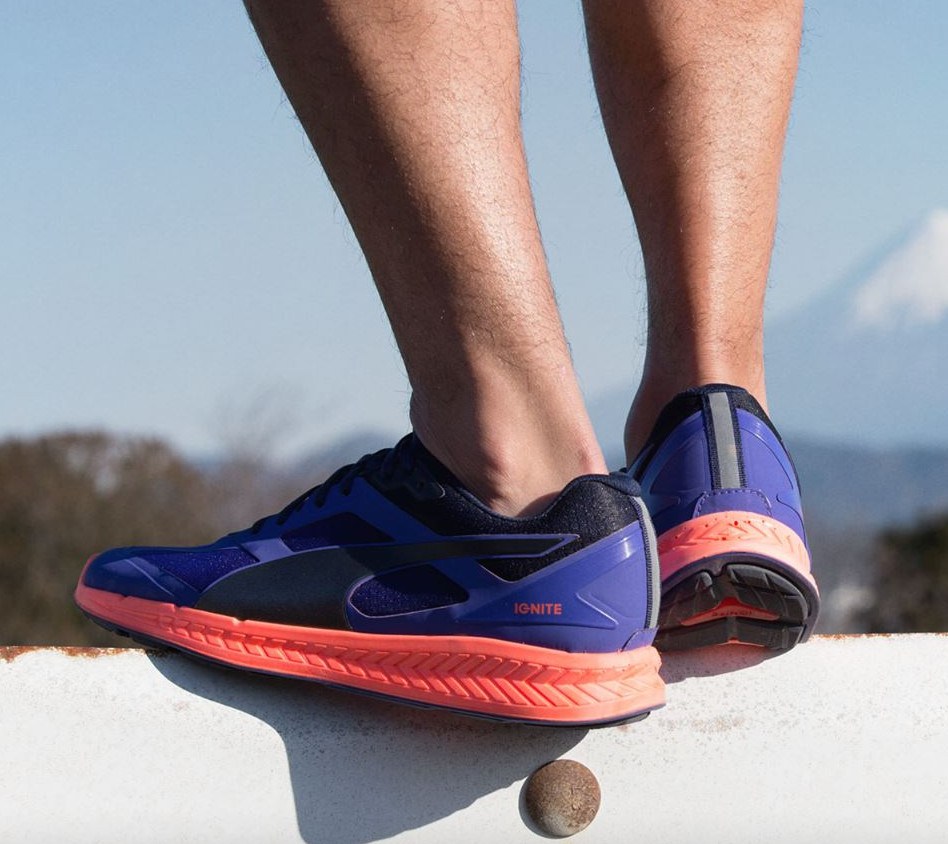 As far as comfort goes, the Ignite fit just right, as if I had foam in all the key points of my foot while walking or running. Wanting to get the most out of my Ignites, I tested the pair while doing a cardio workout, running on sand, and walking/running on pavement. While doing the cardio, which included high repetitions of squats, lunges, and burpees, I found the Ignites to almost be unbearably annoying, as that extra space above that top front part of my foot 'crunched' every time I knelt down to do a lunge, etc. Not recommended for this type of workout. Running on the sandy beach, however, was amazing with the Ignites. Admittedly this isn't an activity I often do (because it's harder than running on pavement and that's hard enough for me) but navigating the sand felt like a breeze with the shoes on. Normally I feel like I'm sinking into the sand, but with my Ignites on I felt like I was gliding across like a gazelle (if of course gazelles actually ran in sand). During the pavement testing I can't say I felt anything more or less exceptional with the Ignites on.
Traction: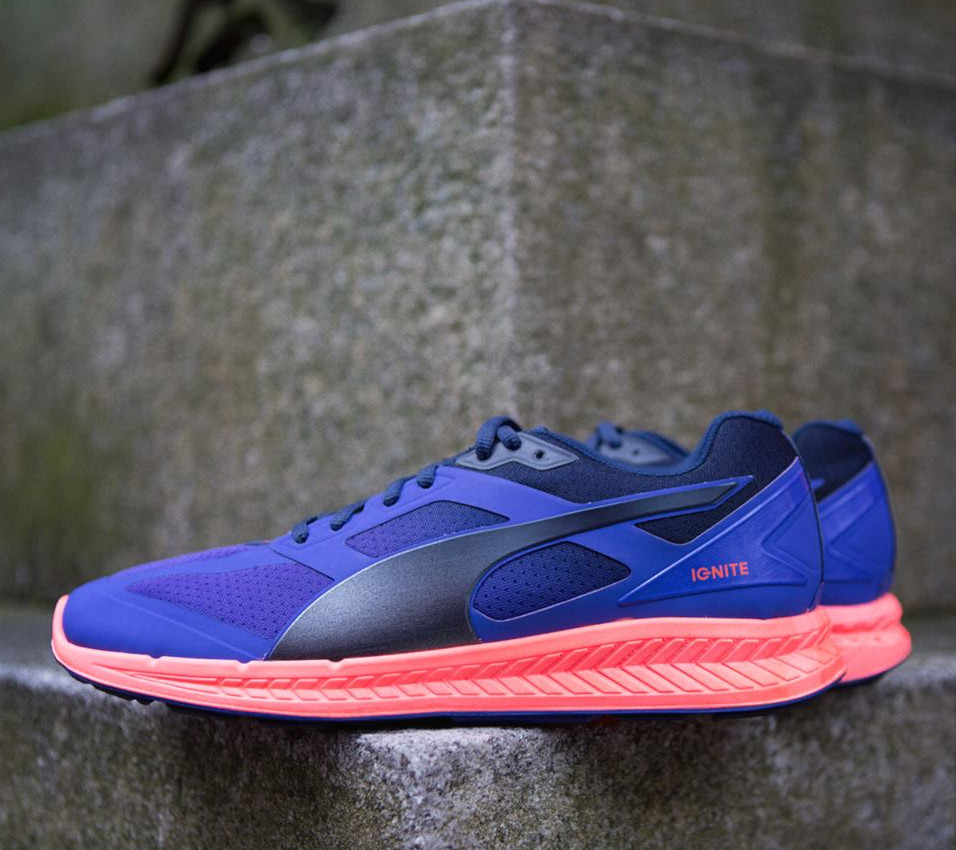 When it came to the real test of determining if the shoe would help make me a faster runner, I decided to focus on sprinting rather than trying the shoe out with long distance running, as it's not currently a fitness goal of mine. I can't say that anything about the Ignites helped me get off to a better start, but felt that the bottom of the shoe had a solid grip to help with keeping a good pace and finishing strong. Because of the sleek stylish design of the shoe, I didn't think it would wear very well, but as I write this about a month in the shoe still looks fresh out of the box. One of it's best features is the EverTrack Foam, that provides durability for high wear areas, which you can feel particularly in the heels. While I think the Ignite did well in helping me provide an overall better comfort level to my sprinting, in no way did I feel the added cushion gave me enough added 'energy' to become a faster sprinter. That, it seems, is still determined by my amount of training and determination level.
Value:
Retailing right now at $99, compared to other well known running brands the Puma Ignites are right up there with the best of them. It's a well constructed shoe that is built to last, doubles as a stylish accent not just for workouts, and would perfectly complement any PURPLE (not 'deep blue') ensemble you might have.
Buy Now: $99 or to learn more, go to: Puma.com
Puma Ignite Running Shoe - Fitness Review
Overall I love the look and feel while I'm out and about with the Ignites on, but I would want a separate pair of shoes for cardio workouts that involve various repetitions. Not a 'one stop shop' shoe, but definitely nice to look at!
Pros
Cool color options
Design protects heel arch from blisters
Extra cushion in high wear areas
Cons
Too much extra space above the toes
Not ideal for interval training, i.e. bending, jumping, etc...
Sadly won't turn you into the world's fastest man