Apothic Sparkling Red Wine- Drink of the Week
Sparking wine continues to be a massive seller among consumers while traditionally being associated as a bit pretentious. The wine makers at Apothic have taken notice and recently launched their Apothic Sparkling Red. Aiming to produce a bottle to satisfy everyone's taste buds while taking the snooty stigma out of sparkling wine. Apothic is always willing to push the envelope with their products, as you can see from our previous review of the Apothic Brew, their coffee infused wine. With their Sparkling Red, Apothic is seeking to offer something new to the sparkling wine community. The first noticeable change for consumers is the wine is red versus white. Sparkling red wines have not always been embraced by the winos, but has seen a recent surge in popularity.
Apothic wines are inspired by "Apotheca," a mysterious place where wine was blended and stored in 13th century Europe, the wines of Apothic are truly unique in style and taste. Famous winemaker, Debbie Juergenson, aims to crafts bold, captivating Apothic blends by using only the most distinctive California grapes. From vintage to vintage, the character and flavor of the individual varietals guide the shape of each blend.
The Apothic Sparkling Red continues Debbie's zeal for creativity. The wine has the color of an iconic 80's red leather jacket, Apothic's scarlet sparkler was masterfully crafted to be refreshing with its lines of ruby bubbles and its notes of bright cherries, zingy citrus and red apples. The folks at Apothic tell us that the Sparkling Red will pair with everything. We gave a few bottles to our tasting panel and asked them if they agree. Read on to see what they thought!
Apothic Sparkling Red Wine Review Breakdown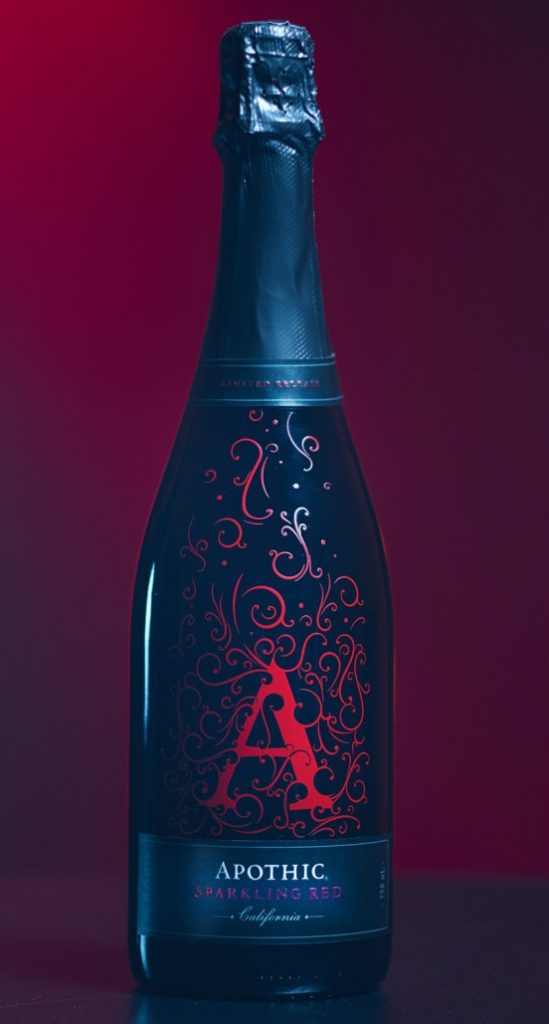 Variety: Sparkling Red Wine
Aging: N/A
Region: Modesto, California
Nose: Cherry, citrus, fresh fruit
Flavors: Black Cherry, Apple, Strawberry
Alcohol: 11.5%
Price: $12.99
Apothic aimed to produce an unconventional sparkling wine and we assure you they did it. Being a sparkling red, we were worried that it would be overly sweet, and we were pleasantly surprised that it had some dryness to it.  While the wine was lightly sweet, bubbly, with some cherry and fresh fruit on the nose. The cherry shined upon the first few sips taking on more of a black cherry flavor with hints of apple and fresh strawberry.
True sparkling wine connoisseurs may scoff at this ambitious take by Apothic, but they are missing out on a fun and refreshing wine. Our tasting panel appreciated the unique flavors with those crisp and bright bubbles.  This is a great bottle to have cold in your fridge when you're in the mood for something fresh and tasty to pair with your pizza or takeout while you hammer out some of your favorite shows. It is also a great bottle to bring to your next book club or wine party to change things up. Overall, for a reasonable price point you get a fun and good tasting bottle of bubbly!
Buy now for $12.99 or visit Apothic.com for more information