We said it before in our review of the Altec Lansing Life Jacket 2, "The more portable our lives become, and the more capable our smart phones are, other devices are being forced to keep up." With the new Omni Jacket, Altec Lansing has raised the bar once again for what is possible for on-the-go sound.
The people who formed Altec Lansing helped create the technology that made movies talk, they powered the speakers at Woodstock and today they are leading the way in portable sound. From component systems to ear buds, Altec Lansing is raising the bar in what we can and should expect from sound. This summer Altec Lansing let us take our tunes on-the-go with the Omni Jacket portable Bluetooth speaker. After months of testing here's what we discovered…
What's in the Box:
Omni Jacket portable Bluetooth speakers
USB cable
AC Adapter
Aux Cable
Mounting hardware and clamp
Specs:
IP67 waterproof
floats
Micro usb in for charging.
Aux in jack
Standard usb port to charge other devices
Bluetooth connectivity 50 foot range
lithium-ion rechargeable battery with 50 hours of play time
NFC
Voice commands and speakerphone for Android and iDevices
Altec Lansing Omni Jacket Review Breakdown
Design: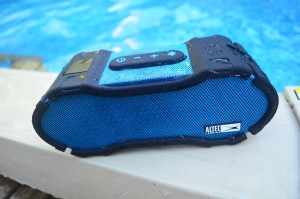 Weighing in at 1lb, 14 oz, and sized at 3.0″ x 3.0″ x 8.375", it's about the same size and weight as the Life Jacket 2. That follows then that, like the Life Jacket 2, It feels good in the hand and is easy to carry. Not huge, but not pocket sized. I've carried it in my car, in my backpack. I forget it is there. The weight is also not an issue. With the rubber cover closed on the top of the speaker it becomes water, dust, snow, sand and dirt proof and helps keep the speaker from sliding or shifting. The Life Jacket 2 has an access door on the back, we like it better on the top where they put it on the Omni Jacket.
Differences then? The main difference is instead of the metal speaker covers of the Life Jacket 2, the Omni uses plastic with a fabric covering. At least we assume it's plastic under the fabric, we didn't feel like cutting it open. The fabric is soft to the touch, and looks cool. The disadvantage though is that it retains water. Dropping it in the pool at 8pm, the speaker was still wet to the touch at 11pm and that means it gets other things wet. The metal covering of the Life Jacket 2 dented over time, but the fabric of the Omni Jacket has a small stain on it after a half summer of use. From a durability standpoint, it seems to be tough enough.
Ease of use: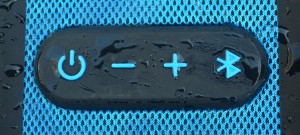 The Life Jacket 2 had three buttons, the Omni Jacket has four. Power, volume up / down, and a bluetooth button. But what really sets it apart is the buttons are multi-function. Power also plays/pauses music, answers calls, turns on a voice prompt. Volume up and down also can be used to skip or repeat a track. Combinations of buttons, like power and volume up, will give you a battery power status.  This is everything that we asked for in the the Life Jacket 2 review and it's great. Every bluetooth speaker brand needs to look at these upgrades and follow suit.
Like the Life Jacket 2, it still pairs via near field communication (aka – NFC) just set your phone down on it, and it'll link-up automatically, as long as you have NFC on your phone of course. Altec Lansing added a bluetooth button, which has other uses, but it's main function is pairing and disconnecting a device, which is straight forward. At a party? Want another friend to play something? You don't have to remember a cryptic set of buttons to push, it's clear as day what you need to do to pair this device. The Omni Jacket has 'voice confirmation' which means it tells you when it is turning on, pairing, or turning off. The buttons feel better than on the Life Jacket 2, more substantial, a definite upgrade. They are raised rubber, and easy to identify without looking.
Altec Lansing claims 50 feet for Bluetooth range, I found the speaker to work at least that far away from my phone. When thrown er, 'dropped' in the pool it didn't lose it's connection.
We also paired it with kindles and laptops, everything connected on the first try. It also has an aux-in port and cable for anything that can't connect via Bluetooth. The Omni works as a speakerphone and with a tap of the power button, accepts voice commands. It passes the commands to your phone as well as the microphone on the phone does. The speakerphone is much better than expected, mainly because this speaker has better mid and bass response than what your phone has. We were excited to see they added Android support to this speaker, the Life Jacket 2 was sadly for iDevices only.
There is an free app you can download (iOS and Android) now for several of the speakers in the the Altec Lansing line up, including the Omni Jacket. It drops connection on my phone every now and then, so I've mainly stopped using the app, but that could easily be my phone. With the change in the button setup on the speaker, the app is less important if you are just using one speaker, if you want to connect two speakers together though, the app would be more helpful to control them. Other than the drops of connection I experienced, usually after periods of just letting it run, it's a nice app and can control most functions of the speaker, including volume, play, pause, next, repeat, and some EQ functions. My favorite part is reporting the battery level.
Acoustics:
Altec Lansing delivers yet again with a speaker that fills your space with sound. If it's around the pool for tunes, or connected to your laptop for gaming, it's loud, rich dynamic sound. Same as the Life Jacket 2, when we cranked it to 11 people were surprised by how loud and clear the audio was. We noticed with the Life Jacket 2, that one sides of the speaker produced more bass, and one produced more mid/treble. With the Omni Jacket we can't tell a difference between either side, both sides sound the same, so no matter which side you are on you get clear, full, quality sound.
If you are concerned that 1 speaker won't be enough, pick up two of these. The speakers will connect together via bluetooth and play music from a single source. You can get true stereo sound and spread the music even further. Also, from the app you can control the speaker volume and adjust the bass level.
Power: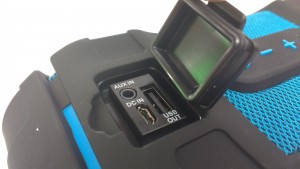 We thought we were spoiled with a 16 hour battery life on the Life Jacket 2. We were wrong. The Omni Jacket boasts 50 hours of playtime. That's not just a float down the river, that's a weekend of camping or a full week outside on the job site. Along with the ability to charge your phone or any USB device from the speaker, it is a no-brainer as part of our pack list on camping weekends.
The charger is a standard USB micro charger and does a decent job of charging the speaker. This is actually a big deal. A friend and I were down at the bar a block from the house and we'd ordered dinner to-go when the power went out. Thankfully the taps still worked, and they could serve beer until power came back on, my friend ran home, grabbed the speaker, another patron synced from their phone and we filled the small bar side of the restaurant with music for almost an hour until the power came on again. I KNEW the speaker had enough power to do the job, I didn't have to think if it was charged or not. It saved the night for a lot of folks!
It comes with an AC adapter and USB cable for charging. One note, whatever it says when you unbox for battery level, it's wrong, go ahead and plug it in and charge it over night. We thought something was wrong during the first use, but as it turns out the battery wasn't charged enough. After that, we've had no problem.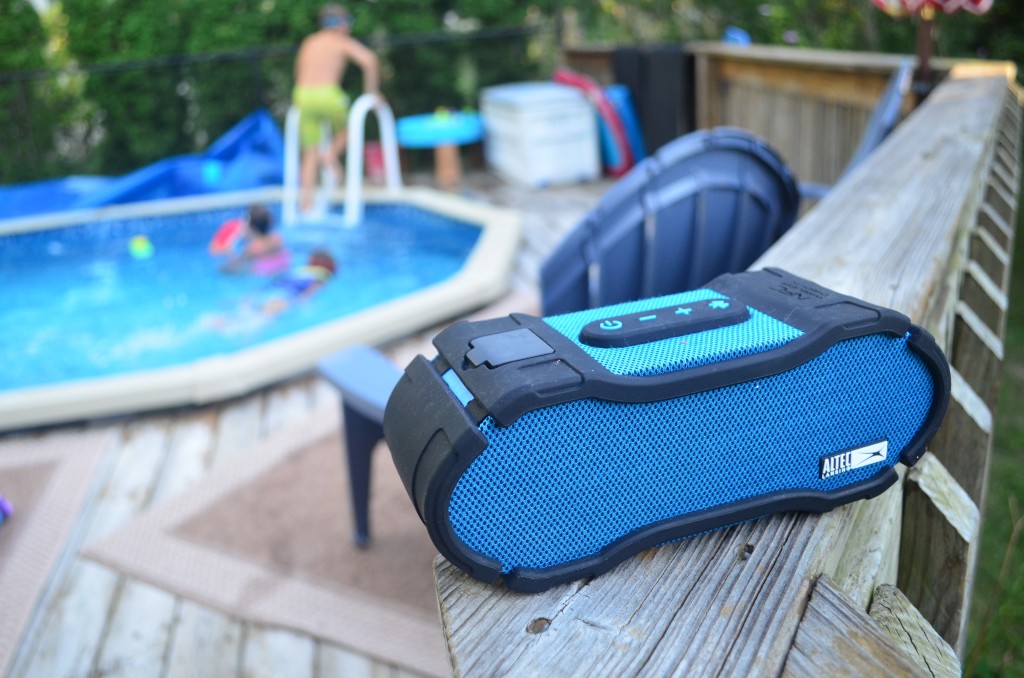 Portability:
This speaker packs easily. It's rugged. It's rubber coated cover helps keep it in place. It can get sandy, wet, muddy, get spilled on, and it gets clean again, just hose it off. We liked being able to control the music directly from the speaker set on the edge of the pool. No worries if it fell in. It's small enough to take with you, powerful enough to last while you are out, durable enough to take abuse, and you don't have to worry about leaving it out in the rain.
Like the Life Jacket 2, and many other speakers from Altec Lansing, it comes with a U-clamp and bracket that will attach the speaker to a bar. We're still not in love with the clamp. The speaker is just under 2lbs, but it's too heavy for the clamp to really keep the device in the same spot. I'm not 100% sure where I'm even going to use the clamp, it's just as easy to tie it down. The point of contact on the speaker is a screw mount, same as on the bottom of professional cameras, they've got a great idea, it just needs tweaking.
Negatives:
All of the negatives we had with the Life Jacket 2 got addressed with the Omni Jacket, aside from the U-clamp. The only new concern is the fabric covering, as mentioned, it retains water for a long time, and we wonder how durable it's going to be long term, but so far so good.
Value:
The Omni Jacket retails for $199.95. A $50 increase over the Life Jacket 2 when we reviewed it, but with more than 3 times the amount of music play and better controls.  As we've said before, Altec Lansing is making their line of bluetooth speakers everything that other speakers aren't. It sounds great, it is waterproof, it lasts, it's loud. The ability to charge other devices and with this length of play time, I'm not sure you could find a better speaker at this size.
Buy Now: $199.99 or learn more at AltecLansing.com
Altec Lansing Omni Jacket – Gear Review
If you are looking for portable sound for camping, around the pool (or anything wet) or just a back yard speaker, this should be on your list to check out. Volume, battery life, charging, durability, and portability all must be balanced, and Altec Lansing again hits the mark in all categories.
The Good
Power for days, literally.
Loud, qualtiy sound.
Versatile controls on the speaker.
The Not So Good
Fabric covering stays wet for a long time
The clamp still isn't that user friendly.