In general, most people don't know how to dress for harsh outdoor conditions. They also don't understand what makes a jacket that doesn't really keep you warm valuable (and expensive). I've had to learn outerwear lessons the hard way because I always thought I knew what I was doing. I would buy super expensive shells for snowboarding but not wear the proper layers underneath and end up freezing. Then I'd go to the other extreme and buy a giant down coat and wear a t-shirt under it but lose all mobility. The reality is that you need different material technology for different situations, and when it comes to harsh weather material tech, few do it as well as Mountain Hardware. Today I'll be reviewing the Men's Alchemy Hooded Jacket. One of the latest softshell products from the 20 year old company.
What's a softshell?
It's important to understand the purpose of a shoftshell jacket before passing judgement on one. A softshell is a lightweight outer layer designed to block wind and water while also remaining stretchy and breathable. Most softshells are not waterproof but they are able to block wind and repel some amount of water. The Alchemy Jacket is an exception in that it is considered waterproof which we'll put to the test. The primary purpose of a softshell however is to block wind from coming in but let air and moisture escape out during outdoor physical activities like running, climbing, or skiing. If you're looking for full stop waterproofness, you'll want to look to a hardshell for that.
Key Features:
Asymmetrical, Velcro®-adjust cuffs protect the top of the hand without compromising mobility
3-way adjustable, helmet-compatible hood features a wire brim to hold its shape
Large interior mesh drop pocket easily holds gloves and other essential gear
Dual-purpose, pack and harness compatible zippered pockets double as core vents
Easy-slide, water-repellant 2-way AquaGuard® VISLON® center front zipper
Materials:
Body Fabric: 3L Dry.Q Elite® Synchro NBT
Body Fabric Content: 56% Polyester, 44% Nylon
Measurements:
Center Back Length: 29″ / 74 cm
Apparel Fit: Active
Weight: 1 lb. 7 oz. / 656 g.
Mountain Hardware Alchemy Jacket Review Breakdown
 Style:
It's true that this jacket has a more technical mission, but it never hurts to look good. One of the added benefits of a softshell vs. a hardshell is the versatility to be an everyday jacket in addition to an outdoor savior. The Alchemy Jacket features a slim fit style making it perfect for casual wear on a rainy day. Between outdoor activities, I wore this jacket regularly to work and received steady compliments. It's great for regulating your body temperature in and out of the car and keeping your work cloths dry on a soggy day.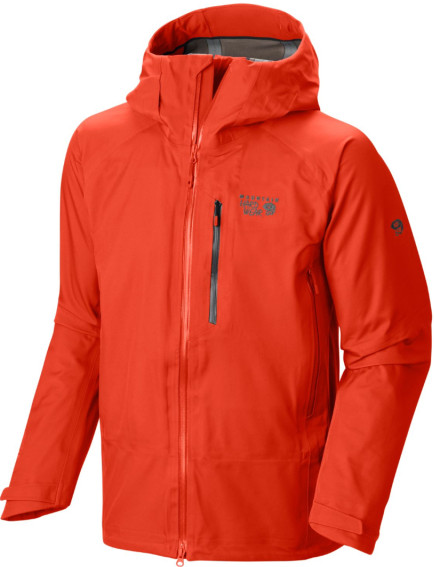 Comfort:
The breathability of the jacket is great and adds significantly to its level of comfort. With the proper layers underneath, you hardly ever feel too hot or too cold, even during heavy activity which is awesome. This, thanks to the Mountain Hardware Dry.Q Elite technology found in their most premium offerings. Dry.Q Elite provides high moisture-vapor transfer rates and air permeability at all body temperatures. While other breathable technologies require strenuous activity before the breathability kicks in, Dry.Q is active the moment you put the jacket on. The polyester/nylon blend makes this coat flexible as well, so it moves and stretches with you and doesn't fight against you.
Quality and Features:
At this price level, it kind of goes without saying that you're getting a quality product. The Alchemy Jacket is made from lightweight, premium materials and is loaded with material technology as well as convenient features. Waterproof zippers protect perfectly placed pockets on the outside of the coat. The side zippers cover vents when you need some extra cooling, but they are also functional pockets which is nice. On the inside, there is a bungee pouch (great for gloves) and a small secure chest pocket for your cell phone / wallet. I kind of miss the normal hand pockets that you'd find on a traditional coat, but again, this jacket has a specific purpose.
This coat is really built to last. Seams have the fabric equivalent of welds and rivets at key locations on the inside. It's hard to image that you could break through the secure structure without super-human strength.
Add to all of that a myriad of pull cords to cinch the jacket to your body and lock out the elements. Plus, my personal favorite, the asymmetrical Velcro cuffs. The palm side of the cuffs are angled toward your wrist so that you have full use of your hands without having to do the old "reach out" with your arm to expose your hands. Smart.
Waterproofing:
Like I said earlier, softshell coats are not usually waterproof but this one claims to be. I spent several full days in the pouring rain raking in the Alchemy Jacket and can attest that, in practical use, it is indeed waterproof. That's more than most softshells can say, but how about actual wateproofness? To put this claim to an extreme test, I allowed a pile of water to sit on the chest of the jacket, right on the main zipper, for 15 minutes. On the inside I placed a tissue to see if any water would come through.
So while not technically waterproof (if you go lay in a puddle), under normal conditions it will keep you dry.
Conclusion:
For the casual customer, this is too much jacket at too high a cost. If you're looking for something to wear outside to go to the store or get the mail, you don't need a coat with this much technology in it. For those that understand their needs and are looking for a jacket that will protect them from the elements but breath easily during outdoor activities, the Mountain Hardware Alchemy Jacket will perform up to even the most demanding expectations. It's lightweight, it looks great, and it's super comfortable. I've only spent about a month with the jacket but I can already tell that it will hold up for years. At nearly $400, this is no impulse buy. But considering it will make  you comfortable on your outdoor adventures for the next half a decade or so, the phrase "buy it nice or buy it twice" comes to mind.
Alchemy Jacket By Mountain Hardwear
It's premium in both build and price. For the right use case, it's a wonderful jacket.
PROS
Light
Comfortable
Packed with technology
CONS
Not really waterproof
Hood is on the big side
Expensive