For many American's, Cinco de Mayo is just another excuse to throw a wild party, eat Mexican food until they burst and drink lots of tequila.  In Mexico though, the 5th of May is a day to celebrate their victory over France in the Battle of Puebla.  What makes this big party day here in the United States interesting is that Cinco de Mayo isn't even declared a national holiday in Mexico and many there don't even observe this celebratory day.  The biggest events can be found in Puebla where the battle took place and only a few other locations, including Mexico City where they show a re-enactment.  With all the personal shindigs and events in some of the big cities here in the States, that just goes to show you that American's love any reason to throw a party.
Whether you are celebrating Cinco de Mayo for the real reason, or just doing it to hang out with friends for a Mexican themed party, we can all agree that the drinks will be flowing.  We gathered a handful of favorite cocktails that are sure to be enjoyed by many.  So for this years Cinco de Mayo extravaganzas, grab your sombrero and raise your glass in honor of our neighbors to the south and their victory in the Battle of Puebla.  Cheers!
Papíto Royale
Ingredients:
Preparation: Combine Tequila Don Julio Añejo, dry vermouth and Pineau de Charentes Aperitif Wine in a mixing glass with ice.  Stir with bar spoon to temperature.  Strain contents into a coupe glass. Top with Champagne.
---

Corona Sunrise
Ingredients:
Preparation: Combine Casa Noble and orange juice in pint glass, add grenadine and ice, then fill with ice-­‐cold Corona Extra. Garnish with orange wheel.
---
Red Stag Margarita
Ingredients:
Preparation: Wet the rim of the glass, and coat in margarita salt. Combine ingredients in mixing tin and shake vigorously. Pour over ice in glass, and garnish with a lime wedge.
---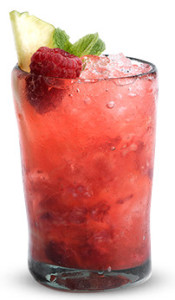 Raspberry and Pineapple Smash
Ingredients:
Preparation: Muddle raspberries.Build up all ingredients and stir in a rocks glass.
Garnish with a lime wedge.
---
Spicy Watermelon Fresca
Ingredients:
Preparation: Muddle the watermelon and jalapeno in a mixing glass. Add other ingredients and shake with ice. Strain over fresh ice into a rocks glass.
---
 Zarza
Ingredients:
Preparation: Combine all ingredients, excluding blackberry liqueur. Shake well. Strain and serve over crushed ice in a rocks glass. Float blackberry liqueur on top. Garnish with fresh blackberries.
---
Jimi Punch
Ingredients:
Preparation: Add all ingredient to a large punch bowl, add lots of ice stir, cover and leave to sit 20 mins before serving. Stir occasionally during service. *Yields 20 servings.
Cinco de Mayo might just be your excuse to enjoy any one of these fine beverages, but really…who needs an excuse?  Any one of these cocktails can be enjoyed at all your upcoming summer barbecues or gatherings.  If you're feeling really adventurous, you could even use any of these liquors and try coming up your own recipe concoction.  Happy mixing!