Don Julio 70 - Drink of the Week
Crafted in celebration of seven decades of tequila making expertise and innovation, Don Julio 70 is classified as an "Añejo Claro" tequila, which may sound contradictory to most tequila aficionados and a little different than the traditional tequilas you'll find on liquor store shelves… and that's because it is! You see, typically Añejo tequilas have a golden or slightly brown complexion while blanco (or silver) tequilas remain completely clear due to the fact that they're un-aged. So what makes Don Julio 70 an Añejo, but remain completely clear? Well, with a little ingenuity Don Julio was able to age this specific tequila for 18 months in American white-oak barrels (standard operation for most Añejo's on the market) and then remove the dark hues it accumulated by running the aged spirit through a filtering process. After filtration is complete what remains is a completely clear blanco-esq tequila that is said to have the smoothness of an Añejo and the facade of a blanco.
Always intrigued by the new, exciting and unique – when Don Juilo offered us the chance to sit down at our tasting table with a few samples to ourselves we couldn't say "yes, please!" fast enough.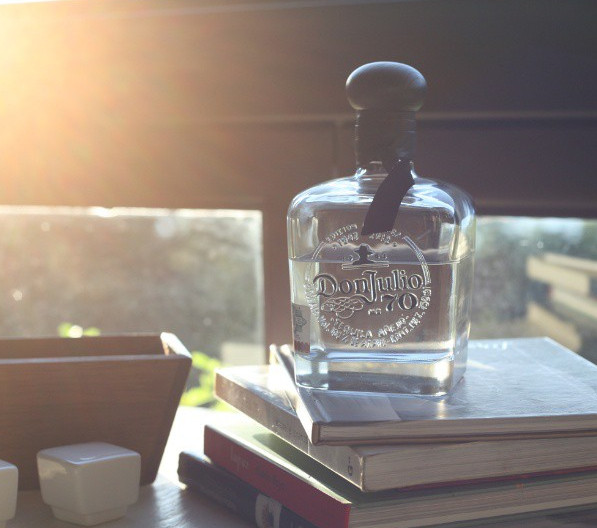 Never heard of an Anejo Claro before? Well you're not the only one! In fact Don Julio created the classification themselves…
"Tequila Don Julio has always been a brand that has set the standard for the tequila category and is once again challenging conventions by introducing the world's first Anejo Claro, Tequila Don Julio 70. Created by our esteemed Master Distiller Enrique de Colsa, this new variant celebrates a momentous anniversary for the creator of Tequila Don Julio, this one-of-a-kind bottling is the ideal spirit to savor when toasting life's celebratory moments. We hope that both aficionados and those new to tequila enjoy Tequila Don Julio 70 responsibly." -David Barnett, VP of Don Julio. 
Don Julio 70 Review Breakdown
Proof: 80 (40% ABV)
Age: Un-aged
Appearance: 100% Clear
Nose: Wood, citrus, agave
Flavors: mellow agave, vanilla, citrus, oak
Price: $60.00 USD (750ml.)
Tallying up an impressive 8.7 out of 10 from our tasting panel, Don Juilo 70 is one of the easiest drinking tequilas we've sipped in a while. On the nose it's everything you'd expect from and Anejo – although your senses are thrown for a bit of a loop  because your eyes tell you this is a blanco. Once you get past that initial switch-a-roo and take a sip this tequila truly shines.
We found this tequila to be very inviting. In fact several members of our tasting panel who weren't what you'd call "fans of tequila" came away with a new appreciation for the spirit. While Don Julio 70 sips fine it's really at home as the base for a truly delicious cocktail.
MIX IT UP… "Añejo Manhatten"
Ingredients: 1.5 oz. Tequila Don Julio 70,  1/2 oz. Sweet Vermouth, 1 Dash Cocktail Bitters, Orange twist.
Directions: Add all ingredients to a mixing glass, then add large ice cubes. Stir until cold, keeping viscosity intact. Strain into a chilled martini glass and garnish with an orange twist.