So you want to own a drone?  Whether you're a newbie or a novice, one thing's for sure… Drones, or rather "Quadcopters" (to be more accurate) are becoming increasingly popular and more accessible to those who are looking to fly and put a camera in the sky.  Among the many brands out there, two stand above the rest and aim to give their customer base an affordable, highly advanced, and easy to operate solution.  DJI and 3DR have set the bar with their latest quadcopters which are to be released in May.
There are many factors involved when opting in for a new quadcopter: design, cost, ease of use, camera specs, gimbal, and flight time – just to name a few.  So what are the differences and similarities between these two that make for the better buy?  While some of what I'll be discussing is my own opinion based on past experiences with DJI and 3DR, I will also be taking a hard look at the specs from each quadcopter and break them down so you can ultimately decide which one is right for you.
Design:
DJI Phantom 3 has not changed its design much from previous versions.  In fact, the design is the same. In my opinion, it's basic but functional and people simply recognize phantoms by their look.
On the other hand, 3DR Solo has upped its game from their previous versions.  I for one,  love the look of the Solo and appreciate the time spent in design.  From it's sleek curves and defined edges to the bold black and solid frame, I'd give this round to 3DR.
Round #1:    3DR: 1   VS.   Phantom: 0
Flight Capabilities:
Let's get to the good stuff!  Both quadcopters have increased their flight capabilities to offer more feature rich flight controls so you can get the perfect shot. The Phantom 3 has a max flight time of 23 minutes and can reach speeds up to 35 mph in ATTI mode with no wind. The Solo on the other hand has a flight time of 25 minutes (20 with camera and Solo Gimbal) and can reach speeds up to 55 mph.  DJI claims that the Phantom 3 can go twice the distance as the Solo (one mile vs the Solo's half mile) with its Lightbridge technology that handles all communication to and from the Phantom.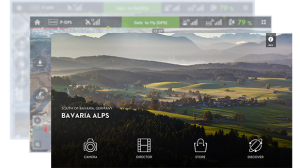 While both drones are capable of flying indoors accurately without GPS, only the Phantom comes ready to fly with its visual and ultrasonic sensors.  The Solo does not come ready to fly indoors.  3DR took a different approach and created an accessory bay from which Solo can continuously evolve.  To be clear, the Solo's Optical Flow Sensor for indoor flight is still in development but will be accessible and compatible with the current Solo in the future as well as with other sweet add on's such as swappable motor pods, LED lights, and ballistic parachutes.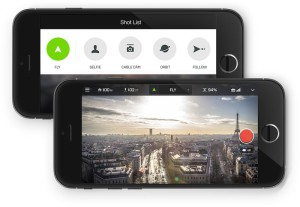 As far as auto pilot and smart flight patterns go, both quadcopters are almost the same.  Both have a "Follow" mode where the drone can track and follow you if you are moving. Both have auto take off, return home, and failsafe modes.  Both also have a Point of Interest flight mode (known as "Orbit" for Solo) where the camera locks onto a specific point or location while you fly the quadcopter in any direction (orbiting or pull in/out) allowing you to get a more dynamic shot.  The one flight feature Solo has that Phantom 3 does not (currently, but could be possible with a firmware update in the future) is the "Cable Cam" feature which is basically a virtual cable in which the quadcopter flies from point A to Point B automatically so you can operate the camera worry free for the perfect shot.
This category is a close call and I would give it to the Solo if it was currently ready for indoor flight, but the Phantom scores a point.
Round #2:    3DR: 1   VS.   Phantom: 1
Camera and Gimbal:
DJI has worked with GoPro in the past with their earlier gimbal options. However, they decided to bring this step in house to create their own proprietary camera that would work with their own transmitters and gimbal.  This was a choice that made sense for them and since then, they were able to produce a 4K camera that allows full HD streaming to your monitor or device.  Nevertheless, 3DR picked up where DJI fell short.  They were able to integrate GoPro cameras to work seamlessly with their own gimbals.  I feel this was a brilliant move on 3DR's behalf since the GoPro has more features than the current DJI camera as well as a better processor and sensor. Their process also allows full HD streaming.
The Phantom 2 had a major gimbal flaw that many have ran into.  If you have a rough landing that causes the gimbal to pop off its magnetic joint, then most of the time it'll rip the cable ribbon.  From what I can tell, the Phantom 3 has the same design flaw.  The Solo looks to have a stronger build but I am still uncertain as to how the video cable is setup.  Once we have it in our hands we will do a follow up for a better comparison.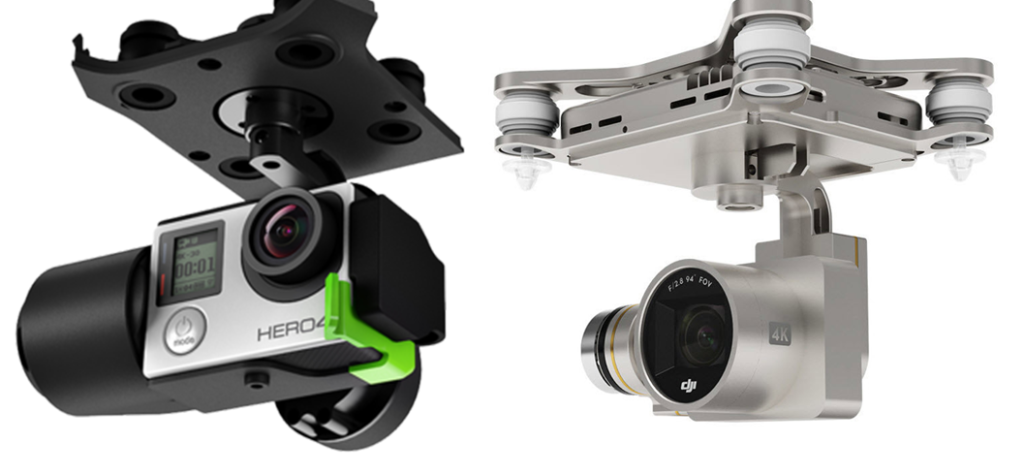 While both devices can now record 4K video at thirty frames per second and snap 12.0MP stills, the DJI Phantom 3 can only be used with the pre-installed gimbal and camera, while 3DR's accessory bay will allow Solo to use a variety of accessories.
This is another close call but because of the GoPro integration and ability for future expansion, I would have to give this one to the Solo.
Round #3:    3DR: 2   VS.   Phantom: 1
Software, Hardware, and Development: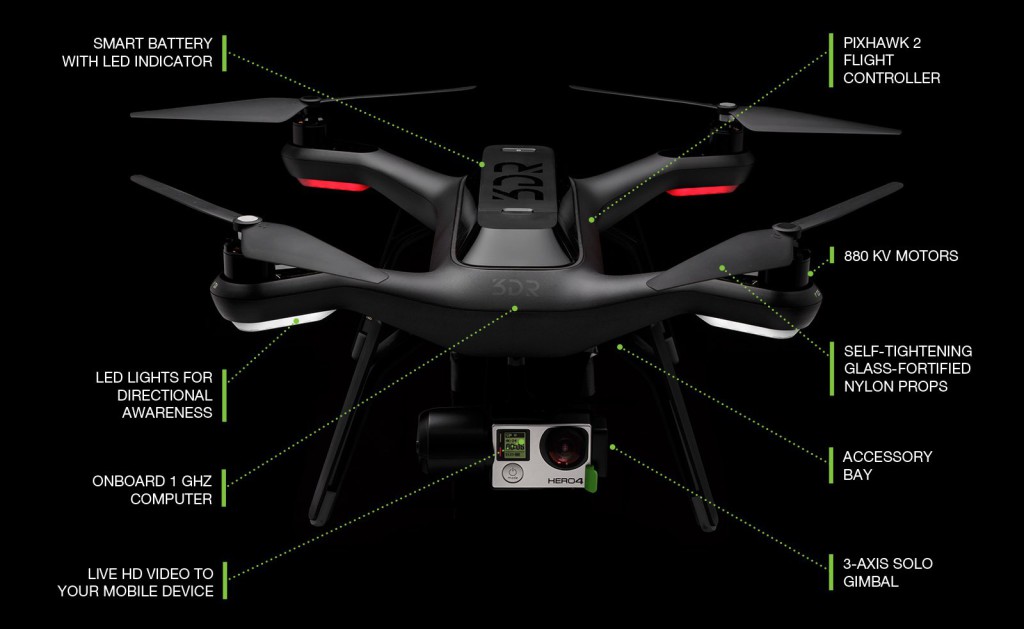 The Solo comes to life with its twin Linux computers that produce amazing processing power.  This technology enables the advanced autonomous flight and excellent camera control as well as wireless updates (say goodbye to those usb cables).  3DR is well known for their open platform for development. This allows for future expansion on the Solo and other platforms. However, DJI has also integrated an SDK (software development kit) so you or others can develop their own app that can control the camera, flight data, ground station, flight paths, and more.  This is a big step for those who are looking to get the most performance out of their quadcopter.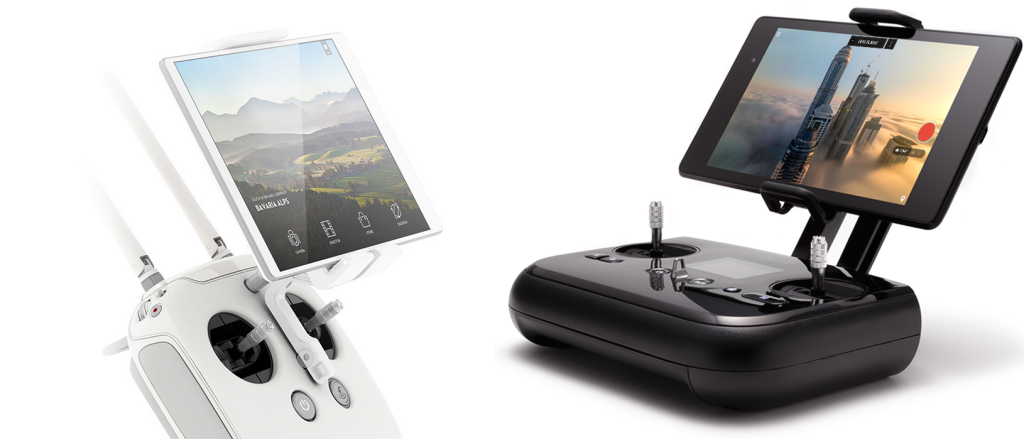 While both DJI and 3DR have made huge progress in creating user friendly remote controls, it is 3DR that steps out into the lead by providing more functionality including the ability to stream directly to external screens through its HDMI port. Both platforms are highly advanced, however, 3DR's processing power and remote steal the show.
Round #4:    3DR: 3   VS.   Phantom: 1
Price: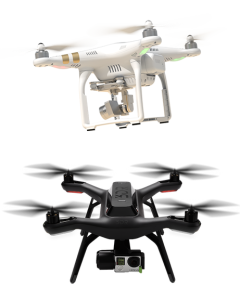 DJI has been providing an out of the box "ready to fly" quadcopter for a while now and it's popularity has been proven again and again.  So it comes to no surprise that the Phantom 3 is ready to fly starting at $1259.
3DR Solo has taken a slightly different approach by providing a base price with options for add ons.  The Solo starts at $999.95.  But if you want to match the 4k specs and 3 axis gimbal as seen on the Phantom 3, then you'll have to buy the Solo Gimbal $399.95 and the GoPro Hero 4 Black edition $499.99 for a total of: $1899.89 (unless you already have the GoPro Hero 4)
As far as "out of the box" readiness for price, I have to give this one to DJI.
Round #5:    3DR: 3   VS.   Phantom: 2 
Support:
For those that already own a DJI product, then you are aware of their poor customer support.  I am one of many that has spent countless hours on hold and digging through forums to fix my issues.  3DR prides themselves on excellent customer support.  They've even added more support by equipping the Solo with its own flight journal.  The processing power enables it to log over 500 flight parameters 10 times per second while in flight. Plus, with the added computer in the controller, each flight log is saved right to the controller instead of the autopilot on the quadcopter itself.  This is crucial in the case that you have a "fly away" or dump your drone in a volcano.  You always hold the Solo's "black box" in your hand if anything goes wrong.  3DR even made the Solo self aware. In the case that something has gone wrong, you'll be prompted to submit a service ticket from the app with a single tap.  This will then upload the flight data right to 3DR's support team where they can start to work on the issue.  If the error is on 3DR, they will replace your copter, gimbal, and even the GoPro for free!  That right there is a huge peace of mind if you've ever took your copter for a swim or had a fly away.  Hands down, 3DR wins this topic.
And the winner is…
Conclusion:
While I'm sure many of you reading this have your own opinion or if you are new to the aerial game, it all comes down to what you want in a quadcopter and what you can afford.  If you are new to the game and want something that is ready to fly out of the box for a good price then I would recommend DJI's Phantom 3.  If peace of mind and customer service is important to you, or you have some experience and are looking for a quadcopter that can offer more and grow with you, then I would pay a little extra and opt in for 3DR's Solo.