If you've read our last Drone article, then you are aware of a few new Drones that just hit the market.  However, there is a new contender that was just announced today.  We are excited to see the announcement of Yuneec International's latest innovation –  Typhoone Q500 4K.  This newest member to the Typhoon family is capable of 4K video quality and 12 megapixel still images.  The unit comes ready to fly and boasts a ST10+ Personal Ground Station featuring a 5.5 inch Android touchscreen display.  But that's not all…
Key Features:
3 Axis Gimbal Camera
Geo-fencing
Speed Control
Follow Me and Watch Me
4K Video Quality
12 Megapixels Still Images
25 Minute Flight Time
Steady Grip handheld device
Yuneec also carried over their unique SteadyGrip design from the previous Q500 model which extends the use of the gimbal camera from the sky to the ground.  Viewing the footage is accessible through a mobile device which can also control the video FPS, white balance, exposure, ISO, shutter speed, start/stop, and still photo taking.  The 3-axis anti-vibration CGO3 gimbal camera has an optimized fixed focus, 115-degree wide-angle distortion-free lens and stores the imagery to an internal memory card and is capable of streaming in real time to the ST10+ screen.  Wow, that was a mouth full, but we're not done yet… It not only has the ability to shoot slow motion video at 1080p 120 FPS, but you can also take pictures in RAW (DNG) and JPEG format all while recording video simultaneously.  This is all viewable through the 5.8GHz video downlink which has a control range of up to 600m.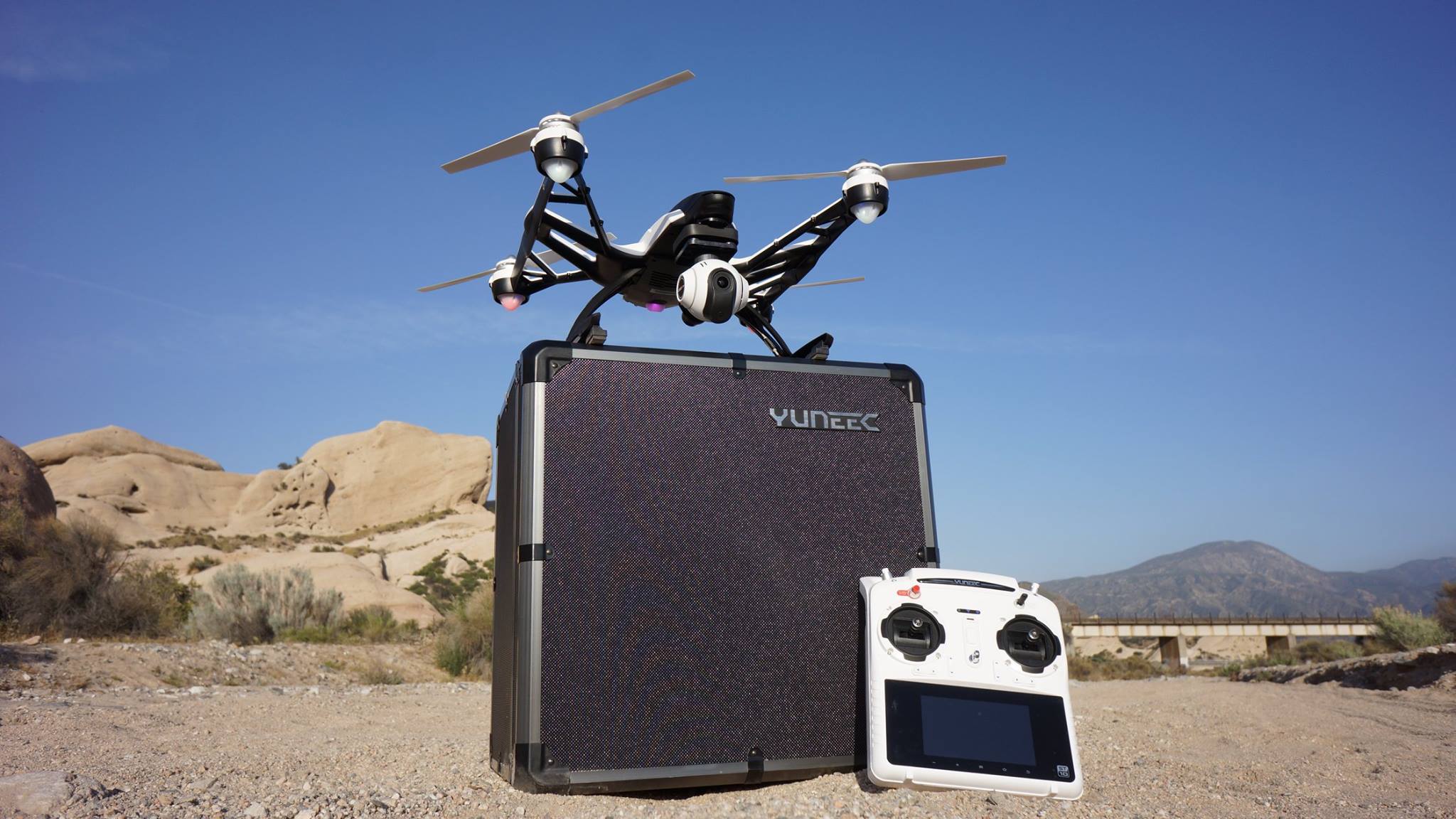 "We are very excited to be introducing one of the world's first 4K camera drones.  The Typhoon 4K has elicited the attention of everyone from professional cinematographers to techie geeks to those just discovering drone aviation. No matter the audience, Yuneec produces spectacular images and provides an unparalleled flying experience." -Tian Yu, CEO of Yuneec International.
Among the many features the Typhoone Q500 4K comes with, is the ability to "Follow Me" which is great for new pilots or for simply getting the action shot of yourself or other moving objects.  Accessible under the Smart Mode, when the transmitter is connected to more than 6 satellites, the Typhoon copter will automatically activate the Follow Me function and follow you wherever you move.
Having plenty of features to choose from is great, but having features that give you peace of mind is even better. Features like Dynamic Return Home, Low-Battery Return Home, and FAA No Fly will help the operator to maintain a focus on safety.
[youtube http://www.youtube.com/watch?v=VPzpf1YyA2M]
Yuneec International is no stranger to the world of electric aviation.  In fact, they have been improving their technology since they were founded in 1999.  In 2014 they introduced the world's first ready-to-fly, out-of-the-box drone and it appears they now have out done themselves with the competitively priced and sophisticated  Typhoone Q500 4K.  Yuneec is hoping to release the Typhoon Q500 4K in mid-July for the launch to consumers with the suggested retail price of $1299 USD.   For more information visit Yuneec.com.
You'll also want to stay tuned to Busted Wallet for an upcoming, hands-on and in-depth review on the Typhoon Q500 4K where we'll find out if this beast is everything it's cracked up to be.