We've been test riding the Slingshot series for a few years now and every new model they release is better than the previous. They take into consideration what the people want and they deliver with upgrades and new features that still have people turning their heads as we cruise on past. For our latest test ride, we drove the Slingshot SL. The Slingshot SL is for those looking to take style to the next level. It delivers enhanced features, including additional style components and premium finishes from tip to tail.
Key Features:
Manual or AutoDrive Option
Prostar 2.0L Engine Delivering 178 HP – with Two Drive Modes
LED Headlight, Front Accent Lights, and Taillights
Lower Front Accent Panels
18" Front & 20" Rear Machined Aluminum Wheels
7" RIDE COMMAND Display with Multi-Touch, Bluetooth

®

& USB Phone Connectivity, and Back-up Camera
Stage 2 Rockford Fosgate

®

Audio
Security Package
Backup Camera
2022 POLARIS SLINGSHOT SL – ROAD TEST
Design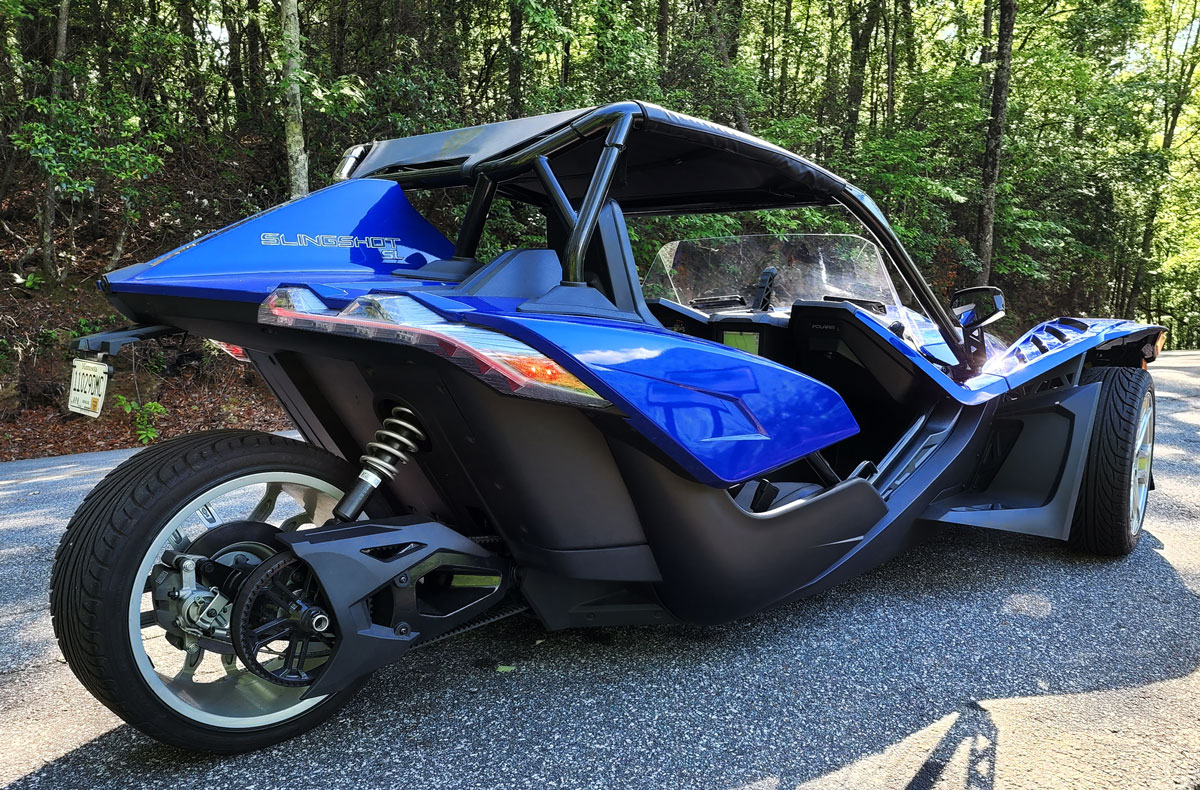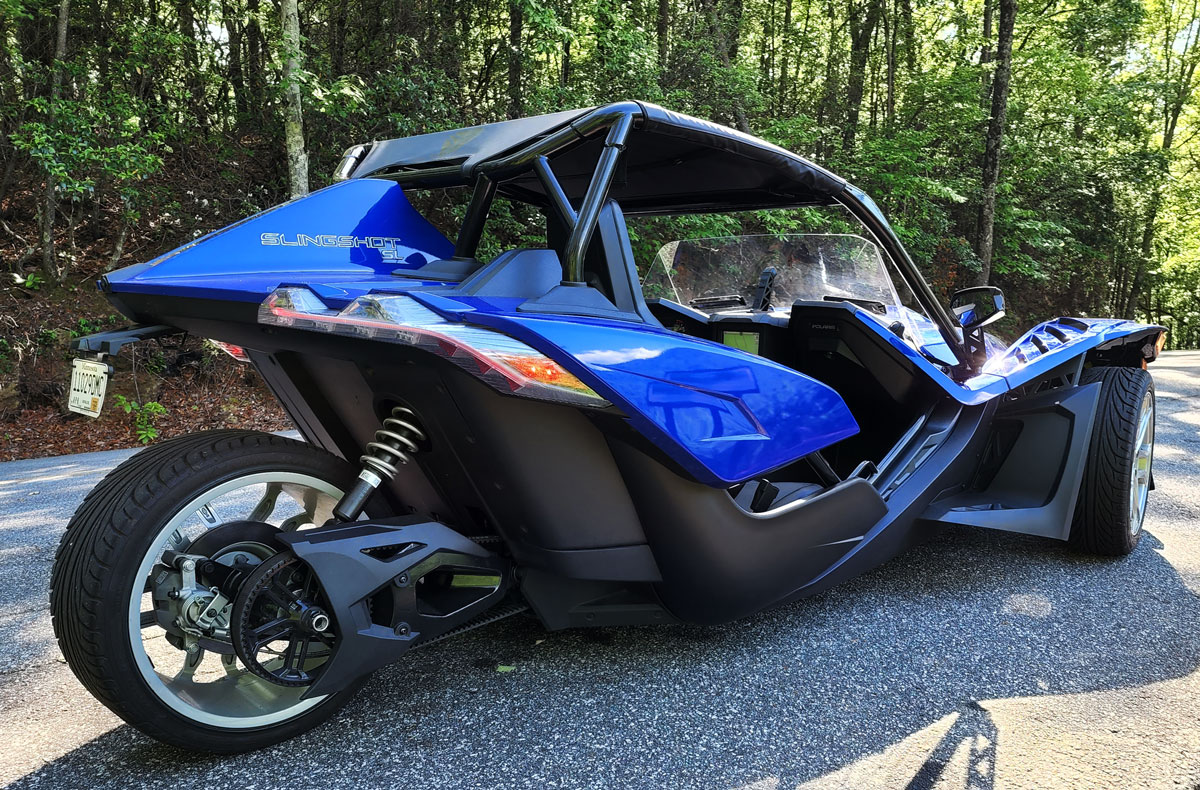 Slingshot is empowering drivers to define their own style and create their own journey. At first glance, you may not notice an extreme difference between 2022 and 2021 models. However, the attention is in the details. New model features and factory accessories enhance the drive, style, and sound, including the following:
An all-new Vented Sport Hood that adds aggressive, one-of-a-kind styling while improving aerodynamics and cockpit airflow via vented fenders and hood scoop. The hood is standard on R models and available for upgrade to all 2020-2022 models.
A New Excursion Top expands Slingshot's accessory top offerings with a competitive price of $1,800. The new Excursion Top has an integrated tool-less install and removal soft top with improved driver headroom and visibility.
Between the eye catching race-car-like design and unique 3 wheeled frame; if you are driving a Slingshot, you are going to get some attention. So you might as well make sure nothing is missed with added metal badges and accent graphics that bring and extra layer of style. While there is a decent amount of color options to choose from the entire lineup, the SL comes in Slingshot Red Pearl, Ultra Blue, and Moonlight Metallic White, Volt Orange, Miami Blue, and Liquid Lime.
The new excursion top provides another level of comfort from the hot sun and wind while in warmer climates. It's also very easy to take off and slip behind the seat in the storage compartment in case you want to throw it back on later.
If you're looking to add some nice esthetic to the interior, then I recommend upgrading to the interior LED lights. We've reviewed models with this option integrated in the past and it made driving at night much more fun. Unfortunately this model did not come with that option and it missed the mark.
Performance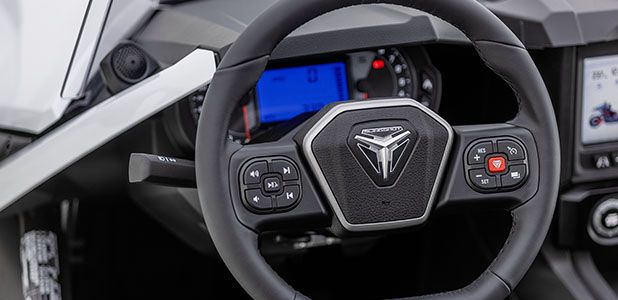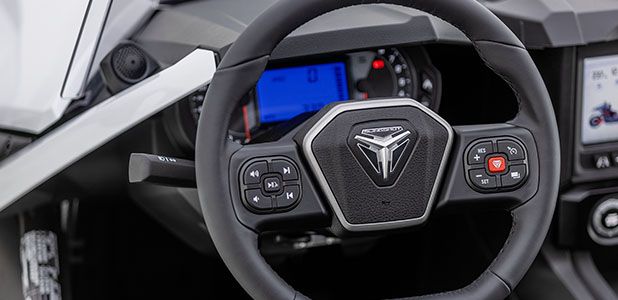 This thing was made to feel fast and grab the curves like a boss. The 5 speed synchromesh with reverse transmission is complimented by the Brembo Brakes that provide unrivaled stopping power. The four-piston Brembo brakes are stock on all 2022 R models and available as an upgrade kit for all other models. Test driving this machine through the winding roads of the South Carolina mountains provided plenty of opportunity to really test the handling. Where most people slow down around the curves, this bad boy begs to go faster. The handling around the curves and acceleration along with braking make it so much fun to drive.
Most of the fun can be had when you switch to manual mode. If you want to go fast and have more control, the paddle shifters will get you there. I feel as if the paddle shifters made for a much smoother ride at faster speeds vs standard drive mode.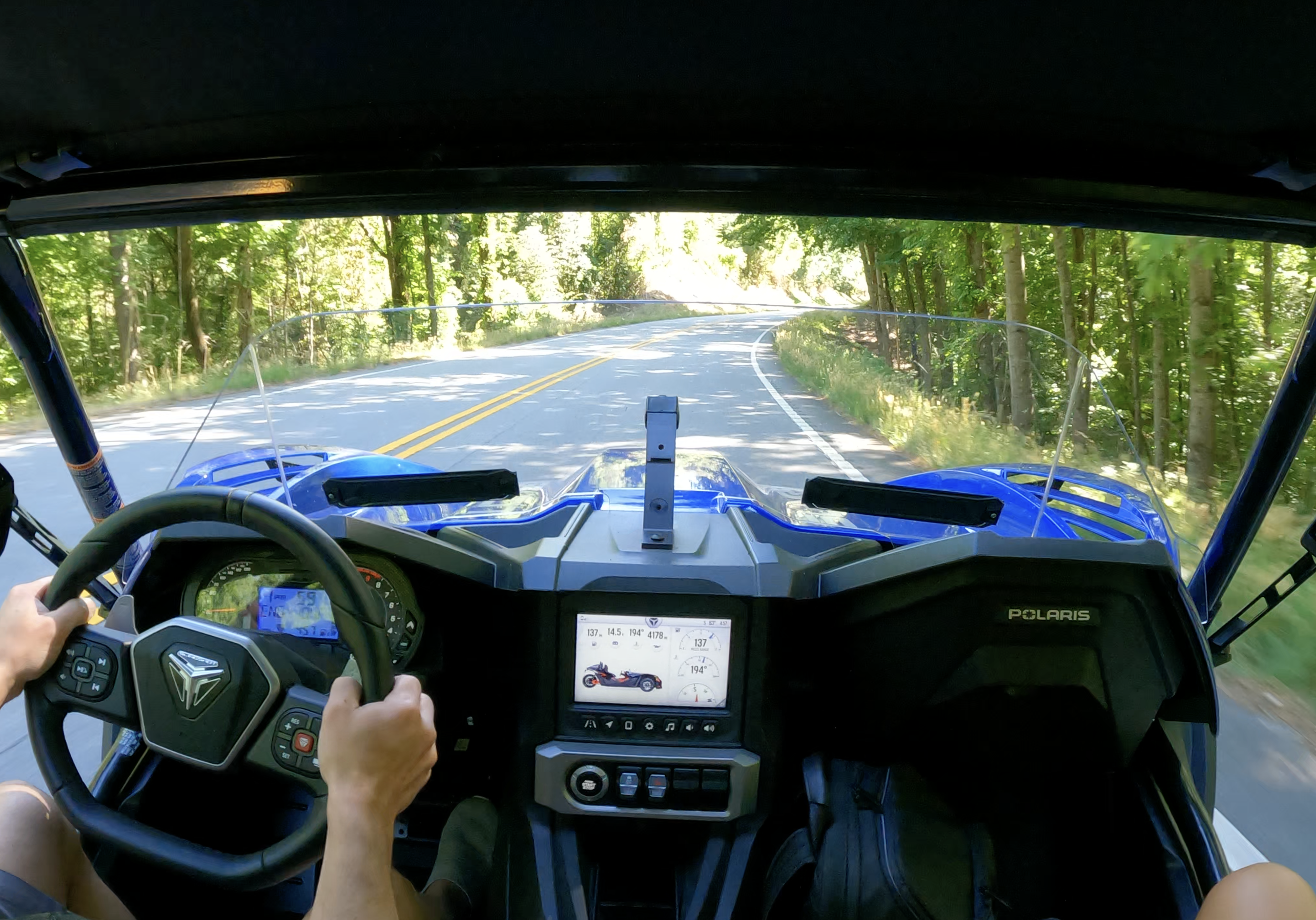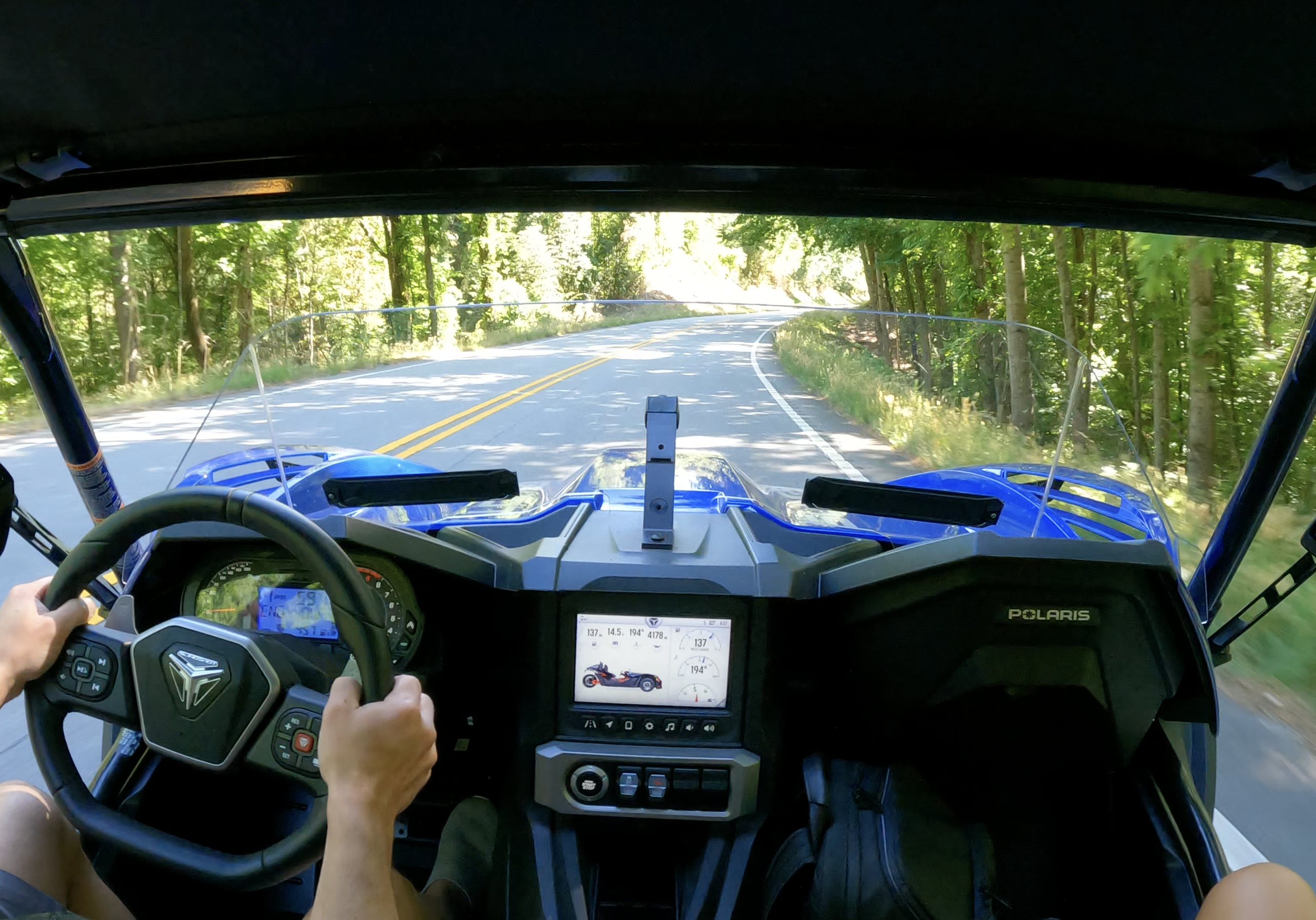 The Polaris Ride Command infotainment has a 7″ touch display that is bluetooth with USB connectivity. You can toggle through each screen setting to get the right display or follow the integrated GPS.
The sound on each model we've reviewed has been amazing. Unfortunately, this model didn't have the speaker upgrades and was rather disappointing. There was lag in volume and the sound just didn't come close to the quality we were expecting. Because the Slingshot is rather loud while driving, you need speakers that can actually produce a solid sound that doesn't get drowned out by the engine. If listening to music while cruising is important to you, then I highly recommend an upgrade.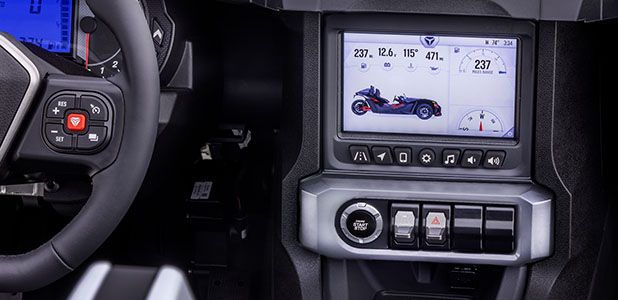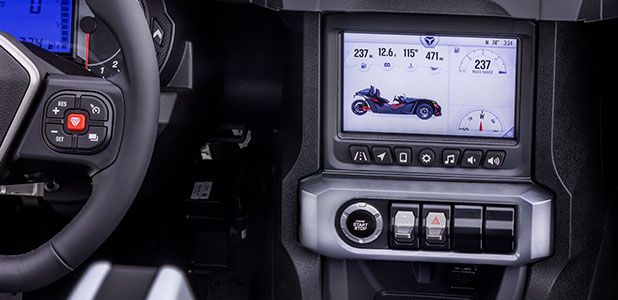 Comfort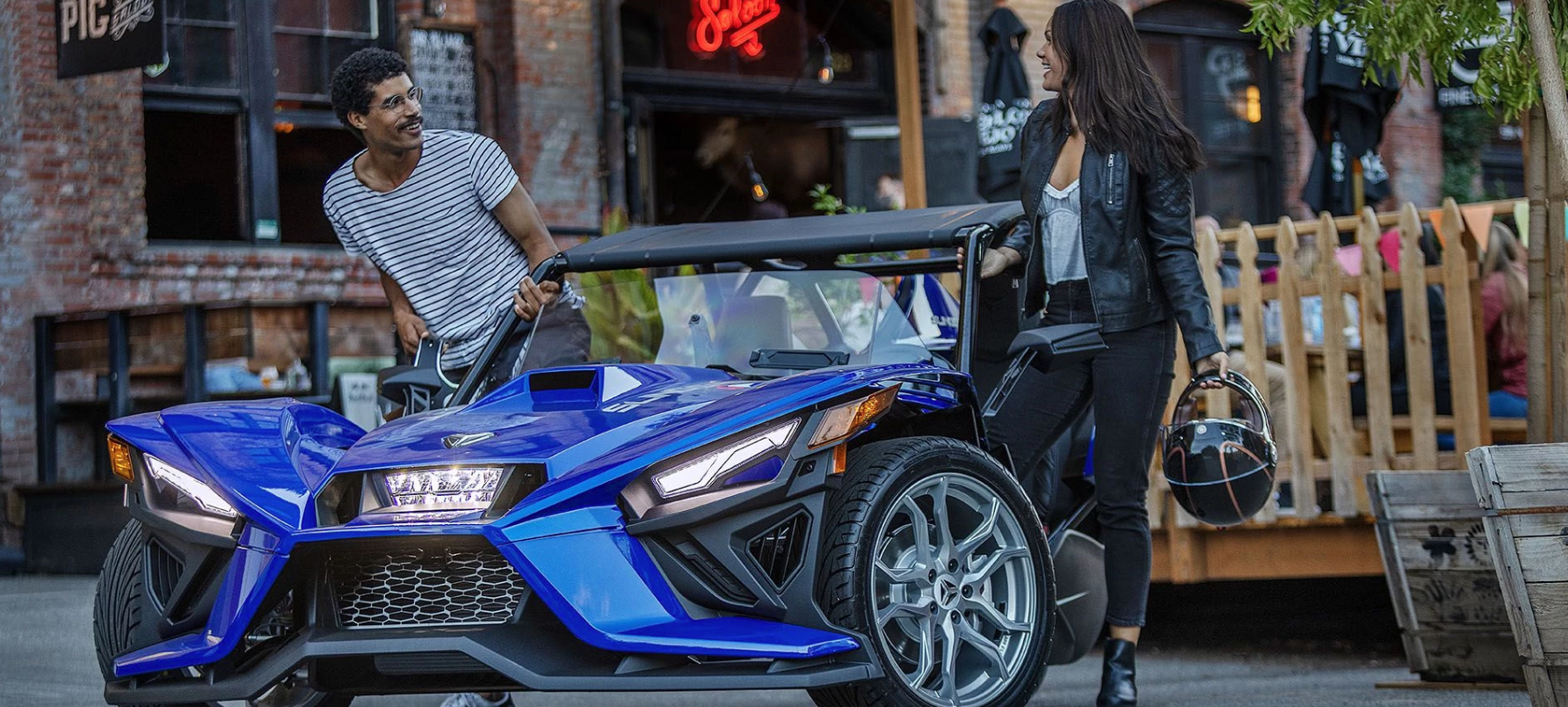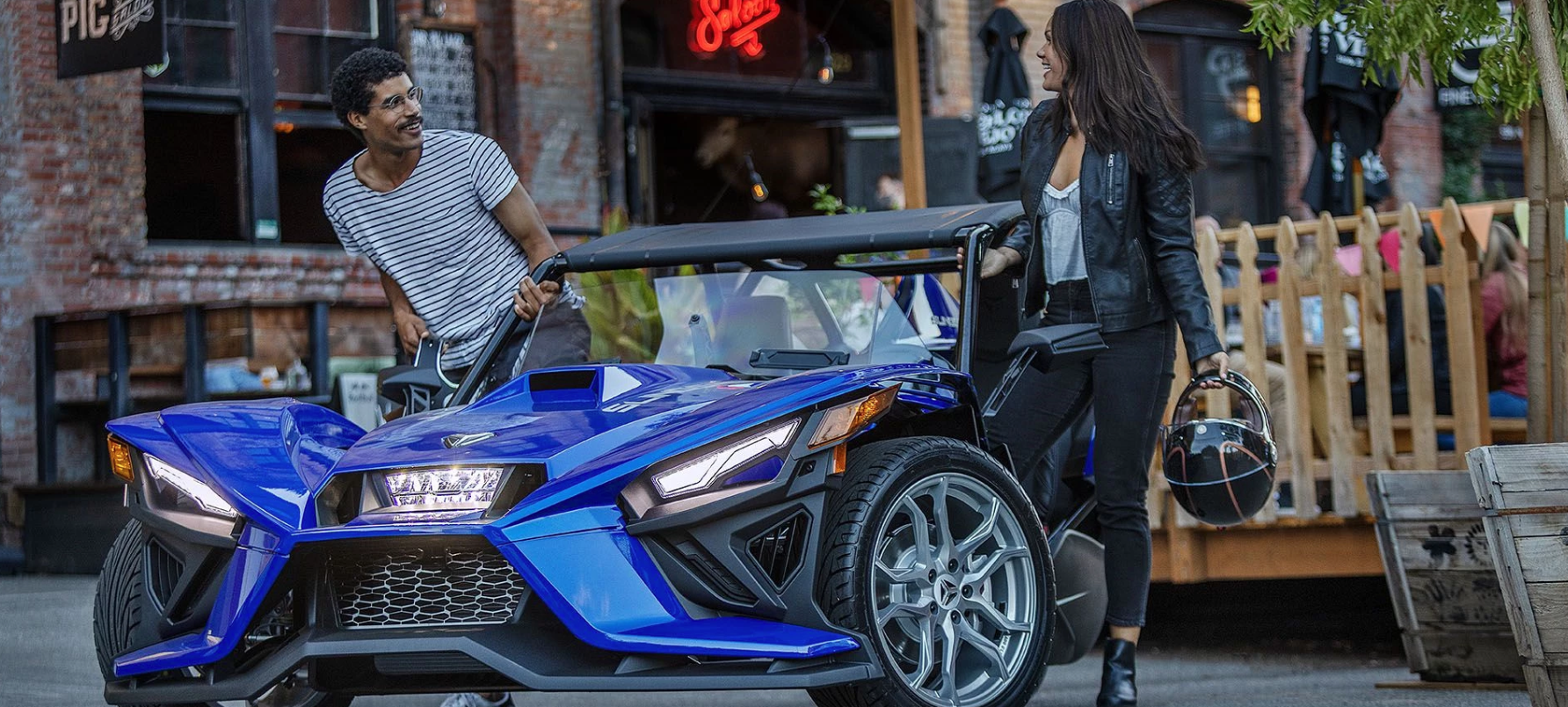 While the Slingshots are not exactly a luxury car, they still manage to integrate some slick features that make things as comfortable as you can get while sitting close to 5 inches off the ground with the independent, double wishbone control arms suspension. It's not an incredibly smooth ride with its race-car-like build, however the bucket seats and smooth full-grain leather steering wheel helps to provide some touch comfort. Sacrifice in some ideal comfort is balanced out with the interior that is made to be completely weather proof.
The storage options are behind the seats and allow for a decent amount of items like a spare helmet, backpack, and a spare outfit.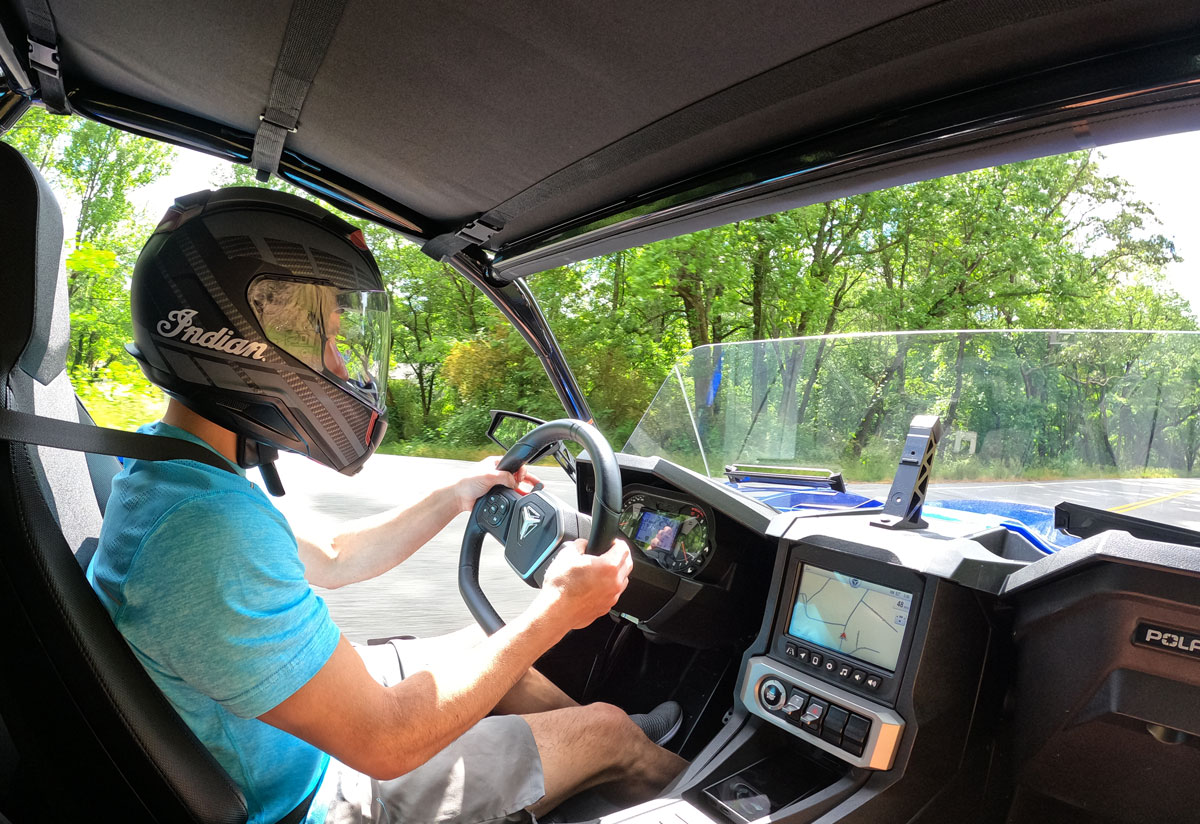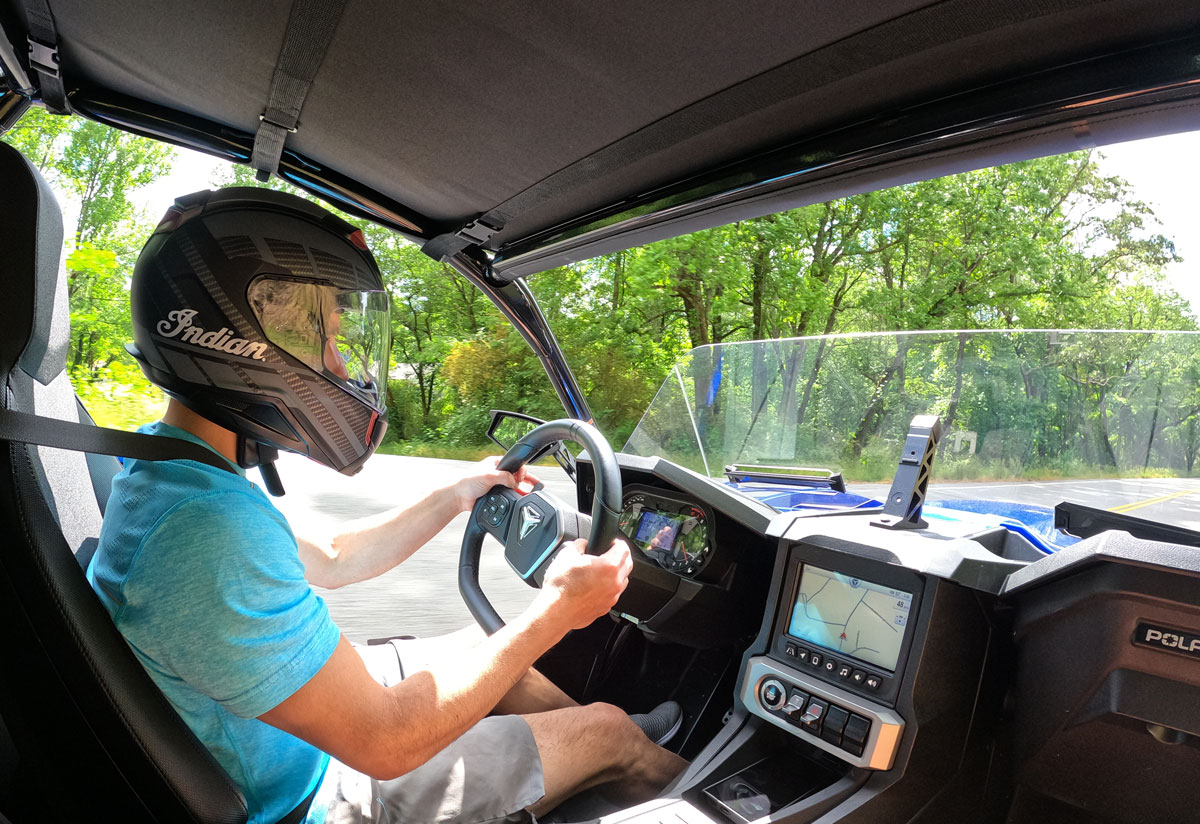 The new vented sport hood with 2 vents in the windshield improves the airflow and helps cool the cockpit much better than previous models. The front windshield also provides enough comfort to shield the wind so it's not overpowering.
Having heated and cooled seats is another option that makes this ride much more enjoyable. Again, past models had this integrated and it made all the difference. Unfortunately this model was lacking that feature and left us with some sweaty bums.
Value
Overall, the Slingshot SL has some improvements from previous models, however, to make this a ride you will actually enjoy day after day, I highly recommend getting the upgrades (speakers, cooled seats, interior LED lights). These options may not seem like a big deal, but they really do make this ride much more enjoyable. Aside from the missing upgrades, the overall performance was solid and it's still fun to rip around town or the winding roads during those summer days.
S ranges from $19,999-$21,749

SL ranges from $25,999-$27,749

SLR ranges from $28,899-$30,649

R edition ranges from $32,499-$34,499+
Build Yours Now: https://slingshot.polaris.com/en-us/build-category/ 
2022 POLARIS SLINGSHOT SL – ROAD TEST
Overall, the Slingshot SL has some improvements from previous models. However, to make this a ride you will actually enjoy day after day, I highly recommend getting some upgrades.
The Good
Eye catching
Fast and performs well around curves
Excursion top provides added comfort
The Not So Good
No Interior LED without upgrade
No Heated/Cooled seats without upgrade
Stock sound was disappointing