2004 Gloria Ferrer Carneros Cuvée - Drink of the Week
This week is a special treat for me as I get to feature one of my favorite vineyards in country; Gloria Ferrer. Anyone who has visited the vineyard knows that this place is truly a slice of Heaven, situated on a beautiful piece of property in Sonoma, CA. They also recently completed a renovation on their tasting room, giving me an excuse to head back soon!
Typically when I sit down to write a drink of the week feature, I invite my colleagues to join me in a taste testing session and compile all the notes. I like to hear the different perspectives and tastes people are able to get from their palettes and put them into an all en-composing article. However, with the 2004 Gloria Ferrer Carneros Cuvée Sparking Wine, there would be no sharing as I knew how special this tasting session would be and couldn't spare any wine for other tasters.
The 2004 Carneros Cuvée is Gloria Ferrer's flagship Tête de Cuvée sparkling wine. The 2004 is blend of Pinot Noir and Chardonnay, offering a synthesis of effusive ripe fruit expression with superb structure and finesse. The wine makers use only the best estate fruit from their 333-acre Carneros vineyard. The blend will spend over 9 years en tirage (refers to the period of time in which bottled sparkling wine is rested in contact with lees generated during secondary fermentation). The wine will then spend a minimum of six months on the cork before it is allowed to touch any taste buds. Gloria Ferrer states that this decade old wine is remarkably fresh, rich and complex and represents the ultimate statement of their sparkling house style. Did the wine hit those high marks? There's only one way to find out. Keep reading to see what we discovered…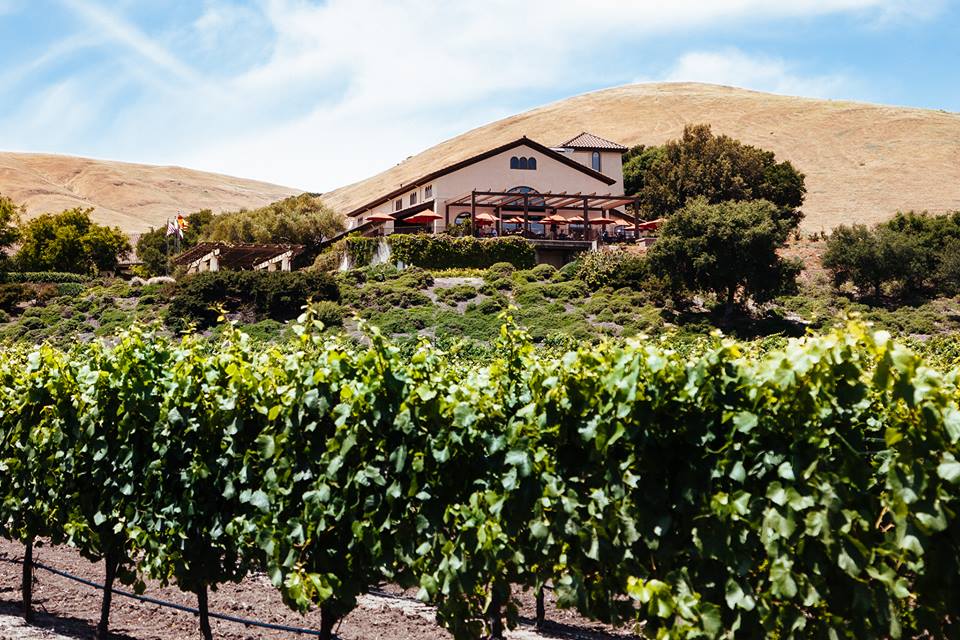 2004 Caneros Cuvée Tasting Notes
Variety: 53% Pinot Noir, 47% Chardonnay
Vintage: 2004
Aging: 9 years
Region: Sonoma, California
Nose: Pears, green apples, floral notes, lemon
Flavors: Fennel, ginger, biscuit
Alcohol: 12.5%
Price: $75.00 USD (750ml)
Considering only 2,000 cases were produced of the 2004 Caneros Cuvée instantly tells you how delicate and selective the wine-making process was for this harvest. Upon your nose's first whiff you are instantly greeted by some wonderful aromas. You will pick up some lemon zest, some nice floral and fruit notes. On the palette you will get some fennel, ginger, and biscuit. The wine features a full, creamy texture and buoyant acidity that makes for a nice, crisp finish. The Caneros Cuvée is tastes extremely fresh and offers very vibrant flavors throughout the tasting process and is simply a pure delight. There is no bitterness or bite on any sip and pairs nicely with seafood or some roasted chicken. If you are able to get your hands on the 2004 Caneros Cuvée, we know you will not be disappointed.
Pair it up with: Risotto with Salmon and Asparagus
Ingredients: 1 medium onion, diced (a little more than 1 cup), 4 tablespoons butte, 1 lemon, 1 cup arborio rice, 2 cups chicken broth, 2 cups water, 8 to 12 spears cooked asparagus, cut into 1-inch lengths, 8 ounces salmon filet, skin and bones removed and cut into 1-inch pieces, 3/4 cup grated parmesan cheese, extra parmesan to garnish each dish
Directions: Stew the onion in butter over medium heat until soft, then zest the lemon and stir it with the onion. 2) Stir in the rice to coat all the grains of rice with butter. Start adding broth 1/2 cup at a time. Adjust the heat so the broth just simmers. The broth will reduce and thicken into a sort of gravy. Every time that happens, add another half cup, then add the water half a cup at a time. Stir frequently and continue until the rice is just about done. Meanwhile, squeeze the lemon and add a couple tablespoons along with some broth. (Save the last bit of lemon juice to season the dish with at the end.) Cut the asparagus and salmon into 1-inch pieces. When the rice is just a tad underdone, stir in the Parmesan cheese. Season with salt, pepper, and lemon juice. Let it get piping hot, then take the pan off the heat and stir in the asparagus and salmon. Cover the pot and let it sit for 5 minutes. By then the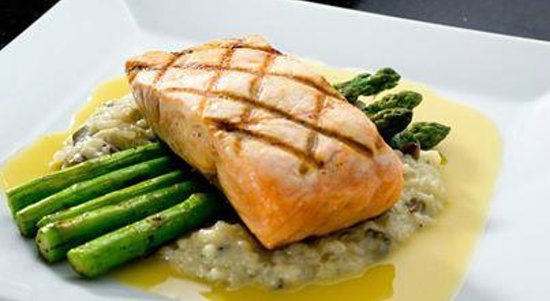 salmon is usually cooked, but it may need a minute more. Serve with grated or shaved Parmesan over the top. Don't stir very much or you'll break up the fish.)Lemon Zest: As you probably know, this is the outermost part-the yellow part-of the peel. If you have a zester, you can simple zest the lemon right into the pan. If you don't have this nifty tool, use a potato peeler to peel off the yellow part and mince it with a knife. Enjoy!
Recipe via: FRENZULLI on epicurious.com