Summer is almost here and that means we will be spending way more time outdoors and having fun in the sun.  Keeping our eyes protected, while looking good, should be top priority. Well, maybe not breaking the bank would be a good thing too. So we had the opportunity to give the Zeal Drifter sunglasses a try and these are some pretty slick glasses. Zeal is an cool company.  All of their sunglasses are made in a zero waste facility.  If that is not enough for being environmentally friendly, the Drifters are also made with a plant based resin and avoid any petroleum based materials.  They have some sleek frame options to give you some choices that are sure to fit your style.  Check out our take on these sunglasses below.
Frame Features:
Plant-Based Z-Resin Bio-Plastic Lens – made from castor beans
Light Weight design
8-Base Frame providing great coverage and Incredible Grip
4 Styles available for medium fitting
Proflex frame to provide a soft and comfortable hold
Lens Specs:
Polarized
Ellume Bio-Plastic Lens
Rx Ready
ZEAL Drifter Sunglasses Review Breakdown
Comfort:
The frames for the Drifters are injected with a Proflex material. This is going to provide a soft and comfortable hold.  They key feature the Proflex provides is the ability to withstand extreme hot and cold temperatures.  This will ensure that your sunglasses stay in place no matter that you are doing.  We put this to the test too. During a 6 mile run in full sun and 75 degrees, the glasses did not budge. Even with all the sweat and movement during the run we never had to adjust them or push them up. Talk about convenient.
Style:
Style is key when choosing a pair of sunglasses. The Drifter definitely is not slacking in that category. The 4 options for finishes on the frames allows you to find one to best fit your style. Not to mention, the shape and form of the glasses are on point too. They are designed with an 8 Degree base curve to form to your face giving them a sleek, fitting appearance. The bridge features no nose pads that allows for a snug fit to your face.  One thing we did notice though is that the fit is really close to the face and would at times cause the top of the lens to fog up a little.  It was not too big of a deal though.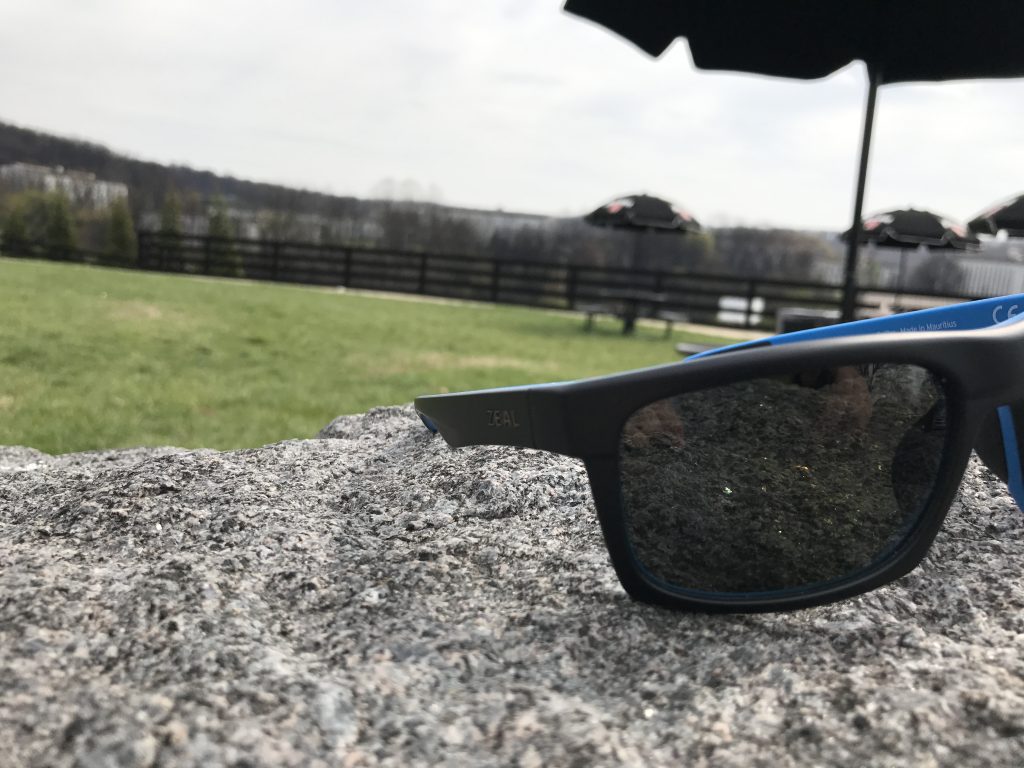 Design:
The plant based Z-Resin frame is made from the natural oils in castor beans to provide an environmentally friendly frame. The castor beans are the perfect resource too because they are an efficient, fast-growing perennial. They thrive on marginal lands and can withstand severe droughts.  This makes for a great alternative material to using the traditional crude oil based materials.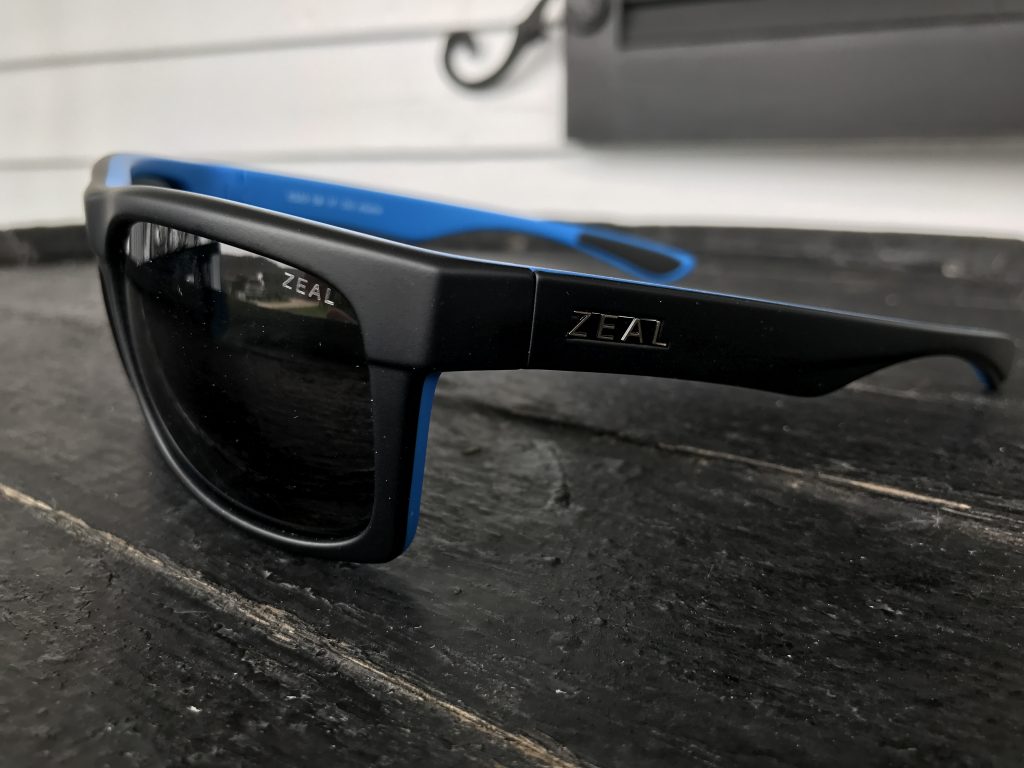 Optics:
The Drifter sports the E-llume, which is the first plant based bonding agent found in a lens. This is awesome because it replaces the use of a petroleum-based bonder.  It is not supposed to affect the clarity of the optics or the impact resistance. While for sure the clarity on the lens was fantastic. The impact quality wasn't as great as we were hoping. We did find that the scratch easily though.
The protection of the lenses however is fantastic. Sourced from Japan, these glasses use the most premium polarized film in the world. The polarization is layered in an injected lens stack.   You can rest assured that these glasses protect from UVE, B, C, and even HEV light.  We were impressed. There was a reduced glare, and the polarization quality was great!
Tip:  The glasses ship with a zippered sports case and a universal microfiber pouch to offer light weight protection and to keep your lenses clean and scratch free. Use both!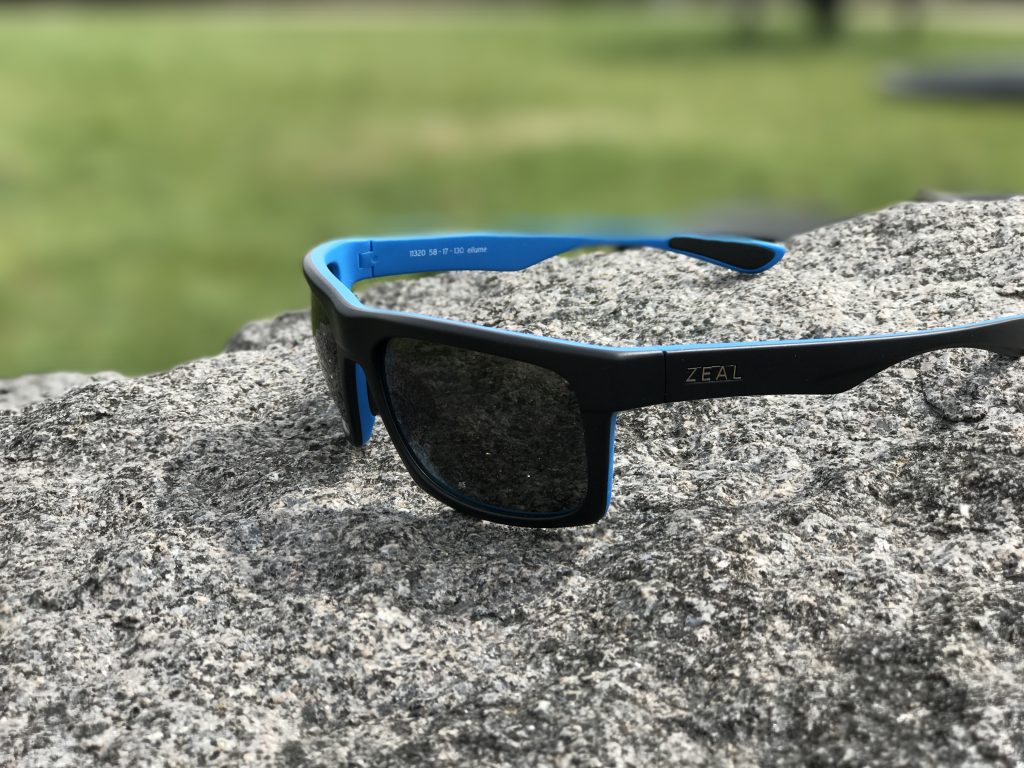 Value:
Polarized sunglasses that sport a stylish design while remaining comfortable and durable for under $150, Sign us up!  These glasses are worth the investment. Not to mention the peace of mind knowing you are purchasing a plant based pair and being more environmentally friendly.
Buy Now: $149 or learn more at Zealoptics.com
Zeal Drifter Sunglasses - Style Review
Made from environmentally friendly materials, these are comfortable, durable and affordable. Their sleek design and standard polarized lens will have you ready for the summer sun.
The Good:
Environmentally frame made from castor bean oil
Polarized lens made from E-llume bio-plastic
Light weight, durable frame design
The Not So Good:
Lens not as durable as expected
Slight fogging with the lens