It's that time of year! Time to stock the wood box and make sure you've got enough fire wood to get you through the cold months of winter. You've got your chainsaw warmed up and sharpened. Next thing you know the tree is on the ground. Then you've got to de-limb and slice it up, and then the real work begins. Splitting and stacking.
Henry Ford was once quoted "Chop your own wood and it will warm you twice" and he couldn't be more right. Of course he wasn't working with modern chainsaws and hydraulic splitters, but you get the point… felling, cutting, splitting and stacking your own fire wood is hard work.
Here's where the YARDMAX 28 Ton Log Splitter comes in. This is a piece of equipment you must have if you're in need of seasonal fire wood. Whether you heat your home with it or like to keep the fireplace stoked on the weekends. Recently we were asked to test and review this brute in true Busted Wallet fashion. Over the course of 6 weeks we put more than 7 cords of wood through this spiltter. After the testing is all said an done here's what we found out about YARDMAX and their 28 ton log splitter…
Key Features:
Powered by Briggs & Stratton engines.
Patent pending log spinner foot plate easily rotates logs for splitting, reducing stress on the beam.
Patent pending U-Beam structural design is significantly stronger than typical I-Beam design.
Patent pending 4-way wedge (included) is designed for quick connection and jam free operation with no need to change log stripper plates.
Longer table length to accommodate up to 26″ logs.
Oversized hydraulic components provide the shortest cycle time in its class.
Hydraulic oil filter is mounted inside the reservoir, eliminating damage from falling logs and operator entanglement.
Dual end cylinder support for equal weight distribution and wear reduction.
Beam handle offers easy transition from a horizontal to a vertical position.
Log stripper mounted to end of hydraulic cylinder to remove tough log jams.
Pair of log cradles — 2-positions, with option for mountable log table.
YARDMAX 28 Ton Log Splitter Review Breakdown
Assembly:
This is a 2 person job – seriously! When your log splitter arrives you'll want to crack open the crate and begin putting it together, but don't even try it if you don't have a second (preferably strong) pair of hands to help. You'll also need some tools. Luckily every tool required is pretty standard. The one tool you might need to run to the hardware store to pick up is a 32mm socket – for wheel install. We used a large crescent wrench and got the job done.
Assembly of this log splitter was pretty easy overall, however some parts are very heavy! The splitter comes with detailed instructions on how to put the unit together and how to position it on the crate to help support the frame while you attach the wheels, beam and other necessary parts.
While the written instructions were great, we choose to keep a phone near by with video instructions…
In all, it took us roughly 45 minutes to assemble the log splitter. Once everything was put together all we needed to do was check the fluids (hydraulic oil and engine oil) add gas and we were ready to start splitting wood!
Design:
Engineered for MAX Performance, MAX Value and MAX Support, the YARDMAX 28 Ton Log Splitter is a beast! This splitter comes equipped with all the brute force you need to split hardwood and keep your wood pile stocked. One of the most unique features this log splitter comes equipped with is a 4-way (removable) wedge. This wedge is designed to make 4 splits on one log. Cutting your splitting time in half. We did find out that the 4-way wedge works best on medium to small sized logs. If you are splitting larger logs you'll want to use the single wedge. Best part is, the 4-way wedge is removable by loosening a single bolt and fit right over the single wedge. Genius!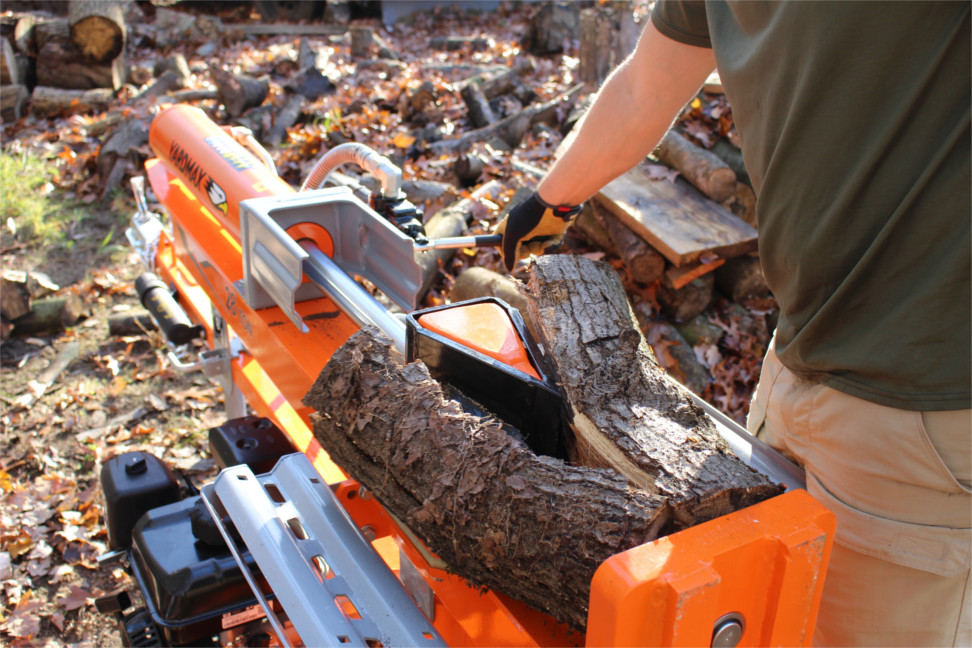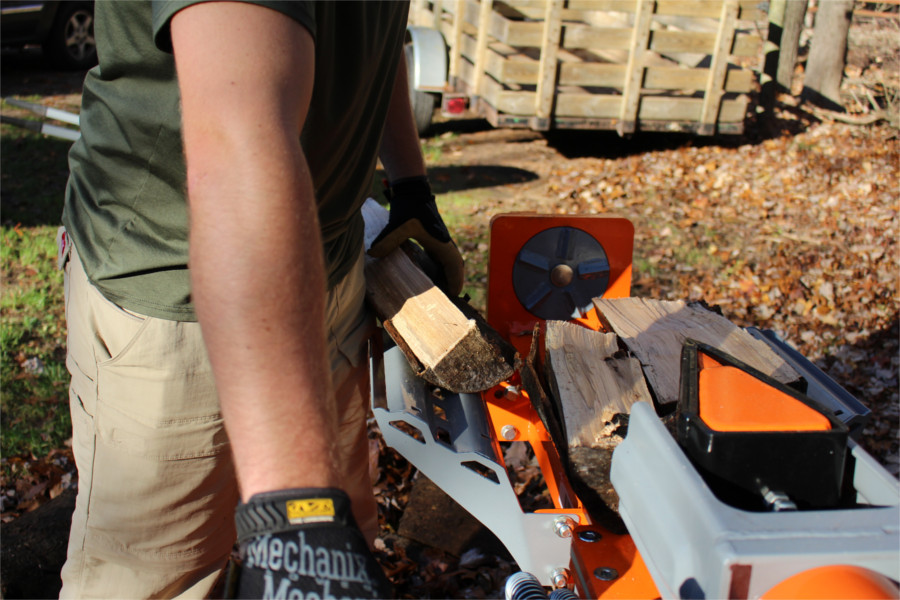 Another design feature we really appreciated were the two log cradles at the end of the splitter. When splitting small and medium size logs the cradles work to keep the freshly split log pieces from rolling on to the ground or on to your feet. Making it easy to stack wood while the wedge cycles back.
This splitter is also super portable. Decked out with 2 trailer wheels and a 2″ ball coupler, you can tow this splitter using your ATV, SUV or Truck. It is only rated for 45 mph, so don't think about pulling it down the highway!
Overall, this is a really well thought out machine. Equipped with a lot of power, unique features and serious portability YARDMAX put a lot of time into this splitter and it shows.
Power: 
Equipped with a 208cc Briggs & Stratton engine, the 28 Ton YARDMAX Splitter has plenty of power for splitting anything from Cherry to Oak, to Maple and Birch. The only time we pushed this splitter to the max was with a 60″ diameter hard maple log that was frozen. While the wedge slowed considerably and started making some loud squealing it did power through and make easy work of this log that we would have otherwise left until spring.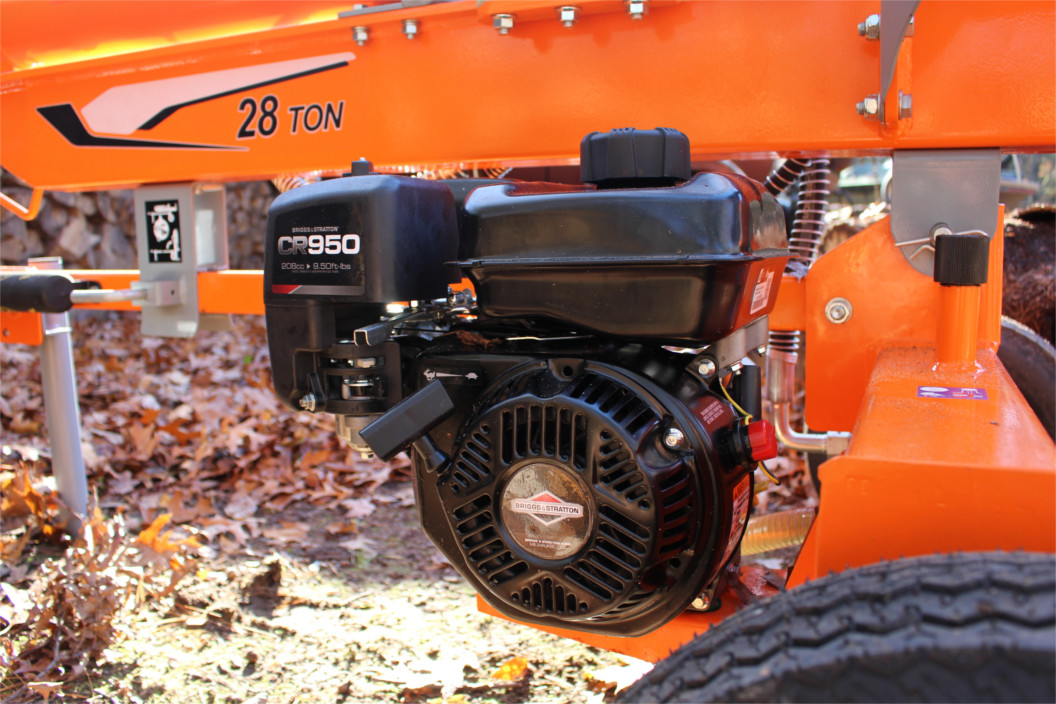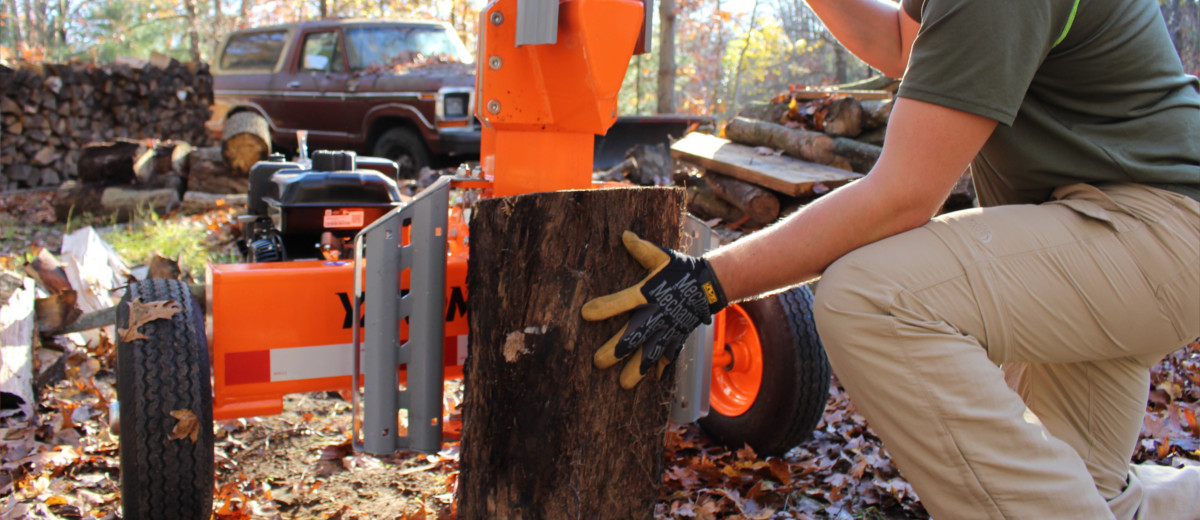 We should also note that this log splitter works in both horizontal and vertical modes. With the the pull of a pin and raising the U-beam up to the sky you can hinge the splitter into vertical mode to split large logs that you wouldn't want to lift off the ground. This is a nice feature that will save you time and backache!
Cycle Time:
YARDMAX gives a cycle time of 13.2 seconds for this splitter. However, throughout testing we recorded an average of 11 seconds. Maybe we were just lucky and our unit cycles faster, but it isn't bad! And if you are not splitting logs that take up the full 26″ splitting area you can stop the wedge on the back cycle and save yourself some time on the next log.
Throughout testing we didn't have many complaints about cycle time. Could it have been faster? Yes, of course, and you can say that about almost any splitter.
Durability:
Engineered around a patent pending U-Beam, the structural design of YARDMAX splitters is significantly stronger than typical I-Beam design. While this splitter is REALLY HEAVY, that also means it is well made. The welds are even beefy on this splitter. Everything on this splitter looks and feels heavy duty. To back it up YARDMAX gives you a "3-2-1 warranty" on all of its splitters. 3 year on materials and workmanship for residential use, 2 years on engine/motor, and 1 year on the hydraulics.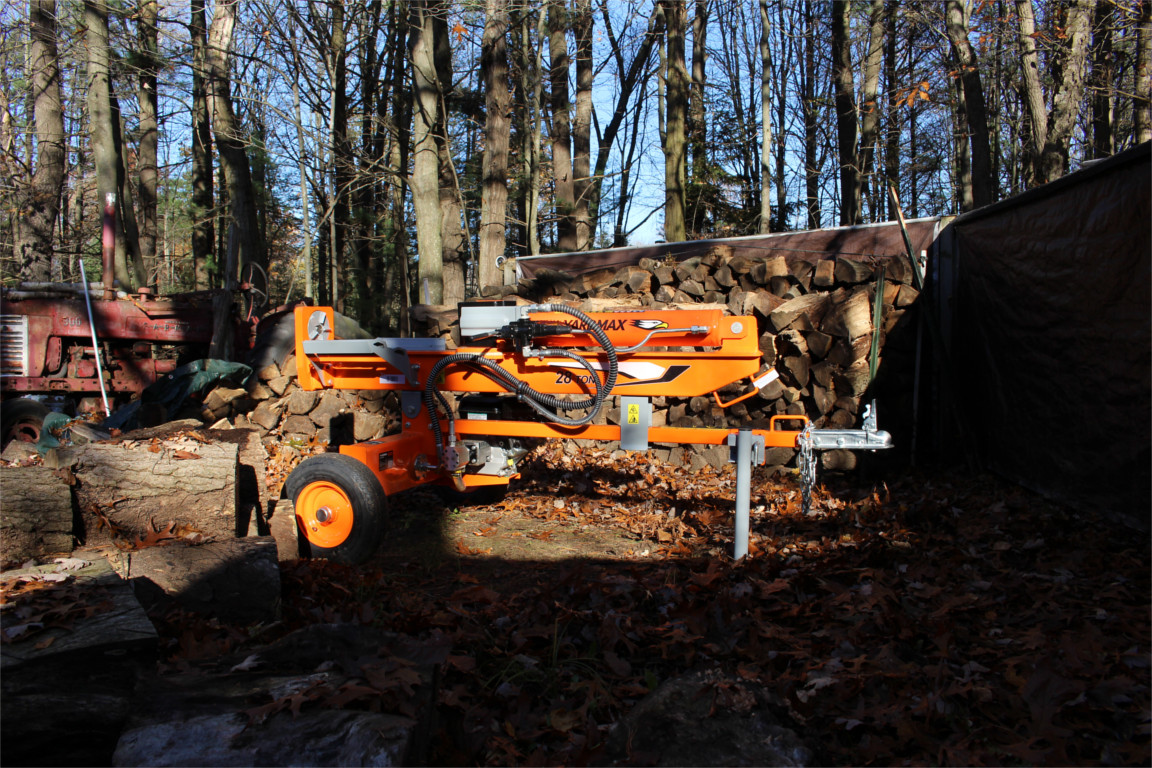 Value:
After testing this bad boy out for more than a month now we're really happy with its performance. YARDMAX just began selling equipment in the US and we're glad they did. Their 28 ton splitter is a beast! If you're in the market for a heavy duty splitter that will make short work of a lot of wood this is a log splitter to truly consider.
Buy Now: $1099.00 or to learn more, head over to: YARDMAX.com
YARDMAX 28 Ton Log Splitter - Tool Review
This log splitter makes short work out of lots of wood. If you're look at buying your own log splitter in the near future we highly recommend this model. It is ultra heavy duty, comes with a 4-way wedge, has horizontal and vertical operation and can easily be towed with a vehicle. What more can you really ask for?
The Good:
Included 4-way wedge is awesome
Lots of power
Easy to transport