You can't live in a state that is known for its intense winters and not take advantage of it. The most important thing to enjoying the long cold season and all the snow that comes with it is to be prepared with proper clothing and gear. Keeping your feet warm is usually one of the more difficult things for me to do. Finding the best boots is always a challenge. One brand that knows winter gear is The North Face. They recently gave us the opportunity to put their women's Shellista II Mid Boots up against our winter weather. Here is what we discovered about these boots.
FEATURES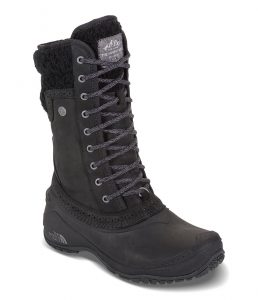 Warm, waterproof mid-calf lace-up boot with a streamlined shell
Waterproof, BLC-compliant nubuck leather upper
Soft, oversized knit collar detail
Waterproof construction
200 g PrimaLoft® Silver Insulation Eco
Sole Unit: Women-specific, injection-molded, waterproof TPR shell
Durable, TNF Winter Grip® rubber outsole base with IcePick® temperature-sensitive lugs
Shellista II Mid Boots Review Breakdown
Warmth:
With almost the entire outsole shell that surrounds your foot being made from a waterproof material and layer of insulation, you should expect your toes to stay warm. For the most part we found this to be true. The key was to wear proper cold weather specific socks and keep your feet moving. We noticed that when just standing or resting for longer periods of time our feet started to get chilled. This tends to be common with most boots though, so keep the blood flowing.  We brought some foot warmers as a backup but never needed them.
Comfort:
We took these boots out sledding, hiking, snowshoeing and even on leisurely strolls through town. While they are comfortable now, they definitely needed to be broken in. Because of the amount of rubber, they didn't flex very freely with first use. They almost felt like clunky clown shoes and had an awkward bend at the ankle. After a few good uses they moved better. We like that there is plenty of room in the toe box to move your toes around even with nice thick socks on. Having the extra space for good airflow is very important for us.
Design:
The mid calf height is a great design for trekking through the deep snow. The upper soft knit collar looks and feels great. We love that these boots aren't "over the top" with the faux fur. We appreciate the more subtle look. The waterproof shell and waterproof leather are a must for keeping your feet dry. We never had an issue with wet feet. The lace up design is eye catching and great for fitting many size calves. We were worried that melted snow would work its way under the laces and into the boots, but that issue never arose during our testing. There is only one thing we would change to this design; add a side zipper. Having to untie and re-tie the boots every time you take them on and off becomes cumbersome. The addition of a side zipper (with a waterproof webbing to keep snow out) would make these boots top notch. The traction is about as good as you can get on slippery surfaces without going full spikes.  They are equipped with temperature sensitive lugs to give you the best traction on multiple surfaces.
 
Durability:
We've had the boots out in the snow for about 4+ weeks, and aside from scuff marks from normal wear and tear, there are no current signs of destruction. The laces feel thick and strong and able to handle all the tugging and pulling. All the seams look to be well sealed with zero separation. They are solid enough and rugged enough to handle the winters in the midwest.
Value:
Making sure your feet stay warm and dry during the frigid cold season is not something you should take lightly. Having the proper footwear is key to a successful and fun winter season. The Shellista II Mid Boots have proven themselves worthy of the price tag.
Buy Now: $140 or to learn more go to: TheNorthFace.com
Women's Shellista II Mid Boots - Style Review
Designed to take you places during the beautiful winter. The Shellista II Mid Boot will keep your feet warm, and give you optimal traction on those slick surfaces.
The Good
Great traction without the use of spikes.
Durable shell.
Large toe box for proper movement and air flow.
The Not So Good
Cumbersome to take on and off.
Awkward bend at the ankle.