Why can't clothing look good and perform? A question us gear nerds have been asking for a very long time. Western Rise is one of a few brands that has changed the style stigma associated with technical clothing. For good. Functional minimalism is at the forefront of every Western Rise piece. 
Western Rise delivers on a very simple promise – Apparel, Elevated. They transform technical fabrics into true travel, work (from home), and play solutions that don't scream outdoors, athleisure, or travel wear. 
While WR's pieces are made to explore, their collection is also one of the best men's work-from-home clothes options out there. With plenty of stretch to go around and all the modern trends in fabric cuts (slim & tailored), you can look great on your Zoom calls and feel like you're in your favorite loungewear.
Clients and bosses alike won't even know the difference! 
Western Rise believes that less is more, especially when it comes to clothing. One well-designed and exceptionally stitched piece can replace several cheaply made pieces in your closet. Having worn their AT Slim pants nearly every day since I've received them, I can attest to this statement. And yes, I did wash them, but one major benefit of these pants is the stain-resistant design, so they look great for longer between washes. 
Starting to notice a trend? Sustainability is a major component of Western Rise's mission. Less is more, quality is king, and versatility is key.
Whether you're shopping for the best work-from-home clothes, looking for one-bagging options, or just hoping to minimize your wardrobe with quality essentials, look no further than Western Rise. They've welcomed me into a new world of clothing where form, fit, and function matter whether you're stuck inside or wandering outside.

Enough rambling from me, let's get into it! 
Western Rise AT Slim Review Breakdown
Key Features:
AT Cloth – high-denier, air-texturized nylon canvas

97% nylon, 3% spandex

280 gsm 

Nano-scale C6 durable water repellent treatment

YKK zippers

UPF 50+

2-way weft stretch

Nylon 6,6 water-resistant pocketing

Modern watch/phone pocket

Rear right-side hidden zippered pocket
One of Western Rise's most loved pieces, the AT Slims helped to establish their presence in the technical style or streetwear segment. 
Style, Fit & Use: Featuring a classic 5-pocket design, a slim fit you'd expect from major designers, and the versatility and durability of your favorite hiking, climbing, biking, travel, you-name-it pants, the AT Slims are up for whatever you are.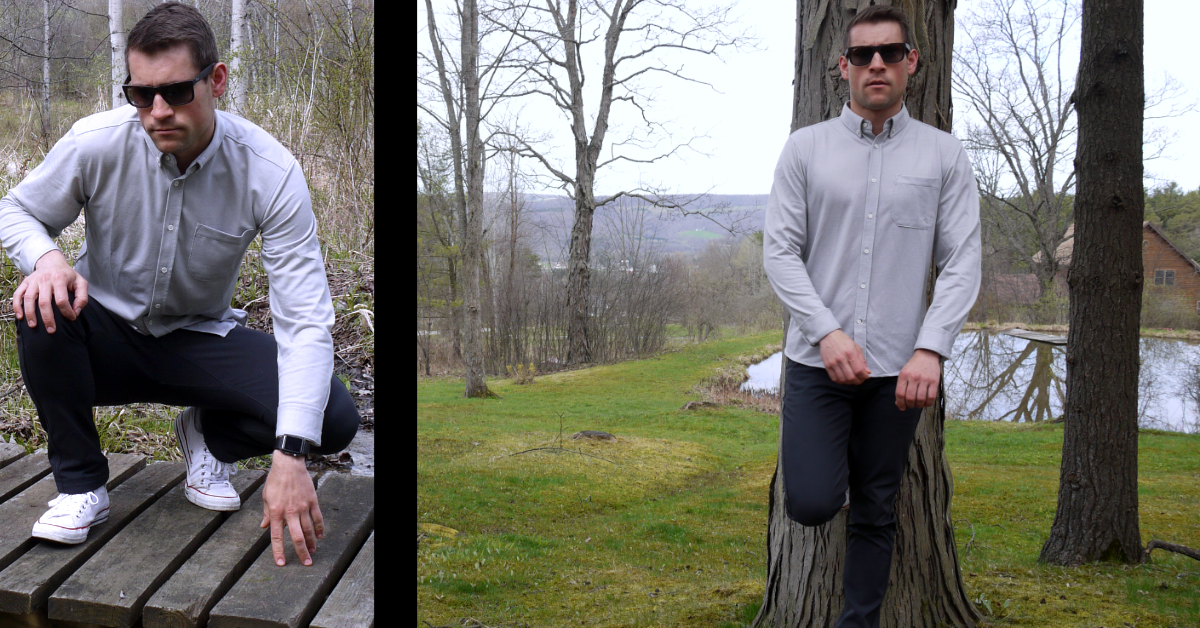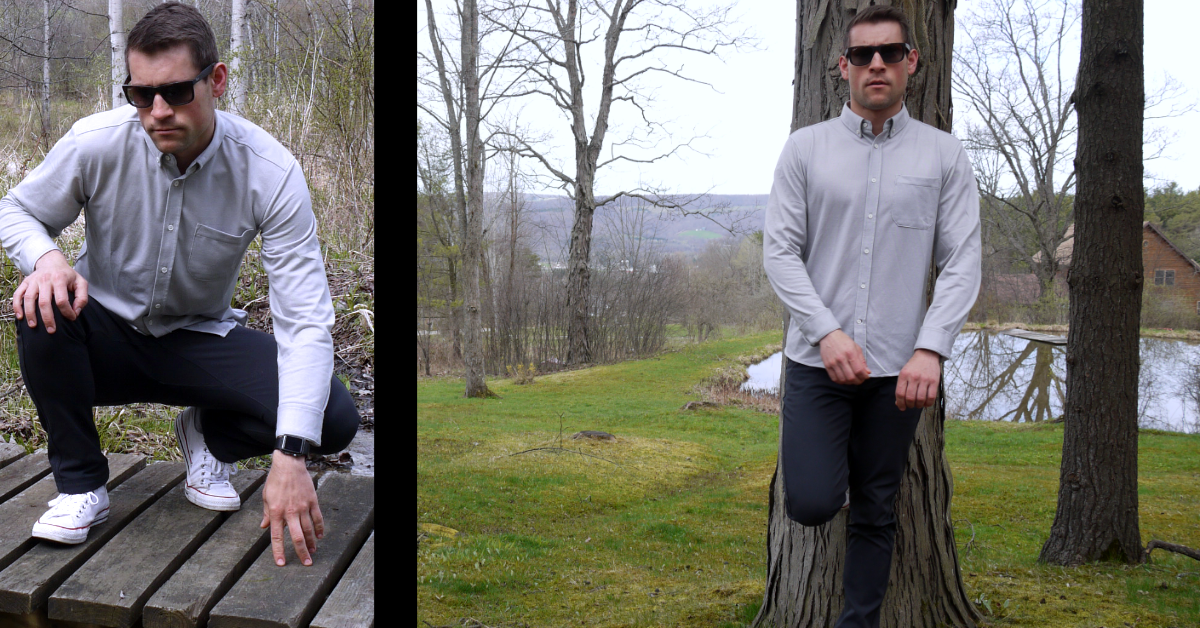 I went with a timeless "flat black" colorway to increase the versatility of an already versatile pant. Black is easy to fit into any wardrobe and looks good in a variety of settings. When I travel, I often try to take one bag with me, so I knew I wanted a color that could be dressed up or dressed down. In person, WR's "flat black" looks a bit more charcoal than web pictures indicate, but it's nothing to fuss about. 
The slim fit is exactly how it should be; hugs your thighs and calves without being too skinny. The waistband is quite static, so I'd order your typical pant size. There is an adjustable hem to drop the inseam down to 33 inches, but they're shipped at 32 inches. 
You can easily pair a collared shirt with the AT Slims up for date night (added bonus, AT Slims are GF style approved) or throw on your favorite pair of trail shoes for a hike. I've used them for just about everything at this point: work-from-home, long walks & hikes, bouldering, biking – really anything I do and have not been disappointed. All in all, they're not only great daily wear, but they're also a great travel piece that will find a spot in your carryon time and time again. 
Western Rise added thoughtful, but minimal features to aid in the function of these pants. A hidden zipper in the right-hand rear pocket keeps a wallet secure, and can just fit a passport or smaller phone. I very much appreciate added security in a pant made with travel in mind. They've also expanded the coin pocket to fit most phones. Nice touch, but I wish it (and the main front pocket) was just a bit deeper. When biking or crouching, the phone digs into your hip fold a bit.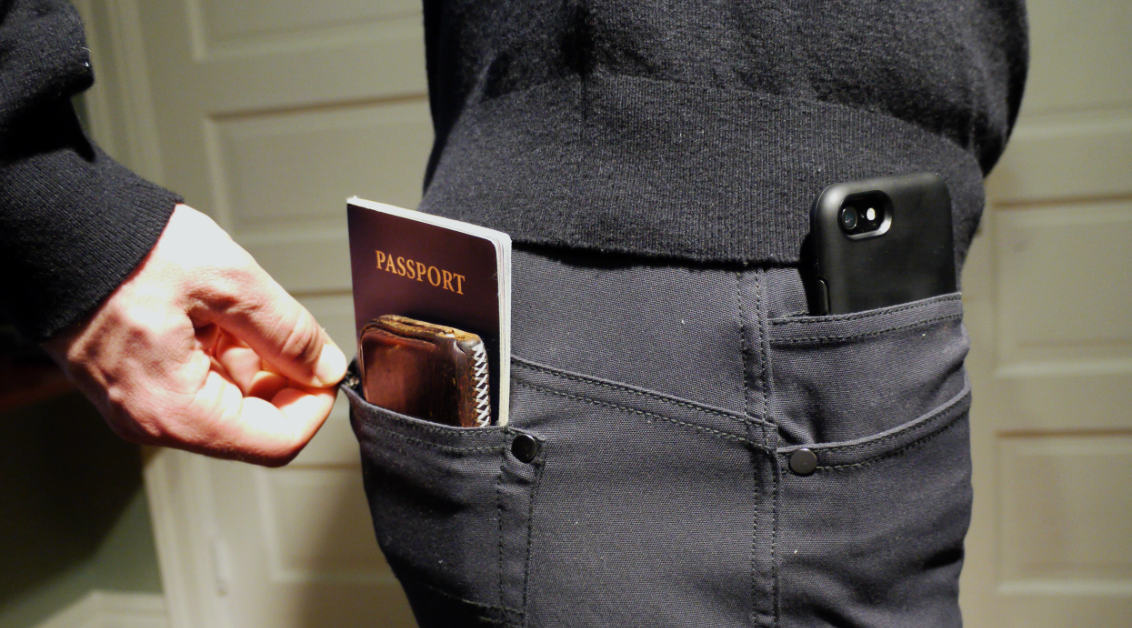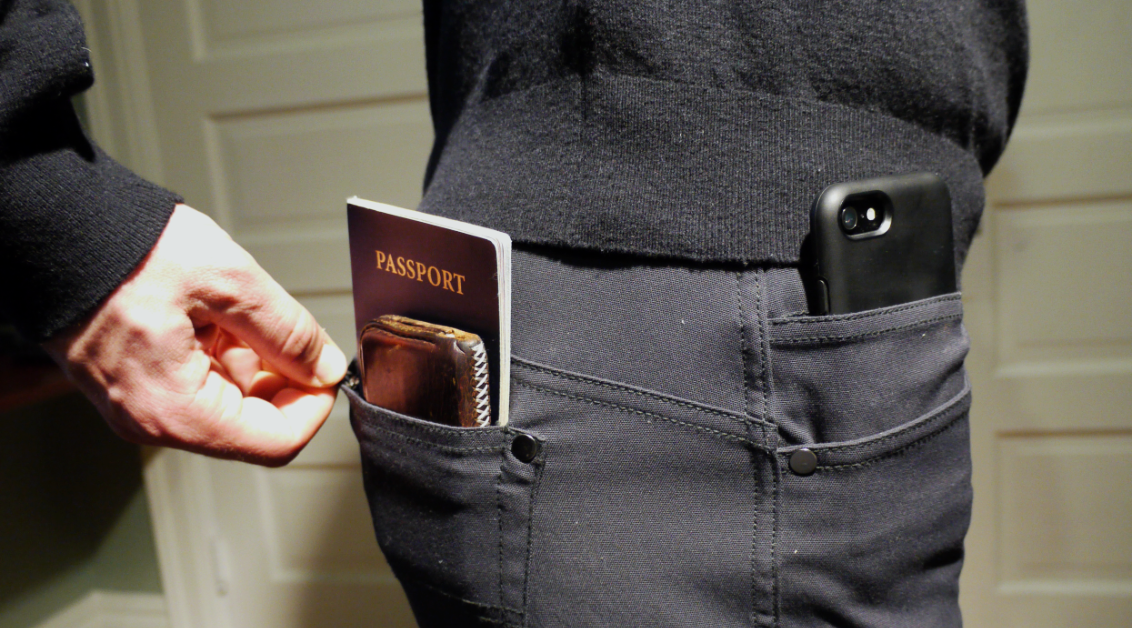 Material: One of the outstanding elements of this fabric in my opinion is water resistance. I have countless waterproof/resistant jackets that I travel with, but I never bother bringing waterproof pants. Water (or beer, coffee, wine, you name it) rolls right off the AT Slims, so getting caught in a rainstorm when traveling is no longer a worry. 
With that said, there is much more to these pants than water resistance. Western Rise is dedicated to innovation, and their fabrics are a direct product of that dedication. The AT Slims are cut from air-texturized nylon that looks like a tightly woven light canvas and feels great against the skin. I can't say it better myself, so here's WR's direct verbiage about the fabric:
"We needed a fabric with structure. A rugged cloth that breaks, not drapes. What we found is an air-texturized rugged nylon canvas with just the right amount of stretch. A fabric that moves with the body, sheds rock abrasion, and is ready for just about anything."
With only 3% spandex and 2-way stretch, the AT Slims are a little less forgiving than their new 6% spandex 4-way stretch sibling, the Diversion Pant. But the flex that is there is just enough to notice and is welcomed when compared to your standard black jean alternative. 
A quick note on warmth – I tested these pants during spring, so I saw a wide temp range. I found the midweight fabric to be a bit cold under 40 degrees without an insulating layer as wind does seem to cut through. 
Insignificant warning: there is undoubtedly a break-in period for these pants. They feel a bit stiff and starchy right out of the packaging (just like any other high-quality jean), but after a few days of wear, you won't want to take them off. 
With all this said, I fully intend to pick up another color or two, so that should help round off my thoughts.
Western Rise Limitless Merino Wool Button-Down Review Breakdown
Key Features:
53% Australian Merino wool, 47% polyester

175 gsm

4-way stretch

Odor-resistant, moisture-wicking, temperature regulating, breathable

Reinforced collars, cuff, and placket

Rubber coated buttons

Tailored fit

Button-down collars
Style, Fit & Use: The Limitless Merino Button-Down is just downright awesome. It fits like your favorite tailored collared shirt but stretches like your favorite workout shirt. Seriously, the stretch is unlike anything I've ever experienced in a button-down. With t-shirt level comfort, this isn't your typical button-down that you can't wait to peel off at the end of the day. Heck, I've even tossed on a pair of gym shorts and kept it on for the night.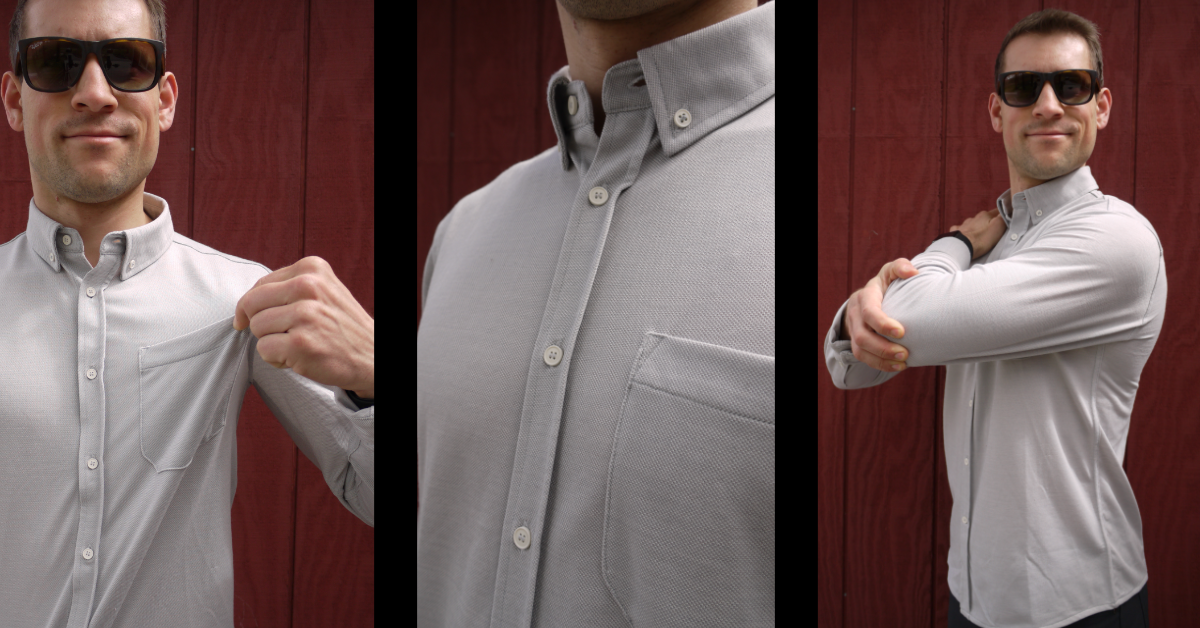 I went with the "Smoke" colorway, which is a nice muted grey. The shirt has a noticeable slim fit, darts down the back, and reinforced cuffs, collar, and placket for structural integrity. Although Western Rise doesn't specifically call this out on the product listing, the Limitless button-down seems to be a similar length to other "untucked" offerings from the big brands. At 5'10" and 170lbs, I ordered a medium and found the sleeves to be a tad long, but all else was perfect. 
Like the AT Slims, the Limitless button-down can really be used for any occasion. You could easily go from your 2pm to happy hour to dinner and a night out and get compliments while doing it (yet another GF approved piece). Although it probably wouldn't be my first pick to go hiking in, this shirt would be up to the challenge. All in all, it's a traveler's and bike commuter's best friend. Comfort, versatility, and performance in a package that slips under the radar. 
When I wear this shirt, I feel like I am keeping a secret – it looks so classic, that only I know it's a technical shirt. It's like wearing sweatpants while on work-from-home Zoom meetings, no one knows you're comfy! 
Material: The dynamic duo: Australian merino wool and polyester, 53% and 47% respectively. Western Rise teamed up with long time wool-sperts (wool experts) over at The Woolmark Company to create this particular fabric blend. Western Rise touts a honeycomb structure for this performance-oriented blend, which allows great breathability and next to skin softness.
As someone who tends to be sensitive to the typical itch of wool products, Western Rise did a fantastic job curbing that downside to wool. The only time I noticed a slight itch was when layering this piece under a vest or jacket, as the pressure pushes the fabric closer to skin. 
Insignificant Warning: Western Rise claims this shirt is wrinkle resistant, but I've found that to be directly correlated with the way it is packed. Stuff it quick in a bag, you'll find some wrinkles; roll it up, it'll come out looking more wear-ready. Wool fabric resets really easily; using the integrated stretch hang loop, pop it in the bathroom when you shower, and the minimal wrinkles will be gone. 
Western Rise StrongCore Merino Hoodie Sweater Review Breakdown
Key Features:
Ultrafine 18.5 micron Merino Wool/Nylon

Certified non-mulesed merino wool

89% Merino/11%Nylon

170gsm

Lean cut

Odor-resistant & bacteriostatic

Temperature regulating, moisture-wicking, breathable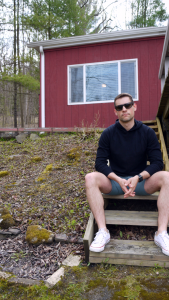 Style, Fit & Use: The StrongCore Merino Hoodie Sweater is another great piece that'll find regular rotation in your wardrobe. Like the previous two pieces, the StrongCore hoodie has a trim cut that hugs the body and leaves plenty of room for arm movement. At the time of this review, it was only available in black. 
The hood fits loosely without much structural reinforcement, but on a product of such lightweight fabric I don't feel it's a worry. The neckline has a thick elastic band running through holding shape around the neck and sleeves have great stretch and quick return to shape. 
I spoke with the WR team about this particular piece, and they mentioned that it was designed to fit like a sweater with a hood instead of a hoodie made from sweater material, and I feel that goal rings true. It has an elevated (and figure-hugging) cut suitable for more destinations than your classic cotton hoodie. I wouldn't dare wear a classic cotton hoodie to a client meeting, but I wouldn't be upset if a client wanted a surprise call when I had the StrongCore hoodie on. 
Like everything else in this review, it's a go-anywhere piece that's limited only by the requirement of business casual. Unlike the Limitless button-down, I actually wouldn't mind grabbing this hoodie for a hike, or even a cool morning run, due to the fantastic properties of wool and I've done just that. All in all, another great daily wear and item for the travel packing list. 
Material: At 89% Merino and 11% Nylon, this sweater is incredibly soft to skin, but that high percentage of Merino also means it feels more fragile. With that said, Western Rise wrapped their wool around nylon fibers for this piece, so it will retain shape, it just feels a bit less resilient in comparison to the ultra-stretchy Limitless button-down. The fabric does indeed move with you, but it does not seem to respond as quickly – meaning if you pull at the fabric, it does not bounce back as quickly as the button-down. 
The merino is spun into a microfine yarn, which nearly eliminates itch. The warmth is superb for its weight, and of course retains all the amazing properties of wool – odor resistance, temperature regulation, moisturizing wicking, and breathability.
Buy now $110 (on sale at time of review)
Western Rise StrongCore Merino Tee Review Breakdown
Key Features:
Ultrafine 18.5 micron Merino Wool/Nylon
Certified non-mulesed merino wool

89% Merino/11%Nylon

170gsm

Lean cut

Dropped tail

Odor-resistant & bacteriostatic

Temperature regulating, moisture-wicking, breathable 
Style, Fit & Use: Western Rise got their StrongCore Merino Tee right. There's not too much to say beyond that – it's a classic look, with subtle but modern design elements and nature's performance fabric. Like the StrongCore Merino Hoodie Sweater, it has a trim cut that hugs the frame. It features a slight drop hem with triangular cutouts to help this shirt drape better when sitting and delivers a modern look. It looks fantastic on – the sleeves are a perfect length and circumference, no bicep hugging here! I opted for the "Ash" colorway, which is a subtle grey, but darker than the Limitless button-down's "Smoke".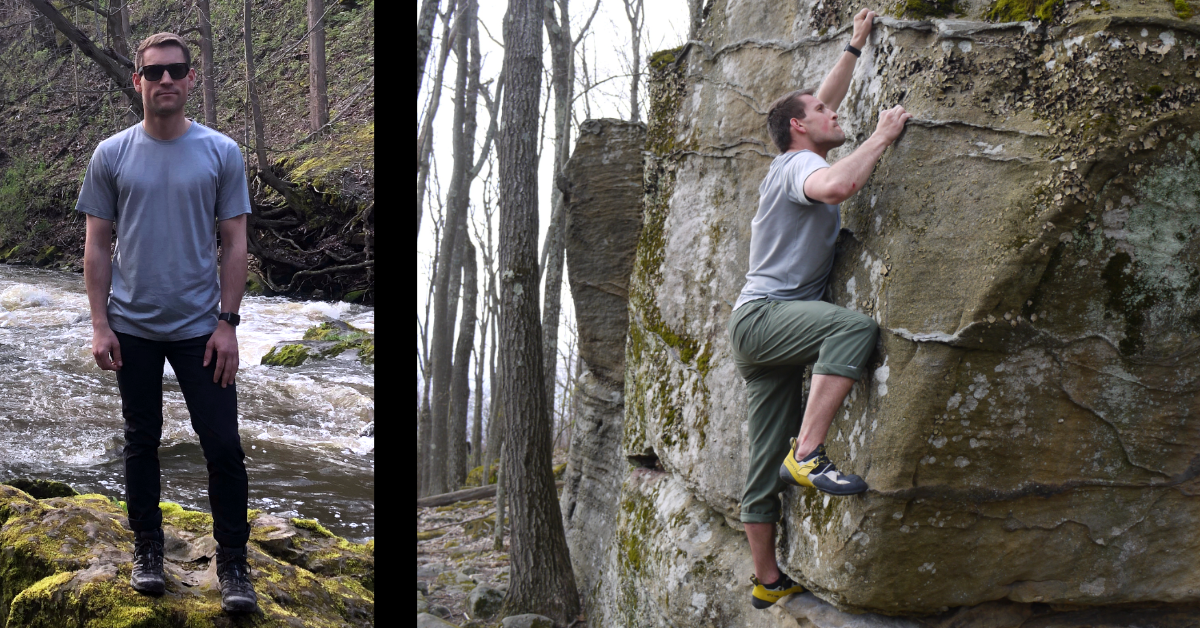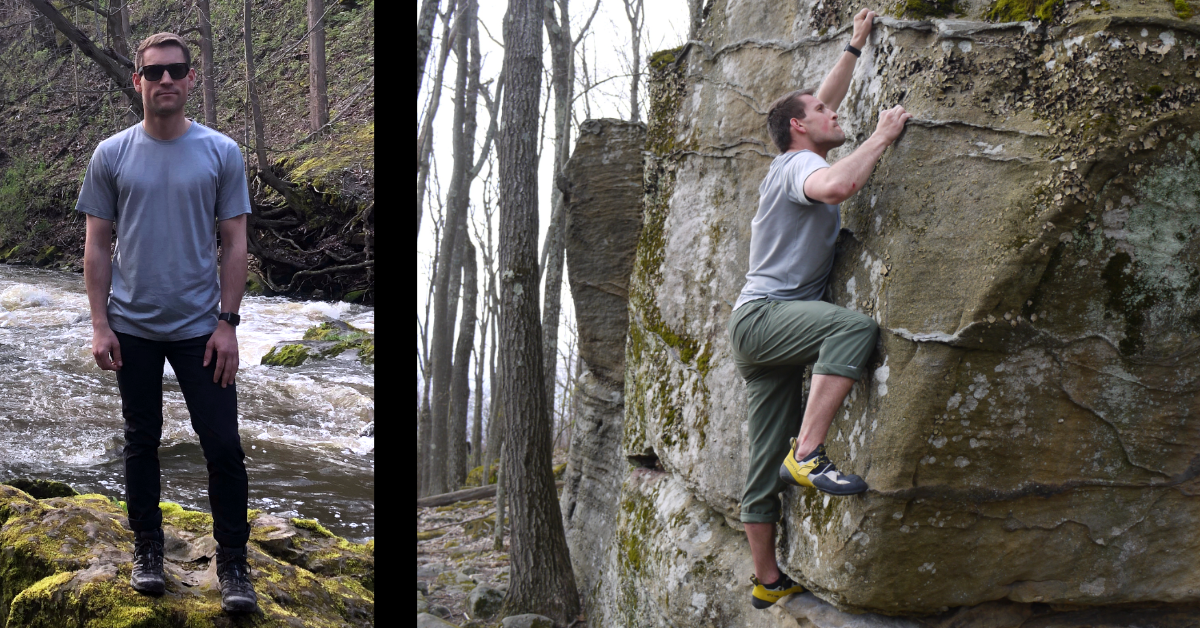 Lastly, this isn't just any old tee; the hemline and slight heathering in the fabric gives it a more sophisticated look. I'd easily grab this over a cotton tee for a night out. I'd also just as easily workout in this piece as I would wear it to the office on a summer day. All in all, it is another fantastic piece for daily wear or travel that looks a lot better than your standard tee. 
Fabric: Although this fabric is technically the same as the StrongCore Hoodie (89% merino, 11% nylon, 18.5 micron blend, 170gsm) it feels very different. It's as if the hoodie had two or three layers of this material, versus a single layer of the fabric for this tee. It's just amazing how thin and comfy this shirt feels, but that does lead me to feel as though it is the most fragile of all the pieces in this review. Again, it has the same merino wrapped blend as the hoodie, so it will absolutely retain shape and hold up better than competitor wool blend tees. 
Surprisingly, my comments about the fabric responsiveness on the hoodie don't hold true for this tee – it's lighter, but the fabric seems to bounce back quickly like the button-down. The superfine softness is there like the hoodie reducing noticeable itch, and again, you get all the amazing properties of wool – odor resistance, temperature regulation, moisturizing wicking, and breathability. 
Buy now $96 or shop the entire collection:
Ultimate Men's Work-From-Home (and Weekend Adventure) Clothes - Western Rise Gear Review
A collection of fantastic performance clothing options that won't break the bank and will take you from the home office, to the trail, to date night.
Limitless Merino Button-Down
10
StrongCore Merino Hoodie
8.5
THE GOOD:
Superior quality
1% for the planet member company
Climate neutral certified company
THE NOT SO GOOD:
Nothing worth noting! Western Rise gets two thumbs up from me