Since its launch back in 2009, Wahoo Fitness has worked tirelessly to elevate the sport experience for cyclists and runners alike. Their premium cycling computer lineup was designed to be simple and effective; to enhance your ride, not hinder it. 
The ELEMNT ROAM is Wahoo's first foray into a colored LED screen, and they totally nailed it. The screen is vivid, even in full sun, and glare is virtually non-existent. The colors are certainly basic, but Wahoo's developers did a fantastic job integrating the available color palate into different features of the computer.
With intelligent GPS features, an auto-backlit screen, 17-hour battery life, and a list of sensor and component integrations that grows by the day, the Wahoo ELEMNT ROAM is fantastically feature-packed for the price.
After just over 400 miles with the ROAM, I've gotten a chance to test out quite a few of the features that have made it so popular amongst cyclists. Let's get to the Wahoo ELEMNT ROAM review!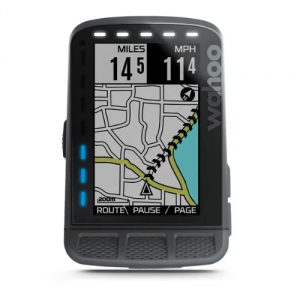 Wahoo ELEMNT ROAM Key Features
Smart GPS Navigation Features

On-demand turn by turn directions

2.7" Vivid Color LED Screen 

Gorilla Glass Screen Covering

Ambient light sensor with auto-backlighting

17-hour battery life

Live ride tracking portal

Customizable screen

And much, much more! 
Wahoo ELEMNT ROAM Review Breakdown
Design
The Wahoo ELEMNT ROAM is sleek, compact, and unobtrusive. It looks great on any bike, whether it be road, gravel, CX, or mountain. It doesn't look (or feel) delicate like some other computers on the market.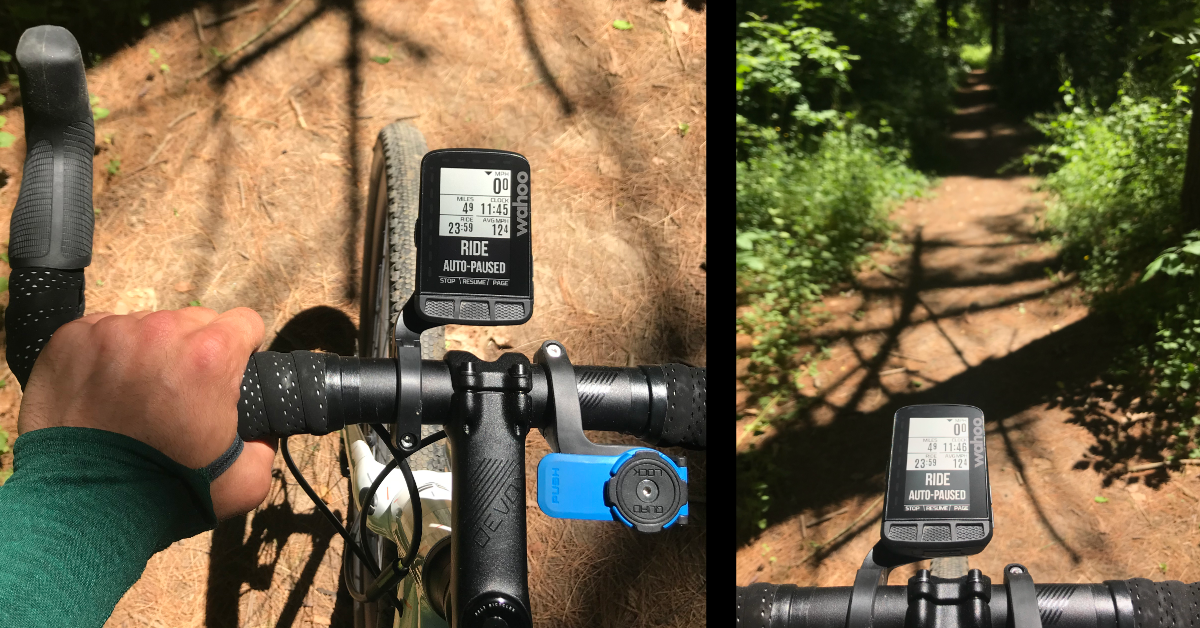 For many of us, cycling is a way to get away from the screens. Wahoo's no-frills design delivers plenty of customizable information via the 2.7" color LED without feeling in the way or taking away from the ride. 
I am a big fan of the customizable "quicklook" LEDs that run along the left side of the screen. They can be adjusted to show heart rate zones, power, or speed. The first two require compatible sensor input, but I've really enjoyed the out-of-the-box ready speed metering. The center LED represents your average speed, and three LEDs above or below represent your +/– from that average. 
The ELEMNT ROAM fits nicely in the palm of your hand when customizing settings off mount, and looks good next to your smartphone of choice.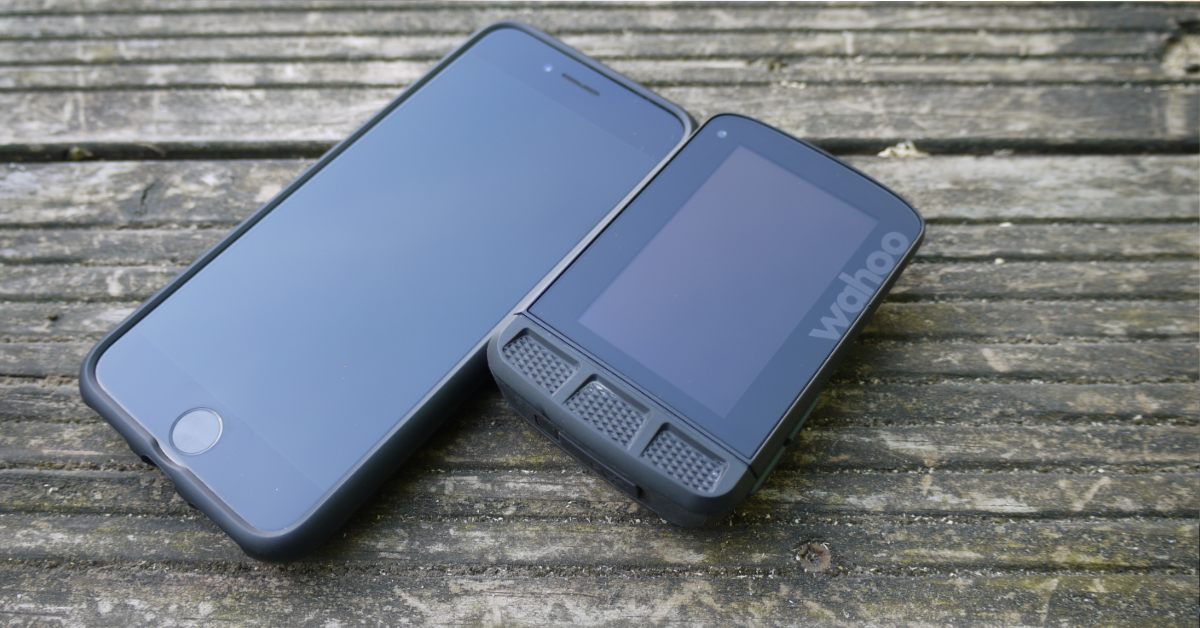 Usability 
As a cyclist who has utilized an iPhone to track rides for far too long, I was really on the hunt for a user-friendly option that would sell me on the benefits of a computer. While the ELEMNT ROAM is exceptionally easy to set up and use, it is certainly not targeted to bike computer noobs. With an expansive and ever-growing list of integrations, the ELEMNT ROAM is a connected hub for serious training. From heart rate monitors to power meters and even oxygen meters, the ELEMNT ROAM puts the data you need most at your fingertips.
The initial pairing to my iPhone was a breeze. I was off and testing the ROAM in minutes. The companion app offered up several chances to pair both hardware and software integrations during the setup flow. 
Settings can be accessed from the device itself, but the options are limited to essentials. The real customization comes into play when using the companion app (more on that later).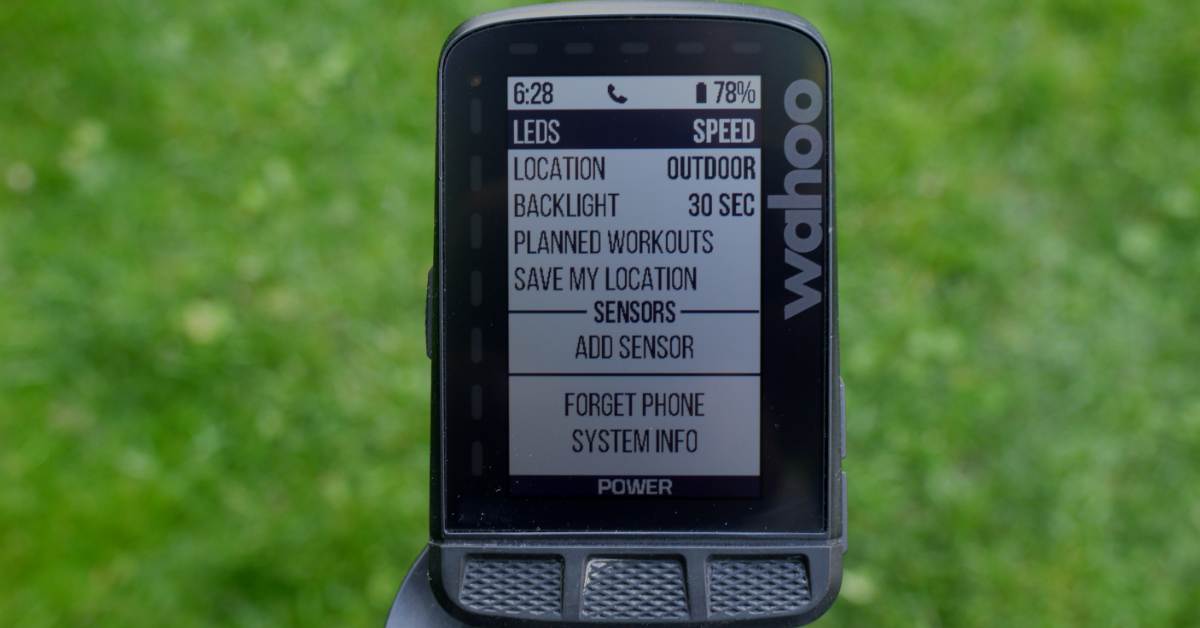 The device has a total of 6 buttons: 
The power button on the left side; doubles as settings toggle

Two zoom buttons on the right side, double as up and down toggles

Three multi-function buttons on the front face that are responsive to on-screen prompts
I find that I don't adjust the zoom often, unless I am using GPS, so I interface most frequently with the three face buttons. Starting and stopping rides, changing screen views (Wahoo calls views pages), and confirming various commands – like power off – are all done with the multi-function buttons.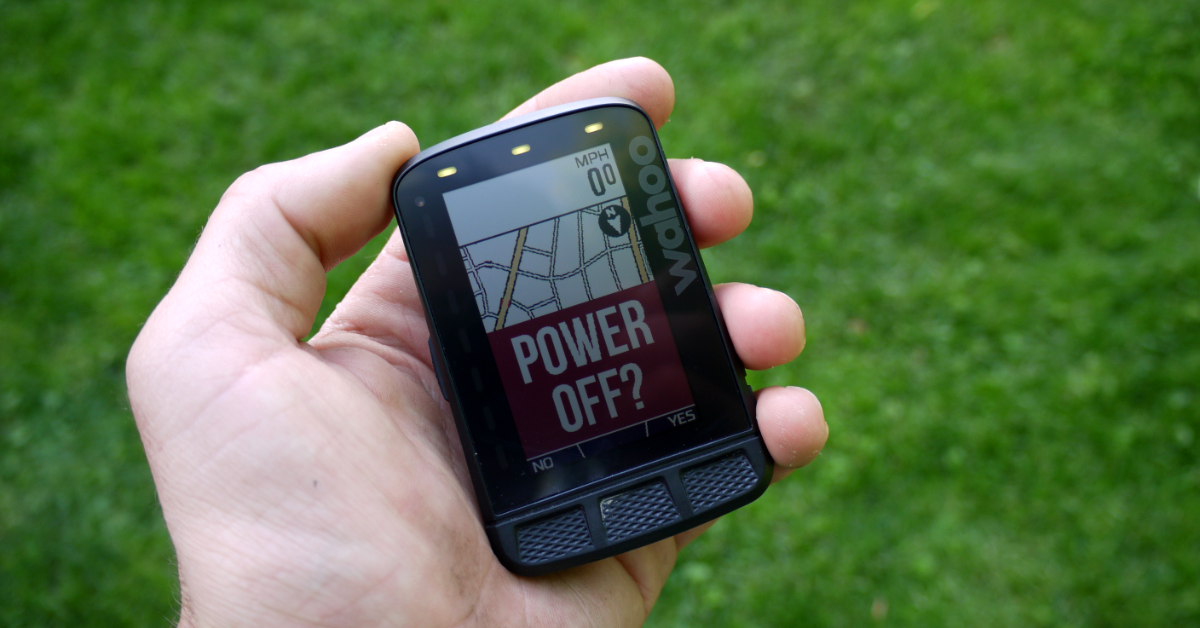 The minimal button interface is intuitive and quickly becomes second nature. 
Customization 
I had a lot of fun with this feature, specifically picking and choosing the metrics that mattered to me most. Since I didn't have any sensors to pair, I focused mainly on the out-of-the-box features. 
Mentioned above, I set the "quicklook" LEDs to show pacing against average speed.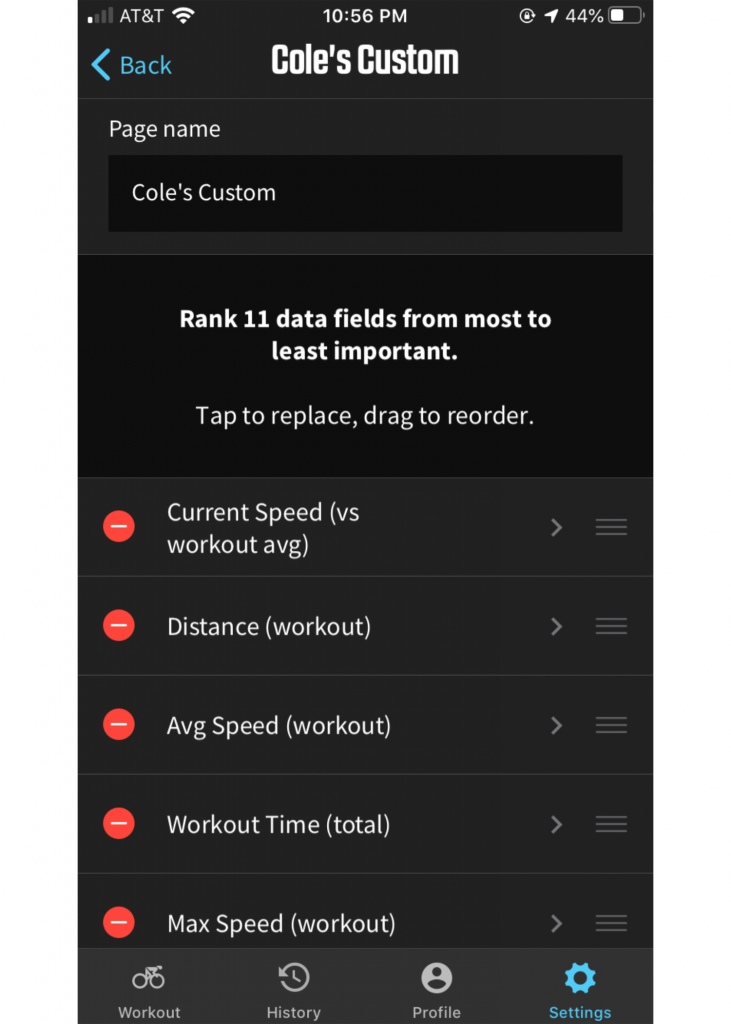 I also made my very own page showing:
Speed in MPH

Distance in miles

Clock/time of day

Total ride time (including any breaks)

Avg. MPH

Max MPH

Feet climbed

Grade of surface

Elevation

Degrees Fahrenheit

And feet descended
There is a max of 11 selections. 
Honestly, you could play around with this all day – especially if you had sensors. Another cool micro-customization comes with the zoom feature. If you use the right-side rocker feature, the selections at the bottom of your page start to disappear enlarging the topmost selections. Two disappear at a time until you reach 4 metrics, then 1 disappears at a time until you're left with 1 metric.
Beyond the screen customization, there are a plethora of other options including active, on-screen notifications – yep, now you'll never miss calls from while biking again.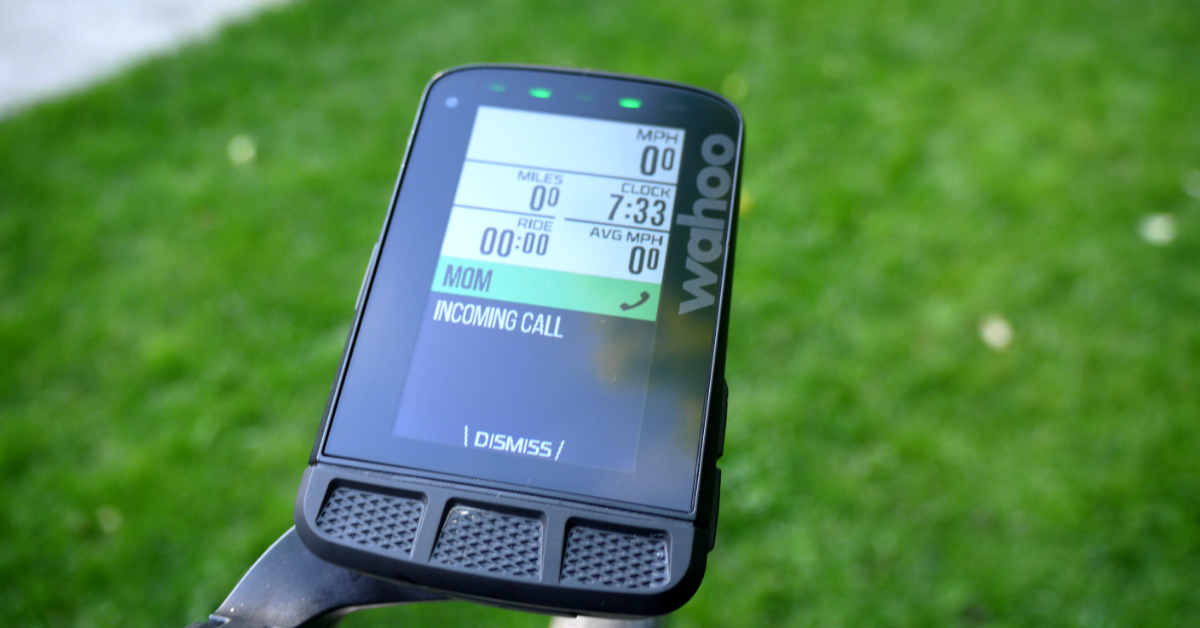 Strava Integration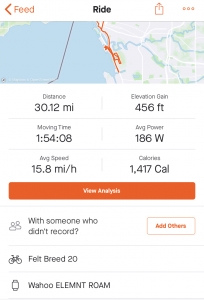 You're probably sick of me telling you how many integrations are possible with the ELEMNT ROAM, but for me, Strava mattered most. Coming from the simple solution of tracking using the Strava app on my iPhone, integrating and syncing rides from my ELEMNT ROAM was essential to tracking against last year's efforts. 
I am really impressed by the effortless integration with Strava. There was clearly a lot of time spent to make this right. If you end your ride back at home and your ELEMNT ROAM is connected to WiFi, it instantly uploads to Strava and is ready to view on your phone before you even pick your phone up. 
If you end your ride out at the local MTB loop or gravel segment, I notice you need to go into the companion app and force a sync. It is slower than on WiFi, but still plenty efficient overall. If you do not force a sync, ELEMNT ROAM will simply sync next time it's powered on and connected with WiFi. 
GPS 
With more and more riders venturing to find terrain with low vehicular traffic, Wahoo knew adding a plethora of GPS features would allow the ELEMNT ROAM to remain competitive.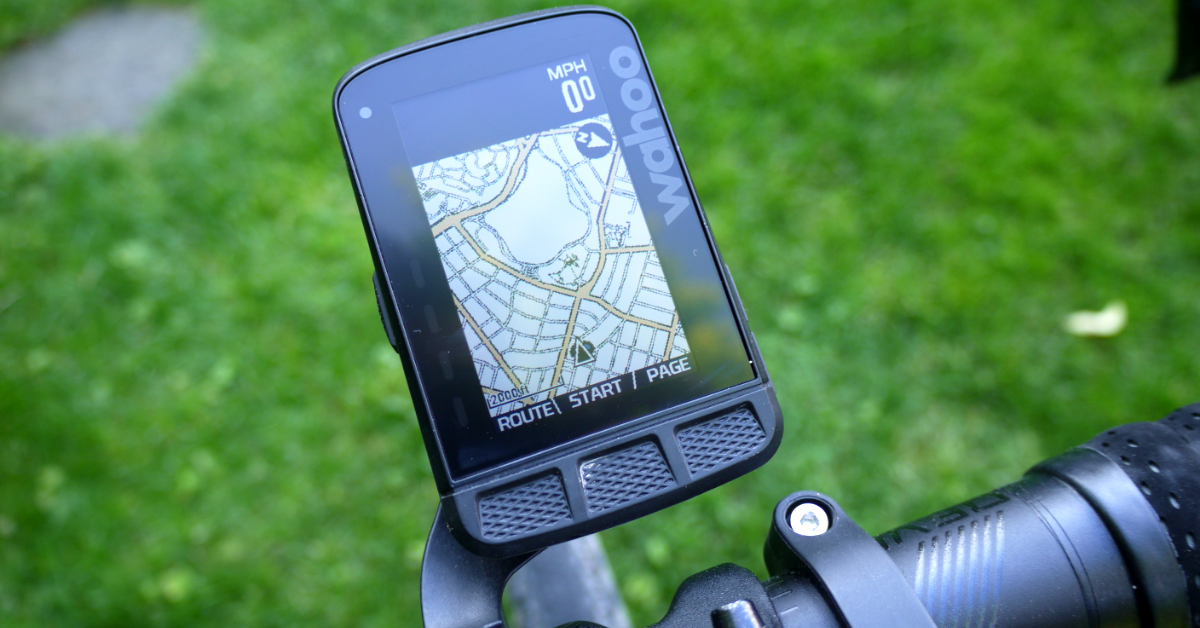 While I admit I didn't need every GPS feature that is packed on this computer, I did enjoy using the turn by turn route guidance on a planned gravel ride set by my local bike shop. As a turn approaches, the top row of LED lights illuminate blue, ROAM chimes, and the next turn is displayed on-screen. I also forced the device to reroute a few times, which prompted more chimes and a red LED lightup when you miss a turn. 
I also tested out the route to start feature, but soon found that it ignored the bike path that I was utilizing at the time. Looking back at the documentation, route to start chooses the shortest route, which wasn't the path. 
I also found the retrace route feature super helpful on a recent state park ride I completed that was unfamiliar territory to me. I made it back to my car without issue. The turn by turn navigation is just as effective on-demand vs. loaded from a third party route file/source. 
Live Tracking 
A short note here; this feature is wildly underrated in my opinion. My girlfriend doesn't bike with me, so having the ability to send her a link that shows her my exact whereabouts, mileage, speed, and trajectory towards home is super helpful. Gone are the days of attempting to voice text answer my ETA while riding. I just send her a link when I start the ride! 
Value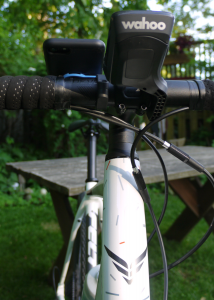 With a vivid, glare-free screen, great battery life, tons of customization, and integration options, the Wahoo ELEMNT ROAM is the ultimate connected bike computer for the modern cycling enthusiast.
At $379.99, the ELEMNT ROAM is definitely pricey, but it is a cycling computer that grows with you as a rider. Whether you're just starting out and need the basics, ELEMNT ROAM has your back (and legs). Or if you're a seasoned cycling vet training for race day, ELEMNT ROAM can deliver all the data points you could imagine when paired with proper sensors. And if your sensor isn't yet integrated, chances are Wahoo is working on it! Invest in the best, you'll thank yourself later.  
I'll leave you with this parting note – if this review wasn't enough to sell you on an ELEMNT ROAM, go read the reviews. Many people switched from the other guys and are happily dropping 5 stars for Wahoo's ELEMNT ROAM.
Wahoo ELEMNT ROAM GPS Computer - Gear Review
The ELEMNT ROAM is a cycling computer that grows with you as a rider. Whether you're just starting out and need the basics, ELEMNT ROAM has your back (and legs). Or if you're a seasoned cycling vet training for race day, ELEMNT ROAM can deliver all the data points you could imagine when paired with proper sensors. Invest in the best, you'll thank yourself later.
THE GOOD:
Quick setup
Tons of customization
Tons of integrations for enthusiast riders
THE NOT SO GOOD:
GPS routing isn't perfect, but it get's the job done