The wind in your hair, the fresh air in your lungs, and the bugs splattered in your face.  What's not to love about road tripping on a bike.  In all seriousness though, it is important to pack light and pack tight.  What better way to do that than with a versatile convertible pack.  The fine folks over at Velomacchi sent us their Speedway Hybrid Travel Duffle 50L to test out, so we stuffed it, stretched it, compressed it, and strapped it down to the back of the bike and headed north.  Check out below to see how the pack handled.
Key Features:

WATER-TIGHT MAIN COMPARTMENT WITH #10YKK ZIPPER
STRETCH ZIPPER PANELS PROTECT ZIPPER AND MAKE CLOSING OVERSTUFFED BAG A CINCH
TUCK AWAY TRAVEL HARNESS WITH ROTATING CLAVICLE HINGES AND HANDS-FREE
MAGNETIC STERNUM CLOSURE
TUCK-AWAY DUFFLE HANDLES WITH VELCRO CLOSURE BEHIND SIDE POCKETS
1000D COMPETITION FABRIC: WATER PROOF, ABRASION RESISTANT AND STABLE AT HIGH SPEED.
BALLISTIC QUILTED BACK PANEL TO TUCK AWAY
SHOULDER STRAPS OR STORE HYDRATION
WATER-TIGHT QUICK ACCESS SIDE POCKETS WITH TOGGLE CLOSURES
HYDRATION SLEEVE COMPATIBLE (bladder not included)
TORSO SIZE ADJUSTMENT CAM LOCK SYSTEM
SELF TAILING COMPRESSION STRAPS
MOTORCYCLE TIE DOWN ANCHOR POINTS
DOCUMENT POCKET
INTERNAL KEY AND ACCESSORY LEASH
Speedway Hybrid Travel Duffle
Design: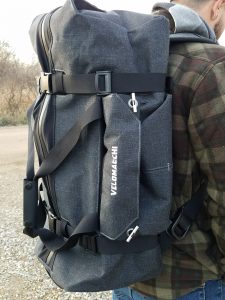 You can over stuff this bag and still zip it shut due to the stretch zipper panels and compression straps. The side pockets have a fold over closure for quick access. The fold over closure helps keep the rain out, but the fold also seems to lessen the space of the pocket. Not a huge issue though because we wouldn't be putting anything large in there anyways.
Now let's talk straps. The attached compression straps are a nice feature to shrink down that oversized bulging that might occur when you pack in that last item you almost forgot. The shoulder straps have pivoting hinges and an adjustable chest strap to fit multiple sizes. They aren't the most comfortable shoulder straps, and are quite stiff, but then again this bag is not meant for long backpacking treks. The Speedway hybrid travel duffle is just that – a travel bag, not a hiking pack. All the straps tuck away into velcro pockets so nothing is left dangerously flapping in the wind when you strap it to your bike. Attaching it to your bike is fairly easy. It comes with tie down anchor points, but if you don't have tie down straps you should check out the Velomacchi straps. They are designed to be 100% compatible with this bag and allow for easy on and off. We like the strength and simplicity of the straps, but worry that over time the rubbing might damage the paint on the bike.
Durability:
The Speedway Hybrid Travel Duffle is made from a highly durable fabric. It can handle high speeds on the back of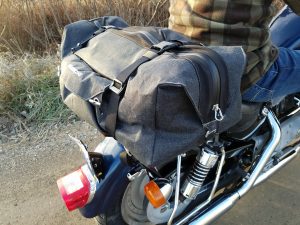 a bike, and so far only shows signs of bug splatters. Expecting the bag to cause wind drag and vibrations, it proved us wrong and stayed put at speeds up to 75 mph.
The zippers are strong, but very tough to close and open. Because of the amount of strength needed to pull the zipper, after just a few uses the pull tab on the main compartment zipper broke off.  A stronger pull tab may want to be considered in future designs.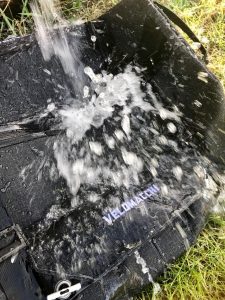 It is supposed to be waterproof and water-tight, so of course we had to find out just how waterproof it is. We know that most waterproof or water resistant products can at least handle a light drizzle of water. So we tested this bag out using a more forceful and larger amount of water – the good old bucket of water. In the end, we noticed that the side velcro pockets took on water but those are mainly used for storing the duffel straps during travel. The main compartment had a little water pooling inside that we assume got in through the zipper. But let's face it, nobody should be out on a motorcycle in a torrential downpour so you really shouldn't have any major water leaks. If the bag does get wet, we noticed that it at least dries fairly quickly.
Storage:
Equipped with 42L in the main compartment alone, this bag is great for little road trips on the bike. While you have to really be good at packing like a minimalist to get everything you need for a road trip into 42L, you can still stuff this bag to the max. The side pockets give you 8L of space for all those smaller items that you need to access quicker and the end pocket is nice to throw in that extra jacket.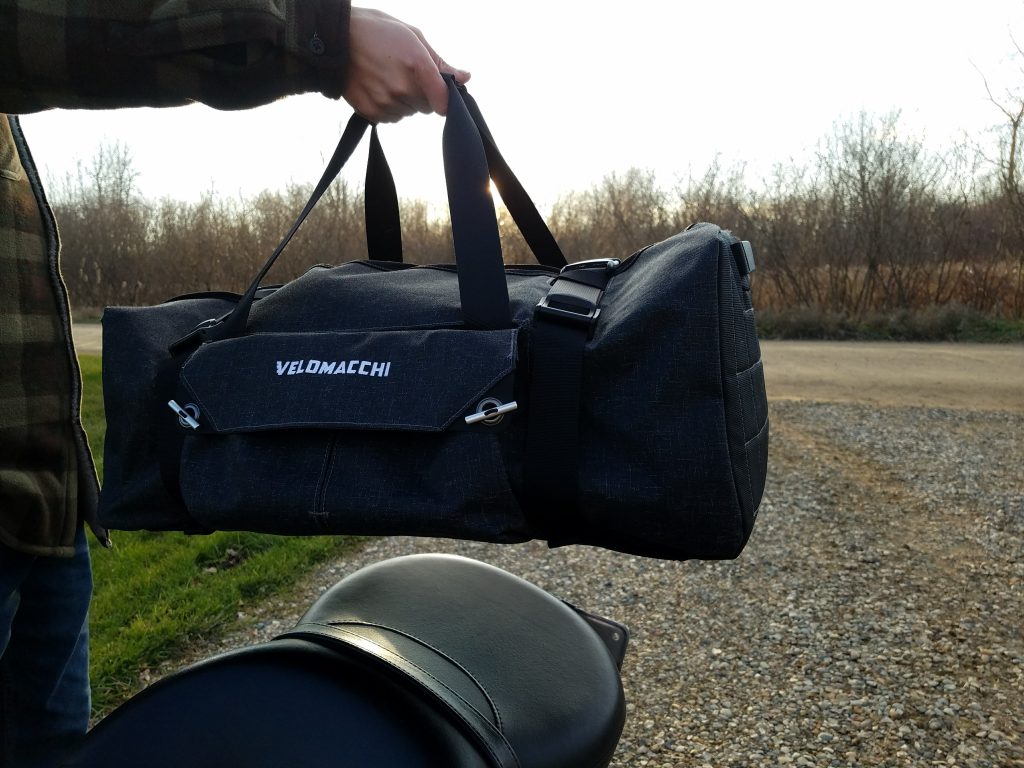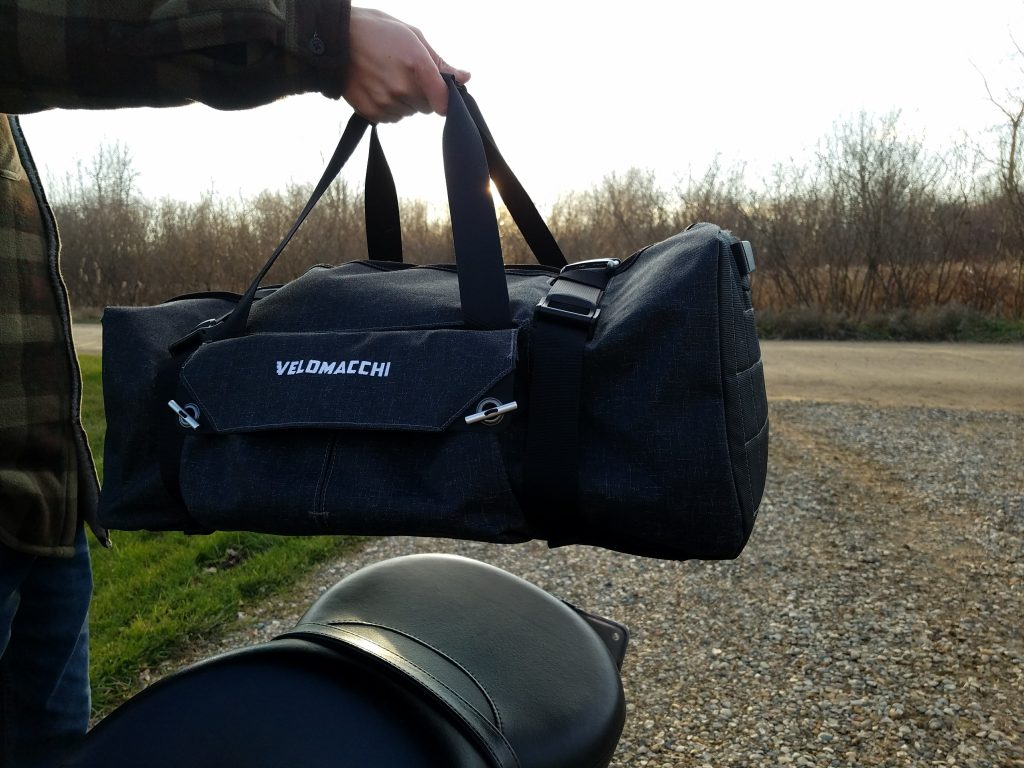 Value:
For a highly durable water-resistant duffle bag with straps that tuck away for safety and can be easily tied down to the back of a motorcycle, the $280 is easily justifiable.  This travel duffle is a great companion for hitting the open road.
Buy now: $179, or to learn more, head over to Velomacchi.com
Velomacchi Speedway Hybrid Travel Duffle
A duffle bag that can take a beating. Great for any adventure.
The Good
Durable
Built in compression straps
Waterproof
The Not So Good
Zipper pull tab broke easily