It's that time of year once again. The gift giving holidays are knocking on the door. It's time to make your wishlist and get cracking on shopping for the ones you love. It's no easy task. What do you really want? Better yet, what you need?
Well friends, this year you're in luck because your friends at Busted Wallet have got your back with a slew of great products that we've personally tested and reviewed throughout the year – and now compiled into an easy to consume holiday gift guide. The products you'll find below were some of our staff's personal favs from 2016 and include everything from bluetooth speakers to booze to tools, and much more.
Now we could continue to ramble on and on about how awesome our gift guide is, but why don't we just cut to the chase and give you what you came for… THE LIST… enjoy!
– The Techie –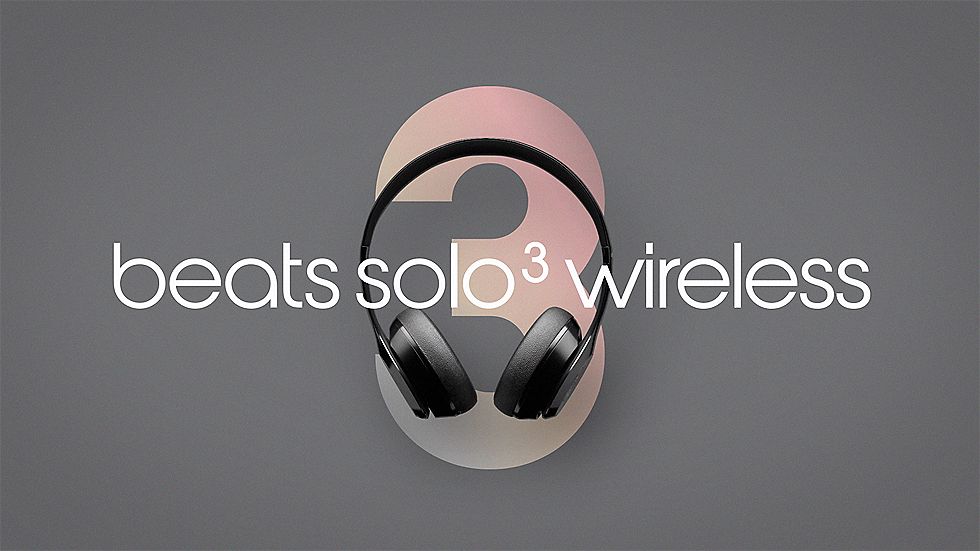 Bluetooth ready, comfortable and capable of delivering flawless acoustics with an emphasis on brain rattling bass, the Solo3 Wireless from Beats by Dre. is the perfect gift idea for the audiophile on your gift list this year. We've been wearing these around the BW Office for the past few weeks and everyone loves them! No cords to mess with and excellent battery life. This is one of the best on-ear wireless headphones we've ever tested.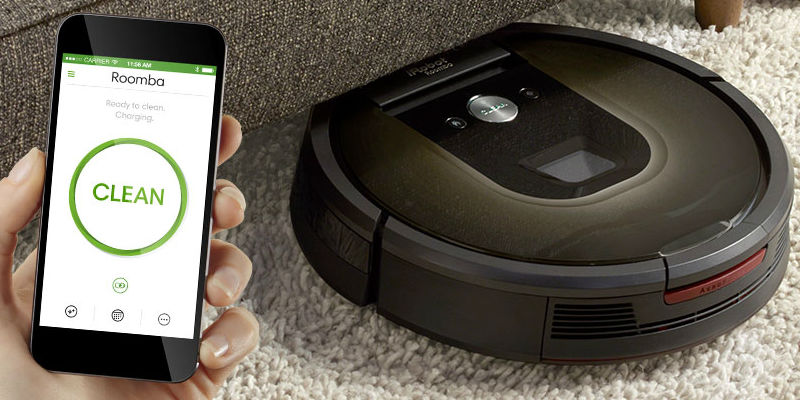 One of the cardinal rules of gift giving is that you don't gift cleaning supplies. Gee thanks for giving me the gift of me having to clean my house. The one exception that we here at Busted Wallet have is the iRobot Roomba. The latest version – Roomba 980 – has all of the great features we love about the Roomba 880 including scheduling, self docking, and Aeroforce 3-Stage Cleaning System. However, the 980 takes it to the next level with the iRobot HOME app so you can tell it to clean when you want to – anytime, anywhere.
Mophie Universal Powerstations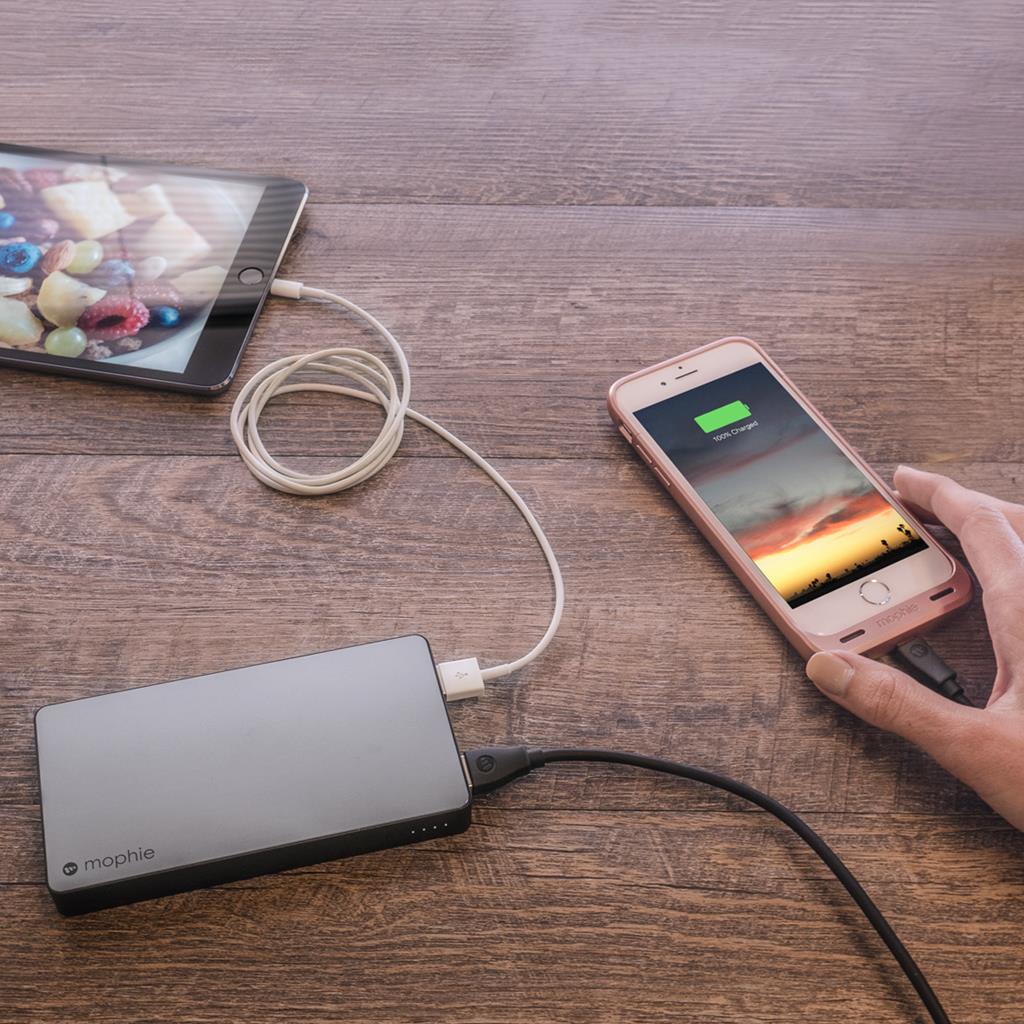 We can't have a gift guide without including something from Mophie because their products are life savers. Well battery life savers. While we love their phone cases, their Powerstations are the perfect gift idea for anyone on your list that is in need of a back up battery for any of their devices that charge via a USB. This means the Mophie Powerstations can power up tablets, smartphones, cameras, headphones, gaming gear, smartwatches and more. There are a variety of sizes that have up to 20,000 mAH capacity and give users up to 100 hours of additional battery life. The Busted Wallet crew doesn't leave the office without at least one in tow.
Small, yet mighty, the Skullcandy Barricade is a classic and cleanly designed adventure-ready speaker that looks good anywhere. Outfitted with an 8-hour rechargeable battery it won't leave you stranded. And if you're worried about its ruggedness – don't be! This speaker has an impact-resistant design that's also buoyant and IPX7 waterproof. Yup, drop it right in to pool and it will be safe – and still kickin' the tunes.

GoPro's smallest camera delivers big video. This little guy is easy to pack, operate and capture epic videos of your adventures. Delivering 4K video and 10MP stills we were really impressed with the newest version of the Session. It is a nice upgrade over last year's model. What's best is the voice commands. Say "GoPro Photo" and it will take a photo. Say "GoPro Video" and you start filming. When you hear an audible *beep* you know you're rolling. This is the ideal gift for the adventurer in your life – and right now you can get the camera, a FREE 32GB SD card, Handler + GoPro Gift Bag. You can't be that!
– For The DIY-er –
20V MAX Lithium Ion 5-Tool Combo Kit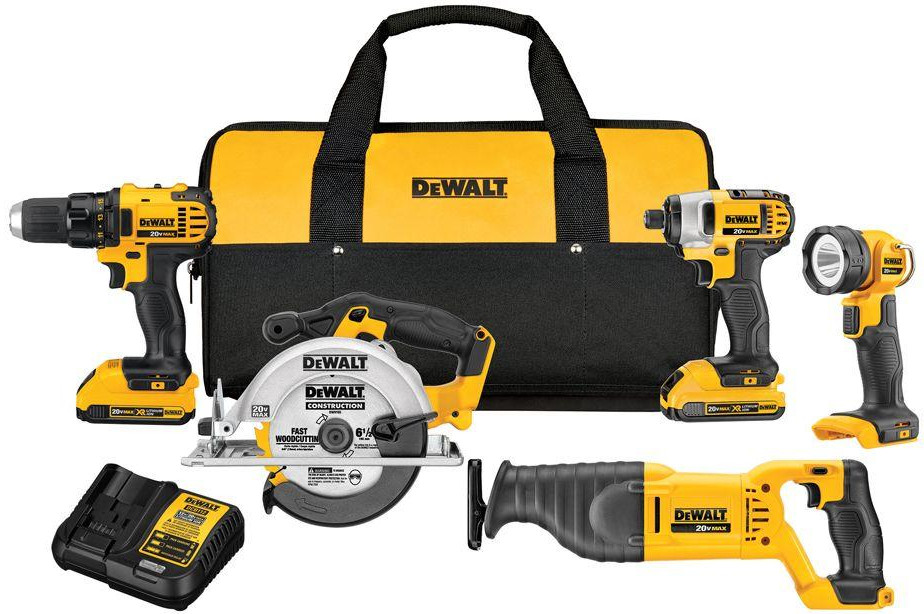 If you're a DIY-er you need some essentials. Among those essentials would be rugged power tools. When you're looking for something rugged and dependable its well known that you can't do much better than DeWalt. The same goes for this 5-piece tool kit. We've been working with these tools on a remodel for the past couple months and can't explain how helpful they have been. From ripping paneling to cutting out wall studs and installing drywall. Every tool in this kit is a must have.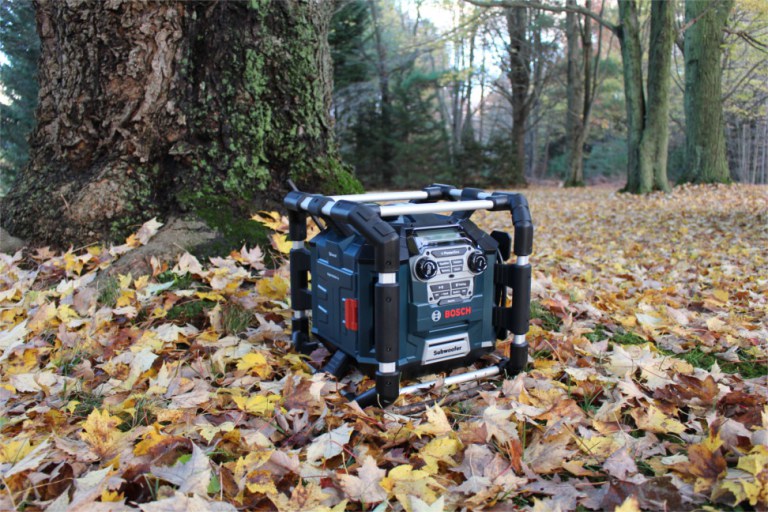 Engineered to be seriously tough while delivering power to all your tools, the Bosch Power Box is the most rugged jobsite radio we've ever tested. Surrounded by an aluminum roll-cage and thick rubber guards this radio is built like a tank. Once you get past its ruggedly handsome good looks you'll find a bunch of features that make this radio perfect for the jobsite.
Overall, the Power Box is a great jobsite radio. It's excessively rugged, delivers on all the bells and whistles and doubles as a power strip on the jobsite.
Craftsman Mechanics Tool Set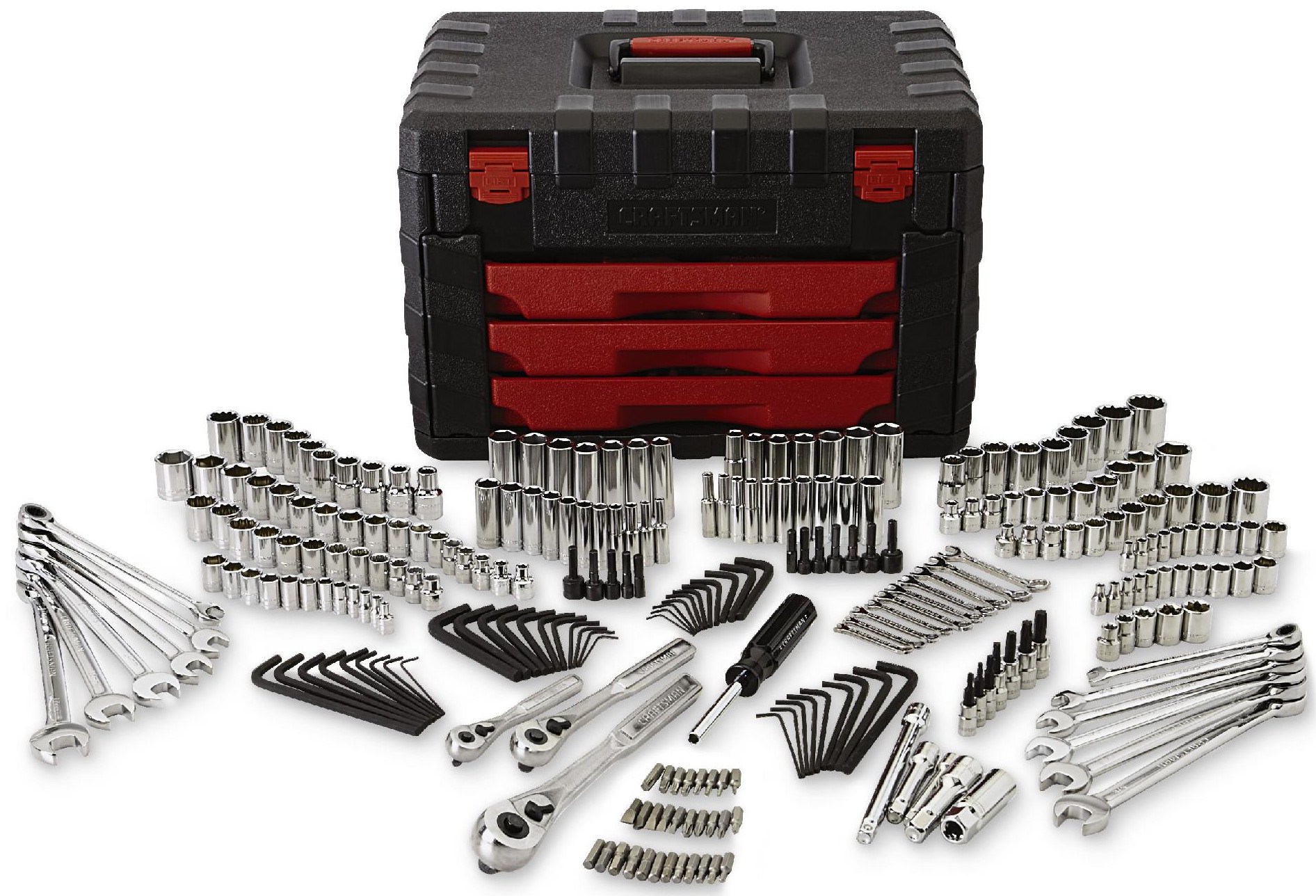 The Craftsman MACH 53 piece piece Socket Set is a nice little socket set in a small package. I believe it would be great to stick under the back seat of your vehicle. Priced at $49.99 it's a nice set that contains all the common sized items you would need for most situations. The Craftsman 263 piece mechanics tool set is currently priced at $179.99 which is slightly cheaper than comparable sets I've seen. The 263 piece set contains all the tools you need to get your average weekend garage monkey into a pleasant amount of trouble. Combine these good prices with the legendary Craftsman warranty and you've got a great deal for anyone with a Busted Wallet.
– The Golfer –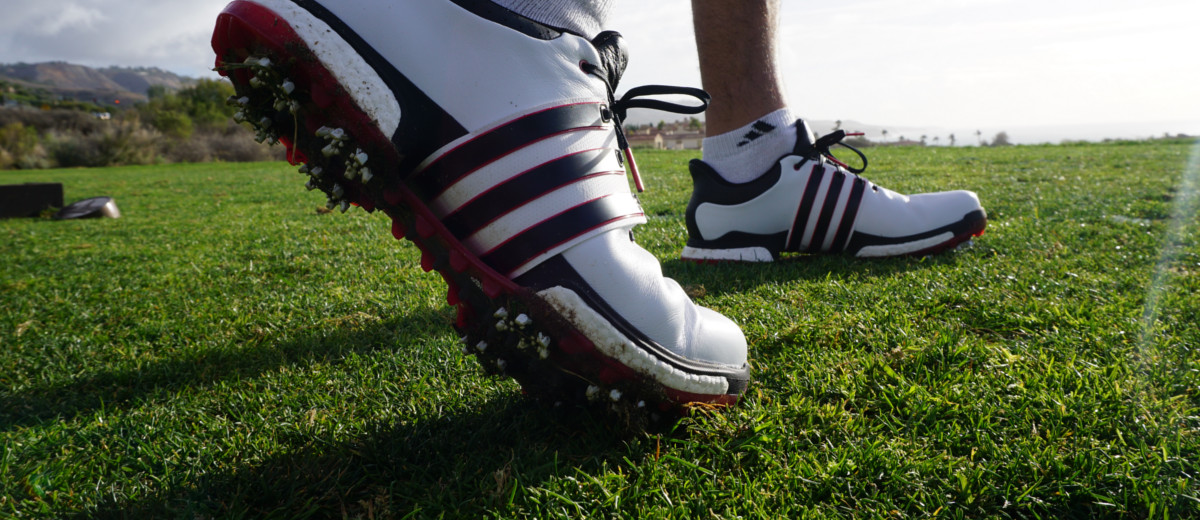 Adidas know's how to make a golf shoe that is comfy – this is not up for debate. The TOUR360 BOOST is light, springy and delivers a good deal of support. It's one of the few shoes we're not dying to take off at the end of a round. We give a lot of the credit to Adidas' BOOST technology. If you've read our ULTRA BOOST review, you know we're big fans of this energetic material.
Beyond the comfort, these shoes straight up preform and the traction is wonderful. The 10 spikes hold tight on almost any terrain and don't leave embarrassing cleat marks on the green.
To remain consistent on the course you need accurate yardage readings at all times. The new Tour V4 Slope Edition from Bushnell is a golfer's best friend. This handy little device reads yardages using lasers (the future is here!) It can also tell you whether the green is up or downhill from your location and calculate the the distance needed to reach the pin. Basically the only thing the Tour V4 doesn't do is read the wind for you.
We've been playing our rounds this season with the Tour V4 Slope at our side and it is really nice. The size is small and fits in your hand nicely. The yardages are incredibly accurate too. I think what we enjoyed best was the fact that it is able to read slope. It can be very hard to estimate distances on undulating courses, but with the Tour V4 it isn't a problem what so ever. Simply hold down the top button, hold it on the flag, and when you feel a JOLT (vibration) the number will lock in and your distance will be shown. Below the main distance marker you'll see another set of number telling you how many degrees up or down the green is from your location. If it is more than 1 degree above or below your location it will read out a second yardage telling you what the actual distance to the pin is based on the slope. Genius!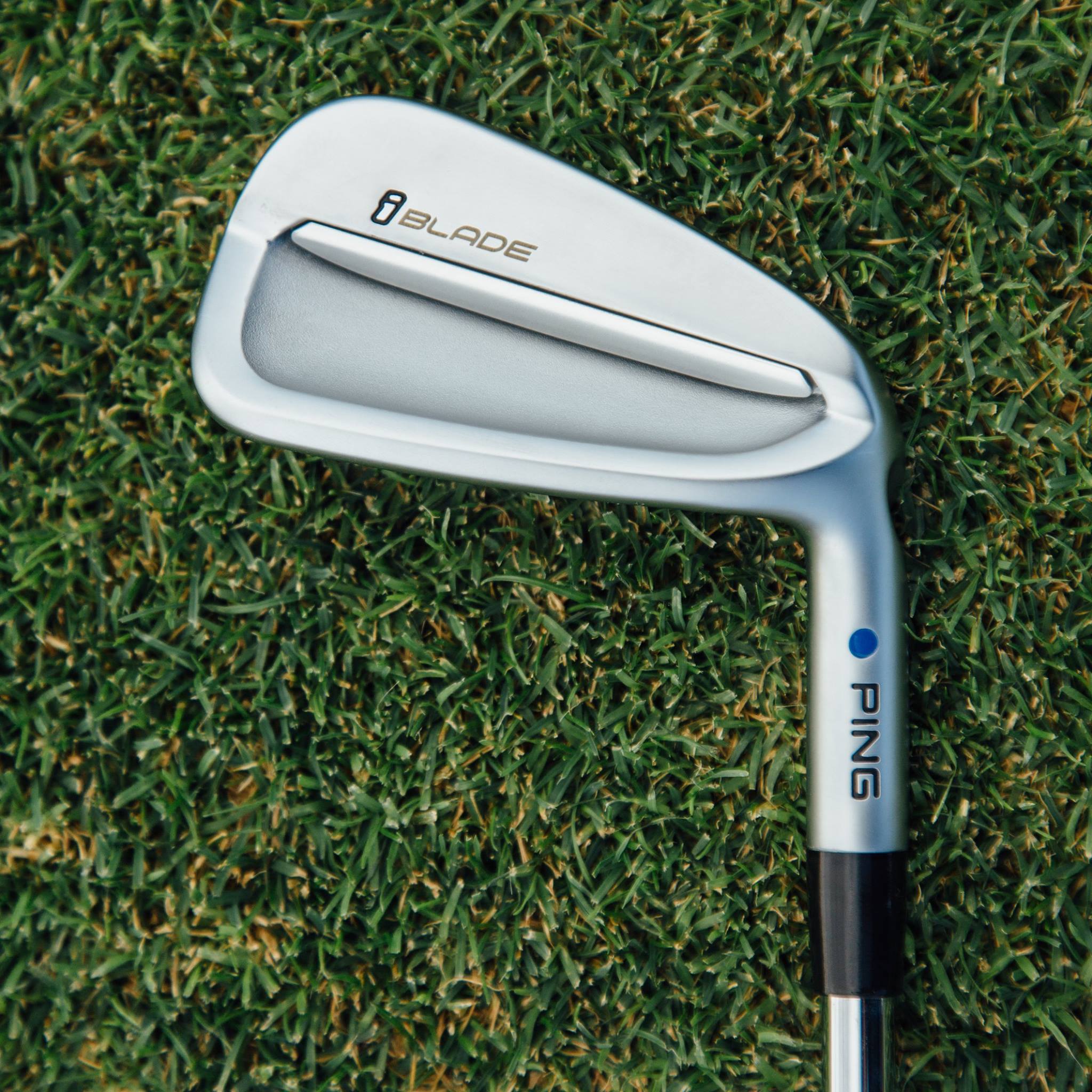 I know what you're thinking… no, it's not an Apple + PING collaboration, but the iBlades are a work of art. The new iBlade irons are distinguished by the softest, purest feel PING has ever achieved in an iron, with the workability and control to shape shots on command. Through extensive R&D, as well as working closely with top PGA tour pros, PING engineers designed the clean, compact iBlade iron to surpass the expectations of skilled golfers who rely on the precision and control to execute the most demanding shots in the game.
Forgiveness is also factored into the design. Nearly "pure" tungsten weights (netting a 70% increase in mass relative to the S55 iron) are pressed into the toe of every head to increase the MOI – a key factor in the precision of the iron.
If the golf junkie on your list is looking for a classic PING iron set with enhanced feel, ball speed and some devilish handsome lines – the iBlades are the way to go this holiday season.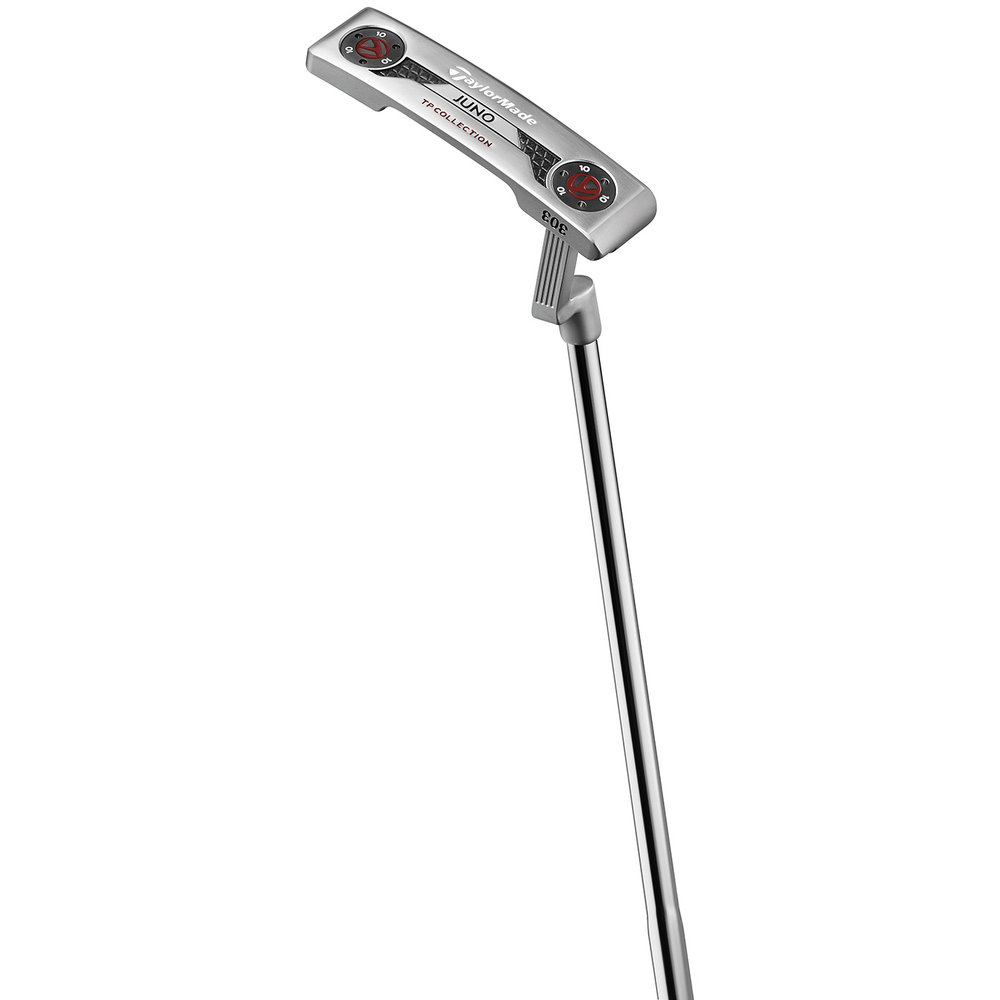 First played by Sergio Garcia in Hazeltine at the Ryder Cup, the Juno putter features longer squared off contours with a single sightline on top. How can you go wrong with this classic look!? The pads also have fine linear machine lines. This blade-style model comes stock with a plumber's neck hosel. Not to mention the back side of the putter is ideal for picking up gimmies.
This putter delivers classic lines and serious control on the greens. Driving is for show and putting is for dough… so why not put some of your holiday funds towards a piece of equipment that can pay for itself!
Tour Preferred X Golf Balls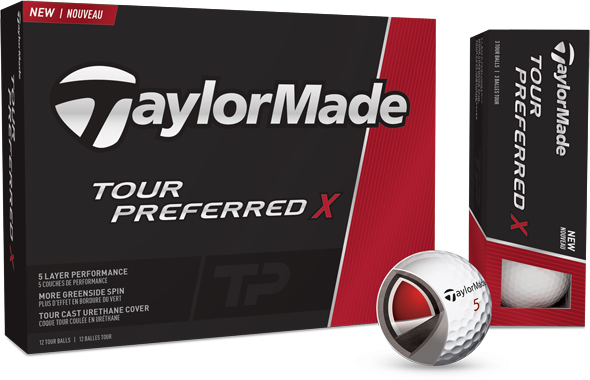 The new Tour Preferred X ball (5-layer construction, 87 compression) features a new thicker re-engineered Soft Tech cast urethane cover for more greenside control and the same LDPTM 322 dimple pattern found in the Tour Preferred. Similar to its predecessor, the Tour Preferred X delivers low spin off the tee, low iron ball flight but with more greenside spin.
No only is this a great ball for the everyday golfer, it's also preferred by some of the best players in the world. Including Dustin Johnson, Sergio Garcia, Justin Rose and 2015 PGA Champion Jason Day, along with dozens of others. Looking for a great gift that won't bust your wallet? This is it!
Wilson NeXus II Carry Bag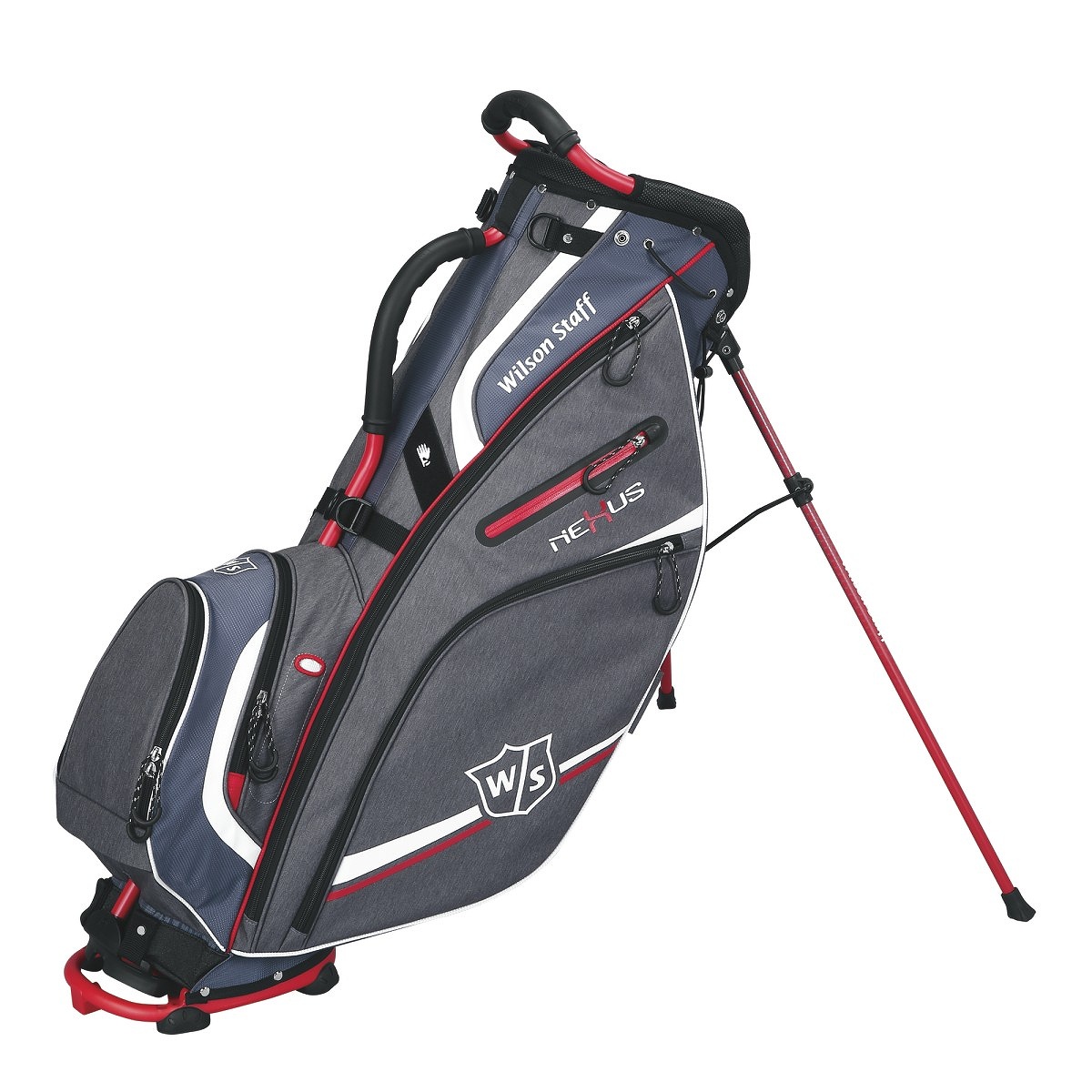 The new Wilson Staff neXus II carry bag has completely reengineered the carry bag with a 360 degree integrated mechanism. Its sturdy aluminum frame connects the spine, top, stand, and base to work interdependently. When the base makes contact with the ground, the base continues to remain flat.
Specs:
Weight: 5.2 pounds
Top dimensions: 9 IN deep x 8 IN wide
5-way top
Three full-length dividers
6 Colorway options
– The Adventurer –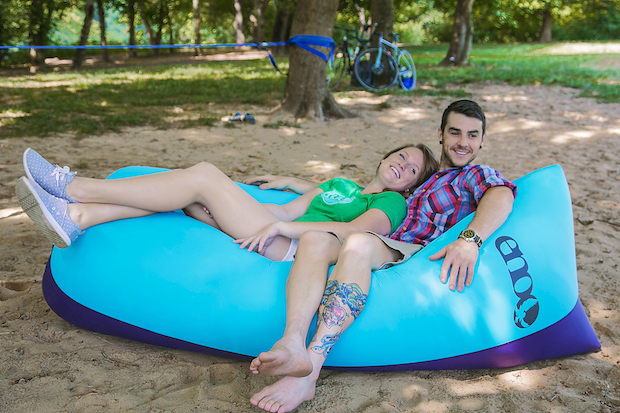 With the Billow Air Lounge, ENO put their own spin on the latest in nomadic comfort to take relaxation to the next level. This lightweight, inflatable air lounge steps things up a notch with an integrated pocket, triple stitched nylon and a custom carry case. ENO has even included two stakes and a patch kit to ensure security and longevity no matter where the Billow takes you. This is the perfect beach companion. It is also ideal for camping or just setting up in the back yard to catch some rays while the day drifts by. The Billow is one of our favorite new inventions of the year. So comfy, so soft… ahhhh, is it time for a nap? I think yes!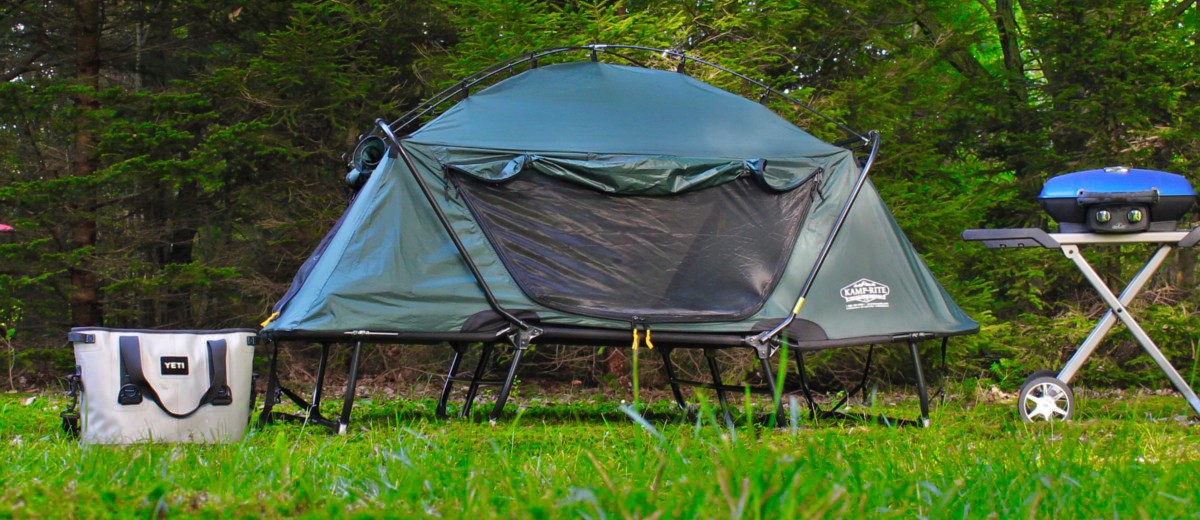 Ringing up at $299, the tent cot is worth every last penny. We've tested a lot of tents in the past few years and none of them offer the instant comfort that Kamp-Rite does. Being off the ground is amazing in the woods. Usually if we're sleeping off the ground it's in a hammock, but hammocks can be claustrophobic and hard to stay comfy in. The tent cot allows you to move, sleep on your side, front or back and be up/away from all the critters on the forest floor. For the money, this is one of the best tents we've tested.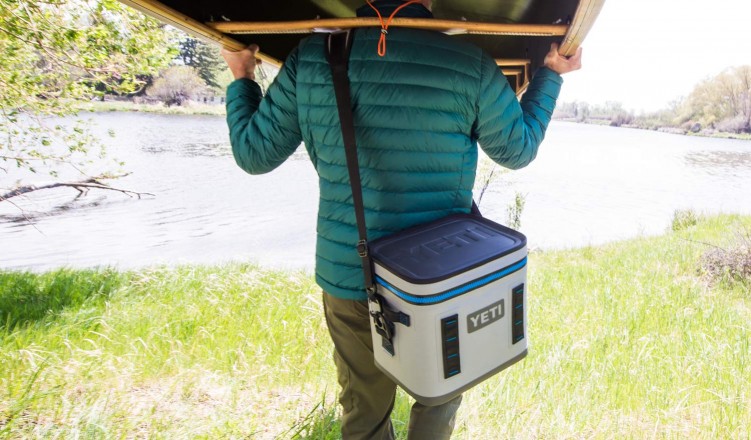 Designed for a day trip on the water, a round of golf on the links or anything in between, this is Yeti's most compact cooler to date. With space for 12 cans and some ice, the Yeti Flip 12 is handsome, rugged and totally leak-proof. The over-sized hydrolock zipper is insanely rugged! Make the Flip your lunch box for work, your sidekick while fishing or drag it to your next tailgate and become the envy of the party. This cooler has become our best friend and makes the perfect holiday gift for that special someone who doesn't go anywhere without their cooler.
Keen Women's Oakridge Waterproo Boot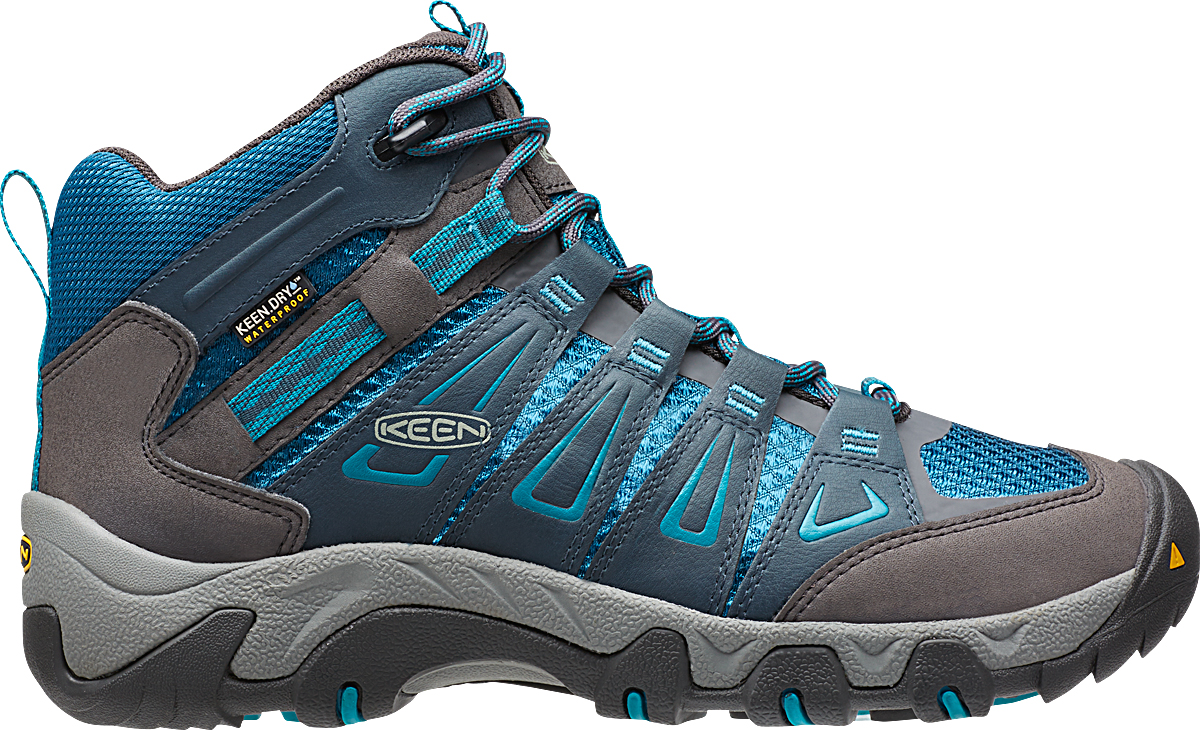 For multi-mile comfort and support, pick an all-purpose women's hiking boot like this. It provides cushioning and stability, and the rugged tread adds traction. Keen's signature waterproof membrane and mesh lining keep your feet dry while allowing them to breathe.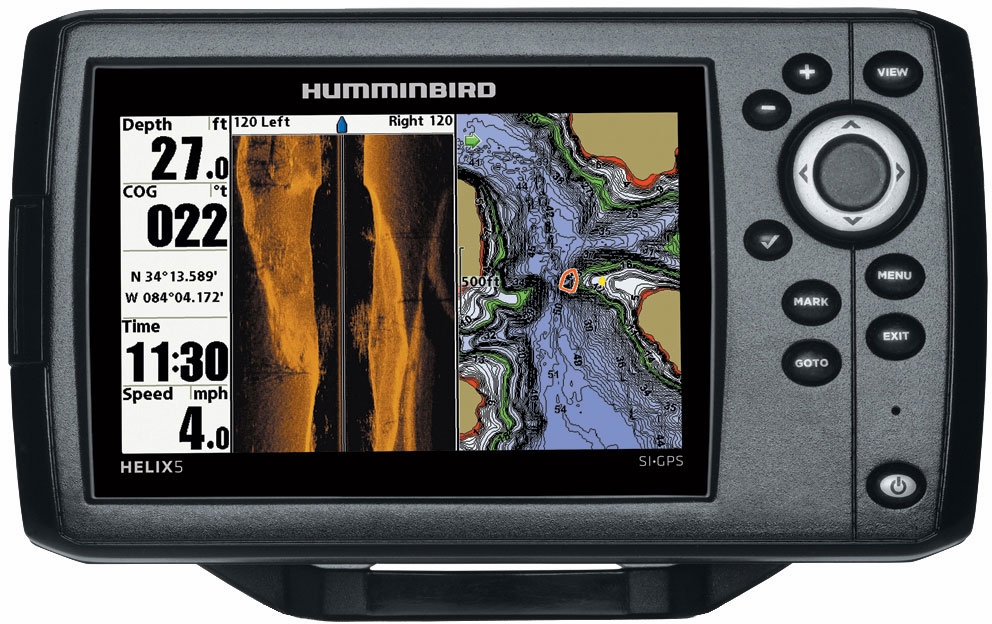 Pre-loaded with AutoChart Live and are compatible with all Humminbird LakeMaster charts, including SmartStrike, the HELIX 5 G2 is a fish finding MACHINE!! This unit is outfitted with all the bells and whistles, including digital sonar, Side Imaging and Down Imaging capabilities that have been enhanced through the use of CHIRP operating frequencies.
The HELIX 5 CHIRP SI GPS G2 with Humminbird's new user interface and operating system, features a brilliant 800H x 480V, 5″ 256 color display with backlight. CHIRP Side Imaging/Down Imaging and DualBeam PLUS sonar with 4000 watts PTP power output, Precision Internal GPS Chartplotting with built-in UniMap cartography with a micro SD card slot for optional maps or for saving waypoints. Thinking about a different sonar? Think again, the HELIX 5 G2 is what the fisherman on your list wants.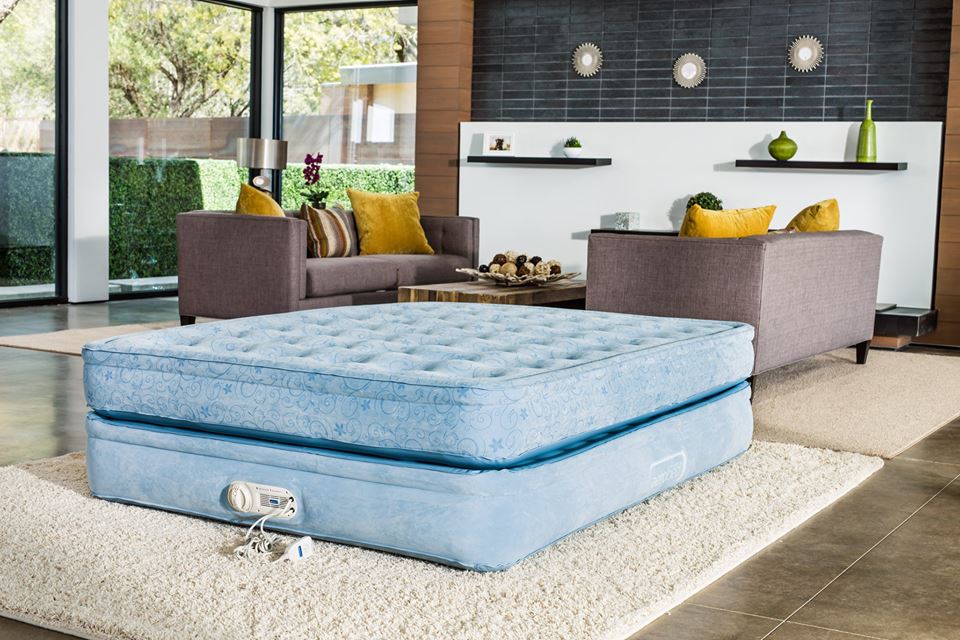 With a built-in pump you or your guests will feel at home wherever they are. Similar to a traditional bed, the 4-layer construction provides extra support for a more restful sleep, and lets you dress this mattress with standard sized bedding. The built-in pump with a firmness control wand lets you easily inflate the mattress without bending down, and once it's inflated, your guests can adjust the firmness to their liking without getting up. Once inflated, you'll find comfort similar to a traditional bed. When you're ready to pack up, the Whoosh valve helps deflate the bed with ease, and the carry bag offers simple storage until the next relaxing night.
Whether you're camping or having friends over, the Aerobed delivers serious comfort and is super convenient and portable. It is always nice to have one on-hand for your next big adventure.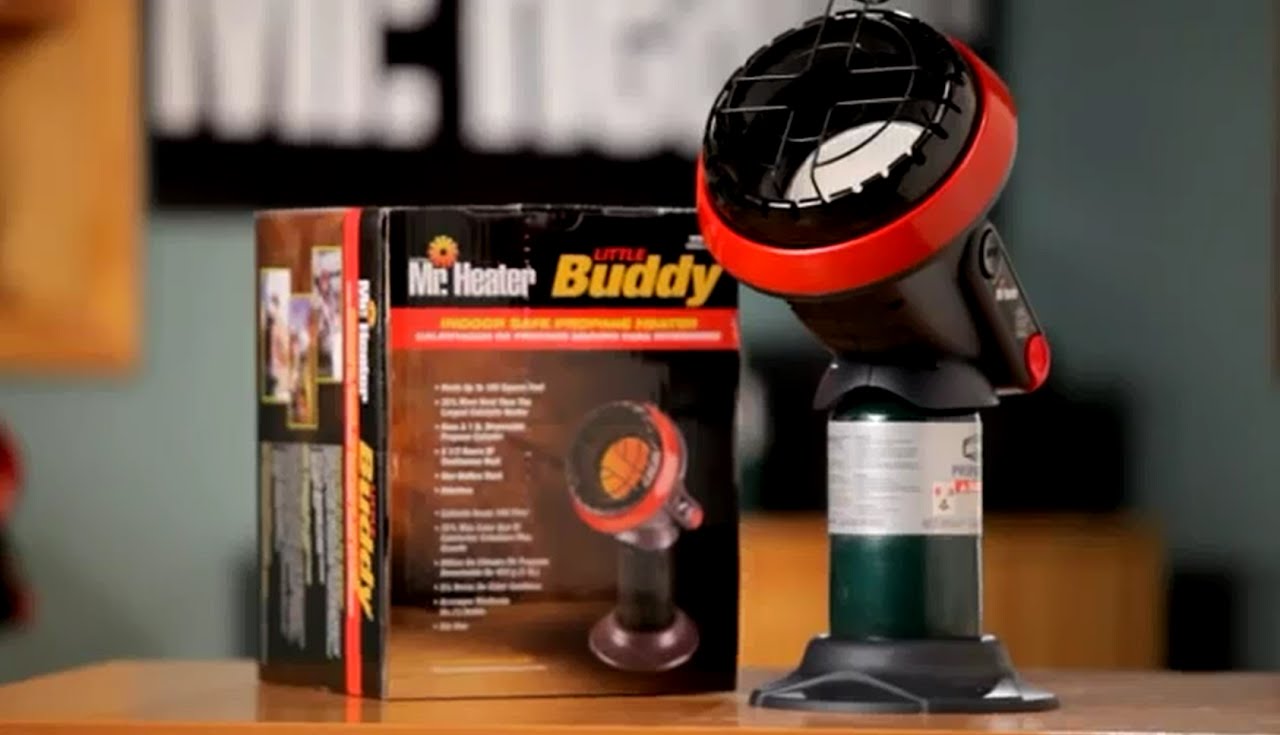 Cranking out 3,800 BTUs, the Little Buddy heater connects directly to a 1 lb. cylinder and is the perfect solution for heating small enclosed spaces like tents up to 100 sq. ft. The included base takes up little space and the integrated handle makes this heater an easy one to transport. To light the unit, simply push and hold the ignition button and the integrated Piezo sparking mechanism will take care of the rest. With the Oxygen Depletion Sensor (ODS) and accidental tip-over safety shut-off, you can be sure that you will enjoy years of comfortable indoor safe heat.
The Little Buddy heater is the perfect solution for hunting in cold blinds, ice fishermen who want to stay warm out on the ice and for campers looking to take their adventures deep into the late season.
– The Chef –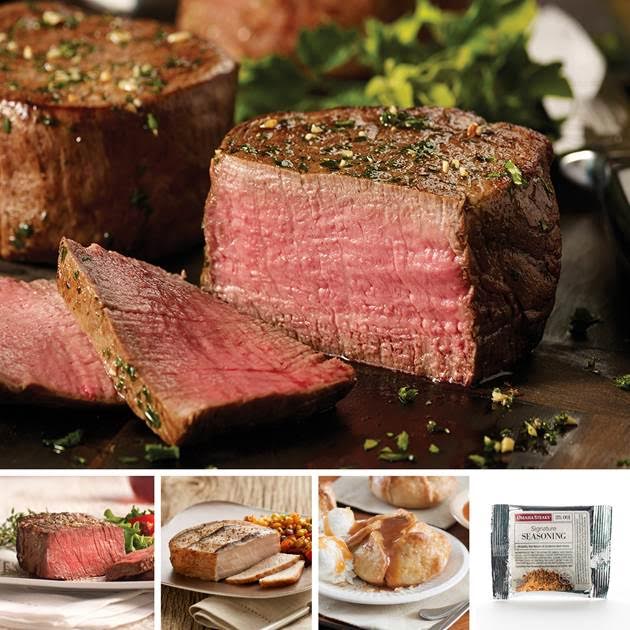 Now here's a gift package that any carnivore would love to feast on. Omaha Steak's Tasteful Gift Package ships to your door in a cooler filled with 2 filet mignons, 2 top sirloins, 2 boneless pork chops, 4 potatoes au gratin, 4 caramel apple tartlets and a packet of Omaha Steak seasoning! If you're mouth isn't salivating after hearing that it's time to check your pulse – you might be dead, or you're a vegetarian. Neither of which is a good option really.
That's a lot of meat for $69.99. Best of all… it's REALLY good too! The steaks are tender and flavorful. The steaks are excellent, the potatoes are to die for and the apple tartlets are a perfect desert. This is the gift that people love. Something you know they'll use. And if you're smart you'll invite yourself over for dinner to test out the steaks!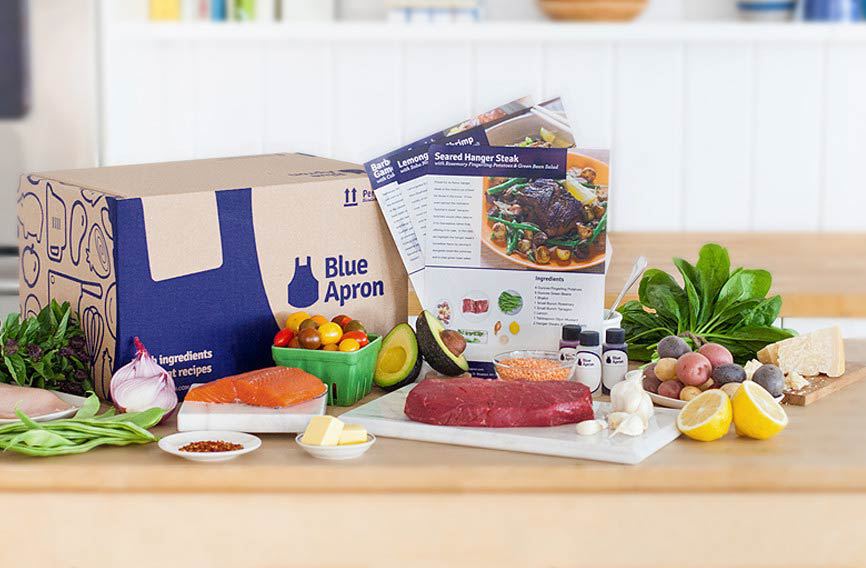 If you love to cook or would love to learn how to cook something more than spaghetti, Blue Apron is a fun and delicious gift idea. Here's how it works! Blue Apron's team creates amazing recipes at their home base using top grade, seasonal ingredients. You log in to their website to let them know your preferences including your dietary needs, any delivery scheduling notes, and if you want meals for 2 people or a family of 4. Blue Apron perfectly packs together all of the ingredients in refrigerated boxes and delivers it right to your door. We're talking down to the per portion of required spices for the recipe. No last minute dash to the grocery store when you order with Blue Apron! The fun part is that along with all the ingredients, are easy to follow recipe cards so that just about anyone can pull off a gourmet meal.
To prove it, Blue Apron delivered a box of 3 ready to prepare meals to our door. Inside were three meals for two that we never thought in a million years we'd be making at home: Pork Meatballs in Butter Lettuce Cups with soy dipping sauce & sticky rice, Jamaican Jerk Chicken & Maduros with stewed collard greens & charred lime, and Salmon Pastrami on Rye with red cabbage & green apple slaw. What?! We were a bit intimidated but the meticulously portioned & labeled ingredients and the recipe cards made it actually enjoyable and easy. And of course, the end results were delicious!
– Vices – 
Johnnie Walker Blue Label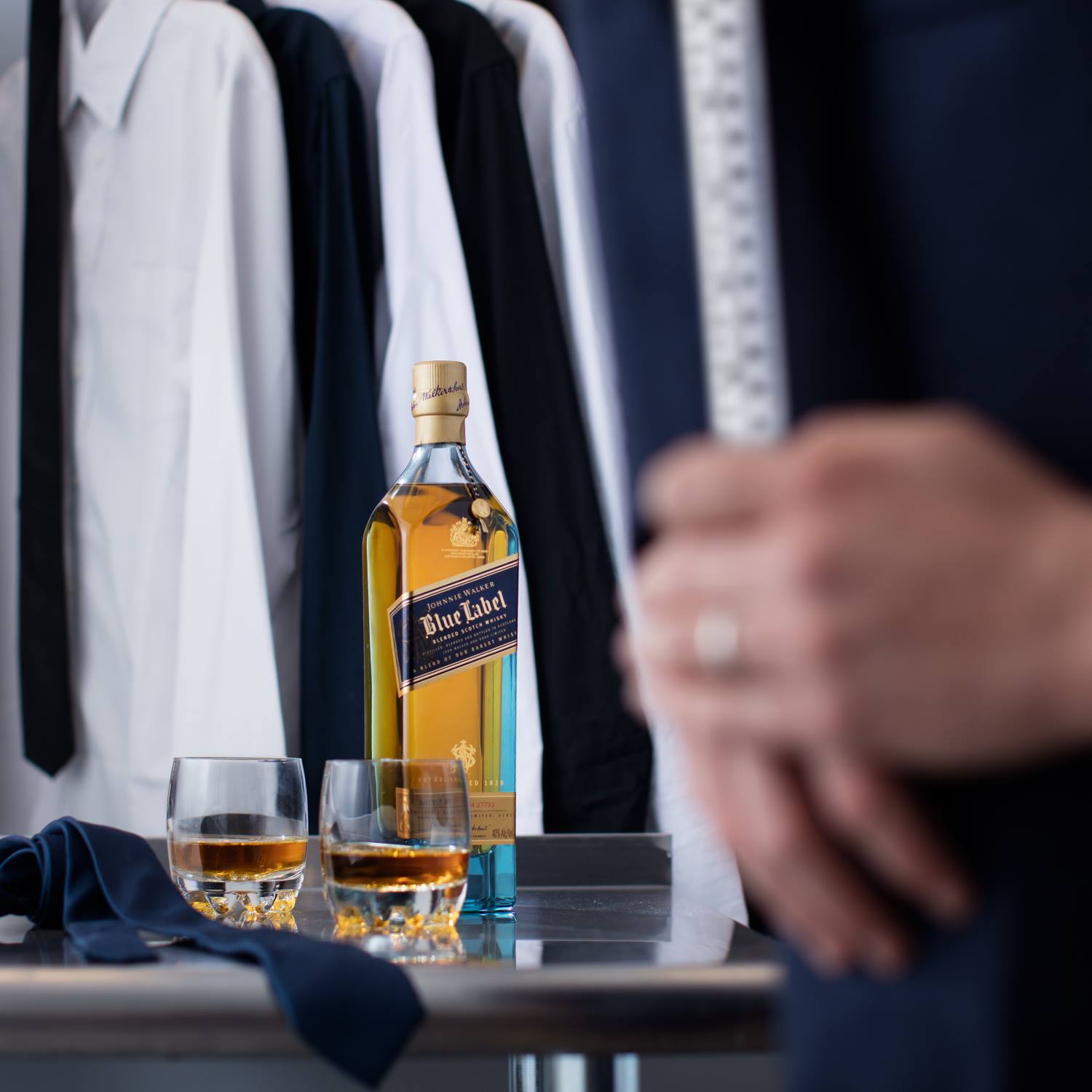 The creme of the crop in the scotch world, Johnnie Walker Blue Label is one of the most sought after… and expensive Scotches on the market today. In fact, each bottle is so rare and special the distillery individually numbers each bottle to recognize the rarity of the liquid within. And if that weren't enough to give you pause, you should also know that every bottle of Blue Label is produced with whiskies that come from distilleries that no longer exist, making this rare blend even more special. It's been a bucket list scotch for us to taste and review over the years, and this holiday season we were given our chance.
So how does it taste? Well, we're glad you asked… On the nose Blue Label delivers has hints of smoke, wood and dried fruit, while the body is soft and mellow with sherry, honey and vanilla notes. It has a bold intensity of peatiness with dark chocolate overtones. There's only one way to enjoy Johnny Walker Blue Label and that's neat. No water or ice necessary -simply sip, swirl and repeat.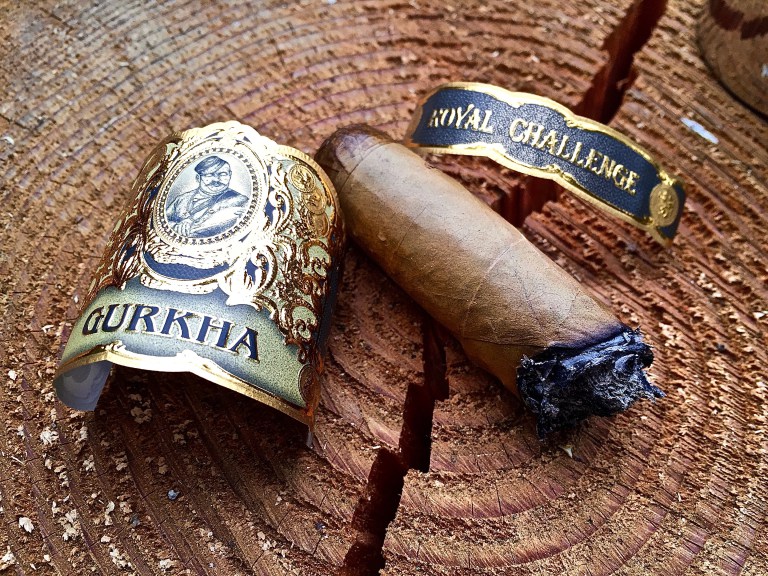 Gurkha makes a wide range of cigars, and most will fit the wallet needs for those looking for a decadent smoke for any occasion, and the Royal Challenge is no exception. Hovering around $6.75 a stick, you won't have to take out a second mortgage to have a bit of royalty in your life.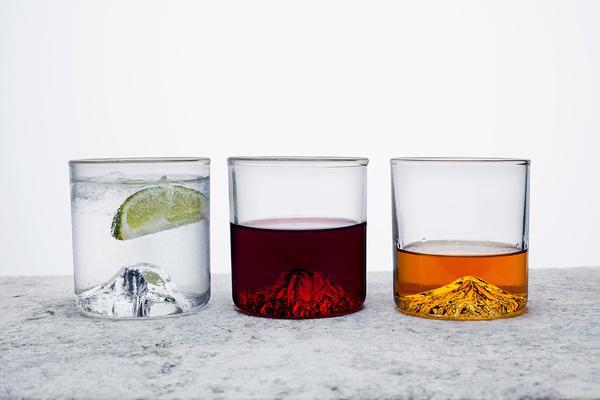 The perfect gift for outdoor lovers, mountain climbers, or anyone that enjoys adding a touch of art into the afternoon cocktail, North Drinkware is constantly looking for the next landscape to immortalize. With pints, coasters, and tumblers available, a drink has never looked to pretty.
Jack Daniel's 150th Anniversary Whiskey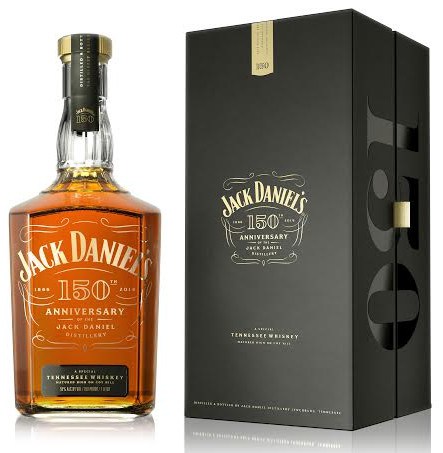 As you may already know, 2016 is a very special year for Jack Daniel's as a brand. In fact it marks their 150th anniversary distilling Tennessee Whiskey. Commemorating this unmatched milestone, today Master Distiller Jeff Arnett announced a new limited edition whiskey hitting shelves September 1st. Jack Daniel's 150th Anniversary Whiskey is produced the same as famous Old No. 7, (80 percent corn, 12 percent barley and 8 percent rye) however to make this whiskey distinct they matured it in barrels with a "heavy toast" and light char to produce a totally unique Jack Daniel's Tennessee Whiskey.
Order at your local liquor store!
– Style –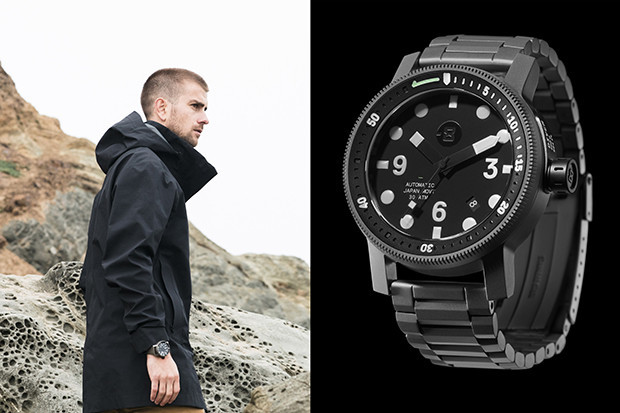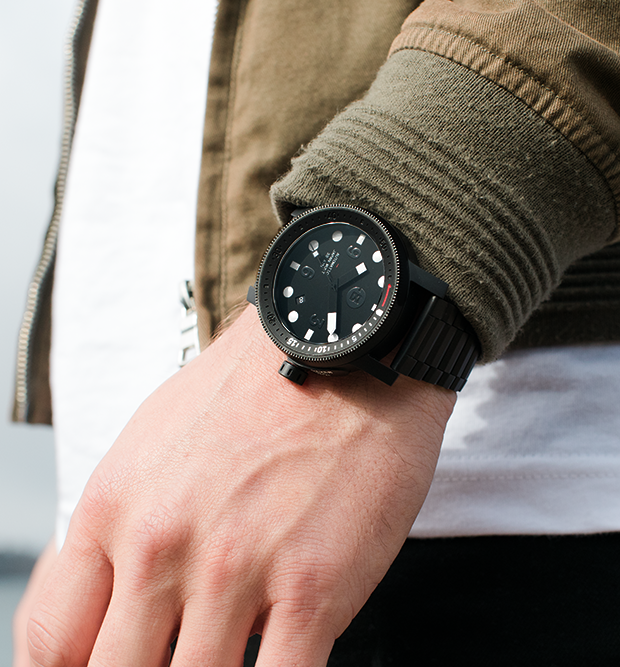 Love this timepiece. It is substantial, but not flashy, yet still catches a lot of attention. It is also very well made. The craftsmanship is very nice and the movement is wonderful.
Launched on Indiegogo in November, the MINUS-8 Diver already raised more then $107k. Featuring a titanium case and bracelet, a Seiko automatic movement, a helium-release valve, and a case that's waterproof to 300 meters. So not only is this timepiece truly handsome, but it is functional through and through.
Shinesty Vintge Style 80s Ski Suits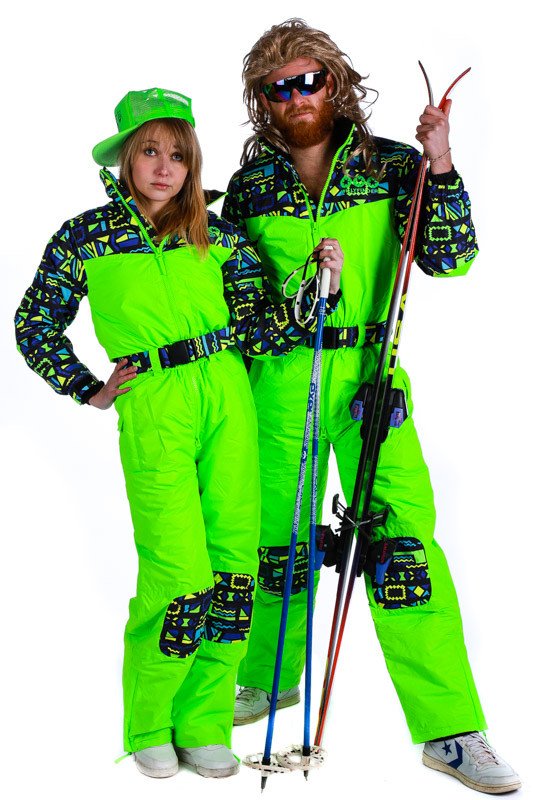 Ski season is upon us! If you want to stand out on the slopes there is no better way than suiting up in Shinesty's 80's ski suits. They make several different models and patterns. We love the Day-Glo the best! It has 80's flair and actually keeps you warm on the slopes. Best of all you'll never get lost from the group again.
"We wanted to call it the lean, mean, green-skid-mark-making-machine…but it wouldn't fit. The name may be different but the reality's unchanged: when doing Mach 2 down skier's right that's all the world's going to see, hot dog. Aside from the steady stream of high fives, free beers, and copious digits you can expect from those elevator-eyein' you from the lift line, this sucker has insulating fleece inside that's so soft the cashmere industry just plunged" -Shinesty
Need new ski gear for the season? Look no further… Shinesty has you covered!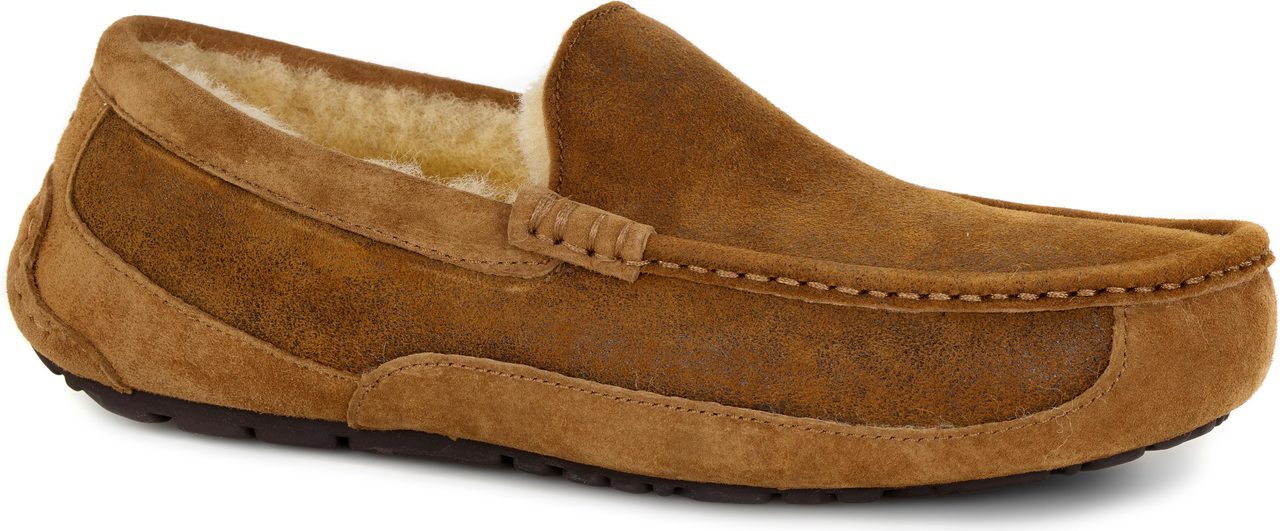 Inspired by the original flight jacket, UGG's best-selling men's style has been reimagined in rugged Twinface and suede with a distressed bomber finish. Lined with plush wool and fitted with a rubber sole, this is one slipper you can (and will) wear everywhere.
Comfortable, flexible, aerodynamic and most of all utterly radical, Chubbies are everything a short should be and more. Available in a never ending array of colors, patterns and materials, Cubbies Shorts were designed to keep the party going all year long. As the saying goes… "Sky's out, thighs out!"
Buy Now: $49.50 & up! or to learn more, go to: ChubbiesShorts.com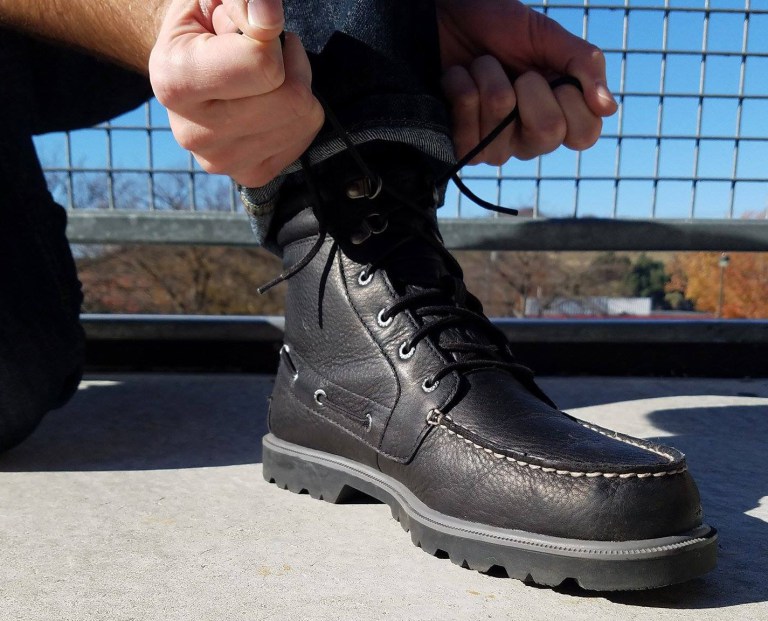 Not just stylish and useful in a range of environments, the Sperry AO Lugg Boot will last for the Fall season and many more to come. It will handle all the weather that Autumn has to offer and it will get you through it warm and comfortably. Sperry continues to impress us with their solid construction and the great materials they use, and for these reasons we definitely see the AO Lugg Boot as a worth while item this Fall as we prep for another Winter.