We've all seen Division One college athletes sporting top-of-the-line $100+ sweat pants and $150+ sweatshirts.  Yet, even with their long, square frames, well-toned bodies and branded gear they typically look sporty at best, sloppy at worst.  This begs the question:  Is it possible for any item of clothing to pass as both casual and sharp?  Can attire be laid back and formal, easy-going and decorous, all at the same time?  Is it possible for footwear?
The UGG Leighton is all of these things.  Defying the laws of fashion the men's Leighton desert boots are simultaneously relaxed and extravagant.  Welcome to casual luxury.
We might find some explanation for the Leighton's casual luxury in UGG's origin.  Despite the relatively recent and explosive growth across the United States, UGG Australia has been here for more than 35 years.  It was founded and spread with Southern California surf culture in the late 1970's. Surfing is a sport that requires patience and harmony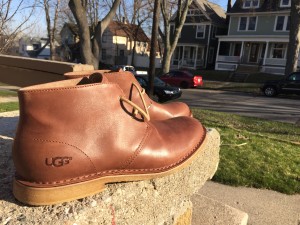 but when a wave is caught easy-going gives way to the majestic and beautiful.  By the mid 1980's UGG had "become a symbol of relaxed southern California culture."
Key Features: 
Leather
Cotton laces
Twinsole™ interchangeable insoles*
UGGpure™ wool or leather insole lining
Natural crepe outsole
4" shaft height
*The Leighton comes with a second pair of soles that Ugg calls the Twinsole™. You can choose between the slipper-like comfort of plush wool insoles and the traditional cushioning of leather insoles.
UGG Men's Leighton Review Breakdown
Design:
The Leighton is designed to show off the leather.  The desert boot style is timeless and has been crafted with a minimalist tradition that let's the beauty of the material and simple lines of the stitching do all the aesthetic work. Available in British tan, tan, black, chocolate, and chestnut the colors are rich and beautiful.  If I had my druthers I would own one of each color.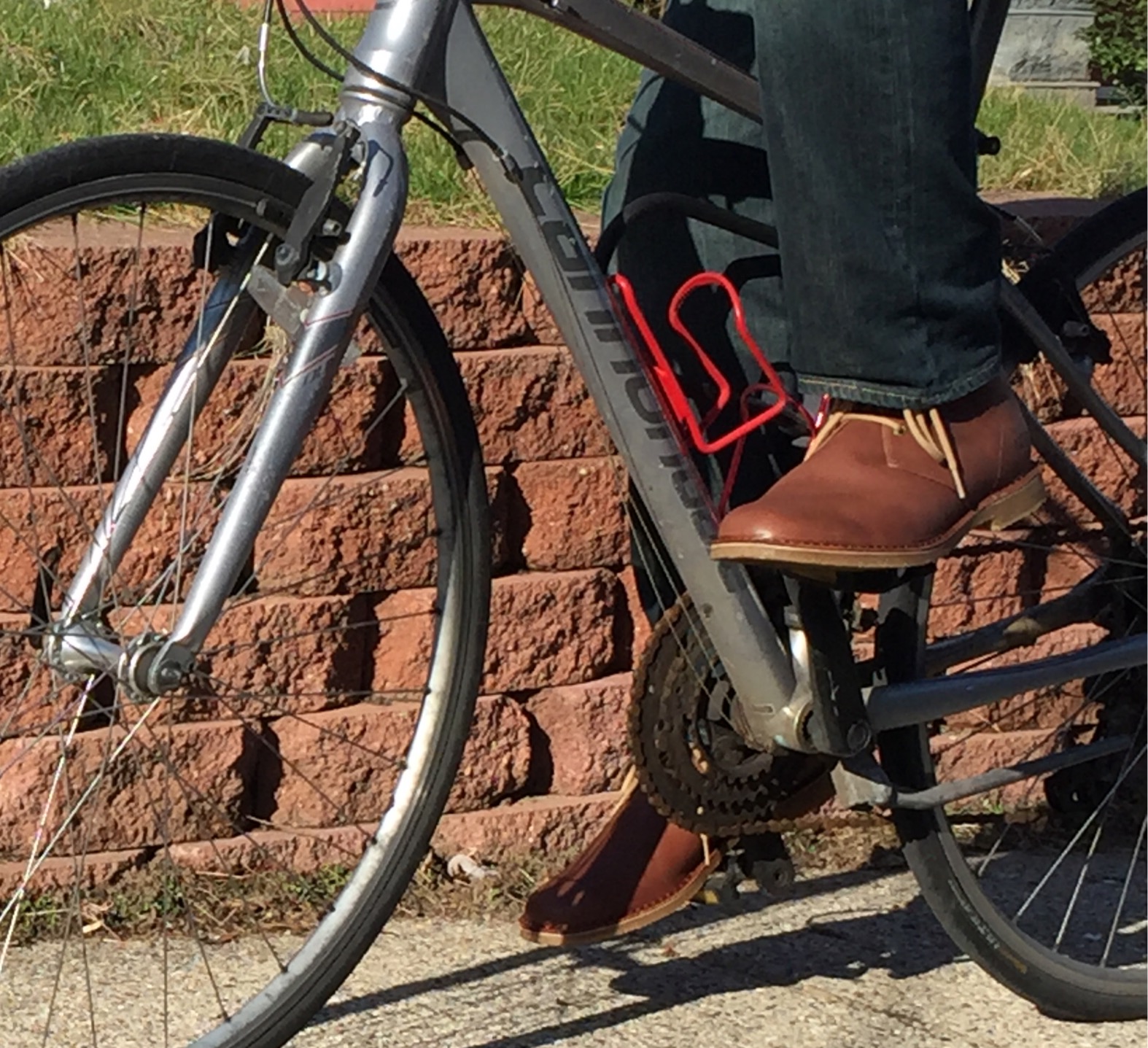 Style:
Some men have many shoes, but more men want a few shoes for many uses.  The men's UGG Leighton desert boot is a stylish shoe that works for almost every social situation. This boot has range!  I don't even know whether to call it a boot or a shoe.   Few shoes can be smart, laid back, casual, and luxurious all at the same time, but this one pulls it off easily.  Wear them with nice jeans at a cafe, wear them with old jeans on the beach, around the campfire in the woods, at the office, to a job interview, with a sport coat, at a cocktail party, in a big city, to church, at a soiree, or for a stroll around the block.  Seriously, whatever!  Anything goes with this shoe, and it goes with everything.  You will always be in style.
Durability:
The durability of these boots might be an issue if you don't take care of them.  Don't let the casual slipper feel confuse you, this is serious leather and it needs to be protected as such.  UGG Leather Balm or another leather protector should certainly be used if you plan on ever getting caught in a rainstorm.  Also, pronators might wear down the crepe soles quickly and unevenly because of the soft bottom.  The UGG website warns that the the crepe "may become sticky when exposed to extreme heat. Store in a cool place away from direct sunlight."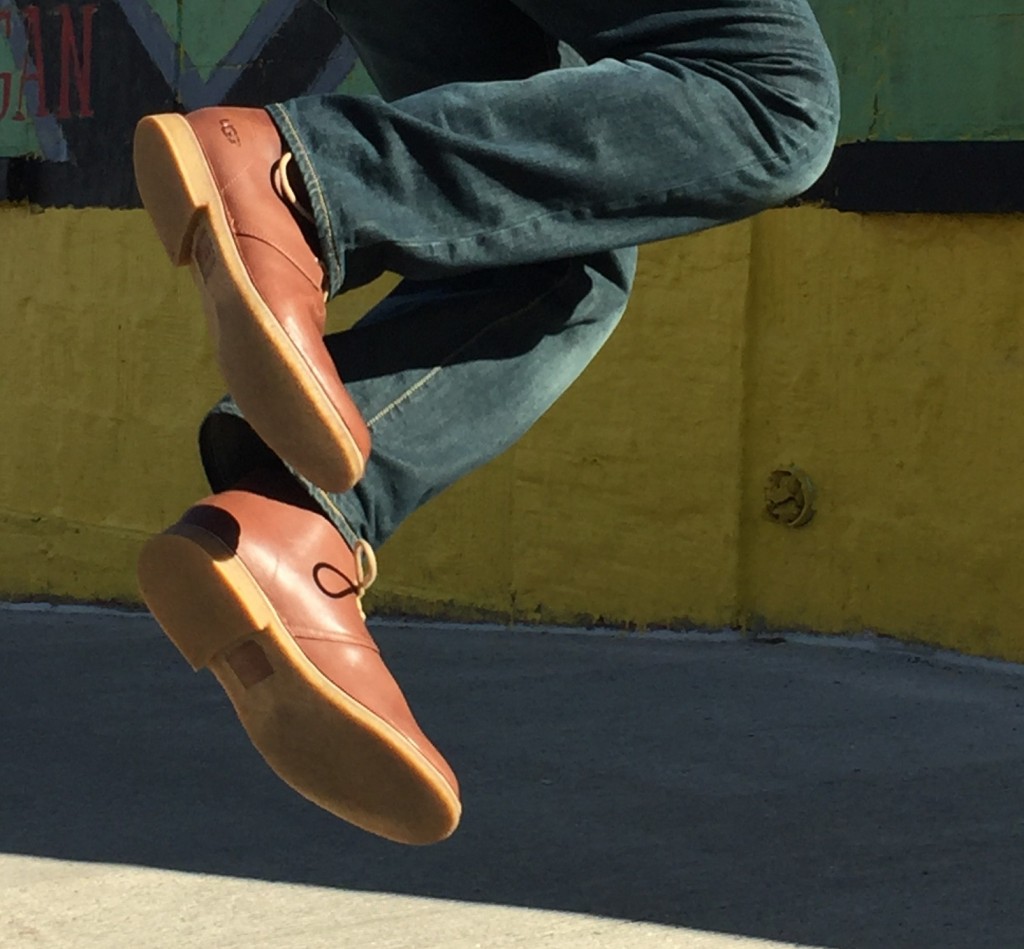 Value:
At $160.00 you're paying for the high quality materials and maybe even a bit for the brand. However, the versatility of the boot makes up for the price premium.  For guys that want to minimize their shoe collections this is your shoe. These are not athletic shoes or hiking boots, but they will do just about everything else.
Buy Now: $160 or to learn more, go to: UGG.com
UGG Leighton Desert Boot - Style Review
The Leighton is a timeless desert boot that will be a welcome addition in the discerning man's wardrobe. The Leigton's casual luxury makes this boot incredibly versatile. Take care of the leather to keep them beautiful and strong; pronators should probably avoid the desert boot style altogether.
The Good
High quality materials
Handsome
Versatile
The Not So Good
Protect the leather
Sole and ankle support