So you want to drive the ball further, lower your handicap, and play longer right?  Who doesn't?  You've practiced your swing, worked on your technique, but still lack the raw strength to drive that ball into oblivion.  Well, I have at least…  and if you are anything like me, you are looking for the next workout, next routine, next something that will get you to that next level.  Recently I had the opportunity to review TRX for Golf, lead by fitness expert Trevor Anderson (same guy who trains the current World #1 LPGA player Lydia Ko and many more).  I was already a fan of TRX, so of course I wanted to give TRX for Golf a shot and hopefully increase my driving power.  After spending a month following Trevor's routines with the at home fitness bundle, here's what I have to say…
TRX for Golf Review Breakdown
Equipment:
TRX Home Kit
TRX Rip Training Basic Kit
60 minute TRX for Golf instructional videos
TRX for Golf downloadable workout PDF
Six Downloadable Suspension Training Workouts
Rip Trainer Exercise Booklet
2 Additional 30-minute Real-time Rip Workouts
If you've never used a TRX system before then here's a little breakdown… The system itself is a Suspension Trainer (which is basically a pair of heavy duty adjustable straps with sturdy handles), door anchor, and suspension anchor.  The major appeal to the TRX system is its versatility and mobility.  You use your bodyweight and gravity to perform hundreds of different exercises.  You can then control the intensity by your body position.  If you want to take it with you, everything packs into a nice small mesh bag and can be setup again in about 60 seconds.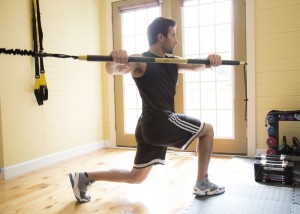 With TRX for Golf, you also get the added TRX Rip Training Basic Kit, which includes a 2-piece heavy duty Rip Trainer Bar with light, medium, or heavy resistance cord, swiveling eyelets, safety strap, and anchoring carabiner.  This kit allows you more exercises that improve resistance, stability, mobility, and coordination.  The kit we received came with a medium resistance cord, which is an all around good level.  However, if you are looking for bigger gains and have less room to work with, opting in for a heavy resistance cord might be worth it.  Similar to the TRX Home Kit, you can take this with you wherever you go and can be setup around a pole or tree, to a door, fence, or a rail/wall.
Routine:
There are three routines that came with the TRX for Golf kit; Suspension Trainer Golf Workout, Rip Trainer Golf Workout, and Multi-Modality Golf Workout.  Ideally the PDF's would have contained thumbnails with 2 step images of the exercises for each routine, but you'll have to watch the instructional video of Trevor Anderson to learn how to do each exercise with proper form.  These workouts are not too difficult compared to some of the other TRX workouts out there, but the focus here is on building stability, mobility, and coordination for your golf swing.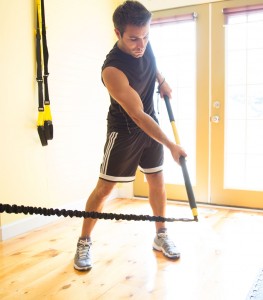 With that said, I noticed a difference after just a few weeks of these routines.
Some of the moves are familiar to past TRX exercises such as standing plank, low row, and TRX press.  However, once you get into the more golf specific moves, you'll start to notice a difference on targeted areas.  From the TRX Golf Swing with Lower/Upper Body Separation to Rip Trainer Backswing with hold position, keeping proper posture while maintaining heavy resistance is not as easy as it Trevor makes it look.  Sure starting off with 10 reps seems easy, but do a few more sets and you'll quickly see why these moves translate to the course.  Some of these moves won't be exactly like your actual golf swing, but you will be able to simulate some of the same movement properties that are associated with making it more efficient.
Results:
I've always wanted to drive the ball further.  My issue has been maintaining proper form.  The resistance training has definitely helped with keeping my lower body in position and syncing my upper body with a stronger and consistent rotation.  Just like with anything that will make you better, it takes time and effort to gain maximum results.  Just buying this system and watching the videos isn't going to cut it.  You'll have to put in the time and sweat to really get results.  I've been pleasantly surprised with the TRX for Golf kit and the routines that target a better swing to help my game.  In the first month I've gained about 20 yards on my drive and I have no plans to stop this training regimen any time soon.
Value:
With all the money spent on the course, what's another couple hundred to improve your game and enjoy your time out there even more?  It's no magic pill, but it is a system that has been proven to work for me.  If you want to take your game to the next level then I highly recommend getting the TRX for Golf.
Buy Now: $289.95 (use promo code: WALLET to save 15%)
To learn more, check out: TRXtraining.com
TRX For Golf - Fitness Review
I've been pleasantly surprised with the TRX for Golf kit and the routines that target a better swing to help my game. I have no plans to stop this training regimen any time soon.
The Good:
Easy to Set Up and Use
Easy to pack away and travel with
Routines actually work