Because we review so many products here at Busted Wallet, it can be challenging to find something that really makes us take a step back and appreciate where we are heading with future tech. Fortunately that future tech is available now. I've had the privilege to thoroughly test the Tonal system for over a month now and I'm still amazed by what this platform has to offer. We are talking a complete home gym that hangs on your wall and folds up behind a sleek 24″ interactive display.  Just the design alone is something to marvel at. Combine that with the intelligent features like dynamic resistance through Coach A.I. and real-time tracking and we have ourselves a personal trainer too. There are so many great features that make this system a "must have" if you are serious about getting into shape or maintaining your fitness. This is by far one of the best products I've reviewed to date. There's so much to talk about, so let's dive in.
Key Features:
Small and compact (Width: 21.50″, Height: 50.9″)
24″ Touchscreen display
Intelligent weight adjustments
Unlimited accounts per Tonal
Video based expert coaching with step-by-step instruction
Advanced weight modes like Eccentric, Chains, Burnout, and Spotter mode
Resistance: 100 lbs per arm (200 lbs total – in "bar" mode)
Wireless built-in Wifi & Bluetooth
Automatic tracking and reporting
Limited 3-Year Warranty
30 – Day Return Policy
Delivery/Installation/Setup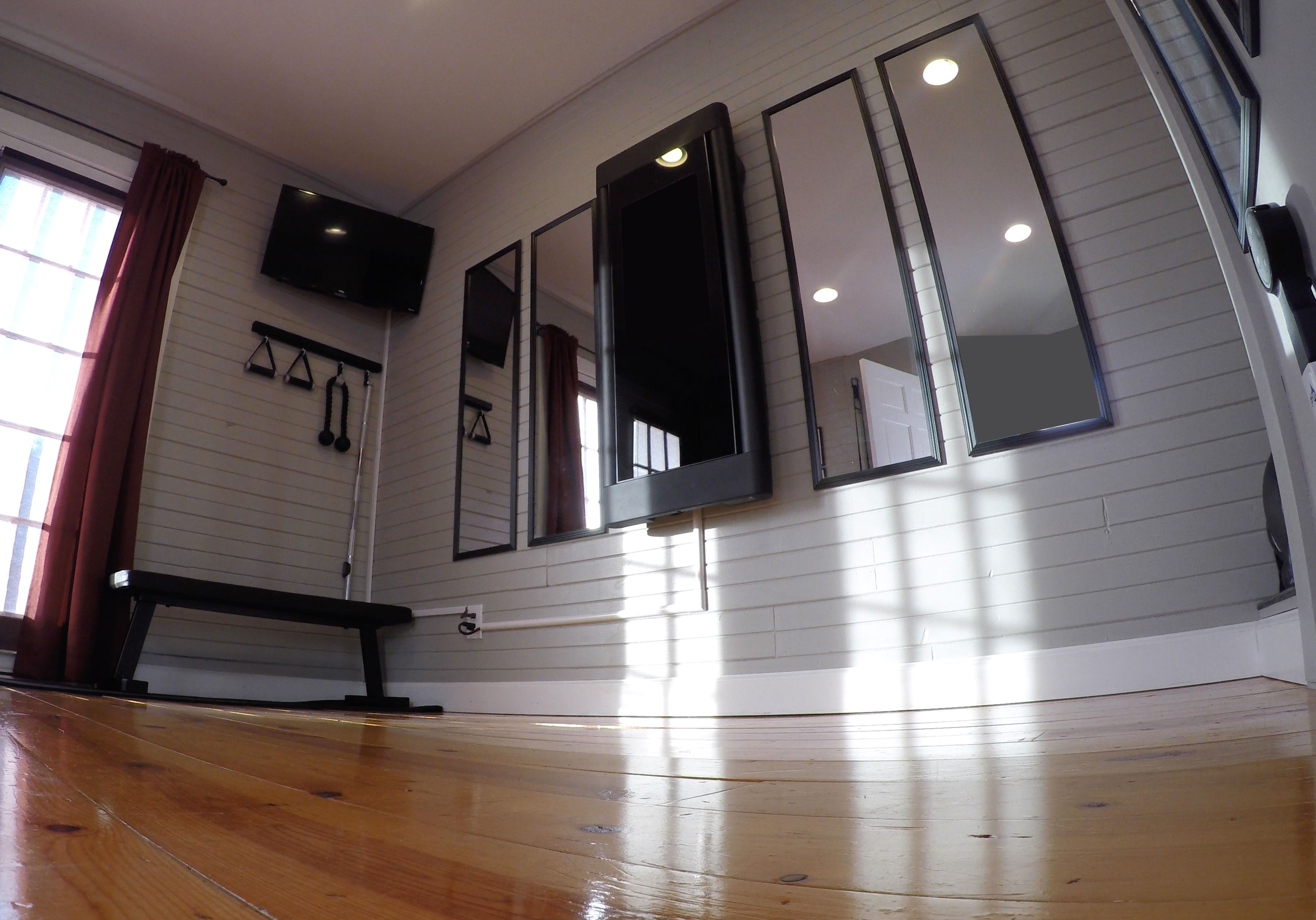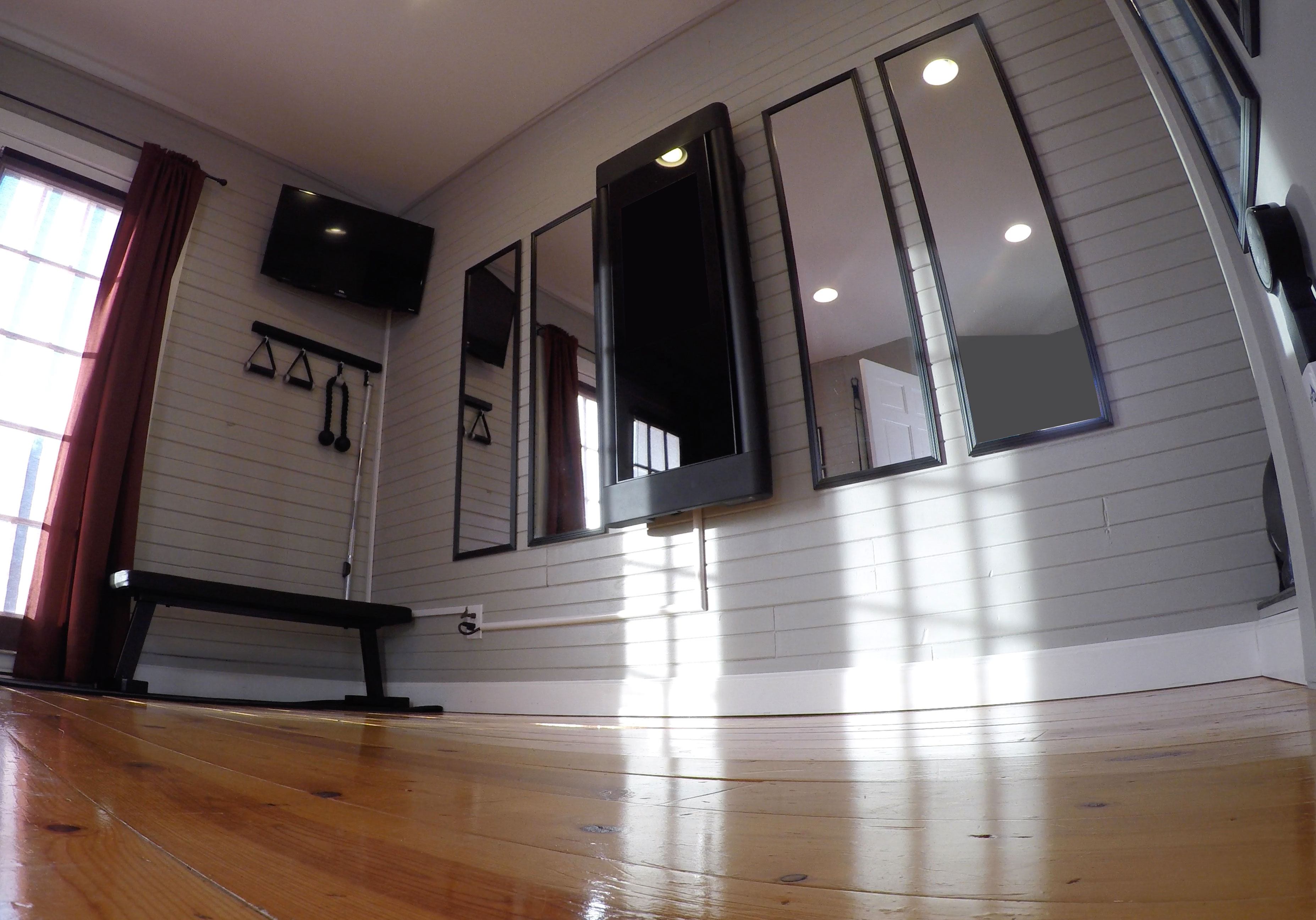 I hate to start this review off by talking about the only bad thing about my Tonal experience, but let's get this out of the way first. I was very excited when they scheduled the delivery of the Tonal. I understood, but was frustrated when they had to reschedule the first time, then I was even more frustrated the second and yes, third and fourth time. Because this system needs to be installed by professionals, it had to be sent to a HUB where a contracted company then takes over to deliver to your house for installation. This meant that I had two different companies to deal with. However, once they were finally able to deliver and install the unit in my house, the rest was very simple and fast. It took a little over an hour for the guy to install, mainly because my wall was a bit tricky, but they made it work great for me. Once it was mounted properly, I just had to setup my account and do the initial strength assessment. Once this is complete, Tonal will choose your weight for you from that point forward. This feature is a time saver and really helps me stay focused on the movements and breathing instead of adjusting weight or worrying if I have too much or too little. Although if you need to adjust the weight at any point in your workout, it's a super simple touch and drag on the screen.
Design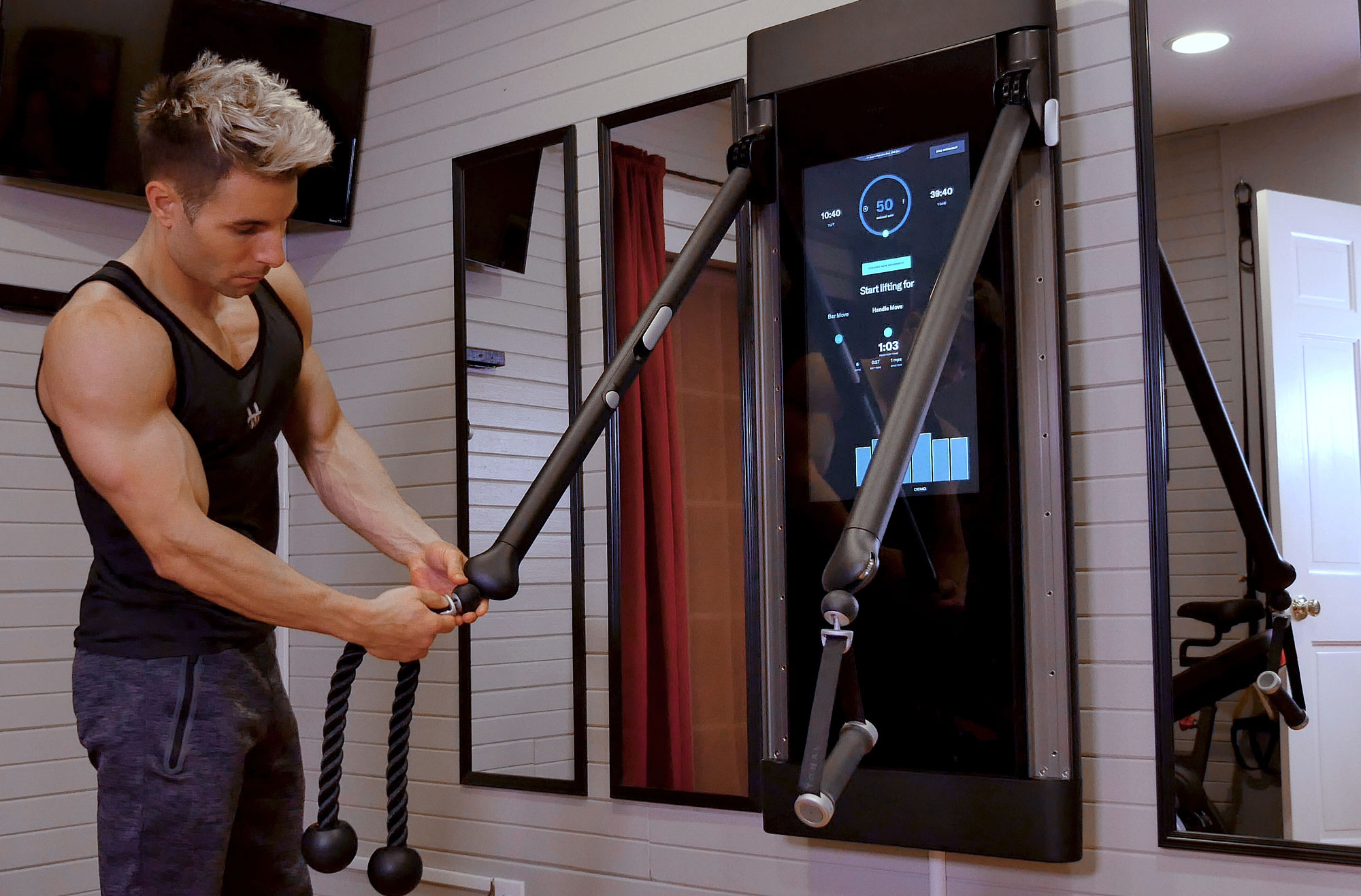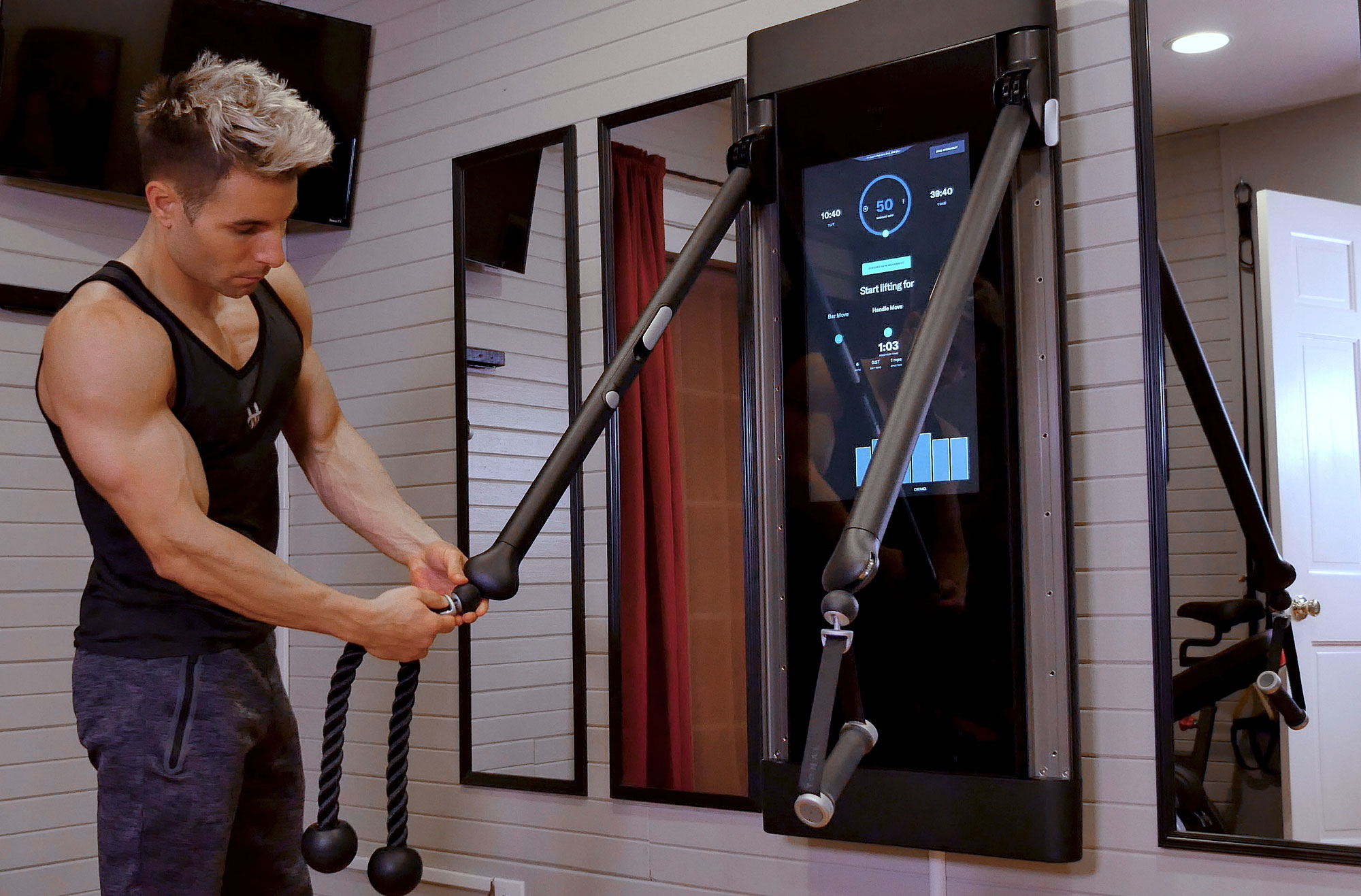 One of the best features about the Tonal, is the design. It eliminates the need for ugly, space-wasting, clunky equipment. Instead, it's actually a modern talking piece for you to show off when you have company over. I find myself smiling each time I walk by and excited when it's time to workout. I'm a little OCD when it comes to keeping things tidy around the house, so the Tonal is a Godsend for me and helps to keep my home gym nice and clean. When it's time to workout, simply rotate the shoulder out and lift the arms into place. There's two levers to properly position the arms at the correct angle you need for any movement. The angle lever allows you to rotate the arm up and down while the height lever allows you to adjust the overall height. The rotate button allows you to rotate the arm inward and outward. Once you have the arms where you want them, you'll want to attach a smart accessory.  Each handle has the button built right into the side making it easy to engage and disengage the weight. This was another amazing feature to really harness the power of the digital weights. I have a bad shoulder, so it can be challenging to get into a bench press position while having to reach around and lift up the weight into the right position like you would normally with dumbells. However, with the smart handles, I can simply lift the handles with no resistance, get into the correct position, then engage the weight when I'm ready. With this feature, I've been able to lift heavier weights without the discomfort I would get when lifting actual dumbbells. They also included a clip on bluetooth button for use with the barbell and rope so you can still get the same convenience using a different accessory. Each arm has the capacity to have 100 lbs of resistance. When you attach the barbell and enable "barbell mode", you then have 200 lbs of resistance. Once you are done with your workout, the arms tuck away nicely behind the display, leaving everything looking perfect.
UI & UX Design / App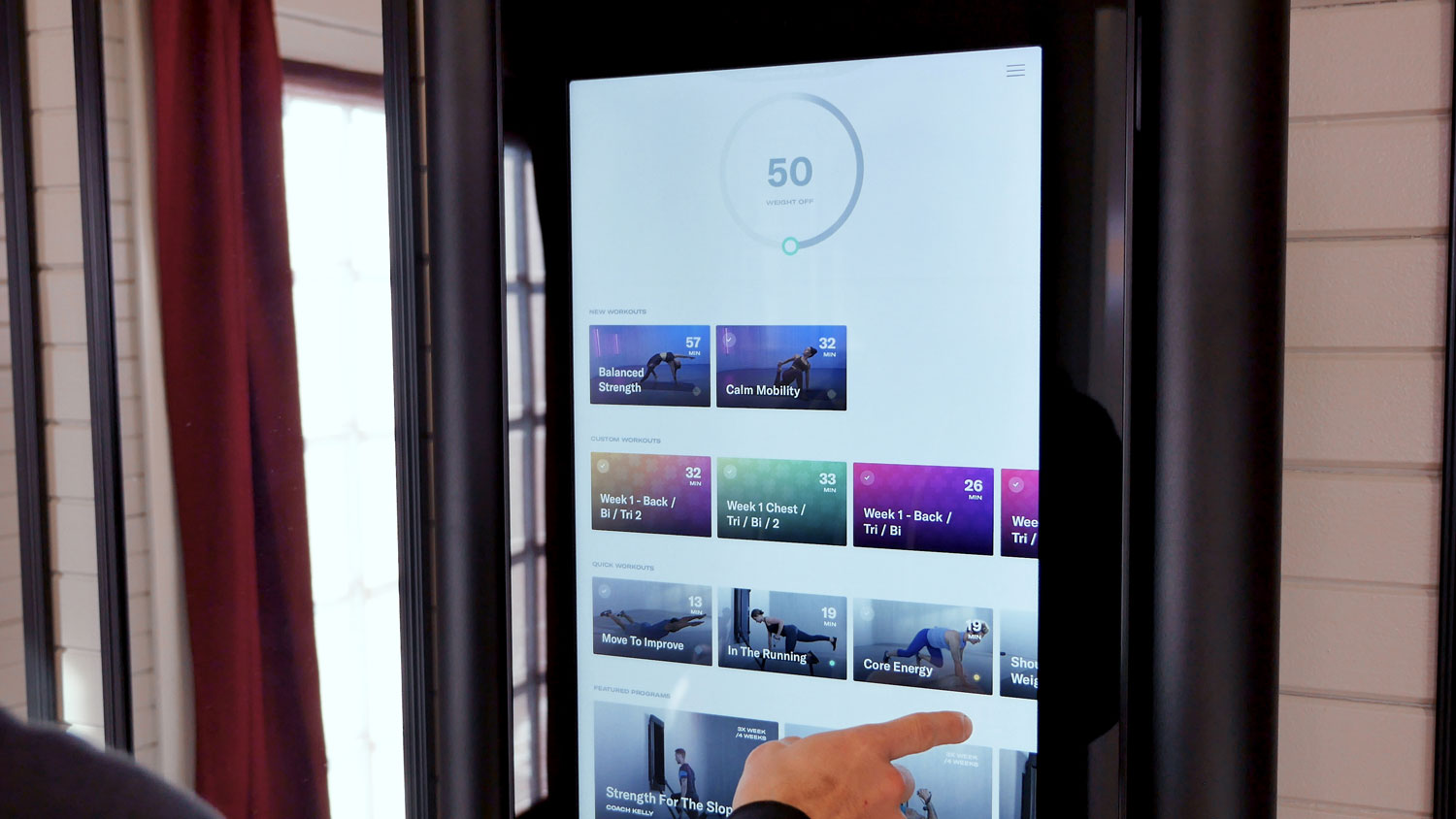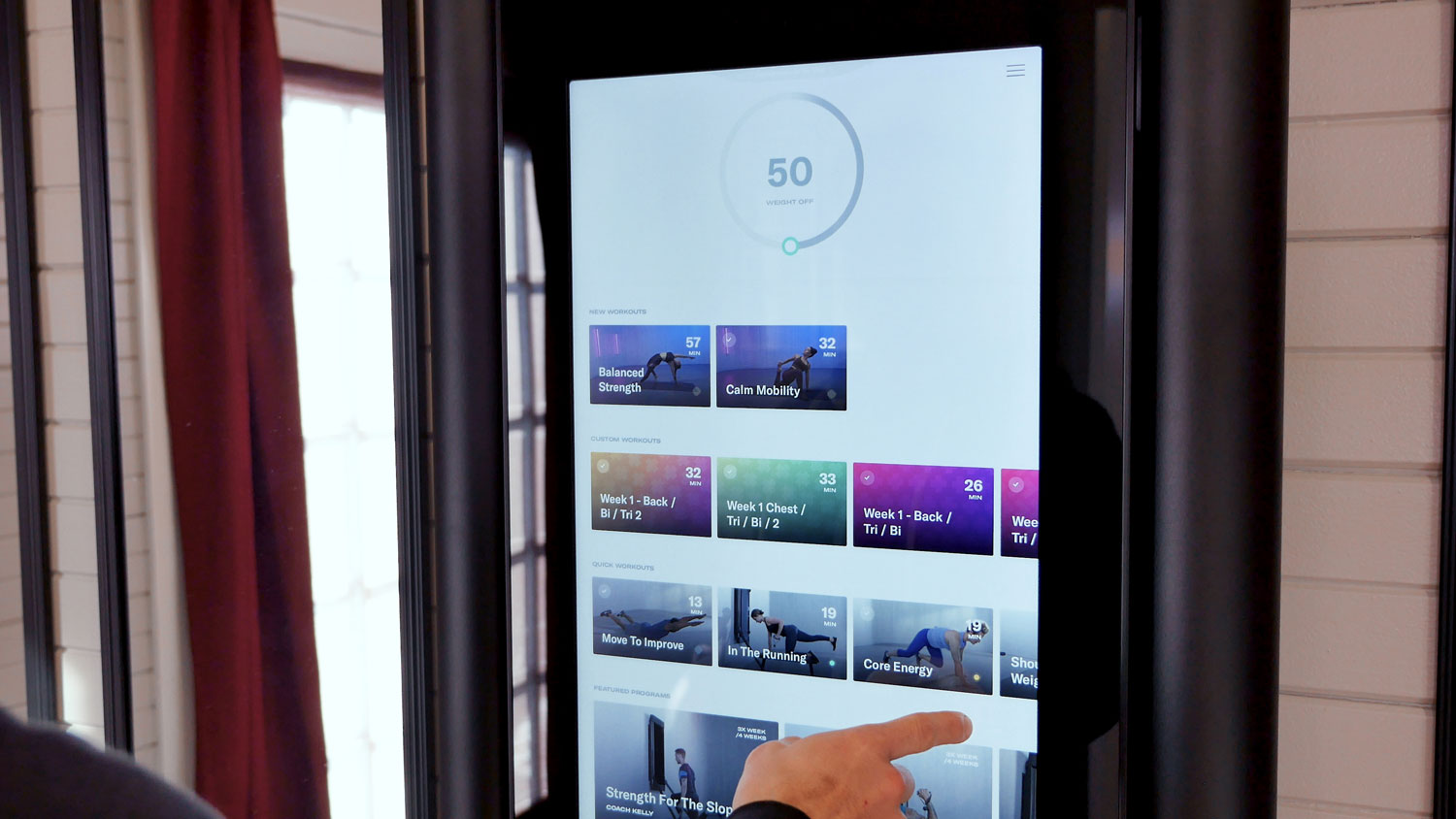 Aside from the very well designed hardware I discussed earlier, the software, User Interface, and User Experience, along with the mobile App integration are all proof that Tonal created a complete package that takes the guess work out for us users. Their brilliant designs make it a wonderful experience during the workouts as well as post workout for tracking and analyzing. The User Interface is simple to understand and intuitive so you don't waste time figuring things out or modifying the weight or exercise while in the middle of a workout. Each workout tracks the reps, sets, range of motion, time under tension, and power so you can focus on form and completing the movements. If a weight isn't enough or too much, it's just a simple touch and drag to adjust. No taking plates on or off or adjusting hard to reach pins on those archaic machines. You can also enable "Spotter" mode that'll help you complete the set if it notices you are struggling to complete a rep. Each movement also has an "Advanced Weight Mode", which includes Eccentric, Chains, or Burnout. The Eccentric mode allows you to also control the percentage of resistance for even more tension. The Chain mode makes it feel like you have the added weight of chains and the Burnout mode keeps adjusting the weight, allowing you to keep going till you can no longer lift, thus "burning out". You can also easily adjust the audio levels including the music, sound effects, and trainer to your liking.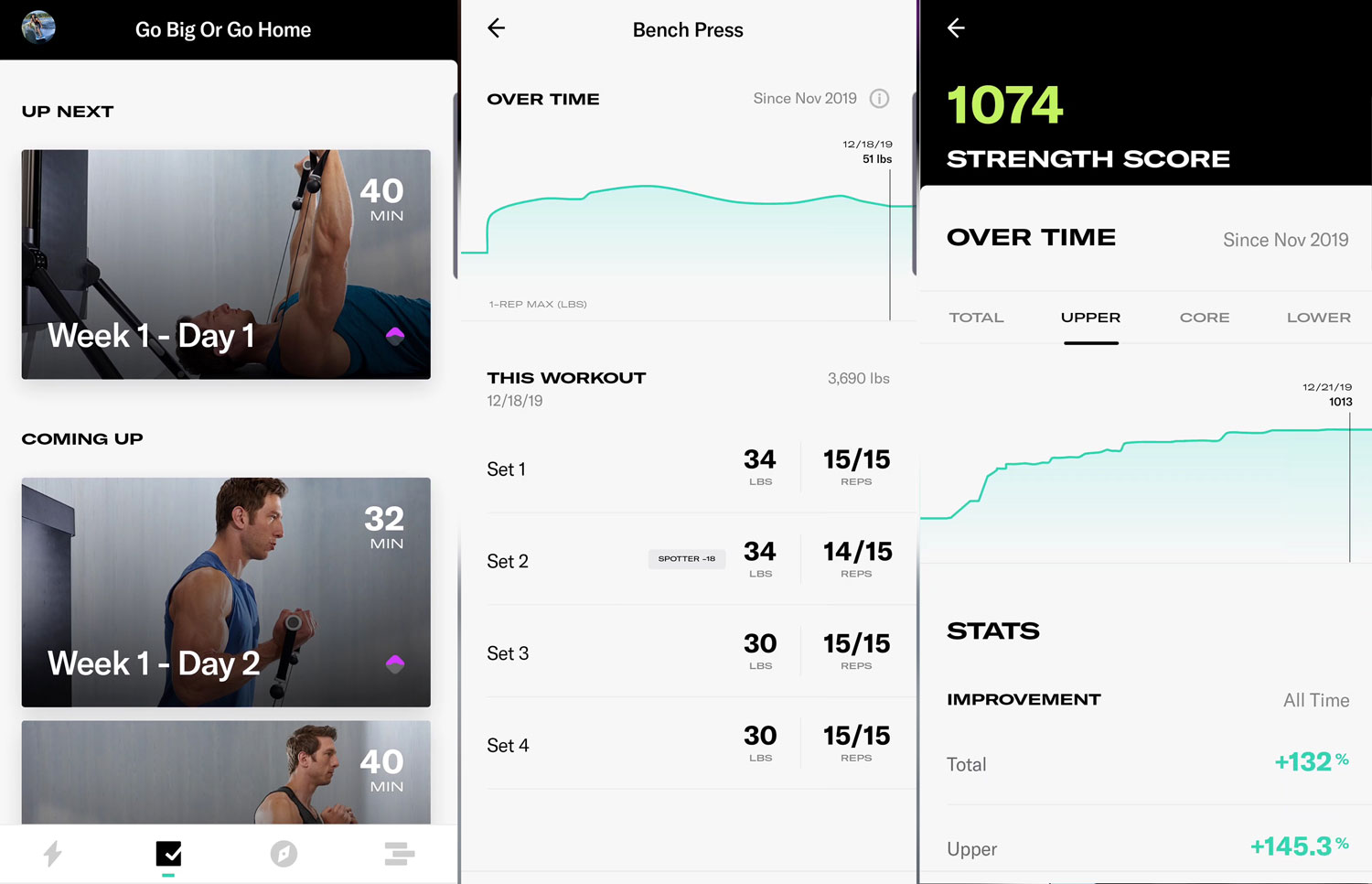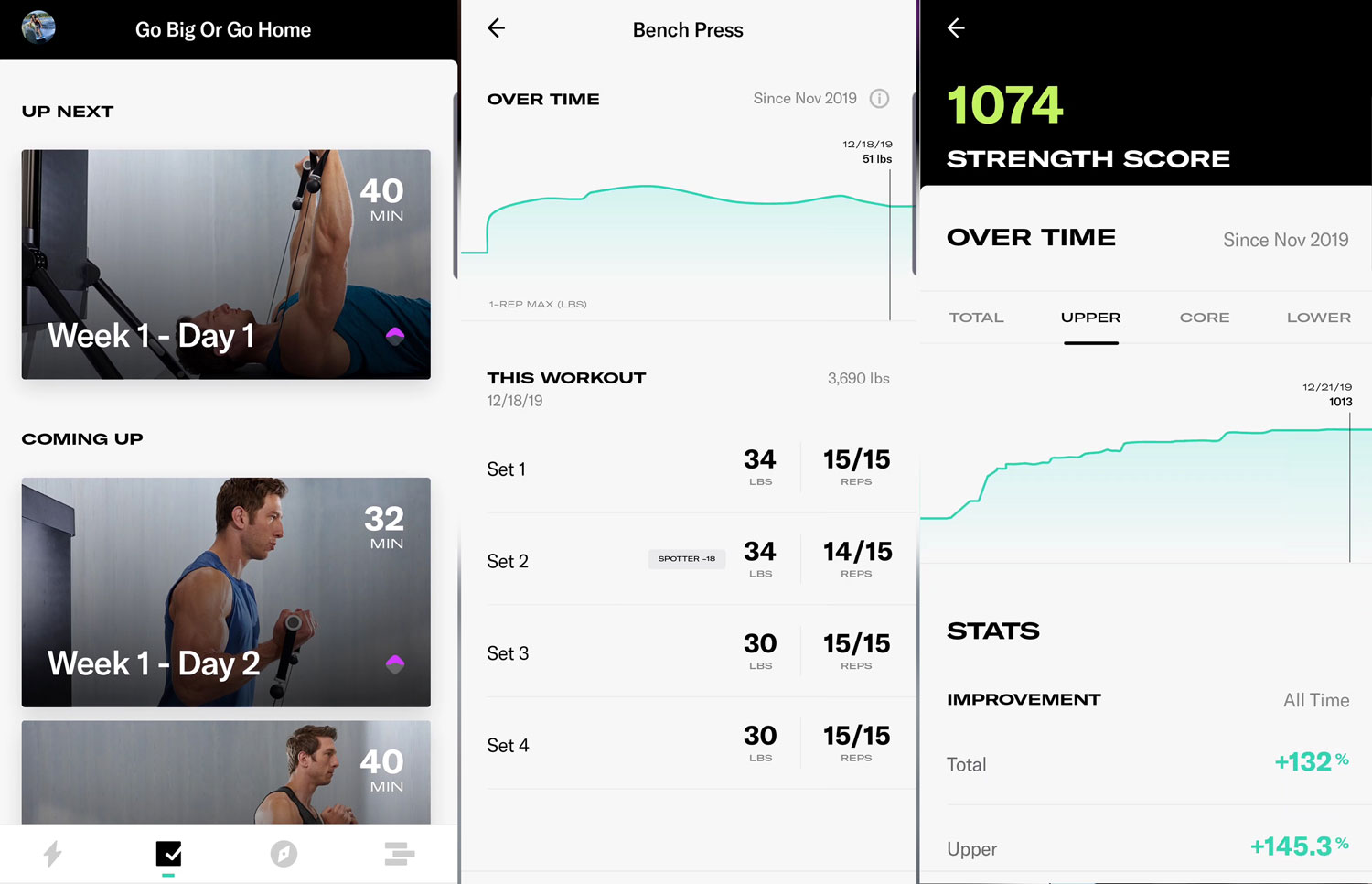 The mobile App shows all of your Tonal Activity including workouts, that also shows a deeper look into each set and rep completed as well as the amount of weight used. It also shows a look into your total volume, workouts, movements, and programs completed, as well as your Strength Score that shows your overall improvement over time for your upper body, core, and lower body. You can browse all the programs and workouts including their "blocks" (which are made up of several movements), and create your own "Custom Workout", which I'll dive into later (keep reading!).
Routine/Workouts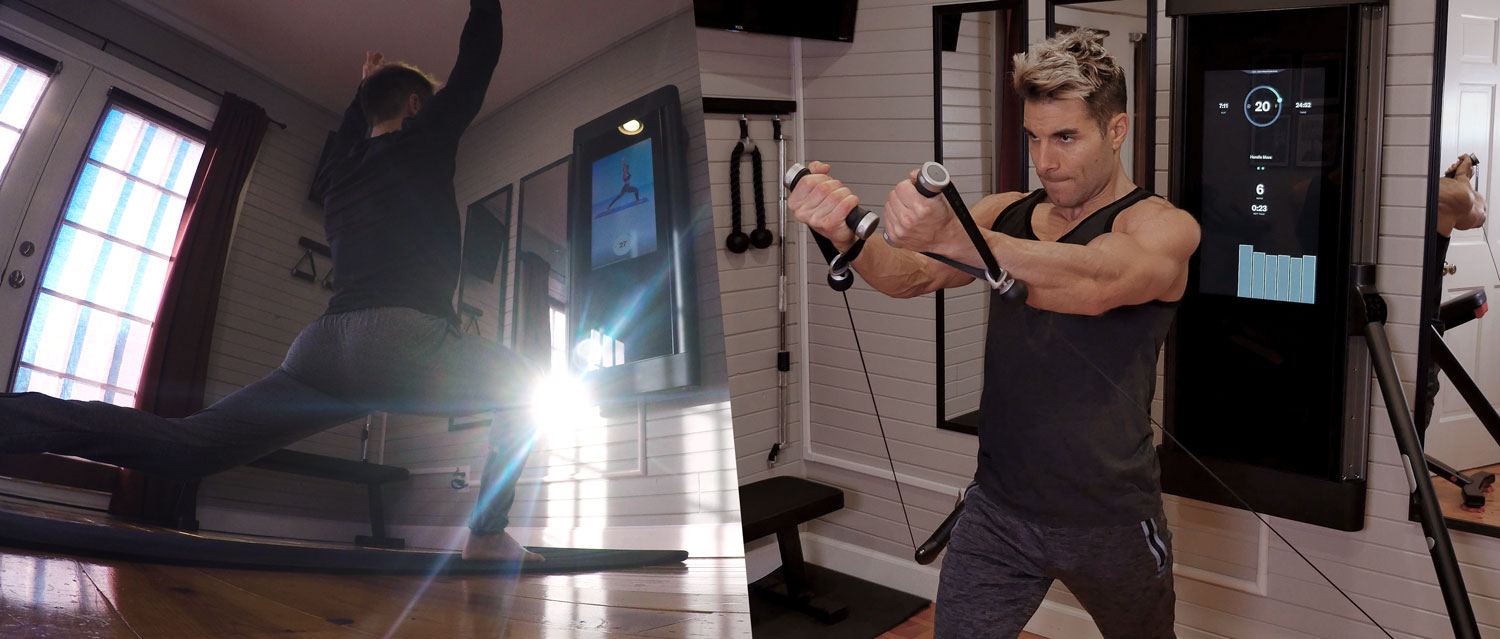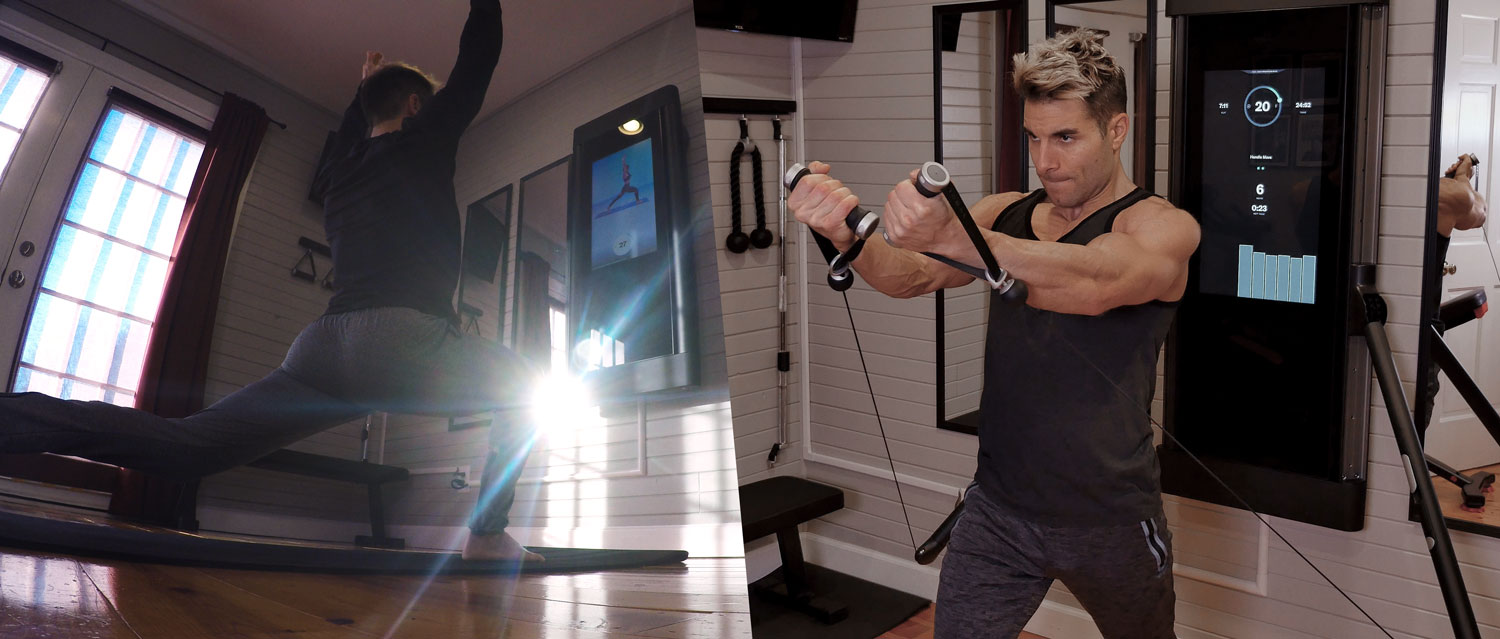 If you're new to working out or just need a program to get you started down the right path, the Tonal system comes complete with a slew of them. Plus Tonal keeps adding new workouts and routines each week. The integrated personal training is as close to having a personal trainer in your house, without having to deal with them invading your personal space. The Tonal system can also automatically adjust the weight to make it more challenging (if you're plowing through your workout too easily), or it can help spot you if you are having trouble with the last couple reps. However, in order to access any workouts or programs, you need to have a subscription. The subscription is a little high for one person ($49/month) compared to most gyms around me, but you're also getting a series of customized workouts, tracking, and smart A.I that all translate into a personal trainer as well. Also, if you factor in that you can have multiple users in one household, then the more users you have, the more bang for your buck you get. When compared to other subscription based equipment that use "Apps" (Peloton, Zwift, etc.) the price is a bit high.  Hopefully with time, the price will come down a little to be more competitive with other similar services.
It's worth noting that Tonal just released a "Custom Workout" feature that is (in my opinion) a game changer! This feature allows you to use the mobile App to create a custom workout by creating "blocks" then adding movements from the Tonal library to those blocks for a complete custom workout. You can set the reps for each block, then add whatever movements that make sense for that block (I find it best to include different movements that use the same setup so you aren't constantly changing the height, angle, or accessory). You can also set the "Advanced Weight Mode" for each movement so it can be Eccentric, Chains, or Burnout, as well as include rest time and "off machine" movements too. While this is a huge step forward for custom workouts, I'm really hoping they include the ability to add your own movements that aren't yet included in the Tonal library. Or at the very least, allow you to add a custom name while selecting a standard bar, rope, or handle movement. One major bonus of having a Tonal in your home gym is that you can learn new moves and not feel awkward busting these out at the gym for thr first time. Especially those movements targeting the glutes!
Support & Community
Tonal has a great support team that is easily reachable and always has an answer for me. I'm also really impressed with the Tonal community on Facebook. I was added to this group when I received my Tonal and was warmly welcomed by others that have this system as well as the actual coaches that lead all of the different workouts included on the Tonal. Tonal has also proven that they listen to the community and answer with some awesome new features we've requested as well as address issues we may have with new updates and integrations. If you have a question or concern, someone in the community has an answer or words of encouragement to help keep you moving forward and stay motivated.
Results
Images speak louder than words so here are some images of myself after 2 months of training on the Tonal. Of course having some real stats are nice too. Tonal tracks everything and generates a report for you that you can view anytime on the Tonal or on your Phone via the App. As of today, I've completed 65 workouts, 71 movements, 675,687 total volume, and have the strength score of 1074. I'm very happy with my results and still so motivated to keep moving forward with my Tonal system.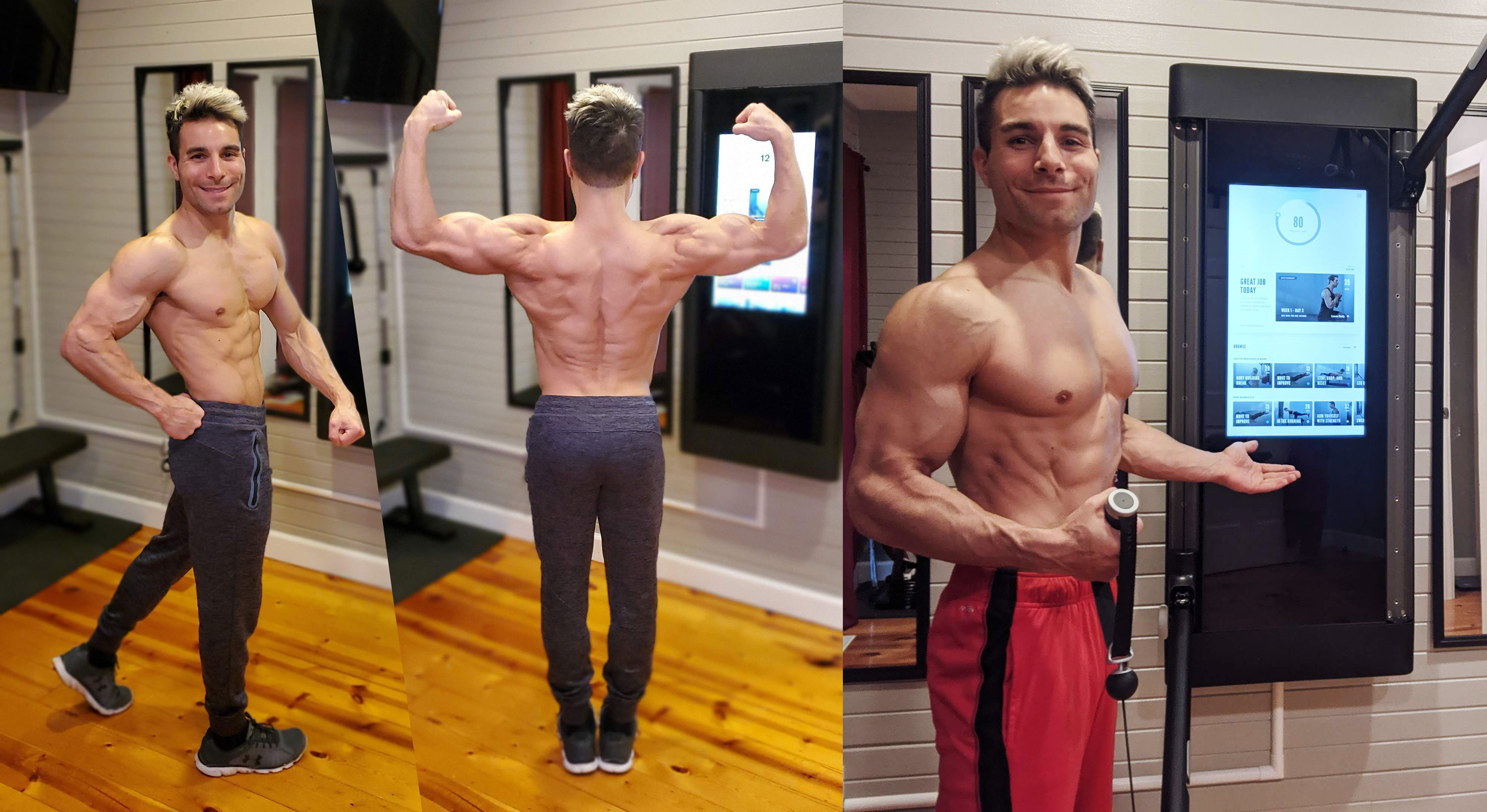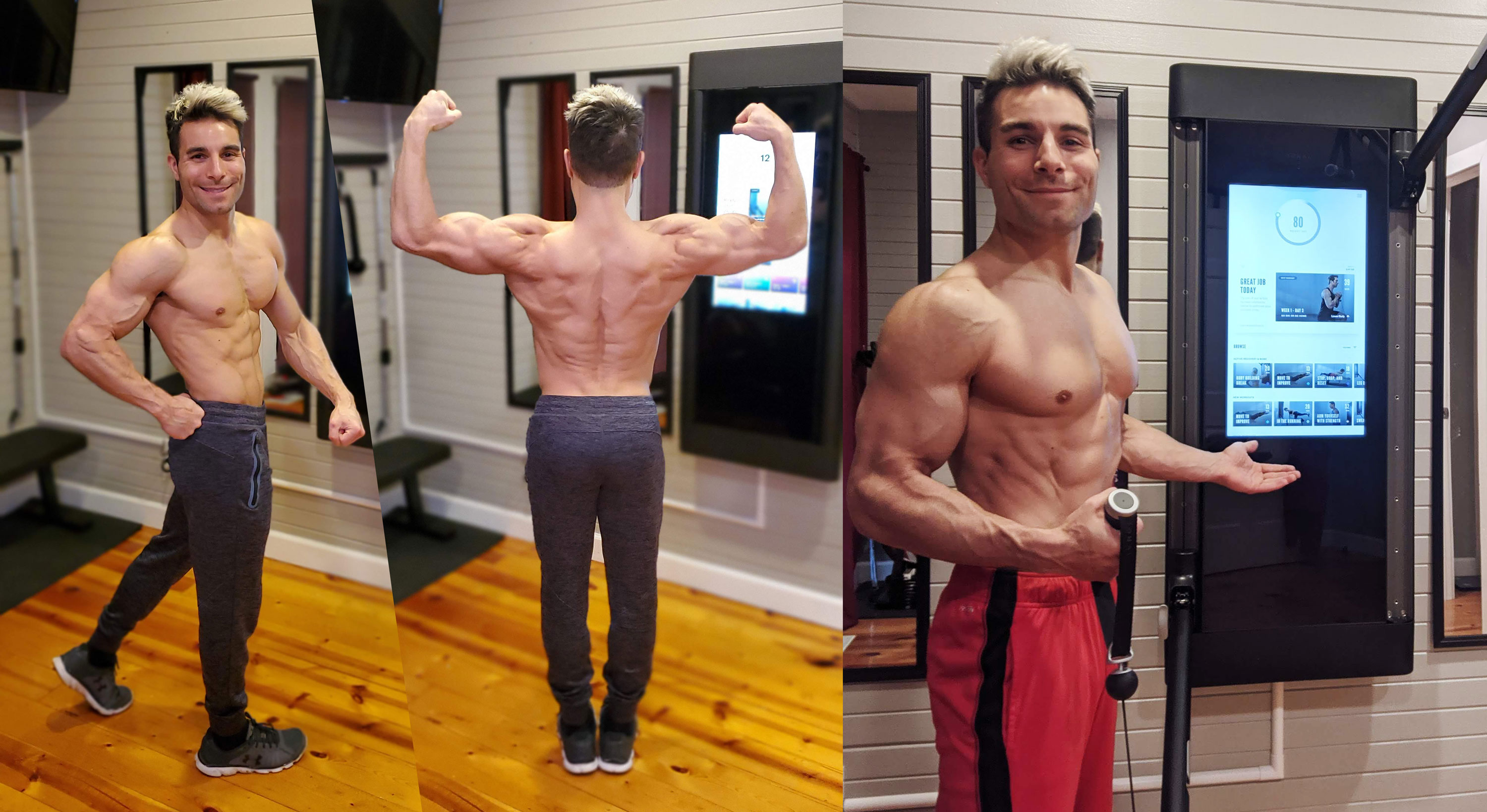 Value
Normally I'd say $3500 for workout equipment is in the high range. While it is on the higher end of the scale when compared to the next closest product out there on the market, the price is easily justified by its offerings, which is an entirely smart cable system without the wasted space.  Let's take into consideration a cable system that can do most of the moves that the Tonal offers… you're looking to spend anywhere from $1500 to $3500. Plus if you want more options in a system, they typically get larger and take up more floor space and are more expensive. With Tonal, everything tucks away nicely and takes up zero floor space (minus the bench which can be stored else where when not in use). Plus its intuitive AI and smart accessories make the entire experience better than anything else I've tried. Hands down, the Tonal system is worth the little extra cash compared to anything else out there in comparison. Definitely worth the money!
Buy Now: $2995.00 (without the smart accessories), $3740.00 (with smart accessories, delivery, and installation) or to learn more, check out: www.tonal.com
Tonal Fitness System Review
Tonal is one of the best total fitness platforms I've had the pleasure to review. Hardware, software, and user experience have all exceeded my expectations. Definitely worth the investment!
The Good
Design is sleek and compact
UX and AI are very impressive
No need for a gym membership
The Not So Good
Delivery took longer than expected
Bench does not allow for incline or decline
Monthly Subscription is a bit high