Camping, skiing, family road trips… where does all that gear go? If you're like us, usually crammed in the trunk or in the back of the SUV, which eventually ends up spilling into the back seat and on your passengers laps. We've seen it too many times! However hard we try to pack light, we always underestimate the cargo space we have versus the amount of gear and equipment we are planning to bring. Aside from getting yourself a truck, you have only a few options. One of the best options we can recommend is getting a roof top cargo carrier. All you need is some cross bars on your vehicle and some extra cash to buy yourself one.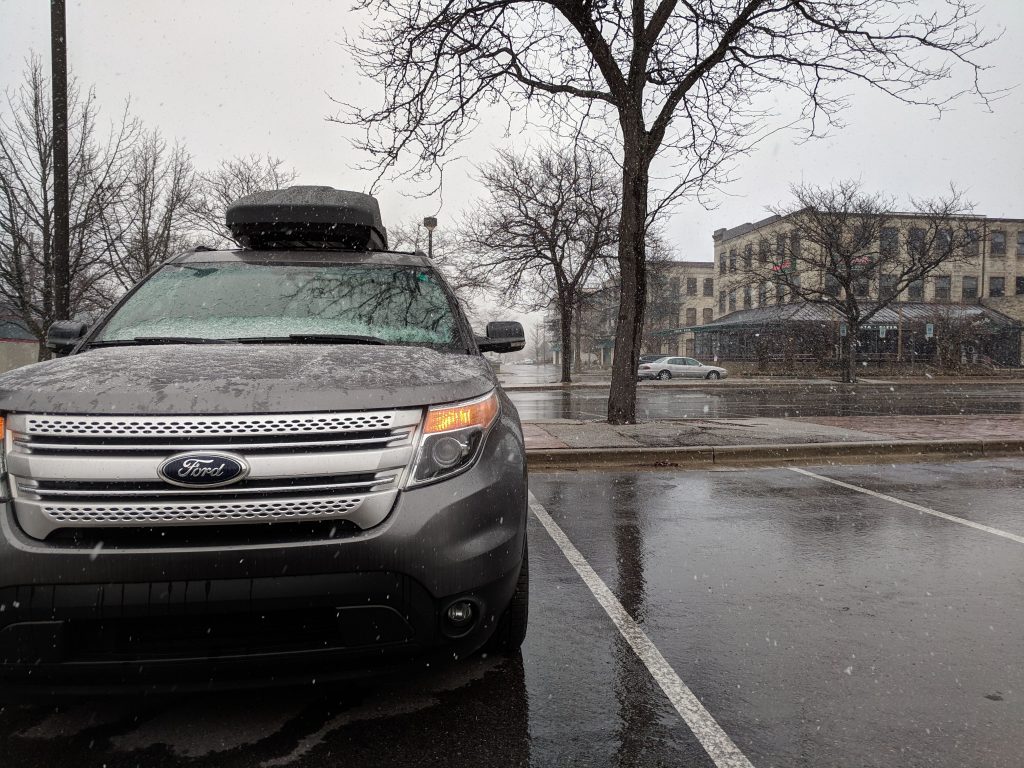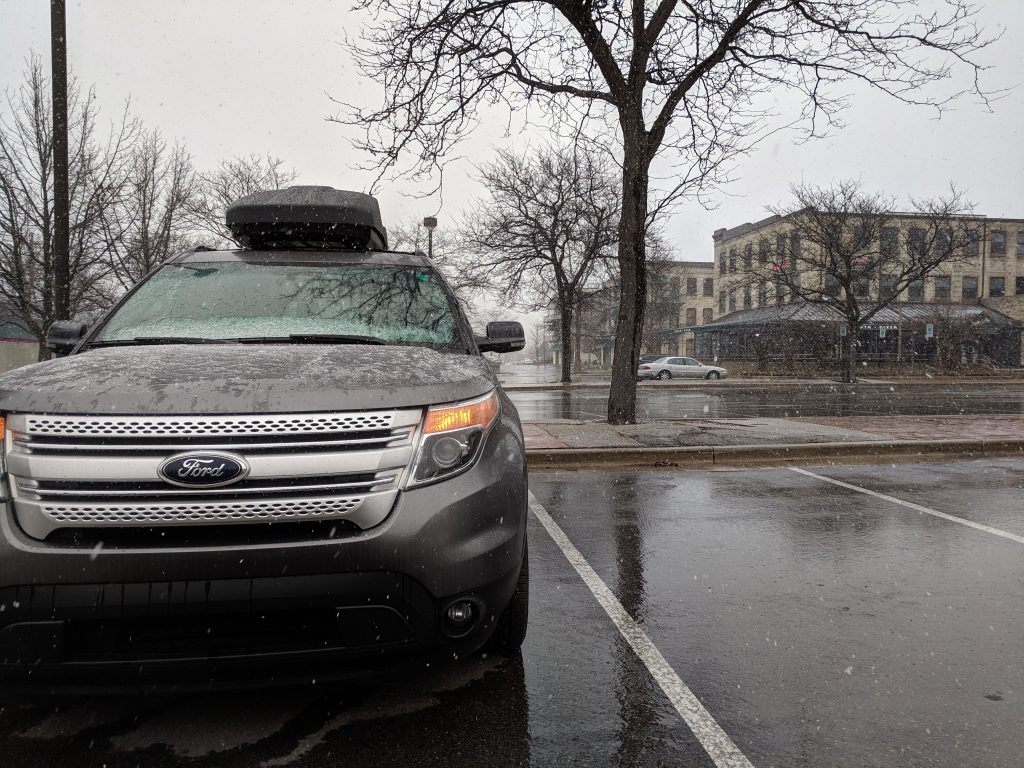 Recently Thule hooked us up with one of their newer cargo carriers, the Force XT, to test and review. After a few weeks of use we're happy to share the results with you. Is it worth the $599? Well, here's what we discovered…
Key Features: 
Maximum space efficiency across a wide range of vehicle fits

Easy to mount thanks to the PowerClick quick-mount system. The integrated torque indicator clicks when it's properly mounted, ensuring fast and secure fitting

Comfortable to open and close thanks to the LockKnob that also helps to prevent damage to the Thule Comfort Key

DualSide opening provides easy access to all areas of the box, from either side of the vehicle

Full trunk access with minimal risk of contact with the cargo box, thanks to its forward position on the vehicle roof
Thule Force XT – Review Breakdown
Installation:
This cargo carrier arrives pre-assembled and ready to rock pretty much out of the box. Simply pop in the 4 PowerClick mounting claws, hoist the cargo carrier on to your vehicle, adjust the PowerClick system to fit your vehicle's cross bars. You may have to move your cross bars (we did not), and then rotate the PowerClick knobs until they are secure. Now you're ready to hit the road! It is a really simple system.  See mounting of the Force XT in-action in the video embedded below…
Design:
We really like the design of the Thule Force XT. The overall shape is aerodynamic, which helps with fuel economy. Aesthetically, the cargo carrier looks pretty sleek on almost any vehicle. Since we opted to test and review the XL version, it is a little bulkier (tall) than the smaller options. However, if you need cargo space the Force XT XL has it!
The design features we enjoyed most were the previously mentioned PowerClick mounting system, which is super fast and secure. We also like the DualSide opening feature, which allows you to access either side of the cargo carrier to load and unload quickly. An upgrade we were excited to see were the new LockKnobs. This system is easier to use with gloves on than previous locks Thule has outfitted cargo carriers with. All-in-all, the design of this cargo carrier is really nice. Even the finish on the outer shell is fantastic.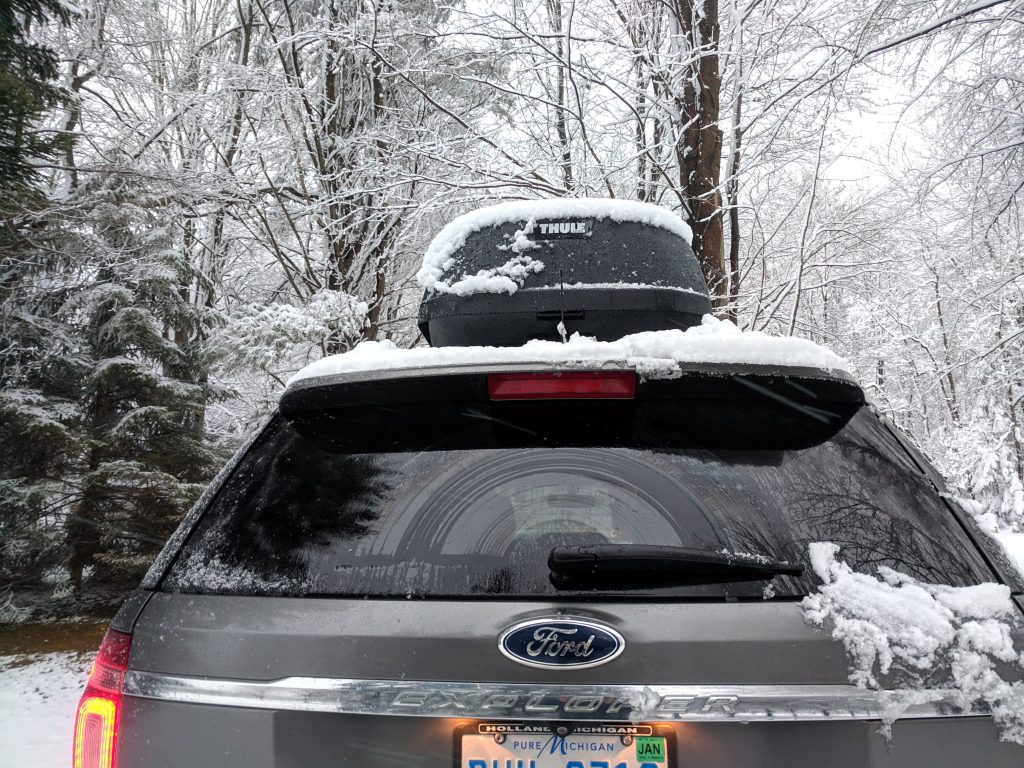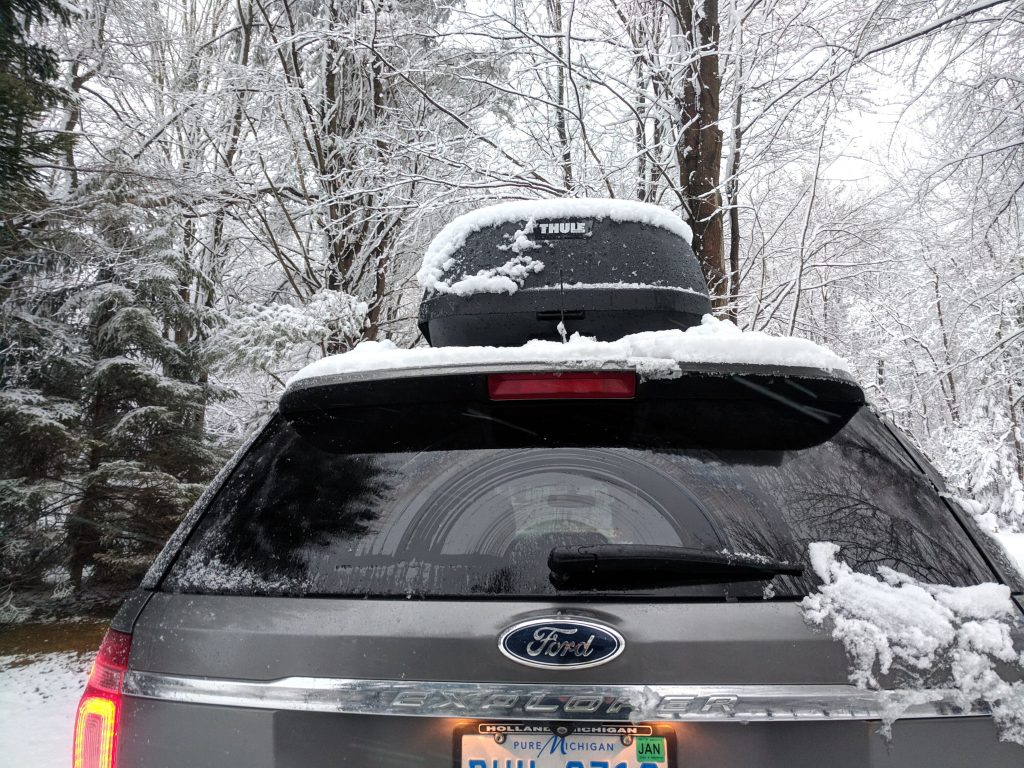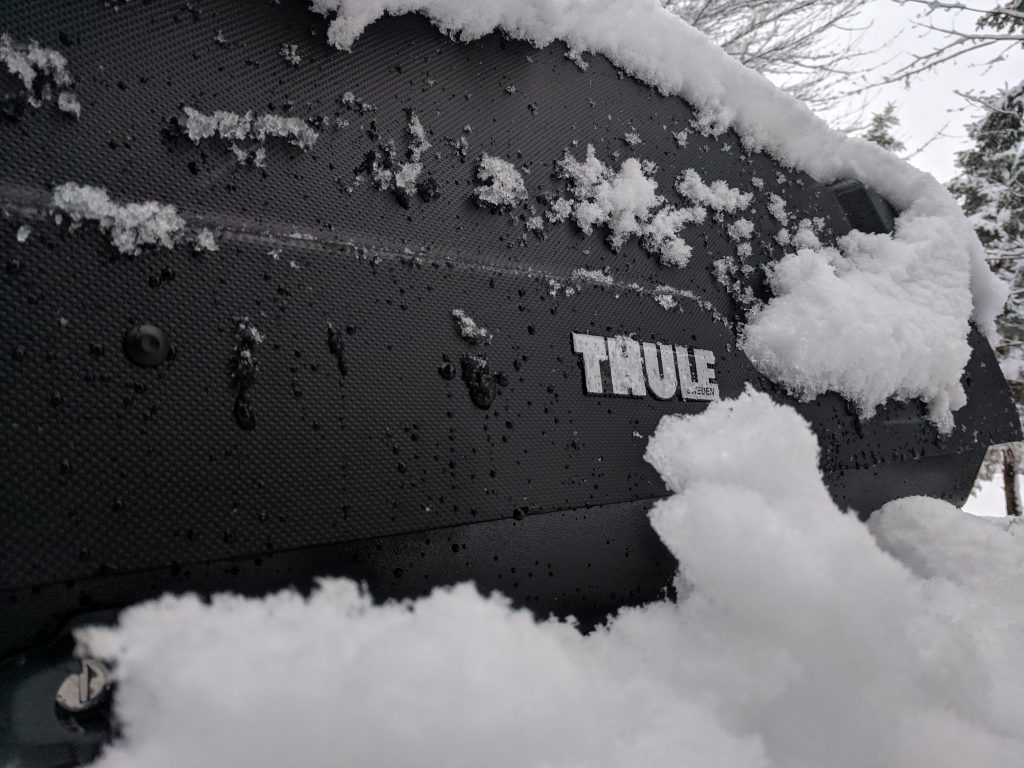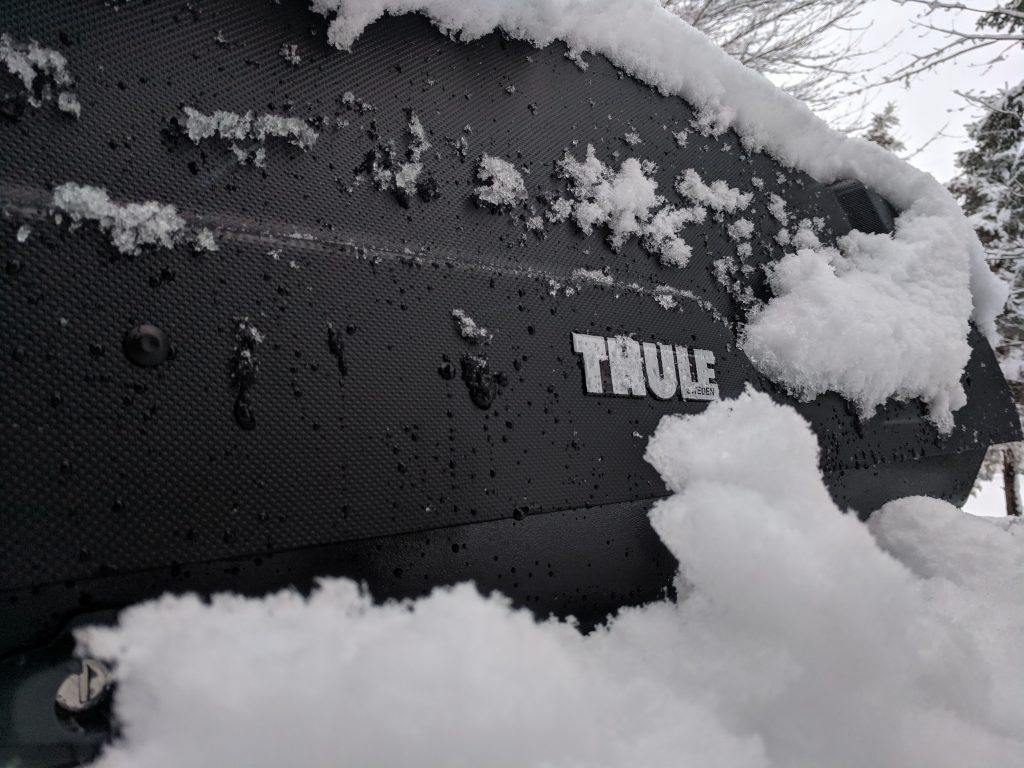 Cargo Space:
Since we opted for the XL version of the Force XT, we experienced the luxury of maximum cargo space. We were easily able to pack 3 snowboard 2 sets of sks, boots, a few camp chairs and some smaller gear bags on a recent ski trip. If you fancy yourself a organized packer, you can probably fit more. If you end up going with a smaller version of Thule's Force cargo carriers, you will find cargo space varies. Since we rarely pack light, the XL version is a perfect choice for our needs. I can see this cargo carrier getting a lot of use for future ski trips, camping and road trips with the family.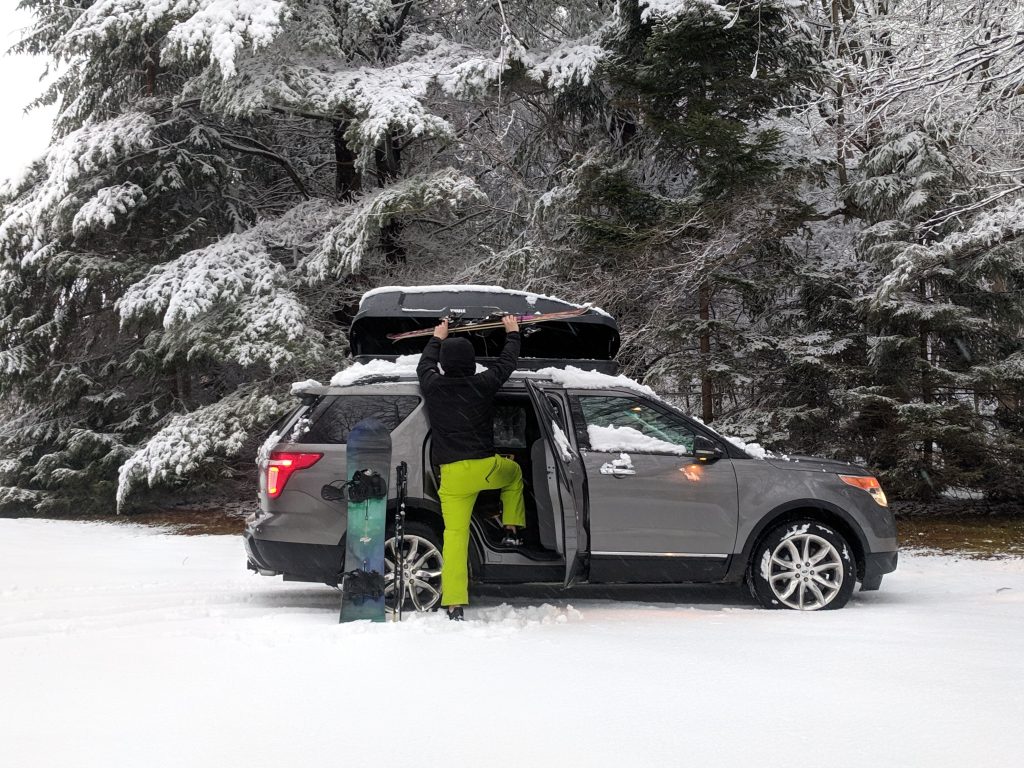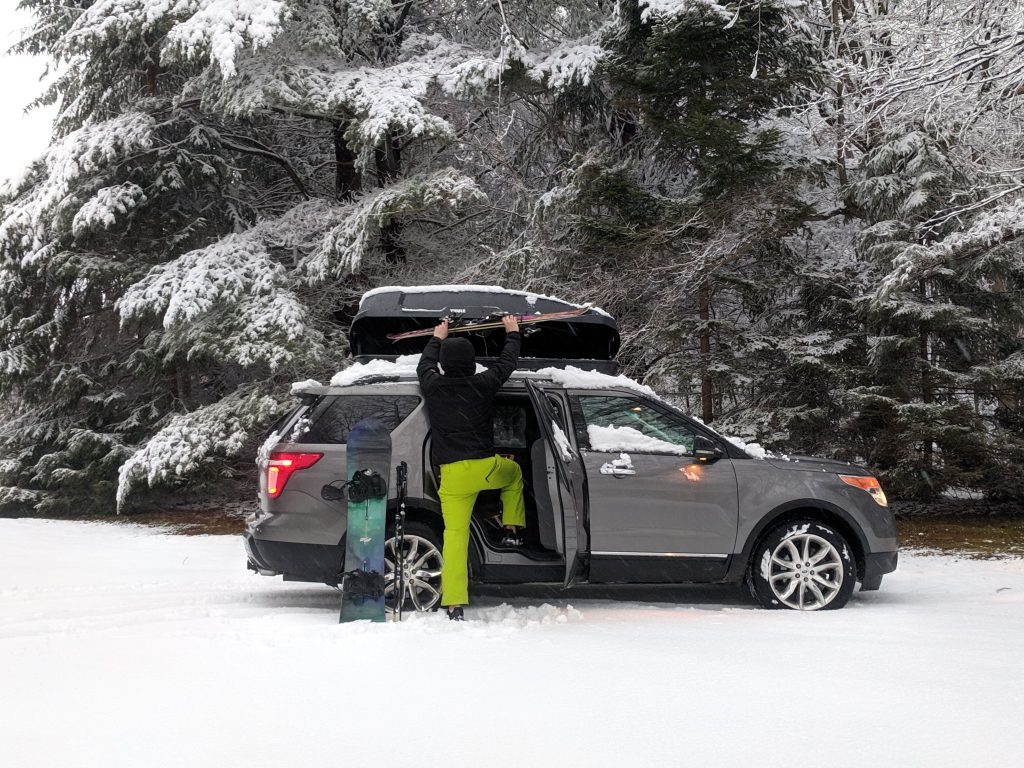 Security:
The two LockKnobs we mentioned earlier feature locking cores and a set of two keys. This means you can lock your cargo box and trust your gear is safe. In fact, you have to lock the Force XT to close it. This ensures that the cargo box is fully closed and secure while you're driving down the road. It also ensures that once you are parked your cargo box is locked and no one can get at your gear.
Value:
Retailing for $599 on Thule's website, the Force XT is a great buy for anyone who loves to take road trips with friends or family. Freeing your vehicle of gear and storing it in a cargo carrier is one of the best ways to travel. We've all been there… 4 people in the car surrounded by gear, bags and equipment with no where to turn, on a 5 hour trip to the cabin. That's no kind of life to live! If you're serious about skiing, snowboarding, camping or taking adventures of any kind, the Thule Force XT cargo carrier is something you should seriously look into.
Buy Now: $599 or to learn more, head over to: Thule.com
Thule Force XT Cargo Carrier - Gear Review
The Thule Force XT is a must have for any adventure seeker who has lots of gear and friends to join the journey. If you're sick of loosing your backseat to equipment and want to travel in style, we highly recommend taking a look at this cargo carrier. It's a life changer.
The Good:
Dual side entry for easy access to gear
Locks make the cargo box secure to leave on your vehicle anywere
Angled rear allows for SUV tailgates to open fully
The Not so Good:
The XL version is a little bulky
Storing the cargo carrier when not on your vehicle will take up garage space
Takes two people to carry