Launched today on Kickstarter, The Barrel Watch by Original Grain is the first and only reclaimed whiskey barrel watch ever produced. You might already know OG as the premier maker of all-natural wood and stainless steel watches from their first and highly successful Kickstarer campaign. Inspired by their roots in the Pacific Northwest, Original Grain's watches are handcrafted from a variety of exotic hardwoods. It's through their commitment to quality craftsmanship and unique design, they're proud to present their next collection, The Barrel…
While we could explain every little detail about OG and their newly launched timepiece collection, why don't we let them do the heavy lifting? In the embedded video below Andrew and Ryan Beltran explain The Barrel in all its glory.
The Barrel Review Breakdown
Design:
Handcrafted from reclaimed authentic American Oak whiskey barrels, this timepiece is truly handsome. The wood is inlaid flush with the brushed espresso steel for an exceptional look and very nice feel. When you think wood watches your first inclination might be to think that wood means cheap. Well, you'd be wrong… especially in this case. The Barrel is a fine tuned watch with some really nice accents.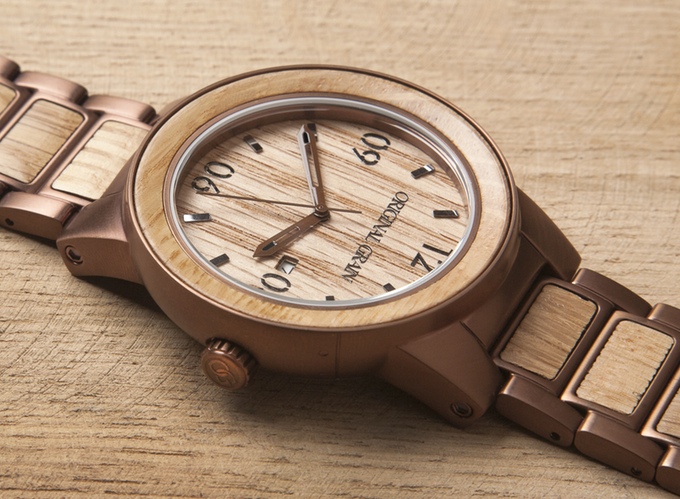 From a function perspective it's pretty nuts-and-bolts. You have your hour, minute and second hands and a date window. For keeping time that's it. No gimmicky bluetooth integration or compass. This watch does exactly what you need it to… look good and keep time flawlessly.
Comfort:
The watch itself is actually fairly hefty and feels like it is really well built. After a few hours of wear you forget it's even on your wrist. We really like the large face and simple, yet effective metal clasp for securing the watch.
The watch arrives with three extra links. Making adjustments easy. So if you have a bigger wrist or like wearing your watch loose you're all set. Taking out and adding links was super simple. We used a thumbtack and a pair of needle nose pliers.
Style:
Just look at it! Do we really need to say much in this category? The Barrel is extremly handsome. When wearing it out to dinner or at work people can't help but compliment this timepiece. And when someone enivetibly does ask you about your watch it's fun to tell them the story about how you're wearing a watch crafted from reclaimed whiskey barrels. I mean com'on, who else has something like that? The answer is simple… no one!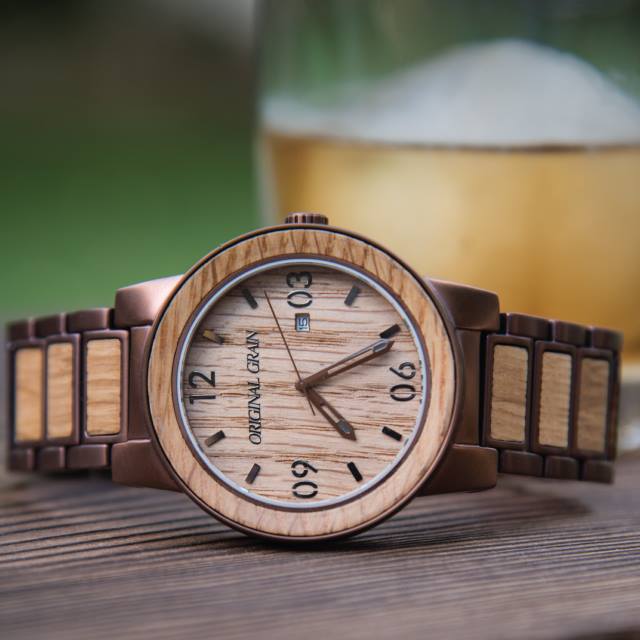 Additionally, OG is offering this same watch in Rosewood, Sapele, Maple, Mahogany, and Zebrawood with different metal accents for each. Needless to say, there is something for everyone.
Value:
Available on Kickstarter right now with an early bird price of $129, The Barrel is a great timepiece for the price. You're getting craftsmanship, style and one hell of a cool watch. The fact that it's crafted from reclaimed whiskey barrels is the cherry on top for us. Because there's noting we like better at the end of a long day than a nice whiskey or over ice.
Buy Now: $5 – $399 or to learn more, go to: http://kck.st/1LrZLXK
The Barrel Watch by Original Grain
The Barrel is an exceptional timepiece for the money. It's truly affordable and seriously handsome. If you're into whiskey or bourbon, or just have great taste in watches, don't let The Barrel from Original Grain pass you by. For $129 I haven't seen a nicer timepiece anywhere.