In the world of camera gear, new items hit the market all the time. Every once in awhile an interesting concept comes along and becomes that item you didn't know you needed and now can't function without. The SpiderPro Camera Holster is exactly that item for good reason. Founded in 2009 by professional photographer Shai Enyav, the Spider Holster company set out to develop innovative camera carrying gear and accessories for all photographers. They didn't fail to deliver. Recently we weres given the opportunity to test out the SpiderPro Single Camera Holster with the additional Spider Monkey accessory kit. Let's just say we won't be going back to the strap.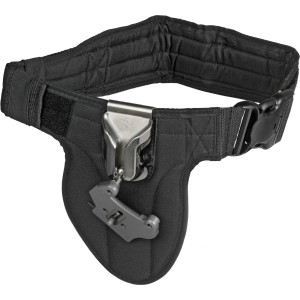 Key Features:
For Pro Cameras 5 lb and Up
Fits Waists 28 – 50″ (71.1 – 127cm)
Four-Piece System Holds Camera on Waist
Quick-Release Belt Holds Holster
Plate Attaches to Camera's Tripod Socket
SpiderPin Attaches to the Plate
Plate, Pin Slide and Lock Into Holster
Two-Position Lock Secures Camera
Stainless Steel, Aluminum Construction
For Active Shooting Situations
Spider Monkey Accessory Kit:
One Spider Monkey base
Two adhesive Spider Monkey tabs
SpiderPro Camera Holster Review Breakdown
Design:
The SpiderPro Holster is composed of basically three parts. A thick durable belt made with a large quick-release buckle, a metal holster that comes attached to the belt and then the metal plate that attaches to the tripod socket of your camera. The metal plate that attaches to your camera still allows you to attach your tripod clip on top, so no worries about having to switch out the plate and clip constantly. The Spider Monkey accessory kit comes with a base and two adhesive tabs for lighter gear attachment. The base clips to your SpiderPro holster belt, your basic waist belt or even Lowepro's Street & Field series, and Think Tank's Steroid and Skin belts. The Spider Monkey is great to hang your flash, battery pack, light meter etc. from your belt for quick access.

Function:
When trying it out for the first time I worried about my camera sliding out of the holster while moving around. They clearly thought of that too because when the camera is slid into the holster, it can lock into place using the two position locking mechanism. When placed into the upper portion of the holster, the lock releases and your camera is ready to be drawn. Your camera lens points backwards so you can actually squat and move without fear, and your flash (if you use one) hangs parallel to your leg.  With the lens facing the back, it could be bad news if you happened to back into something that could possibly damage your lens, so be aware or your surroundings. I only say this because I am usually climbing into, onto, under or on top of things during my shoots.
Ease of Use:
While doing a photoshoot I always used to just hang my camera around my neck or on my shoulder so I could be fully engaged in posing my subjects. I need both hands free. While the camera was hanging from my shoulder it would always swing to the front getting in my way, or even slide right off. Having it around my neck just made it uncomfortable and left me with neck pains. The SpiderPro Holster frees up both my hands, keeps the camera safely at my side and sits comfortably on my hips. My camera is always easily and quickly accessible using the SpiderPro.

Value:
Freeing up your hands and saving yourself from neck, shoulder and back pain by switching from a standard camera strap to the SpiderPro holster is worth much more than the $135 retail price. In my opinion, it would be best to get the dual camera system plus the Spider Monkey accessory kit (this set up would be ideal for any wedding photographer). Then you will have a complete photographer's tool belt to keep you moving smooth at your next photo event.
Buy Now: $135 Single Camera Holster | $20 Spider Monkey Accessory Kit
SpiderPro Camera Holster - Gear Review
Designed and developed for any photographer who is tired of dealing with camera straps and neck and shoulder pain. The SpiderPro Camera Holster is for those who need to have both hands free at times while still keeping your gear safely by your side.
The Good
Comfortable, easy and safe to use.
Allows you to move freely.
Eliminates the dreaded camera strap.