Refreshments are out, the lights are low, and the guests have begun to arrive. It's time to get down and party, and there's no better way to get it started than to crank the music up to the maximum decibel level and ensure that dance floor stays packed for the duration. This all sounds great, but your common home audio system usually won't pack the kind of punch it takes to pull off such a feet. The real animals need a little something more to properly get down, and we may have found just the right weapon to add to your home audio artillery. We spent the last month dialing it up a notch with the Sony GBK-XB7 Audio System.
Key Features:
EXTRA BASS™ adds power to every bass line
LED lights create a party atmosphere
Two-way design for flexible setup
Party Chain lets you expand your speaker system
DSEE automatically restores detail to digital music
ClearAudio+ enriches your music
One-box design for maximum portability
Seamless streaming with NFC and Bluetooth®
Customize your settings and unite your music with the SongPal app
Audio input and output
Enjoy higher quality Bluetooth streaming with LDAC
USB port lets you plug in and play
Specs:
Analog audio input (1), Analog Audio Output (1), USB Port (1)
MAIN UNIT SIZE (W X H X D): 12.83″ x 25.59″ x 13.39″
Sony GBK-XB7 Audio System – Review Breakdown
Design:
Yes, the Sony GBK-XB7 Audio System is quite a bit larger than your average home bluetooth speaker, but if your looking for earth shaking audio it's just not going to happen with something you can just throw in a backpack. The good news here is that despite it's size, the Sony GBK-XB7 Audio System is incredibly portable thanks to it's carry handle and one piece design. Want to move the party from the living room to the basement? No sweat! Anywhere a power outlet is accessible, the GBK-XB7 will work for you just fine.
Not only is it portable, but depending on the environment you want to use it, whether vertically upright on the floor or horizontal on a shelf or table top, the setup is flexible to provide a quality music experience from either position.
The real draw to the design of the Sony GBK-XB7 Audio System though, is the built in light display. With built in strobe lights, LED lit speakers, and multicolor perimeter lights that synchronize with the beats you play through it, any and all environments can be transformed into a club scene in seconds.
Connectivity:
With all of the devices we carry around in our pockets, or use as helpful tools around the house, Bluetooth connectivity is a must. The provided instructions are pretty well spelled out and simple, and once connected for the first time and recognizable to our iPhone and iMac, we've had no trouble re-connecting and even switching back and forth between the two. For anyone who's going a little further back into the old-school, USB and Audio Cable inputs are also available.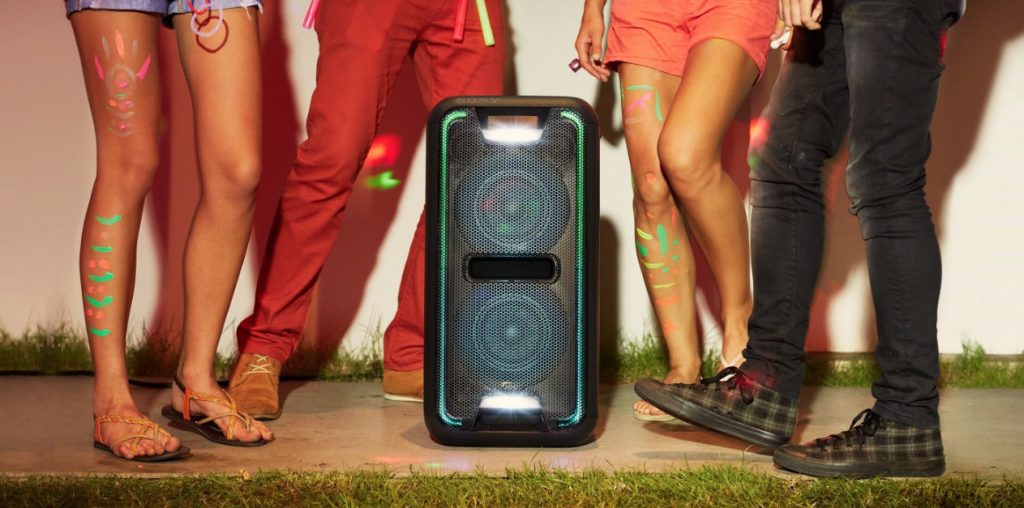 Audio Quality:
Crisp and clean, we don't have much to complain about when it comes to the sound quality of the Sony GBK-XB7 Audio System. Even at maximum volume, we haven't noticed any unnecessary rattles or scratchy feeds with our music. For a little bit of an extra push, an EXTRA BASS button is provided, and we have to admit it works well to add some extra added ground-shaking depth to the party experience. That's about all there is to it though as far as sound control on this system.
Fortunately, we also had an earlier model of a similar Sony Speaker to do some side by side testing. Even though this newer generation is about 65% smaller in volume, we're happy to report that the GBK-XB7 holds pretty close to the same sound quality and volume levels.
Functionality:
Most of the functionality of the Sony GBK-XB7 Audio System has already been covered above. On the surface, this is definitely a system designed to fulfill the basic needs of an audience without too many bells and whistles. However, grouped with Sony's SongPal App,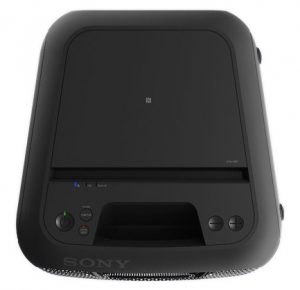 there are some extra options available with nine separate sound modes and a few basic DJ effects. Even with the app though, there isn't a ton to get excited about for anyone interested in heavy customization.
The light display on the system itself can be set to basic "Rave", "Chill", or "Off" with the included remote…""Rave" meaning that the light displays coordinate with the beats, or "Chill" with the lights switching between colors at a slow tempo pace. Again though, Sony's SongPal App provides more customization options, but not many. It can be further set with a specific color scheme or strobe only, but the options don't go far beyond what we've listed here.
One very nice feature the Sony GBK-XB7 Audio System offers is it's ability to link with other speakers as a chain. Any available speaker (or speakers) with an Audio Cable input can be attached for that extra added "Kaboom" factor, so if you want to take the party to that next level of dangerously loud…or just play music in multiple rooms, the option is there. If you really want to go the extra mile, two GBK-XB7 Audio Systems can link together via Bluetooth or Audio Cable, set as right and left speakers for a truly immersive musical experience with twice the volume.
Value: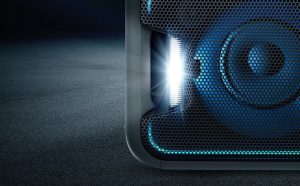 If you're the type of person that likes a little music while getting ready in the morning and then entertaining a party at night, the Sony GBK-XB7 Audio System will have you covered on all fronts. It's one piece construction also affords you the ability to pass it off to a friend or just move it around your own home, and the simplicity to connect to your devices makes you capable of setting the right mood in no time. When we think about the huge sound systems with close to the same sound in our parents homes, and add the benefits of portability and functionality, we find the price tag on the GBK-XB7 quite agreeable.
Buy Now: $279.99 or to learn more go to: Sony.com
Sony GBK-XB7 Audio System - Tech Review
With easy to use Bluetooth connectivity, portability, and most of all serious sound quality, the Sony GBK-XB7 Audio System will never leave the party unsatisfied.
The Good
Serious Sound Capabilities
Very Portable
Intense Light Display
The Not-So-Good
Little Customization
SongPal App Adds Little to the Experience