We all know that feeling of going outside and looking down at that glorious white blanket that covers the ground this time of year. We think to ourselves about the thrills it has in store for us through extreme winter sport. Some of us hurl our bodies through the air, and some dodge trees with serious speed. On the other hand, some folks are just getting started to learn how to seak their wintertime thrills. In any case, the right equipment can literally make or break us when we indulge ourselves in whatever activities we've chosen this winter. The most valued asset in this equation is the right helmet…one that will hold your skull together in the event you (or someone else) should make a possibly life-threatening mistake. This season we took the Smith Variance snow helmet out on the slopes as our choice of brain bucket, and we put it to the test. So read on, and keep it safe out there.
Key Features:
Adjustable Smith x Boa Fit System
18 Vents
AirEvac 2 Ventilation
Hybrid Shell Construction
Low-Profile Regulator Adjustable Climate Control
 Nanosilver Performance Lining
Removable Ultra-Light Goggle Lock
Snapfit SL Ear Pads
Skullcandy Audio Systems Available'
Specs:
Certification: ASTM F 2040, CE EN 1077:2007 Class B
Helmet Sizing: (Smith X BOA Fit System) Small = 51-55 CM, Medium = 55-59 CM, Large = 59-63 CM + X-Large = 63-67 CM
Weight: 18.5 oz. /530 grams
Smith Variance Snow Helmet Review Breakdown
Style / Design:
The Smith Variance snow helmet doesn't make a big fuss about itself, so don't expect a bunch of unnecessary design features or decals slapped all over it. In many cases though, less is more, and when it comes right down to a good snow helmet, functionality supersedes aesthetics. The Variance isn't completely boring to look at though, and the design features Smith has chosen actually contribute to the functionality through aerodynamics, goggle integration, and ventilation. We tested the Variance with the matte charcoal finish because we like the neutrality it delivers, but if color is of importance, six other versions are available.
Comfort / Adjustability:
Right out of the box, we were very impressed with the initial fit the Variance provided. Smith thought ahead with regards to comfort, and because the human head tends to come in all sorts of shapes and sizes, three separate sizes are offered. The correct measurement can be determined through a simple circumference measurement of the head. Once the proper helmet is placed on the head, Smith's Boa® Fit System is loaded with adjustable features, including a dial system for on-the-fly micro-adjustability. The Boa® Fit System has a 360 degree halo design, so the helmet will fit snugly to the head all the way around, allowing for a "floating" effect that eliminates helmet hot spots. With a product such as this, protection is essential, and Smith has found a way to give this helmet a comfortable fit on any shaped head, thus contributing to its comfort rather than compromising it.
Climate Control / Ventilation:
In any snow sport, the weather conditions we encounter can change rapidly, and proper ventilation is essential. The Smith Variance comes equipped with a dual regulator, placed on the top of the helmet for easy accessibility so there's no need to remove your gear when you want to change things up. The regulator is extremely low profile and has three adjustment levels that can be modified easily with a gloved hand.
For the exceptionally warm days of the coming spring, The ear pads can be snapped in and out with relative ease. However, there is more to it than just popping them out, because when properly installed they are interwoven into the Boa® Fit System. Removal of the earpads requires the helmet to be taken off, pulling out the liner, and unsnapping the Boa® Fit hardware from the inside of the helmet. This is a bit of an operation, and we don't suggest attempting ear pad removal while riding up the chair lift. All it would take is a swift breeze for the helmet liner to go bye-bye.
On other helmets we've tested in the past, that pesky gap between the goggles and the brow of the helmet has left our foreheads exposed and cold. Fortunately, the brow of the Variance snow helmet is equipped with a brim, and with the helmet adjusted to fit properly, we experienced no such discomfort.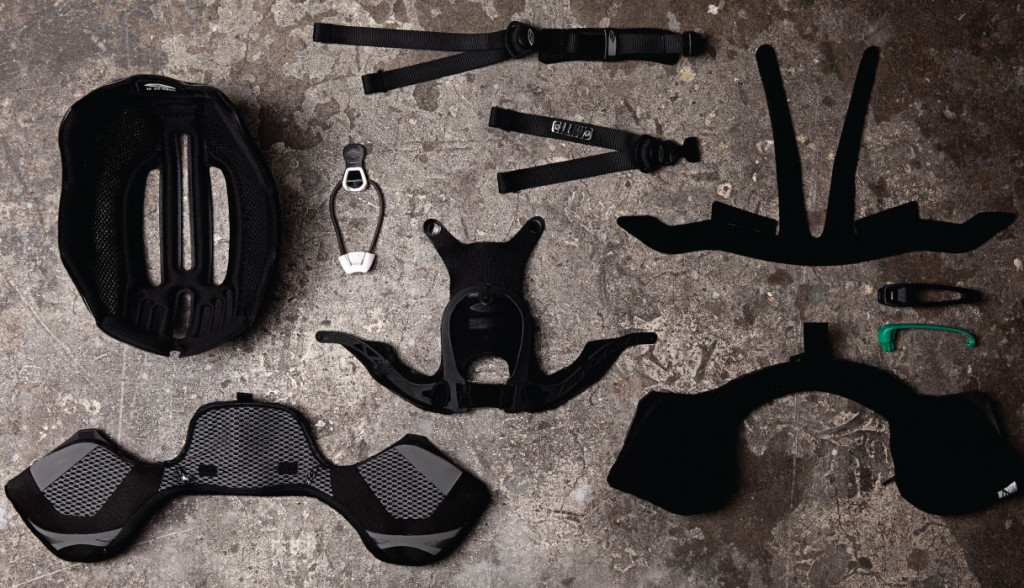 Durability:
We're happy to report that thus far this winter we haven't had to put this helmet to the ultimate test, and our heads have managed to avert any nasty collisions. That being said, based on basic design and the components Smith has chosen in its construction, we are confident that the Variance snow helmet will last a long time and keep the head of its wearer as safe as possible in the event of an impact. After all, Smith has built its reputation by offering high-quality gear for 50 years, and with that kind of track record, this is a brand we continue to trust.
Goggle Integration:
Of course, Smith suggests using their goggles with their helmets, and who could blame them. After all, how could one trust a competitor's goggle to integrate properly with the helmet they designed specifically for use with their googles. Although we've been using an alternative brand of goggle this particular winter, we were fortunate enough to have an old pair of Smith goggles lying around, and we are very pleased to report that both brands worked very well with the Variance snow helmet. We can't vouch for all brands of goggle to get the results we did, but we don't see any reason for the Variance helmet to have a poor compatibility with anything out there specifically. With the Variance helmet adjusted to the head properly, our goggles fit on the face securely, and there were no gaps to speak of to hinder the goggle's performance. The Variance is constructed with a two-piece outer shell, and the point where the pieces meet provides for a very nice ridge around the helmet just above the goggle strap, reducing the chances of any unwanted slippage of the goggle.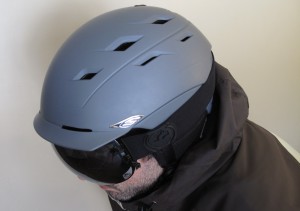 As an extra bonus, the Variance snow helmet comes equipped with an elastic clip that secures the goggle strap from the back of the helmet. Many of the helmets we've worn in the past used a hard plastic clip, but in those cases the goggle strap was susceptible to slippage, weakening the overall Goggle integration. In this case though, when secured properly, the goggle strap is locked in place in the most beneficial location for proper fit. Smith has also designed the clip to be engaged or disengaged with ease, even while the helmet is still on the head.
There are those times when we take our breaks from the winter fun for some lunch or drinks at the lodge, and when we're indoors the goggles are no longer necessary. We did notice that, because of the brim on the front of the Variance helmet, flipped up goggles have to ride high, and there is an inherent potential for the goggles to slide right off the helmet. Typically, the goggles stayed in place, but there were those few occasions when they just didn't stay where we wanted them to.
Value:
At $180, the Smith Variance snow helmet is hovering in the mid to high price point in the ski helmet industry. When safety is the biggest concern though, we are of the opinion that integrity supersedes cost, and Smith is a brand that has built its reputation with reliable products. When you consider the capabilities for adjustment, ventilation features, and superb goggle integration with pretty much anything, we consider the Variance snow helmet well worth it. Did we mention that Skullcandy Audio Systems are available, made specifically for the Smith helmet ear pad so you can listen to your favorite tunes via Bluetooth as you hit the slopes? That's a nice little bonus for you music lovers out there.
Buy Now: $134 or to learn more, go to: SmithOptics.com
Smith Variance Snow Helmet - Gear Review
Smith is a brand that's built its name on integrity, and they didn't let us down with the Variance snow helmet. Although staying safe as we enjoy the thrills of winter is of high priority, doing so in full comfort is a big deal too. With a range of adjustability combined with versatility in just about any weather condition, the Smith Variance snow helmet has passed our tests with flying colors. This is a case where functionality and style work together amazingly well, and we can stay confident that we'll enjoy the snow for many years to come whether we happen to endure a brutal spill or not.
Comfort / Adjustability
10
Climate Control / Ventilation
9.5
The Good:
Loaded with adjustable features for a perfect fit every time
Proper ventilation is accessable and easy
Impeccable goggle integration that allows optimal symbiotic goggle performance
The Bad:
Ear pad removal can be a bit of a task
Flipped up goggles are not entirely secure