After reviewing the Atoms "Smart" garage door opener, the folks at Skylink asked us to review the Skylink SK-250 Alarm Camera Deluxe system with motion and door/window sensors. Since it would pair nicely with our current Skylink hub and garage door opener, we decided to give it a go. I was curious to see if the setup was as easy as their garage door opener and how well everything integrated with their smart hub and Skylink App. Overall the system wasn't bad, but there were some pros and cons that you should know if you're thinking about buying this system. So let's dive in…
Key Features:
Easy DIY installation
No Monthly Fees
Monitor everything through iOS & Android App
Multiple arming features
Compatible with Amazon Echo via SkylinkNet Alexa Skill
Add up to 100 devices and 10 security cameras
Skylink Alarm System Review
Setup:
If there is one "Pro" that sits above the rest, it's the ease of setting this system up. It came with its own hub, but since we already had one from our garage door opener review, we were able to connect everything straight to that. We started by setting up all the sensors. Simply install the batteries, then head over to your phone app and open the setup wizard to add the device, give it a unique name, and connect it to your hub where you will then be able to see it on the apps home screen for more options and monitoring.
The camera was a little different as it isn't really considered a "device" in the app. Nor is it seen as an option on the home screen. This was a little confusing and makes it challenging if you want to set up "if then" actions later down the road (but I'll talk more about this later). In order to setup the camera, you'll head over to the "System Settings" option and select "Camera Settings". From there you can select "Add" to add more cameras or select a camera that is currently setup to adjust its settings. In order to setup a camera for wifi, you'll need to hardwire it to the router first. You'll give the camera a name and enter the pairing code (or scan the QR-Code that is on the bottom of the camera unit). Once the app adds the camera, you have the option to then setup the camera for wifi where you can disconnect the camera from the router and place anywhere in your home or office within wifi range. The fact that you can pan and tilt the cameras position through the phone app is pretty useful especially if you have a room layout that requires scanning.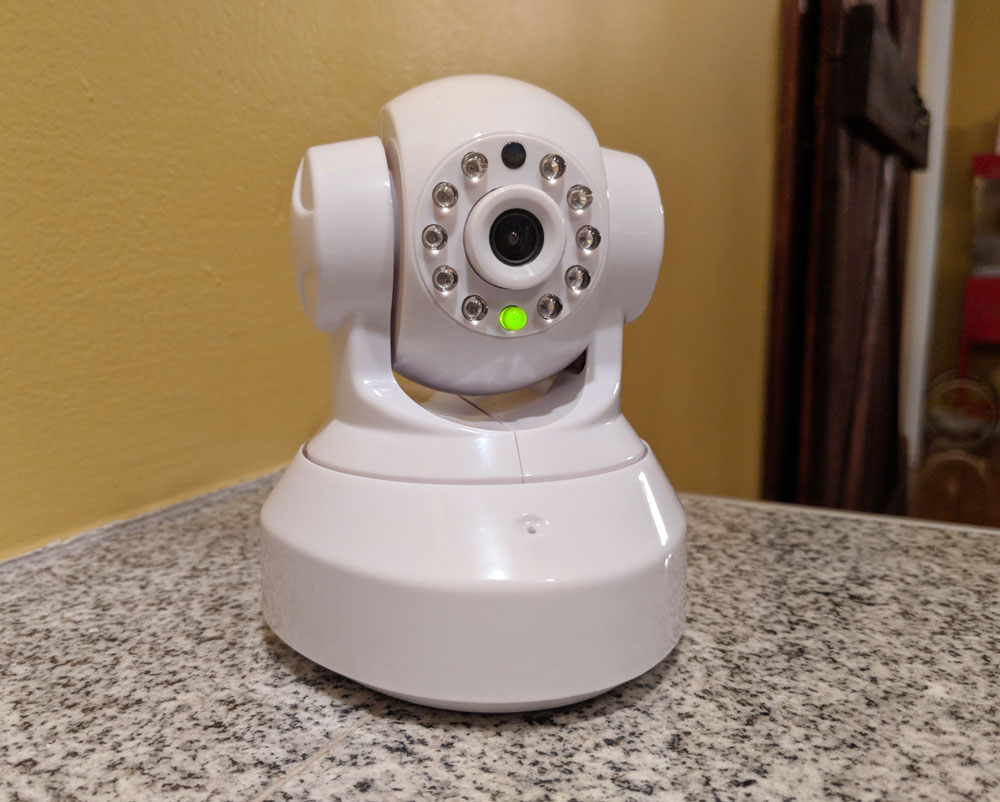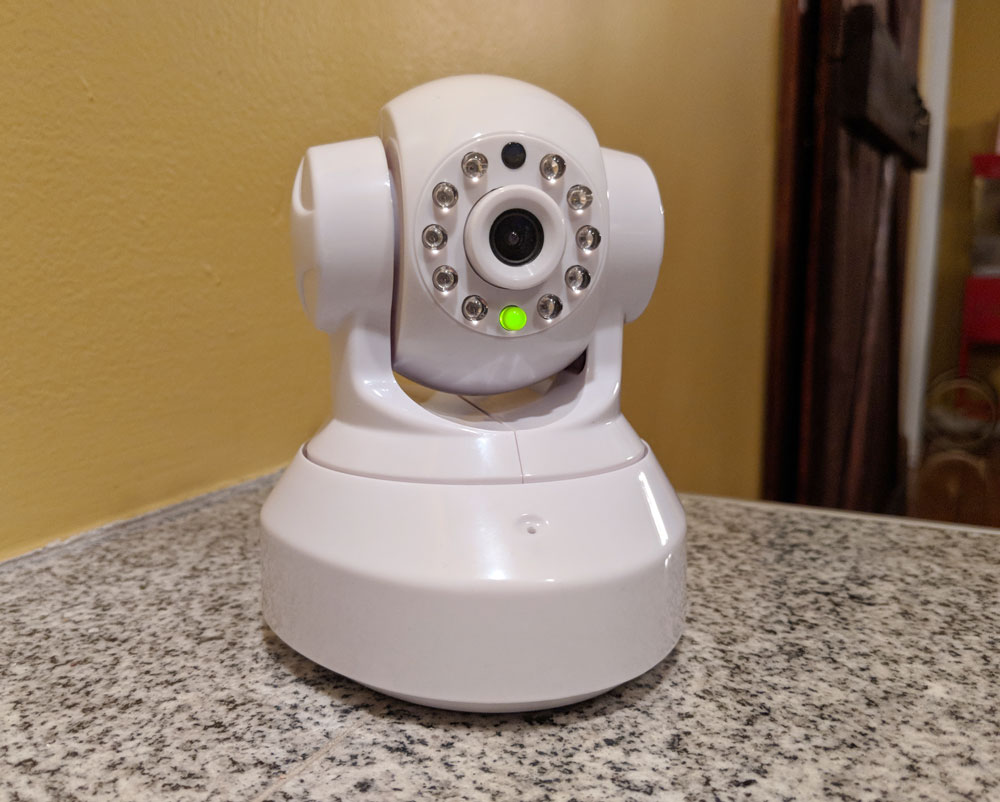 Design: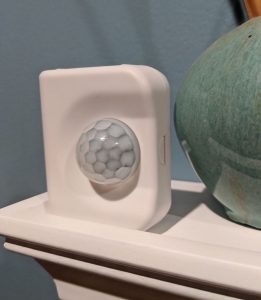 The design of the sensors make them functional and easy to setup and maintain. There really isn't much to these sensors. Just pop in a couple batteries and stick them to any wall, door, or window and you are good to go. The camera is great in that you can have it as a hardwired or wireless option as well as the ability to control the pan and tilt from your phone. You can also monitor sound and talk through the camera to someone who is in the room. But there is a bit of lag/stutter in the footage which makes it appear as if it is capturing data at 1-10 frames per second. Plus, there is no on board storage with this camera so it won't be able to automatically record footage for you. Instead, it alerts you through the app so you'll need to jump in quickly to see what set off the camera and manually select the record option if you want it for later viewing. The footage and images are stored on your phone versus the camera or a cloud setup (which it does not have currently).
Integration & App: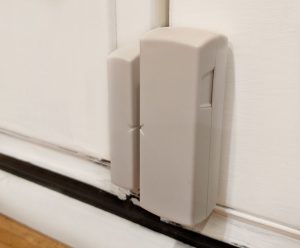 I was curious to see how the Skylink App handled other smart devices as well as tie them all together for "If then" actions. The app shows every device (minus the camera) on the home screen for easy monitoring as well as quickly getting to that devices settings. There is a camera tab next to the home tab, so you can quickly get to the camera feeds. However, there were times where it took a while to see the feed coming in.  I also had issues with the App crashing a couple times while toggling through settings and options (on an Android).  I was excited to setup the "if…Then…" actions within the App, however there were very limited options…well, only one really. If I wanted the garage door or any of the sensors to do something if they were activated, I was only given one option: "Panic"! I was hoping for a bit more, but the only option available with this package is to select the Main Unit Hub and execute "Panic" mode which will set off the siren. I guess I'm not sure why this is an option if it already is an option when selecting "Arm Away" under the "Alarm" tab.
I then dove into the IFTTT thinking I could find some more options, but they are still pretty limited. You can have Alexa turn on a SkylinkNet light, but was hoping for a more controlled option that could be triggered from a motion sensor or trigger a non SkylinkNet light to turn on. It gives you the option to have Alexa arm Skylink, but it never actually worked for me after trying the setup multiple times. Unfortunately this is where the "Cons" portion of this package is a little more evident. I was however able to get the motion sensor to trigger a camera to start recording if there was motion, however, it wasn't a Skylink Camera. Hopefully there will be some better options available soon for IFTTT applets.
Value:
If you head over to Amazon right now, this same package I'm reviewing is available for $159.02 (20% off the original $199.99). Not bad considering you get 2 motion sensors, 2 door/window sensors, a smart hub, and camera. If they were able to make some upgrades in their camera recording functions and applet actions, this would be a great value. This package is decent enough for monitoring, but not a great security system option.
Buy Now: $199.99 or to learn more, check out: www.Skylinkhome.com
Skylink SK-250 Alarm System - Tech Review
Overall, this setup isn't bad. If you are looking for a good monitoring setup, this will get the job done. Hopefully they will integrate some better recording options with the camera which would make this system go from "ok" to "great".
The Good:
Easy and fast setup
Affordable
The Not So Good:
No automatic camera recording options
Lack of IFTTT options