I've been following along with Rumpl's journey for a few years now – I even considered working there at one point! Naturally, when they reached out about an opportunity to test out their Original Puffy Blanket, I accepted with enthusiasm. 
If you don't know much about Rumpl, they're a B Corporation – which means they're legally required to consider the impact their operation makes – and they're backed by a set of great values and a fun mission. 
Curl up, cuddle in, and get cozy for this "sleeping bag blanket" review.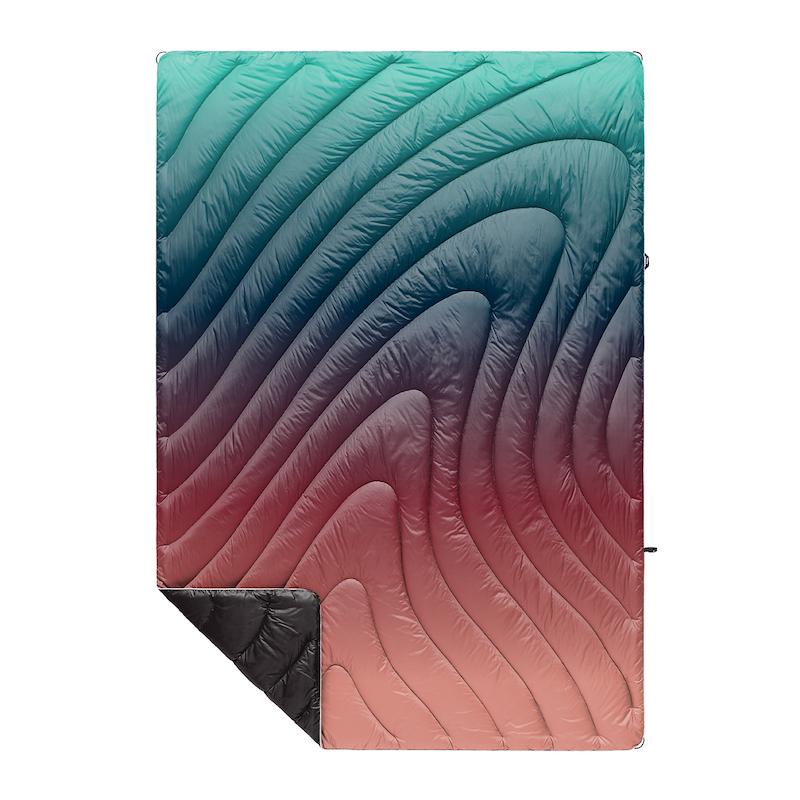 Key Features:
Plastic bottles recycled per blanket: 

16 (Junior size)

60 (1-Person size)

100 (2-Person size)

100% post-consumer recycled polyester shell and insulation

DWR finish for stain and water resistance

Cape Clip® (1-Person size only) for hands-free use

Corner loops

Machine washable

Water-resistant stuff sack included
Rumpl Original Puffy Blanket Review Breakdown
Design 
So, where did the idea for this sleeping bag blanket come from anyway? Well, according to the founders, "IT STARTED IN THE BACK OF A VAN."
As the story goes, the founders were hit with the classic dead battery saga on a cold California morning. Instead of walking to town, they crawled back in their sleeping bags and sipped whiskey until someone came to help out. That whiskey-driven conversation led to the realization that sleeping bag materials not only felt better than home linens, but they also performed better.
From there, it was a bit of a wild ride – that included a Shark Tank episode and a Kickstarter Project – to where they are now. 
The Original Puffy Blanket is simple and elegant. The slippery yet soft next-to-skin feeling you're used to from your favorite sleeping bag, in the rectangular shape we all know from our beds at home. There's a tasteful wave stitch pattern across the face fabric holding the synthetic insulation in place, anchor points at all four corners, and a "cape-clip", which allows your inner superhero to shine whenever you want it to. (The clip allows you to wear it like, well, a cape!)
Performance
While Rumpl doesn't specifically name a temperature rating for each one of their blankets, they do mention that the single size I tested should keep you warm down to 45º – which, sounds about right to me. Since it is a smaller size, you can't exactly completely wrap up in it, and at a total weight of just around 2lbs, it's obvious it isn't stuffed to the brim like your favorite old-school down puffy or sleeping bag.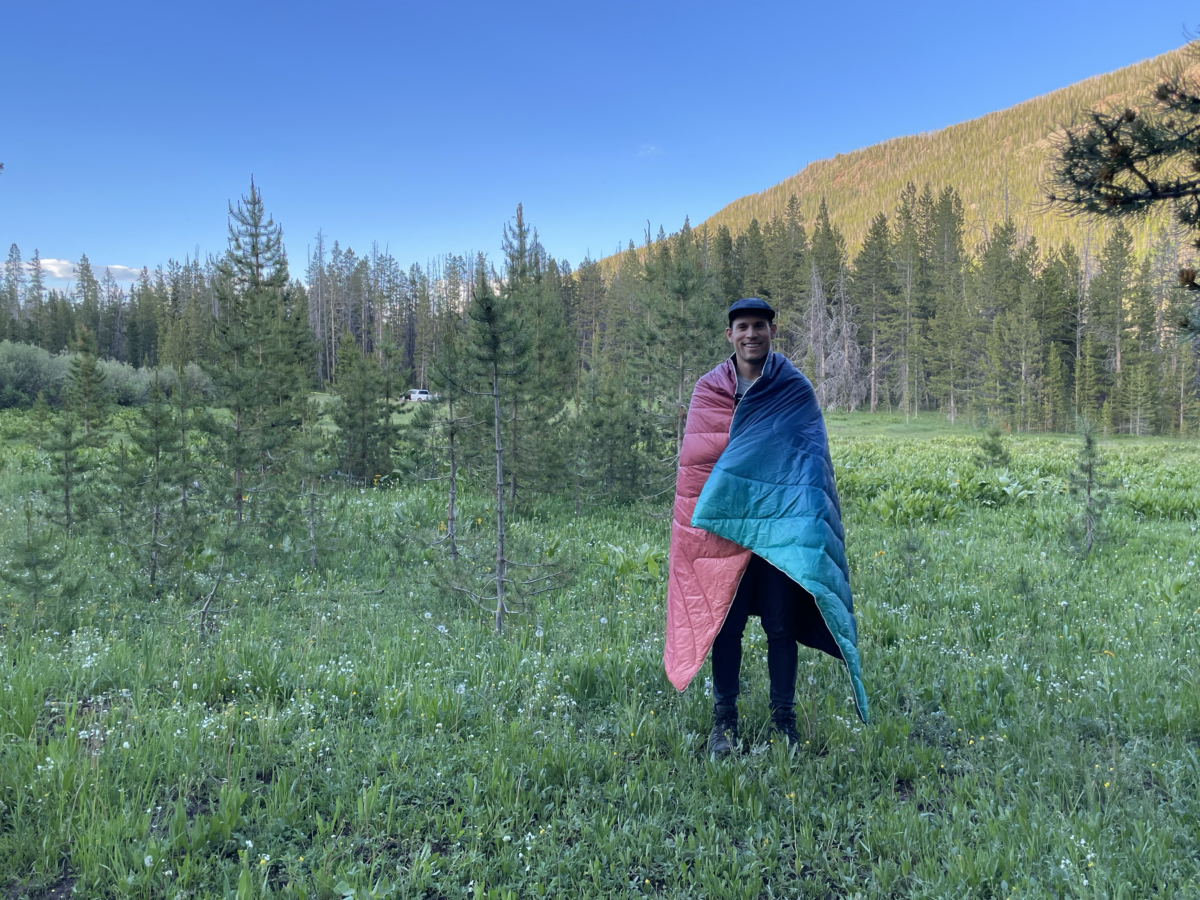 I've only had it for a few months spanning a Utah summer, so it has mainly been used for sitting on grass, wrapping up by the fire, and cuddling up at camp during the chilly early light.
Use Cases
"BLANKETS FOR EVERYWHERE!"
Found on Rumpl's mission page, this quick phrase does a great job summing up the use cases for the Orginal Puffy Blanket.
As mentioned above, my favorite way to use the Rumpl is cape mode. Clip the front, drape it over your shoulders, and you have a handsfree way to wrap up whether you're making coffee in the morning, sitting at the fire, or just too lazy to carry it to that picnic spot down by the river.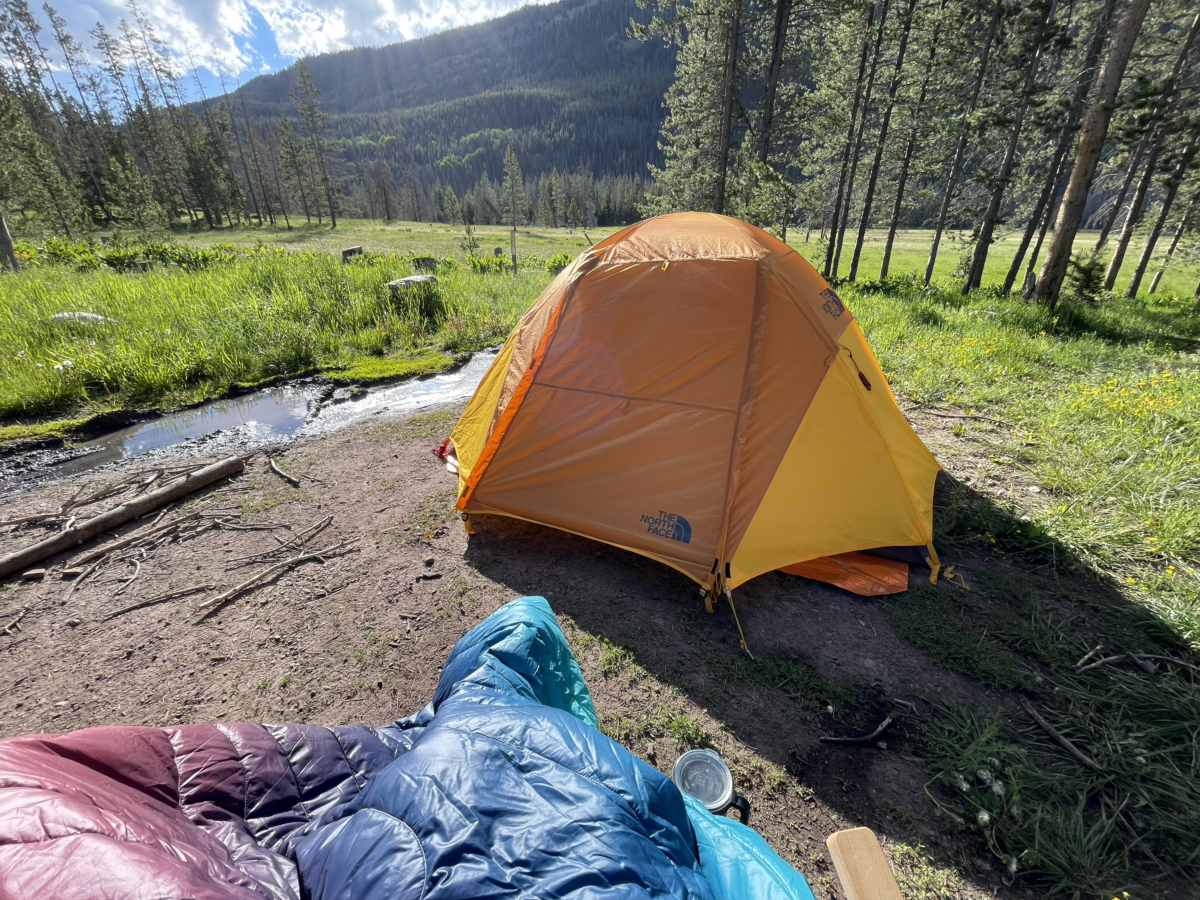 That said, here are all the ways I've used it so far (apart from cape mode):
Hammock quilt

Picnic blanket

Couch blanket

Fireside blanket

Camp pillow 

Changing room

Dog bed

Emergency rain shelter – oh yeah, now's a good time to mention that the DWR works! 
Heck, I've even used it on my home mattress when my comforter was getting laundered.
You name it, Rumpl can handle it.
Packability
Like your favorite sleeping bag, the Rumpl Original Puffy comes with a stuff sack to keep it small, portable, and ready for your next adventure.
While deciding how to approach this section, I decided to consult the experts at Rumpl. Here's their suggestion for rolling the blanket: 
Me? Yeah… I've just been jamming it in the stuff sack all summer long. No more!
All that said, it's certainly not an ultralight, minimalist quilt, but it packs small enough to easily toss in a daypack, picnic basket, or clip to your wheeled cooler. 
If you're concerned about weight, check out either the Down Version or the Featherlite Version.
Value
At $99, it's not a cheap blanket. You can certainly find something like it at Costco, but you'll get lower-quality materials, none of the fun prints, and none of the useful features (like cape-clip). 
If you want a blanket your kids will grow up with, trust Rumpl. It'll handle the spills, shake off the dirt, and wear its age proudly (literally).
Shop Arizona Fade or all Rumpl Original Puffy Blankets
Rumpl Original Puffy Blanket | Gear Review
A fantastically versatile blanket for camp, lounging, and everything in between.
THE GOOD:
Packable
Lightweight warmth
Water-resistant, soft touch shell